Canadian Passenger Lists 1891-1956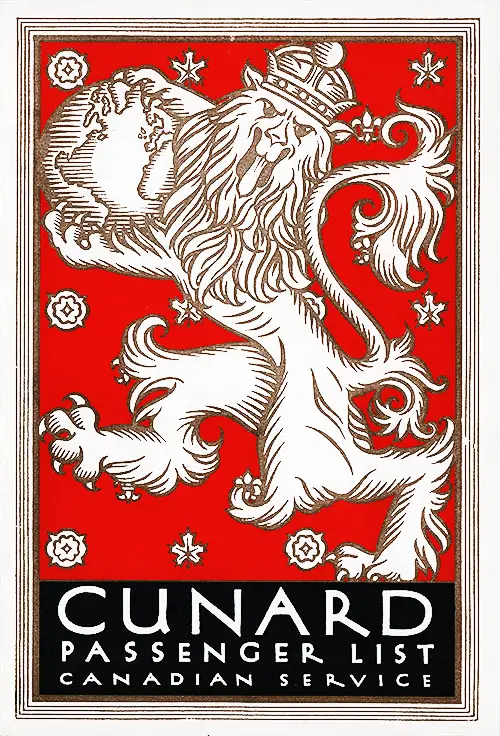 Summary listing of Canadian Passengers Lists available at the Gjenvick-Gjønvik Archives originating from or calling on the Ports throughout Canada. Passenger Lists are organized by Date, Steamship Line, Steamship or Ocean Liner, Class of Passengers, Route of Voyage, and the Ship's Captain.
Digitized Passenger Lists for Canada
Outline of the Development of Canadian Ocean Shipping and Passenger Service
1819—Allan Line Canadian service commenced when the barque "Jean," commanded by Captain Alexr. Allan, sailetl from Greenock for Quebec.
1831—"Royal William" (built at Quebec), crossed Atlantic under her own steam.
1850—Fortnightly mail steamship service established between Liverpool, Halifax and Boston, by S. Cunard. of Halifax.
1853—Allan Line started fortnightly steamship service between Liverpool and Montreal (Summer) and Portland (Winter).
1859—Allan Line, service changed to weekly.
1862—Allan Line inaugurated service between Glasgow and Montreal, and Liverpool and Montreal (calling at St. John's, N.F.).
1867—Beaver Line inaugurated by Canada Shipping Co., Ltd.
1870—Dominion Line started service between Liverpool and Montreal (Summer), and New Orleans (Winter).
1874—Donaldson Line service between Glasgow and Montreal inaugurated.
1878—Thompson Line first steamer "Barcelona," built for trade between Montreal and London.
1879—Allan Line'service between London and Montreal inaugurated.
1883—C. P. R. became steamship owners.
1886—Donaldson Line Winter service to Canada began with calls of their westbound boats at Halifax.
1887—C. P. R. established service between Vancouver and China and Japan with "Batavia," "Parthia" and "Abyssinia."
1891—C. P. R. placed "Empresses of India, China and Japan" on Pacific service.
1893—C. P. R. established service between Vancouver and Australia.
1895—Donaldson Line started direct Winter service between Glasgow and St. John.
1898—Manchester Liners started service between Montreal and Manchester.
1902—Elder, Dempster & Co. established one-way line to South Africa from Montreal (Summer) and St. John. N.B. (Winter).
1903—C. P. R. bought fifteen Elder-Dempstcr Steamers and established services to Liverpool, Bristol (Avonmouth) and London.
1903—Dominion and White Star Lines amalgamated.
1904—Allan Liner "Victorian." first ocean turbine steamer, built.
1905—Elder. Dempster & Co. started service from Canada to Cuba and Mexico.
1905—Allan Liner "Bavarian" wrecked in St. Lawrence. •
1906—C. P. R. placed "Empresses of Britain and Ireland" on Quebec-Liverpool service
1909—White Star-Dominion Liners "Laurcntic" and "Megantic" built for Canadian service.
1910—C. N. R. started fortnightly service between Bristol (Avonmouth) and Montreal with "Royal Edward" and "Royal George."
1910—New Zealand Shipping Co. inaugurated service from Montreal (Summer) and St. John. N.B. (Winter) to New Zealand and Australia.
1912—Furness, Withy & Co.. Ltd., inaugurated service between Fowcy, Three Rivers and Montreal (Westbound) and Montreal and Hull (Eastbound.)
1914—C. P. R. Liner "Empress of Ireland" sunk in collision off Father Point. May 29th.
1914—Compagnie G6tt6rale Transatlantique inaugurated service between Havre and Montreal.
1915—Merger of C.P.R. Steamships and Allan Line completed, under name of Canadian Pacific Ocean Service, Ltd.
-- Imperial Year Book for Canada (1917) p 324
The most important event of 1915 in the Canadian shipping world was the merger of the C.P.R. Steamships and the historic Allan Line, under the name of the Canadian Pacific Ocean Services, Limited, capitalized at $10,000,000, with headquarters at Montreal. Mr. G. M. Bosworth, Vice-President of the C.P.R., is Chairman of the Board of Directors.
The 47 vessels operating under the new Company have a total tonnage of over 380,000. Since the outbreak of the War, over 60% of these have been under the control of the Admiralty. The Allan Line pioneered the Canadian Transatlantic service, and their amalgamation with the first Canadian Transcontinental Railroad is interesting and significant.
Imperial Year Book for Dominion of Canada (1917) p323