Passenger List - French Ports of Call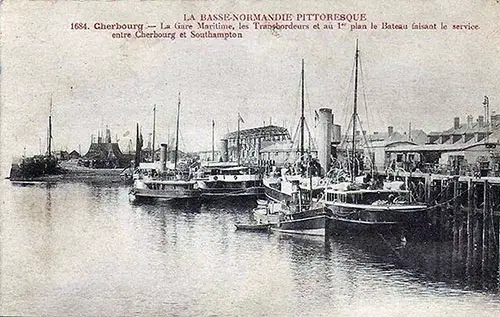 Busy Harbour Scene at Cherbourg as Tenders Ferry Passengers to the Large Ocean Liners. GGA Image ID # 1767588864
French Passenger Lists are Organized by Date, Steamship Line, Steamship or Ocean Liner, Class of Passengers (Saloon, First, Second, Cabin, Single Class, Tourist, Third or Steerage) and the route of the voyage.
The listing may also contain other voyages that Terminated or stopped at the Ports of Boulogne-sur-Mer, Cherbourg, Le Havre, Marseilles, Cannes. and less often at other smaller French ports.
Due to page size constraints, we have arbitrarily paginated our French Passenger Lists Listings into seven pages:
Each Ships List contains Steamship Line, Steamship, Class of Passengers, Date of Departure, Route and Commander,
Some Ships Lists also contain Notes.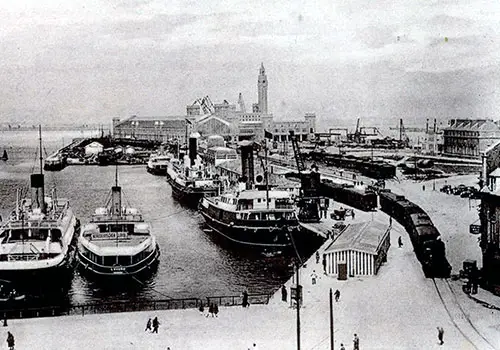 Ships Docked at Cherbourg Octeville. GGA Image ID # 17675e8fb3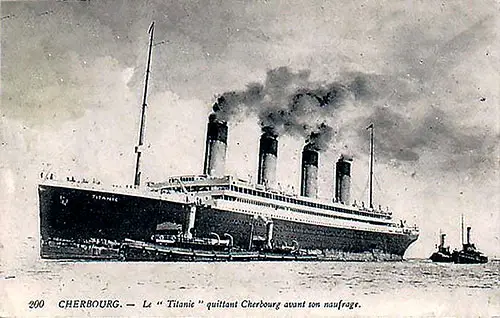 The Titanic leaving the Port of Cherebourg, 4 April 1912. GGA Image ID # 17675f5e67