German Immigration Passenger Lists 1881-1952
Arrival of the SS Columbus at Bremerhaven. GGA Image ID # 17684cc69f
A summary listing of German Passenger Lists available at the Gjenvick-Gjønvik Archives originating from or calling on Germany's Ports. Passenger Lists are organized by Date, Steamship Line, Steamship or Ocean Liner, Class of Passengers, Route of Voyage, and the Ship's Captain.
The listing may also contain other voyages that Terminated or stopped at the Ports of Hamburg or Bremen (Bremerhaven).
Due to page size constraints, we have arbitrarily paginated our German Passenger Lists Listings into three pages.
Each Ships List contains Steamship Line, Steamship, Class of Passengers, Date of Departure, Route and Commander,
Some Ships Lists also contain Notes.
The port of Hamburg, situated in the northwestern part of Germany on the Elbe River about 65 miles from its mouth, is a part of the Free City of Hamburg, one of the States comprising the German Republic. The State's area is approximately 160 square miles, of which the city occupies about 52 square miles, the remainder being divided into three smaller municipalities and 28 rural districts. Included in this area is the Ritzebuettel district, at the mouth of the Elbe, which contains Hamburg's outport, Cuxhaven.
The SS Bremen Docked at Bremerhaven circa 1929. GGA Image ID # 17687b147b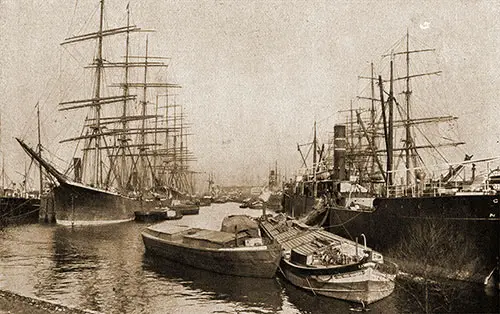 View of the Sailing Ship Harbour at Hamburg, Germany circa 1914. GGA Image ID # 1768a57b19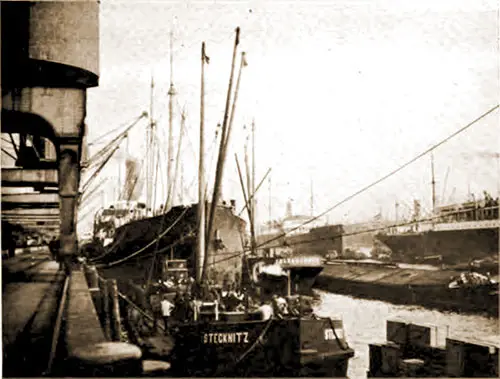 A Crowded Section of Hamburg Harbour circa 1909. GGA Image ID # 1768badcfb
A General View of Hamburg Harbour circa 1929. GGA Image ID # 17690f0e99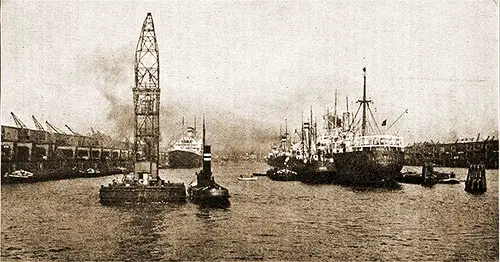 Ships In a Bain at Hamburg Harbour circa 1929. GGA Image ID # 17692602d1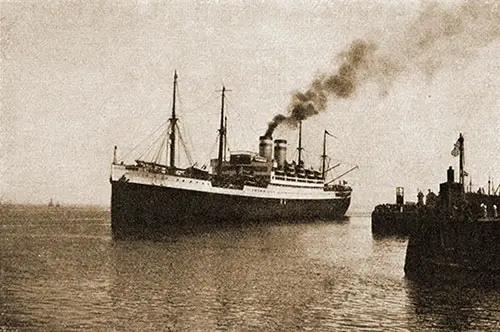 The SS Deutschland of the Hamburg-America Line Departing from Cuxhaven circa 1928. GGA Image ID # 1769411507
The port of Cuxhaven, which lies on the south bank at the mouth of the Elbe about 64 miles below Hamburg, comprises a considerable part of the Ritzebuettel district, a separate part of the Free State of Hamburg. It is not equipped for handling, nor does it handle, overseas commerce to any great extent, but is utilized principally as a depot for overseas passengers and as a center for the fish industry. It is also used as a harbor of refuge and as a pilot, signaling, and quarantine station.
The Hamburg America Line built a large ocean liner terminal at Cuxhaven in 1900. Connected directly to Hamburg by a dedicated railway line and station, it served as the primary departure point for German and European emigrants until 1969, when ocean liner travel ceased.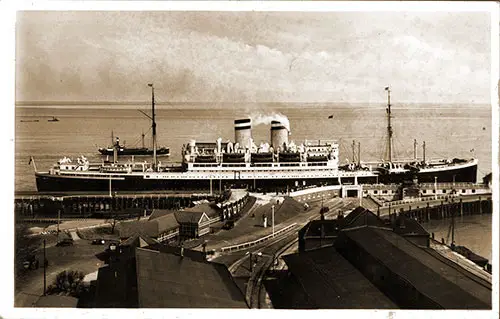 The SS New York of the Hamburg-America Line Docked at Cuxhaven circa 1930. GGA Image ID # 17694600ba