SS Montrose Passenger List - 15 October 1932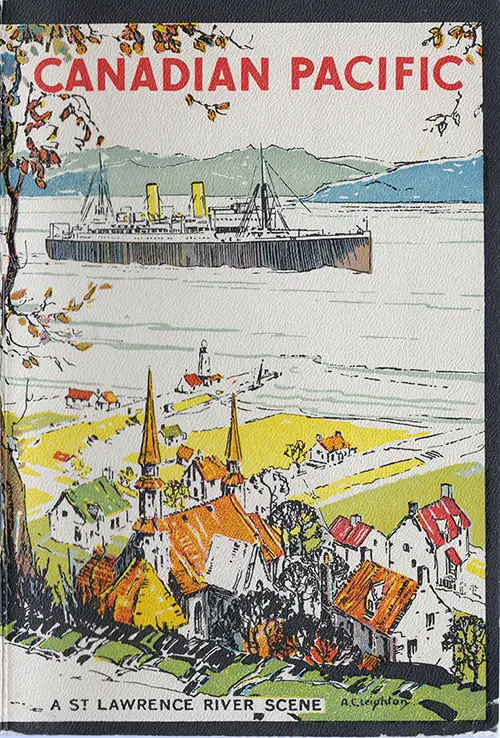 A St. Lawrence River Scene Painting Showing a Ship Cruising By a Village is Displayed on the Front Cover of a Cabin and Tourist Passenger List from the SS Montrose of the Canadian Pacific Line (CPOS). The Ship Departed Thursday, 15 October 1932 from Hamburg to Quebec via Southampton and Cherbourg, Commanded by Captain J. F. Dott. GGA Image ID # 157cf90f9e
Senior Officers and Staff
Commander: J. F. Dott
Chief Officer: G. W. Woodward
Chief Engineer:  A. H. Galloway
Purser: A. W. M/ Stark
Surgeon: N. G. Marr, M.B., CH.B.
Chief Steward:  W. Leith
Cabin Passengers
Bain. Mrs. L. E.
Barry, Mrs. A.    
Biggar, Mrs. Lyons      
Bourassa, Rev. Philemon P. (O.M.I.)
Braastad. Mr. Charles C.
Cairns, Major T. R.
Cairns, Mrs.
Coburn, Mr. F. S.
Coburn, Mrs.
Cook, Mr. G. N.
Cook, Mrs.
Crofton, Mr. J. H.
Crofton. Mrs.
Decedero, Mr. C.
Decedero, Mr. John
Dunstan, Mr. K.
Dunstan, Mrs.
Gillio, Mrs. J. C.
Gohier, Mr. Théophile
Gohier, Mrs.
Harris, Miss E.
Hickson. Dr. J. W.
Kapelle de Kapelle. Mrs. M.
Kingman, Miss Elise
Lajeunesse, Rev. P. M. (O.M.I.)
Landon, Mr. M.
Lofts, Mr D.
Lofts. Mrs.
Logan. Mr. Henry H.
Montgomerie, Mrs. R. A.
Parrott, Mr. R. J.
Price. Mr. J.
Quinn, Mrs. Jack
Ravenelle, Dr. Georges
Ravenelle, Mrs.
Ryan, Miss Kathleen
Schuetz, Mrs. Betty
Schuetz, Mast. Elmo
Schultz Dr. R.
Smyth, Mrs. V.
Stannard, Miss E. E.
St. Germain, Mrs. Paul
St. Germain, Miss Louise
Sweeney, Mrs. M. B.
Taylor. Mr. W. R
Townsend, Mr. N. F.
Walkinshaw, Mr. R.
Williams, Mr. John
Williams, Mrs.
Williams, Mast. John Noel
Williams, Miss J. M. C.
Williams, Miss Yvonne H.
Willing, Mrs. H.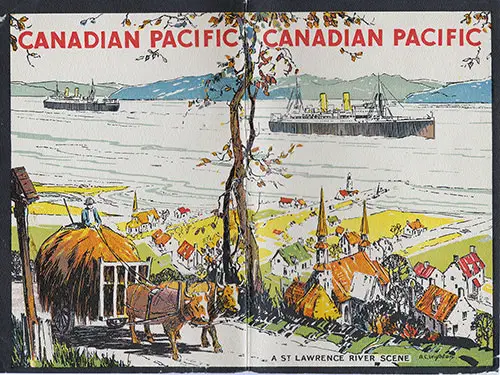 Back and Front Covers Shows the Complete Painting of a St. Lawrence River Scene Adorning the 15 October 1932 SS Montrose Passenger List. GGA Image ID # 157d005b0e.
Tourist Passengers
Adams, Mr. H.
Barnard, Mrs. S. E.
Barnard, Mast. T. F.
Bedford, Mr. J. W.
Bennett, Mrs. E.
Bogli, Mr. A. R.
Borghini, Mrs. Teresa
Bulley. Miss L. R. L.
Burns, Mrs. N. M. J.
Burrell, Miss Hazel W.
Campbell, Mr. J.
Campbell, Mrs.
Carter, Mr. J. R.
Carter, Mrs. J. W
Colling, Miss G. J
Deacon, Mrs. E.
Doyle, Miss M. A.
Duncan, Mrs. M.
Everall, Mrs. E. T.
Everall, Mast. S.
Farrell. Miss C. M.
Fernand, Marthe, Sister
Feury Elisabeth, Sister
Fraser. Mrs C. B.
French, Miss V. K.
Friend, Mrs. K. W.
Gadsby, Mr. W. T.
Geary, Mrs. H. F.
Gray, Mr. F. J.
Gresley, Mrs. W. H
Gresley, Mast. R.
Gridiger, Miss C.
Hackman, Miss G.
Ham, Mr. E.W.
Ham, Mrs.
Harries, Mrs. A.
Hérault, Victorine, Sister
Hill, Mrs. E. C.
Hiseman, Mrs. D. L.
Hiseman, Miss L.
Hiseman. Miss G.
Jeffrey, Mrs. F.
Justice. Miss L. D. C.
Kazmicrozak, Rev. Jan
Knippenberg, Mrs. F.
Lane, Miss E. H.
Larkins, Mrs. O. C.
Larkins. Miss W.
Leveson-Gower, Mrs. H.
Leveson-Gower, Miss H.
Leveson-Gower. Miss S
Linter, Mr. T. J.
Linter, Mrs.
Marie Marthe, Sister
Marie Therese, Sister
Massaglia, Mr. Domenico
Maurer, Mr. Oscar
Maurer, Mrs.
Maurer, Mast. Walter
Maurer, Miss Gertrude
Mayrand, Rev. P.
Monson, Miss P. A.
Mullin, Miss B. M.
Nenninger, Mrs. Frieda
Nenninger, Mast Emile
Palmer, Mrs. L. L.
Parry, Miss E. M.
Pearce, Mrs. R.
Peppin, Mrs. F. C.
Peppin, Miss J. M
Pite, Mrs. J.
Rae, Mrs. I.
Rosner. Miss R
Sabetta, Mr. Antonio
Smiley. Mr. E. F.
Stewart, Mrs. D.
Stewart, Mast. R.
Taylor. Mrs. H. C. G.
Theroux, Rev. M.
Varey, Mr. C F. W.
Walker, Mrs. F. W.
Walker. Mast. E. K.
Woodmass, Mr. M. G. E.
Wright, Mr. B. O.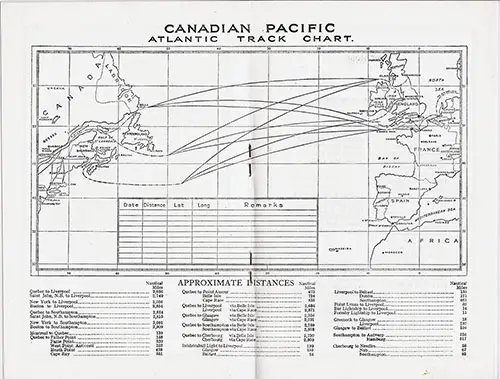 1932 Atlantic Track Chart (Unused). Canadian Pacific Line (CPOS). GGA Image ID # 157d18c322.
Information for Passengers
RAILWAY TICKET OFFICE.
A Railway Ticket Office is located on board this steamship. The Rail Traffic Representative in charge is at the disposal of passengers to furnish every assistance In connection with inland rail journey.
To facilitate landing arrangements at port of arrival it would be appreciated if passengers would kindly note the following information and call at the Ticket Office AS EARLY AS POSSIBLE during the voyage.
Orders issued in Europe and calling for railway transportation from port of landing or otherwise are not good on trains but require to be exchanged at the ship's Ticket Office for actual railway tickets.
If passenger already holds railway ticket issued in Europe, attention is particularly directed to the necessity of having same stamped on back, in space provided, prior to arrival at port of landing, as train conductors are not authorized to honor any unstamped tickets.
Railway Tickets to all destinations in Canada and the United States  may be purchased at the Ticket Office at special fares.
Reservation of sleeping or parlor car accommodation for railway journey should be made In advance by EARLY application to the ticket agent.
Information Bureau—An Information Bureau is provided for the convenience of passengers. The Purser and Assistant Pursers are in attendance to deal with matters affecting the comfort or interest of passengers.
Meals—Breakfast is not served in Dining Saloon after 10:00 am. Breakfast bugle will not be sounded when only one sitting. Passengers should notify Bedroom Steward when they wish to be called.  Breakfast not served in the Dining Saloon after 10 o'clock.
Children served at first sitting only. Children not permitted in Public Rooms after 8:00 pm unless paying adult fare.
Smoking is permitted in the Dining Saloon after the last sitting at luncheon and dinner, but not at the first sitting at luncheon Or the first sitting at dinner.
Private Dinners—Passengers who desire to arrange private dinner parties should apply to the Chief Steward or Head Waiter. No charge is made for this service.
Change of Accommodation—Passengers who desire a transfer of accommodation should apply to the Purser, who alone is authorized to make changes. If higher graded accommodation is desired the difference in fare must be paid, as the Purser is not permitted to deviate from the Company's tariffs.
Deck Games—Deck Quoits, Shuffleboards and other Deck Games will be furnished by Deck Sailor or the Deck Steward. Chess, Draughts, Dominoes, etc., obtainable from Public Room Stewards.
Valuables and Money may be placed in the Purser's safe. Envelopes are provided which Passengers will seal and sign. As no charge is made, the Company assumes no responsibility for loss or damage, however arising.
Money Exchanged—Money can be exchanged, advances made on Letters of Credit, Travelers' Cheques cashed and on sale at the Purser's Office.
Library Steward provides stationery, telegraph forms, books of reference, etc.
Stamps are on sale in the Shop, Library and Bureau. English and Canadian postage stamps may be used for mail posted at sea.
Divine Service—Divine Service in Dining Saloon at 10.45 a.m. Sunday. Altars are carried for Holy Mass and for the celebration of Holy Communion.
Surgeon—The Surgeon is authorized to make customary charges for his services subject to the approval of the Commander.
Nurses—The services of trained and qualified Hospital Nurses, under the direction of the Surgeon, may be obtained.
Wireless Telegrams—Information and rates furnished at Purser's Office.
Telegrams and Cables—Canadian Pacific Telegraph representatives meet all ships on arrival to ensure prompt transmission of Passengers' telegrams and cables.
Passengers' Mail—Passengers are urgently requested to enquire for mail at Purser's Office on arrival and leave forwarding address.
Passengers are requested to note that the Company do not undertake to accept delivery of parcels in Great Britain and Ireland, if the value of the contents is to be paid on delivery, unless prior arrangements are made with the Company for the amount to be paid.
Passports—Passengers travelling to or through the United States are requested to call at Purser's Office with their passports as soon as possible.
Baggage—Trunks which Passengers do not require in their Staterooms during the voyage may be stored in the Baggage Room. Baggage will be grouped alphabetically in the Customs Shed on arrival at Canadian port, and Passengers must attend personally to Customs examination.
United States Head Tax—In order to obtain refund of United States Head Tax, temporary visitors to, or passengers in transit through, the United States, who intend to leave the United States within sixty days from their date of entry, must give this information on the U.S. Declaration Form completed at time of booking.
It is also necessary that they inform the U.S. Immigration Inspector at the port of landing that they are leaving the United States within sixty days, and they should apply to him for certificate form 514, without which no refund of U.S. Head Tax will be considered by the U.S. authorities.
Return Atlantic Passage—The Purser is equipped to furnish full information concerning sailings and bookings on Canadian Pacific Steamships. Reservations can be secured and deposits to cover will be received.
Lifebelts—In State Rooms. Bedroom Steward will explain method of attachment.
Emergency Stations—Consult plan and directions in alley-way.
French Speaking Staff—For the convenience of French Speaking Passengers the Ship's Company includes Stenographers, Stewards and Stewardesses, who are conversant with the French language. These may be distinguished as follows :
Stenographers: Red shoulder labs on dress.
Table Stewards: Red collar on their uniform jackets instead of a blue collar.
Bedroom Stewards: Red collar fitted to their white jackets.
Stewardesses: Red turn-back on cap.
Suggestions—The Canadian Pacific invite suggestions for improvement of the service. Passengers are requested to make suggestions to the Commander or Purser so that immediate attention may be given. Suggestions may also be addressed to the General Manager, Canadian Pacific Steamships, 8, Waterloo Place London, England.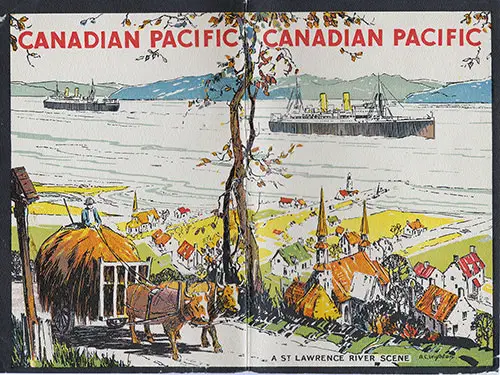 Cover of the SS Montrose Passenger List - 15 October 1932