SS Pittsburgh Passenger List - 22 May 1924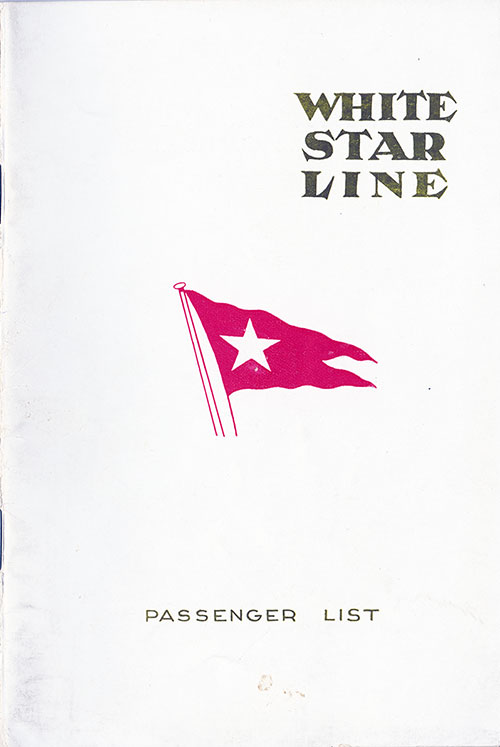 Front Cover, Cabin Passenger List from the SS Pittsburgh of the White Star Line, Departing Thursday, 22 May 1924 from Hamburg to New York via Southampton, Cherbourg, and Halifax, Commanded by Captain W. A. Morehouse. GGA Image ID # 13cb29cd2d
Senior Officers and Staff
Commander: Captain W. A. Morehouse
Chief Engineer: H. Fishwick
Surgeon: F. J. G. Mason, L.S.A. (Lond.), M.R.C.S. (Eng.)
Purser: A. J. Byrne
Chief Steward: G. F. Conway
Cabin Passengers
Agnew, Miss Margaret
Anderson, Mr. Nils
Anderson, Mrs.
Anderson, Miss Marguerite
von Arnim, Mrs. Margaret
Baker, Miss Elizabeth
Baumann, Mr. Henry
Beilmann, Mr. Charles
Best, Miss Hildegarde
Blass, Dr. Heinrich
Bliss, Miss F. H.
Brandt, Mr. Gunther
Burchell, Mr. Charles J.
Burchell, Mrs.
Chave, Mr. E. H.
Conolly, Mrs. Bernice
Cotwell, Mr R C.
Cotwell, Mrs.
Crowe, Mr. H. J.
Crowe, Mrs.
Crowe, Mr. R.
Daringer Miss Helen
Dimock, Mr. E. N.
Dimock, Mrs.
Dimond, Mr. Maurice
Donahoe, Rev.
Drewett, Mrs. M. S.
Duer, Mrs. D. H.
Ehrat, Miss Anna
Feather, Mr. Wm.
Feather, Mrs.
Ferris, Miss Helen
Fielding, Mrs. M.
Fort, Miss Marie
Fort, Miss Virginia
Foylon, Miss Agnes Maria
Freeman, Dr. Arthur B.
Freeman, Mrs.
Freemann, Miss Lucy
Fritz, Mr. Hans
Fritz, Mrs.
Garner, Rev. Holly P.
Gautier, Miss Florence
Gibbes, Mrs. K.
Giolkowski, Mrs. Sauliner
Gottlieb, Mr. Hermann
Grossman, Mrs. Margaret
Guilino, Mrs. Johanna
Guthrie, Mrs. A. A.
Guthrie, Miss
Hapgood, Mrs. N. B.
Hapgood, Miss Beatrix
Harrison, Mr A. D.
Henry, Mr. Harold
Heward, Col. S. A.
Hines, Miss Nancy M.
Hodge, Miss Lucy
Hoffmann. Mis. Augusta M.
Hoffmann, Miss Elisabeth
Hoffmann, Dr. Bernhard T.
Holbik, Mrs. Mary
Holbik, Miss Maty
Hopkins, Miss Eleanor
Horschau, Mr. Bruno H.
How. Miss J. W.
Howard, Miss K.
Huffenger, Mrs. J.
Huffenger. Mrs. Mary
Jones. Mrs. M. Vincent
Kaiser. Miss Ruth
Kalinka, Mr. Hans
Keeble, Miss Laura
Keeble, Miss Mary
Kimmeskamp, Mr. Julius
Klein, Mr. Sal.
Klein, Mr Sergej
Klingenstein, Mr.
Klingenstein, Mr. Bernhard
Knight, Miss Gladys
Krauspe, Mr. Oskar
Krauspe, Mrs.
Krauspe, Master Horst
Lewenz. Mr. Paul
Liedtke, Miss Else
Linebarger. Mr. Paul M.
Linebarger, Mrs.
Linebarger, Master Paul
Linebarger, Master Wentworth
Livermore, Mrs.
Livermore, Mr. L. B.
Lord, Miss Mary
Littauer, Mrs. Beatrice
Maclntyre, Mrs. R. M.
Maclntyre, Miss
MacCarthy. Archbishop
MacIIwain, Mr. G. E.
MacIIwain, Mrs.
Maddox, Miss Grace A.
Martin, Miss A. K.
McNeil, Master A.
Meares, Mrs. Ena M.
Melville, Mrs. E.
Merrick, Mrs. Samuel V.
Merrick, Miss Mary
Miller, Dr. Morris B.
Miller, Mrs.
Morse, Miss Anna
MüIIer, Mr. Charles A.
Munroe, Miss Elsie
Nagao, Mr. Sakuro
Neuberger, Mr. Robert
Noguchi, Mr. S.
Oldenburg, Mr. Diederick
Oldenburg, Mrs.
Oldenburg, Miss Betty
Oldenburg, Miss Maisie
Olson, Mr. Theodore
Pennings, Rev. G. J.
Pennings, Miss
Pennings, Master
Piskacek, Miss Marie Eva
Piskaeck, Miss M. E.
Pope, Mr. John
Rice, Dr. Richard W.
Ridges, Dr. A.
Ridges, Miss J.
Rothschild, Mr. Louis
Rothschild, Mrs.
Ruegg, Mr. Edward W.
Sawyer, Miss Helen R.
Scholl, Miss E. H.
Schurman, Mr. C. A.
Sexton, Mrs. M.
Sears, Mr. Thos. B.
Sears, Mrs.
Smith, Mr. Charles J.
Smith, Mrs.
Smith, Mr. Russel
Sorokacs, Mrs. Verona
Sorokacs, Master John
Sorokacs, Master Joseph
Souther, Mr. J. G.
von Stamm, Mrs. Alvina
Steinel, Miss Frieda
Sturtevant, Miss H.
Sunday, Mr. William
Thompson, Mrs. Marion
Turner, Miss D. M.
Walsh, Miss A.
Watson, Miss E.
Wheeler, Miss Dora
Williams, Mr. F. B.
Williams, Mr. Sydney
Williams, Mr. Frederick
Withingtan, Mr. Robert
Woerz, Miss Marion
Wolff, Mr. Friedrich
Wolienweber, Dr. Hans W.
Woodbury, Mrs. C. L.
Woolston, Mr. Wesley
Woolston, Mrs.
Zorn, Mrs. Alma
To SOUTHAMPTON
Dorner, Mr. Hermann
Dorner, Mrs.
Foehrenbach, Mr. Joseph
Gotthold, Mr. K.
Gruber, Mr. Otto
Hurtzig, Mr. D.
Johns, Mr. T. M. M.
Johns, Mr.
Piper, Dr. Carl Anton
Stupnicker. Mr. A.
Stupnicker, Mrs.
Stupnicker, Miss H.
Volkens, Mr. Walter
Volkens, Mrs.
Information for Passengers
Meals will be served as follows:
Meal
When one sitting
When two sittings
8:00 am
Col2
7.30 am and 8:30 am
1:00 pm
Col2
12:00 noon and 1:00 pm
7:00 pm
Col2
6:00 pm and 7.15:00 pm
The Bar opens at 8:00 am, and closes at 11:00 pm
Lights are extinguished in the Saloon at 11:00 pm, Lounge, Drawing Room and Smoking Room at 11.30 pm.
Divine Service will be held in the Saloon on Sunday at 10:30 am
Conductress. The ship's conductrecs is willing to interview any ladies traveling alone, and would be pleased to be of any service during the voyage or on arrival In port.
Smoking is strictly prohibited in any of the Staterooms, Library, Drawing Room or Dining Saloon.
Seats at table. Passengers who have not previously arranged for table seats to be reserved should apply for same to the Second Steward.
Medical Attendance. The surgeon Is authorized to make customary charges, subject In each case to the approval of the Commander, for treating Passengers at their request for any Illness not originating on the voyage. In the case of sickness developed on the voyage no charge will be made, and medicine will be provided free In all circumstances.
Mall for passengers will be brought on board before the passengers land.
Passengers should personally ascertain whether there is any mail for them before disembarking and they are invited to leave their addresses at the Purser's Office for any later despatches to be redirected. Postage Stamps may be obtained at the Puisci's Office where letters, telegrams, cablegrams and Marconi messages should be handed in for despatch.
Charges paid on board. Passengers are requested to ask (or a Receipt on the Company's Form for any additional Passage Money, Chair or Steamer Rug Hire, or Freight paid on board.
Library. Books can be obtained on applying to the Lounge Steward.
Deck chairs and Steamer rugs can be hired on application at a charge of $ 1.50 (6s/6d) each for the voyage.
Valuables. The particular attention of passengers is drawn to the ticket conditions regarding the carriage and custody of articles specified in Section 4281 of the revised Statutes of the United States, but passengers can, and are accordingly advised, to protect themselves by insurance. The Line has provided a safe in the office of the Purser in which passengers may deposit money, jewels, ornaments, documents or other valuables for safe keeping and a deposit receipt will be issued by the Purser.
A Gymnasium, fully equipped with modern appliances, is situated on Deck A
(Promenade Deck) and is open for exercise by Ladies. Gentlemen and Children as follows:
6:00 am to 9:00 am for Gentlemen only;
10:00 am to 12 Noon for Ladies only;
12 Noon to 1:00 pm for Ladies and Gentlemen;
2:00 pm to 3:30 pm for Children;
3:30 pm to 7:00 pm for Ladies and Gentlemen.
No charge is made for the use of appliances.
Exchange of money. The Purser is pregared. for the convenience of passengers, to exchange a limited amount of money at rates which will be advised on application.
Baggage. Questions relating to baggage should be referred to the Second Steward who is the Ship's Baggage Master on board. Trunks, Chairs, etc, which Passengers may desire to leave in charge of the Company should be appropriately labeled and handed to the Baggage Master on the Wharf at Port of Landing and such articles will be stored entirely at owner's risk. It is for Passengers themselves to see all their Baggage is passed by the Customs Authorities on landing.
Dogs. Passengers are notified that dogs cannot be landed in Great Britain unless a license has previously been procured from the Board of Agriculture, London. Forms of license must be obtained by direct application to the Department before the dog is taken on board at Port of Embarkation.
Travellers' Cheques, payable in all parts of Europe, can be purchased at all the principal offices of the Company. These Cheques are accepted on board steamers in payment of accounts, but the Pursers do not carry funds to enable them to cash same.
Deck games and amusements. Deck Quoits, Shuffleboard, Bull Board and other games are provided on deck under the charge of a Quartermaster.
Chess, Draughts, Dominoes, etc., may be obtained on application to Lounge, Drawing Room and Smoking Room Stewards.
Passengers' Quarters. Cabin Passengers are not allowed to enter Third Class comparments, or vice versa, as complications might arise under the Quarantine Regulations.
Barber. The Barber is allowed the privilege of selling various souvenirs and small articles on his own account.
Picture Postcards. Picture Postcards of the steamer can be obtained gratis on application on board.
POSTAL INFORMATION.
High Seas Mail. — On all British Steamers, British Postage Stamps and rates are used when mailing letters for European points, and such letters should be posted in the ship's letter box in the ordinary way.
The mail bag is closed a few hours previous to arrival at Southampton. Full particulars can be obtained at the Enquiry Office upon application.
WIRELESS TELEGRAM
This Steamer is fitted with Marconi's system of Wireless Telegraphy and also with Submarine Signalling Apparatus.
LONG RANGE WIRELESS SERVICE
This vessel is fitted with special long range wireless apparatus which will enable passengers to communicate with their friends or business houses on shore throughout the voyage across the North Atlantic Ocean.
UPPER BERTHS
Passengers occupying upper Berths can obtain steps for getting in or out of same on applying to the Steward or Stewardess.
INNOVATION TRUNKS
Passengers art advised that It Is not always possible to arrange for the placing of Innovation trunks In the passenger accommodation In a position where they are easily accessible, also that there la frequently difficulty with regard to the landing of such packages owing to thslr exceptional size. They are therefore recommended to use steamer trunks In preference.
RECOVERY OF UNITED STATES HEAD TAX
This tax can be recovered by Passengers, if same has been paid, provided they inform the U. S. immigration inspector on arrival at the port of landing of their intention to leave the United States within 60 days (the time prescribed by U.S. Law), and obtain from him Transit Certificate form 514.
It is also necessary for Transit Certificate form 514 to be handed to the Transportation Company when completed, in time to allow same to be placed before the immigration authorities in Washington within 120 days of Passenger's arrival in the United States.
Unless this regulation is complied with the tax cannot be recovered.
Note. — Will passengers who have not paid the Head Tax in consequence of their holding return tickets, or being in transit to points outside of the United States, kindly complete form 514 (which must be obtained from the Immigration Officials at New York) and forward same to the Company's Office, 1 Broadway, New York as soon as possible after their departure from the United States, or hand to the Purser of the Steamer in which they return.
LANDING ARRANGEMENTS AT NEW YORK
Should the Steamer arrive at the New York wharf after 8 p. m., passengers may land If they wish to do so and have their baggage passed by the Customs Authorities Immediately on arrival but those who prefer to remain on board may do so and have the whole of their baggage passed the following morning not earlier than 7 o'clock. Breakfast will be served to those who remain on board overnight.
Uniformed representatives of the American railroads, meet all steamers on arrival at New York, Railroad tickets may be purchased and baggage checked from the steamship pier to any point along the lines of the Pensylvanla, New York Central, New York, New Haven, and Hartford Erie, Lehigh Yalley Baltimore and Ohio, Delaware, Lackawanna and Western and Central Railroad of New Jersey and connecting railroads.
LANDING ARRANGEMENTS AT HALIFAX
Should the steamer arrive In the harbour after 6:00 pm passengers will generally remain on board overnight. The vessel will proceed to her wharf as early as possible after 7:00 am the fallowing: day, when passengers will be landed without delay.
The "Pittsburgh" carries an Orchestra of skilled musicians, which will play daily as follows: —
In the main Companionway
11:30 a.m. to 12 noon
4:30 p.m. to 5:30 p.m.
After Dinner

Track Chart and Memorandum of Log (Unused) from the SS Pittsburgh Cabin Passenger List, 22 May 1924. GGA Image ID # 1f97ed983a