RMS Olympic Passenger List - 23 August 1922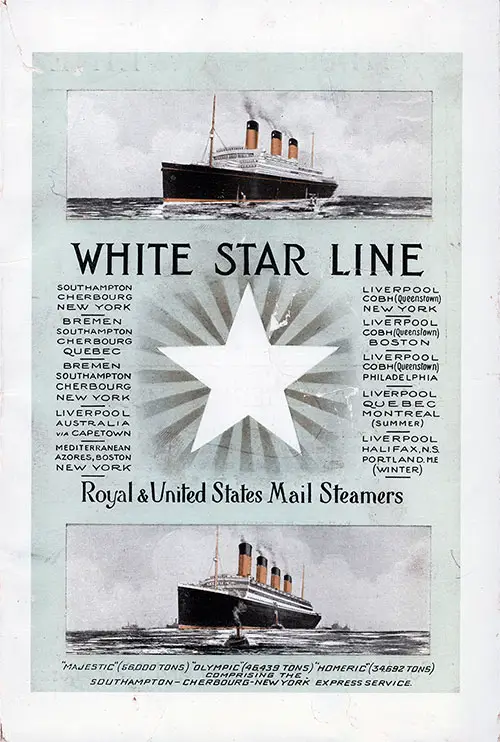 Front Cover, Second Class Passenger List from the RMS Olympic of the Cunard Line Sailing 23 August 1922. GGA Image ID # 12bbc3a4c8
Second Class Passenger List from the RMS Olympic of the White Star Line, Departing 23 August 1922 from Southampton to New York via Cherbourg, Commanded by Captain A. E. S. Hambelton, C.B.E., R.D. (Lt. Cmdr. R.N.R., Retd.).
Senior Officers and Staff
Commander: Captain A. E. S. Hambelton, C.B.E., R.D. (Lt. Cmdr. R.N.R., Retd.)
Asst. Commander: E. R. WHITE
Chief Engineer: J. H. THEARLE.
Surgeon: M. PRIOR, M.B., B.S. (Dunelm).
Asst. Surgeon: ROBLEY BROWNE, O.B.E., M.R.C.S. (Eng.), L.R.C.P. (Lond. ).
Pursers: J. A. SHEPHERD &  E. W. WHITEHEAD
Assistant Purser: H. T. HONE
Chief Steward: S. TWEEDIE
Second Class Passengers
Abbott, Miss Margaret
Anderson, Mr. Gustaf
Anderson, Mrs. Selina
Anderson, Master Roland
Anderson, Miss Minnie
Andersson, Mr. Nelson
Anthony, Mr. John
Antoville, Mr. Henry
Atkinson, Dr. W. H.
Atkinson, Mrs. W. H.
Axt, Mr. Louis
Axt, Mrs.
Azbe, Mr. Francis J.
Bailey, Prof. Albert E.
Bailey, Miss Oriana
Balhatchet, Mrs. Anita
Ball, Mrs. Fanny P.
Bannister, Miss Margaret
Baragwanath, Mr. Arthur
Barber, Miss Ewina
Barnes, Miss Anna
Barnett, Mrs. Bloomah
Baron, Mr. Emil
Barrow, Miss Clara
Baylis, Mrs. Margaret
Beach, Miss Margaret
 Beckington, Miss Lulu
Bedell, Miss Alice
Bednor, Miss Christine
Behan, Mrs. Katherine
Beld, Miss Minnie
Bennett, Miss A. C.
Berentsen, Mr. Robert
Besson, Mrs. E. L.
Besson, Miss Flora
Beverley, Mr. Alexander B.
Beverley, Mrs. Anna
Beyer, Mr. Benjamin
Bloom, Miss Rose M.
Boggs, Miss Cora J.
Bond, Miss M. E.
Bortel, Miss Evelyn
Bowman, Miss Frances P.
Boynton, Mr. Frank D.
Bram, Mrs. I. T.
Brien, Mrs. P. O.
Brodie, Mr. Charles
Brogan, Miss Lillian
Brooks, Mr. Russell W.
Brooks, Mrs.
Brown, Mr. Sidney S.
Bullard, Mrs. W. H.
Bunte, Mr. Dick Vande
Burgardt, Miss Lydia
Burgess, Mrs. Sarah
Burgess, Mr. Edward
Burke. Mrs. H. M.
Burnham, Miss Mabel T.
Burns, Miss Dorothy S.
Caen, Mr. Lucern
Caen, Mrs. Augusta
Caen. Miss Estelle
Caen, Master Herbert
Callahan, Miss Mary
Callahan, Miss Ellen E.
Carr, Miss Janet
Casey, Miss Elizabeth
Chamberlin, Mr. George L.
Chambers. Miss Sarah
Chapin. Mrs. Cyrus
Chapin. Miss Eleanor
Churchill. Mrs. Viola
Claflin. Miss Elinor
Clarke, Miss Helen
Clemens, Miss Lilian
Clouston, Miss Daisy
Cole, Miss Teresa
Comins, Miss Alice L.
Comins, Miss Katharine
Conable, Miss Grace
Connor, Miss M. C.
Copeland, Mr. Jens
Copeland. Mrs. Marie
Copenhaver. Mr. John C.
Corley, Mr. Ward
Corwin, Miss Goldie
Costa, Mr. A. Arbit
Cox, Miss Rose
Cragg, Miss Maude D.
Crimmins, Miss Margaret
Dale. Mr. Samuel
Daley, Miss H. S.
Daly, Mr. James
Daridoff, Mr. Hermann
Davis, Mr. Joseph Davis, Mrs.
Davis, Master Morton
Davis, Master Harold
Davis, Miss Rosa
Denham, Mr. Ralph W. P.
Van Denson, Mr. George
Desmond, Miss Anna
Despelder, Mr. A. B.
Diamond, Miss Kathryn A.
Diamond, Mrs. Mary A.
Donath, Dr. Eugene
Doney, Mr. Norman
Dooling, Junr., Mr. John
Draper. Mr. H. W.
Driscoll, Miss Julia T.
Driscoll, Miss Alice M.
Dunathon, Miss Rose
Dunne, Mr. M. J.
Dunne, Mrs.
Eaton, Miss Marion
Edson, Miss Amanda
Egbert, Mrs. Ricca
Egbert, Miss Freda
Eisenberg, Mrs. Sarah
Elliott, Miss Ruth
Ellison, Miss Clara
Emery, Miss Jessie
Engel, Mr. William
Ericksen, Miss Sarah
Esslinger, Mrs. Lillian
Esslinger, Miss Kathryn
Exelby, Mr. James
Faithfull, Miss Lily M.
Farkin, Miss May A.
Farrell, Miss Margaret
Feuerzeig, Mr. Albert
Finlay, Miss Anna
le Fischer, Rev. Herman
Fisher, Mr. L. H.
Fisher, Mrs.
Fisher, Mr. Hermine C.
Foddy, Mrs. Sarah M.
Foddy, Miss Belinda E.
Foster, Miss Mary
Fox, Miss E. L.
Fitch, Mrs. A. E.
Fradenburgh, Mr. A. E.
Fradenburgh, Dr. A. G.
Fradenburgh, Mrs.
Fradenburgh, Miss Mirian
Freund, Miss E.
Fry, Miss Mary
Fry, Miss Flora
Gallagher, Miss Carolyn
Gewirtz, Mr. Janas
Ghittis, Mrs. Sophia
Gilman, Mrs. Alice
Gilman, Miss Beatrice
Giltner, Miss Josephine
Gobbi, Mr. Adolph
Goddard, Mr. George
Goeffert, Miss A. E.
Goldman. Mr. Harris
Goldman, Mrs.
Goldstein. Mr. Isidor
Gray, Mr. J. Wesley
Green, Miss A. H.
Gregerson, Mr. Jens
Gregerson, Mrs. Petra
Gregerson, Miss Helga
Grinnell, Mr. Fred H.
Guardot, Miss Augustine
Gunnison, Miss Josephina
Guterl, Rev. Paul
Guterl, Mr. Peter F.
Guterl, Mrs.
Guterl, Miss
Guterl, Mr. Walter
Guterl, Mr. William
Hadfield, Miss
Hagen, Miss Ida E.
Hagen, Miss Cora M.
Hagen, Miss Jessie L.
Hall, Miss Ethel
Hall, Miss Minnie
Hamann, Mr. Fred A.
Hammons, Miss Jewell
Hancock, Miss Katharine
Hansman, Mr. Moses
Hanson, Mr. P. Bertram
Hanson, Dr. Knud
Haven, Miss Mable
Haver, Miss Cornelia
Hawkins, Miss Enid M.
Hein, Dr. Henry E.
Heist, Mr. John
Heist, Mrs.
Heist, Mr. John
Heist, Mr. Robert
Helfert, Master W.
Helinski, Mr. Alexander J.
Henrietta, Miss Lottie
Henry, Miss H. S.
Herrick, Miss Mabel
Herrington, Miss Dora
Hessey, Miss E. M.
Hingelberg, Miss Jane
Hodgkins, Miss Mary O.
Hoerig, Miss Elsie
Hollywood, Miss Martha
Holm, Mr. Alfred
Holm, Mr. Andrew
Holppner, Mr. Adam
Holppner, Miss Wilhelmina
Home, Miss Olive H.
Hopkins, Mrs. Fay M.
Hopkins, Miss Nan M.
Horam, Mr. Williaqm A.
Horan, Mr. William A.
Horn, Mr. Charles
Horn, Miss Elizabeth A.
Houck, Miss Clara
Howard, Mr. A. C.
Huber, Mrs. Emma
Huber, Miss Florence
Huntley, Miss Blye
Hyde, Miss Alice
Jarnow, Mr. Samuel
Jestrab, Mrs. Francis
Jestrab, Miss Evelen
Jirusova, Mr. Ludmila
Jirusova, Miss Aloisie
Johansson. Miss Marie
Johnson, Mr. Alfred
Jones, Miss Clara F.
Jones. Miss Jennie M. A.
Joyce, Miss Marie
Joyce, Miss Julia
Karmsen, Miss Zelma
Kato, Dr. Genichi
Keck, Miss Christina
Keefe, Miss Louise
Keefe, Miss Louise
Keeler, Mr. Wm. H.
Keller, Mr. N. V.
Kennedy, Miss Julia A.
Kent, Mr. William
Kent, Prof. Charles F.
Kern, Miss A. L.
Kern, Miss K. V.
Kiegwin, Miss Ada
Kiendl, Miss Gertrude
Kimball, Mrs. Lillian A.
Kincaird, Miss H.
Kinsley, Miss L. R.
Kirls, Junr., Mr. Henry
Kleinberg, Miss Sarah
Kohn, Miss Irene
Kozak, Mrs. Ella
Krampf, Mr. Pinkas
Krampf, Mrs. Regina
Krebs, Miss Matilda
Kutsche, Mr. Hugo
Kutsche, Mr. Otto
Kutsche, Miss Louise
Lake, Miss Florence
Lambert, Miss Margaret
Lamboy, Mr. Anthony
Lamboy, Mrs.
Larson, Mr. C. A.
Larson, Mrs. Signe
Larsson, Mr. C. J.
Larsson, Miss Signe
Lawrence, Miss Lillie
Lebowitz, Mrs. Berta
Lebowitz, Master Joseph
Lee, Mrs. Mable
Lee, Miss Florence
Lender, Mr. Joseph
Lender, Mrs.
Lender, Miss Florence
Le Suer, Mr. Peter
Le Suer, Mrs.
Le Suer, Master Hunter
Leuzgenhager, Miss Clara
Lewis, Miss Florence
Linington, Mr. E. J.
Linington, Mrs.
Little, Mr. Newman
Little, Mrs.
Lloydstrom, Mrs. H. M.
Long, Miss Edna
Lorthrop, Miss Arietta.
Losh, Miss Rosamond A.
Love, Miss A. M.
MacMartin, Miss Ethel J.
Magrath, Miss Dora
Makk, Mr. J. W.
Maloney, Miss Alice
Maloney, Miss Ellen
Maloney, Miss Grace
Manges. Miss Clara
Markowitz, Miss Sarah
Mamell, Rev. Nicholas
Marsh, Miss Edith
Marshall, Mr. Samuel
Marshall. Mrs.
Mattice, Miss Florence
Maxham, Mrs. K.
Mayer, Miss Ethel
Mayer, Miss Katherine
McKechnie, Mr. Alex. A.
McKechnie, Mrs. Ruth S.
McKechnie, Miss Margaret E.
McLaughlin, Miss Katherine
McMeen, Miss Josephine E.
Melvin, Miss Emma
Mentzer, Miss Katherine E.
Meyer, Miss Margaret F.
Mika, Mr. Josef
Miller, Miss Emma H.
Miller, Mrs. Clara
Miller, Miss Alice
Monahan, Miss M. C.
Moore. Miss Iola
Moran, Mr. M.
Moran, Miss F.
Moran. Miss B.
Morlcy, Mrs. Kathleen
Morley, Master Charles
Morrison, Miss Henrietta
Murphy, Miss Eva
Nagler, Mrs. Clara
Nagler, Master Herbert
Nagler, Miss Martel
Nash, Mr. B. D.
Needham, Mrs. Florence C.
Nelson. Mrs. A. G.
Newton, Miss Alice
Nilsson, Miss Ellen
Nord, Miss Anna
Nunnerly, Miss Sibyl
Oke, Miss Bertha
Oke, Miss Eva E.
Oliver, Mr. William H.
Oliver, Mrs. Alice L.
Oliver, Miss Grace C.
Orth, Miss Florence
Packer, Miss Garrah
Palmer, Miss Mary
Peron, Mrs. Lena
Pertwee, Mrs. Mary E.
Pesta, Miss Rose A.
Peters, Miss Mary
Peyton, Mr. Harry
Peyton, Mrs.
Phelan, Miss Alice
Phillips, Miss E. E.
Pierce, Mrs. M. S.
Pointing, Mr. Albert
Pointing, Mrs. Ellen
Pratt, Miss W.
Prosser, Miss Dorothy
Quackenbush, Miss Edith
Ramsey, Miss Mary B.
Reed, Mrs. E. W.
Rees, Miss Ethel
Reginault, Mr. Otto
Reichert, Mr. John
Reichert, Mr. Frank
Reingold, Dr. N. S.
Reiten, Miss Mary S.
Rex, Mr. Henry
Rhodes, Mr. John
Rice, Miss Florence
Rivers, Miss Ethyl
de Rivierre, Mr. L. A.
de Rivierre, Mme.
Roberts, Mrs. Margaret P.
Roberts, Mr. Maldwyn P.
Robertson, Miss Helen
Robesa, Mrs. Marie
Robesa, Master Frank
Rose, Miss Sara
Royce, Mr. Samuel R.
Royce, Mrs. Mary
Ruddy, Mrs. Clarence
Rudell, Mr.
Rudell, Dr. Gustave L.
Sammon, Mrs. Buelah
Sattler, Miss Elizabeth
Schmidt, Mr. M. J.
Schmidt, Mrs. Evelin
Sckoen, Mr. Desider
Scholes, Miss Ethel
Schramm, Miss Laura
Schreiber, Miss Helen
Schulthess, Mr. Albert
Secchi, Mr. Nins
Seims, Mrs. E.
Seims, Mr. Edward
Serl, Miss Emma
Shelden, Mr. M. H.
Sherman, Miss Eleanor
Shinkowitz, Mr. Morris
Silverstein, Miss Sarah
Simms, Mr. Howard F.
Singer, Miss Flora
Skimin, Miss Eleanor
Skorpa, Mr. Louis
Skorpa, Mrs. Antoniette
Smerage, Mrs. E. W.
Smith, Miss Frances
Smith, Miss Leonie Lee
Smith. Rev. W. F.
Smith. Lieut. Henry J., U.S.N.
Smith, Mr. Robert
Smith, Mrs. M.
Spatz, Mr. Benjamin
Spicer, Mr. E. Grant
Spooner, Miss Blanche
Stark, Miss Mary
Stearns, Prof. Wallace
Stebbins, Mr. Charles S.
Stebbins, Miss Eunice
Stebbins, Miss Millicent
Steiner, Dr. Adolph
Stern, Miss P.
Stephens, Miss Mable
Stewart, Miss Ada
Stone, Mr. A.
Stout, Miss Amanda
Stuart, Miss Alta
Sturdevant, Miss Grace
Suder, Miss Caro
Sullivan, Miss Anna C.
Surdan, Miss Mildred J.
Swansson, Mrs. C.
Swansson, Mr. Carl
Szekeley, Rev. Alex.
Szeretz, Mrs. Anna
Talbot, Mr. Jack
Talmadge, Rev. E. F.
Talmadge, Mr. Arthur S.
Theiss, Mrs. Betty P.
Theiss, Miss Catherine
Thompson, Mr. E. C.
Thompson, Mrs.
Thorson, Mr. Thor
Todd, Miss K. Adele
Turner, Mrs. Frances
Tuttle, Miss Marion
Tuttle, Mrs.
Ullrich, Miss Clara
Ullrich, Mrs. Edna
Ullrich, Mr. Otto
Van Hoesen, Miss Grace A.
Vanpel, Mr. Gustav
Veira, Miss Alice C.
 Vennum, Mr. Thomas
Voorhis, Mr. Horace
Vowles, Mr. Win.
Wadlow, Mr. A. E.
 Wadlow, Mrs.
Wagner, Miss Bertha
Walbora, Miss Rhoda
Walcott, Miss Rosamond
Walcott. Mr. Wallace H.
Walsh, Miss May
Ward, Mr. Edward W.
Ward, Mrs. Ellen
Wareham, Mr. Manly C.
Watson, Miss Jane
Welcher, Mr. Clemens
Weis, Mrs. Kathryn D.
Weiss, Mr. Morys
Weiss, Mrs. Pauline
Weiss, Miss Josephine
Weiss. Mr. John
Wheeling, Miss Helen
White, Mr. Edward
White, Mrs.
White, Master Paul
White, Miss Ethel L.
White, Miss Margaret E.
Wiesenfeld, Mr. Nathan
Wilcox, Miss Faith
Wiley, Mr. George M.
William, Mr. Archibald
Wilson, Miss H. B.
Winzeuried, Miss Clara
Wittman, Rev. Joseph
Wittmeier, Miss Florence
Wohlman, Miss Sabina
Wolf. Mrs. Morris H.
Wolf, Miss Rhea
Wood. Mrs. Mary C.
Wood, Miss Ruth
Wright, Miss Ida
Yale, Miss Gertrude
Young, Miss Nellie
Zatz, Mr. Chaim
Zatz, Mr. Arki
Zion, Mr. Morris
Information for Second Class Passengers
MEALS WILL BE SERVED AS FOLLOWS:
When One Sitting 
BREAKFAST: 8.00 a.m. to 10 a.m.
LUNCHEON: 12.30 p.m.
DINNER: 6.30 p.m.
When Two Sittings
BREAKFAST: 7.30 a.m. and 8.30 a.m.
LUNCHEON: 12.00 noon and 1.00 p.m.
DINNER: 6.00 p.m. and 7.00 p.m.
The Bar opens at 8 a.m., and closes at 10.30 p.m.
Lights are extinguished in the Dining Saloon at 11 p.m., Lounge, Reading, and Writing Room, and Smoking Room at 11.30 p.m.
SMOKING is strictly prohibited in any of the Staterooms, Reading and Writing Room, or
Dining Saloon.
SEATS AT TABLE. Passengers who have not previously arranged for seats at table to be reserved should apply for same to the Saloon Steward.
MEDICAL ATTENDANCE. THE SURGEON IS AUTHORISED TO MAKE CUSTOMARY CHARGES, SUBJECT IN EACH CASE TO THE APPROVAL OF THE COMMANDER, FOR TREATING PASSENGERS AT THEIR REQUEST FOR ANY ILLNESS NOT ORIGINATING ON THE VOYAGE. IN THE CASE OF SICKNESS DEVELOPED ON THE VOYAGE NO CHARGE WILL BE MADE, AND MEDICINE WILL BE PROVIDED FREE IN ALL CIRCUMSTANCES.
LETTERS, ETC., FOR PASSENGERS will be brought on board before the passengers land. Passengers should personally ascertain whether there is any mail for them before disembarking and they are invited to leave their addresses with the Saloon Steward for any later dispatches to be re-directed. Postage Stamps can be obtained from the Saloon Steward, who will take charge of Cable Dispatches and Telegrams for transmission.
CHARGES PAID ON BOARD. Passengers are requested to ask for a Receipt on the Company's Form for any additional Passage Money, Chair or Steamer Rug Hire, or Freight paid on Board.
LIBRARY. Books can be obtained on applying to the Library Steward.
DECK CHAIRS and STEAMER RUGS can be hired on application at a charge of 7 /6 each for the voyage.
VALUABLES. The particular attention of passengers is drawn to the ticket conditions regarding the carriage and custody of articles specified in Section 4281 of the revised Statutes of the United States, but passengers can, and are accordingly advised to, protect themselves by insurance. The Line has provided a safe in the office of the Purser in which passengers may deposit money, jewels, ornaments, documents or other valuables for safe keeping and a deposit receipt will be issued by the Purser.
EXCHANGE OF MONEY. The Purser is prepared, for the convenience of passengers, to exchange a limited amount of English, and American money, at rates which will be advised on application.
BAGGAGE. Questions relating to Baggage should be referred to the Ship's Baggage Master. Trunks, Chairs, etc., which Passengers may desire to leave in charge of the Company should be properly labelled and handed to the Baggage Master on the Wharf at New York, and such articles will be stored entirely at owner's risk. It is for passengers
themselves to see all their Baggage is passed by the U.S. Customs Authorities on landing.
DOGS. Passengers are notified that dogs cannot be landed in Great Britain unless a license has previously been procured from the Board of Agriculture, London. Forms of license must be obtained by direct application to the Department before the dog is taken on board at New York.
TRAVELLERS' CHEQUES, payable in all parts of Europe, can be purchased at all the principal offices of the White Star Line. These Cheques are accepted on board White Star steamers in payment of accounts, but the Pursers do not carry funds to enable them to cash same.
DECK GAMES AND AMUSEMENTS. Deck Quoits, Shuffleboard, Bull Board and other games are provided on deck under the charge of a Quartermaster. Chess, Draughts, Dominoes, etc., may be obtained on application to Saloon Steward.
PASSENGERS' QUARTERS. Second Class passengers are not allowed to enter First or Third Class compartments, or vice versa, as complications might arise under the Quarantine Regulations.
BARBER. The Barber is authorized to make the following charges :
Shaving: 0s. 9d.
Hairdressing: 1s. 0d.
Shampooing: 0s. 9d.
Singeing: 0s. 9d.
Face Massage: 1s. 6d.
Scalp Massage: 1s. 0d.
Tonic Dressing: 0s. 3d.
The Barber is allowed the privilege of selling various souvenirs and small articles on his own account.
PICTURE POSTCARDS. Picture Postcards of the steamer can be obtained gratis on application on Board.
POSTAL INFORMATION
HIGH SEAS MAIL. On all British steamers British Postage Stamps and rates are used when mailing letters for European points, and such letters should be posted in the ship's letter box in the ordinary way.  The mail bag is closed a few hours previous to arrival. Full particulars can be obtained at the Enquiry Office upon application.
FOR LETTERS MAILED IN THE UNITED STATES  Rates on letters to points in the United States, Canada, and British Colonies, and to Great Britain and Ireland, two cents an ounce or fraction thereof.  The above rates apply to letters to England, Ireland, Scotland, and Wales ; the Bahamas, the Barbados, British Guiana, British Honduras, the Dominican Republic, the Dutch West Indies, the Leeward Islands, Newfoundland, Trinidad (including Tobago). New Zealand ; and the Windward Islands (including Grenada, St. Vincent, the Grenadines, and St. Lucia).
Rates on letters to all other countries—five cents for the first ounce, and three cents for each additional ounce or fraction.
Rates on postal cards to all countries (except United States, Canada, Cuba, Mexico, and Panama, one cent to each)—two cents each ; on return or reply cards, four cents each.
CANADIAN POSTAL RATES
Letters to points in Canada, United States and Mexico, three cents for the first ounce, two cents for each additional ounce (War Tax in eluded) ; rates to points in Great Britain and all other places within the Empire, four cents for the first ounce, three cents for each additional ounce (War Tax included), rates to other countries, ten cents for the first ounce, five cents for each additional ounce.
Postal Cards to points in Canada, Great Britain, and all other places within the Empire, United States and Mexico, two cents each (War Tax included) ; rates to other countries, six cents each.
Canadian Newspapers to points in Canada, Great Britain and certain places within the Empire, United States and Mexico, one cent for four ounces.
Printed Matter to points in Canada, United States and Mexico, one cent for two ounces ; rates to other countries two cents for two ounces.
Literature for the Blind to points in Canada, United States, Mexico and Newfoundland free ; rates to all other countries one cent per lb.
Commercial Papers to all countries other than Canada, ten cents for the first ten ounces, two cents for every additional two ounces.
Samples to points in Canada, United States, and Mexico one cent per two ounces ; rates to all other countries four cents for the first four ounces, two cents every additional two ounces.
Acknowledgment of Receipt of Registered Articles to points in Canada and all other countries, ten cents if requested at the time of posting the article, 20 cents if requested after posting the article.
WIRELESS TELEGRAM RATES
This Steamer is fitted with Marconi's system of Wireless Telegraphy and also with Submarine Signaling Apparatus.
LONG RANGE WIRELESS SERVICE
This vessel is fitted with special long range wireless apparatus which will enable the ship to communicate with the shore throughout the voyage across the North Atlantic Ocean.
The wireless rate for messages directed through the wireless stations in the United Kingdom is 10d. per word, land telegraph or cable charges additional, and for messages through the special wireless stations in North America the wireless rate is Hid. per word, land telegraph or cable charges additional.
ORDINARY WIRELESS SERVICE
When the ship is nearing the American and Canadian shores, messages can also be forwarded through the ordinary wireless coast stations situated on the Atlantic seaboard at the following rates :
FOR UNITED STATES. The Wireless rate via New York, New London, Siasconsett, Newport, or Chatham, is calculated at Hid. per word ; every word in the address, text and signature counted ; land line charges additional ; all charges must be prepaid.
The Wireless rate via Cape Race, Sable Island, Cape Sable, is calculated at 1s. 3 ½ d. per word ; every word in the address, text and signature counted ; land line charges additional ; all charges must be prepaid.
FOR CANADA. The Wireless rate via Cape Race, Sable Island, Cape Sable is calculated at 1s. 3 ½ d. per word ; every word in the address, text and Signature counted ; land line charges additional ; all charges must be prepaid.
The Wireless rate via Montreal, Quebec, Grosse Isle, Father Point, Cape Bear, Pictou, is calculated at 3d. per word ; every word in the address, text and signature counted ; land line charges additional ; all charges must be prepaid.
The Wireless rate via Clarke City, Fame Point, Harrington, Heath Point, Camperdown, Grindstone Island, North Sydney, St. John, Belle Isle, Cape Ray, Point Rich, Point Armour, is calculated at 6 ½ d. per word ; every word in the address, text and signature counted ; land line charges additional ; all charges must be prepaid.
FOR UNITED KINGDOM. The rate via Varentia, or other stations in the United Kingdom, is 10d. per word ; every word in address, text and signature counted ; land line charges additional ; all charges must be prepaid.
SHIP TO SHIP. The General rate for messages exchanged between British Ships is 8d. per word, and for messages exchanged with foreign ships the general rate is 10d. per word, but as Dutch, Belgian and certain other vessels apply a ship tax with a minimum of ten words, the charges on these vessels will be calculated as follows :
For less than 10 words: 4s. 2d. plus a charge of 5d. per word.
For 10 words or more: 10d. per word.
OCEAN LETTERS. The Marconi Company have inaugurated an "Ocean Letter" service, by which messages may be sent from one ship to another going in an opposite direction, for delivery by Registered Post from the first port of call of the latter vessel. For an " Ocean Letter " sent to a British Ship controlled by the Marconi Company, the rate is (inclusive of wireless, postage and registration) 7s. 6d. for 30 words plus 2d. for each additional word up to a maximum of 100 words. For an " Ocean Letter " sent to a foreign ship the rate is 9s. 4 ½ d. for the first 30 words, plus 2 ½ d. for each additional word, up to a maximum of 100 words. This class of message must contain full Postal Address.
UPPER BERTHS
PASSENGERS OCCUPYING UPPER BERTHS CAN OBTAIN STEPS FOR GETTING IN OR OUT OF SAME ON APPLYING TO THE STEWARD OR STEWARDESS.
INNOVATION TRUNKS.
Passengers are advised that it is not always possible to arrange for the placing of Innovation Trunks in the passenger accommodation in a position where they are easily accessible, also that there is frequently difficulty with regard to the landing of such packages owing to their exceptional size. They are therefore recommended to use steamer trunks in preference.
The "OLYMPIC" carries an Orchestra of skilled musicians, which will play daily at the undermentioned times and places :
10 a.m. to 11 a.m. and 7.30 p.m. to 8.30 p.m. in the Second Class Companionway (outside Lounge)
RECOVERY OF U.S, HEAD TAX
This Tax can be recovered by Passengers, if same has been paid, provided they inform the U.S. Immigration Inspector on arrival at New York of their intention to leave the United States within 60 days (the time prescribed by U.S. Law), and obtain from him Transit Certificate Form 514.
It is also necessary for Transit Certificate Form 514 to be handed to the transportation company when completed, in time to allow same to be placed before the Immigration Authorities in Washington within 120 days of passenger's arrival in the United States.
Unless this regulation is complied with the Tax cannot be recovered.
LANDING ARRANGEMENTS AT NEW YORK
Should the Steamer arrive at the New York Wharf after 8 p.m., Passengers may land if they wish to do so and have their baggage passed by the Customs Authorities immediately on arrival, but those who prefer to remain on board may do so and have the whole of their Baggage passed the following morning not earlier than 7 o'clock. Breakfast will be served to those who remain on board overnight.
Uniformed representatives of the American railroads meet all steamers on arrival at New York. Railroad tickets may be purchased, and baggage checked from the Steamship Pier to any point along the Lines of the Pennsylvania, New York Central, Erie, Lehigh Valley, and connecting railroads.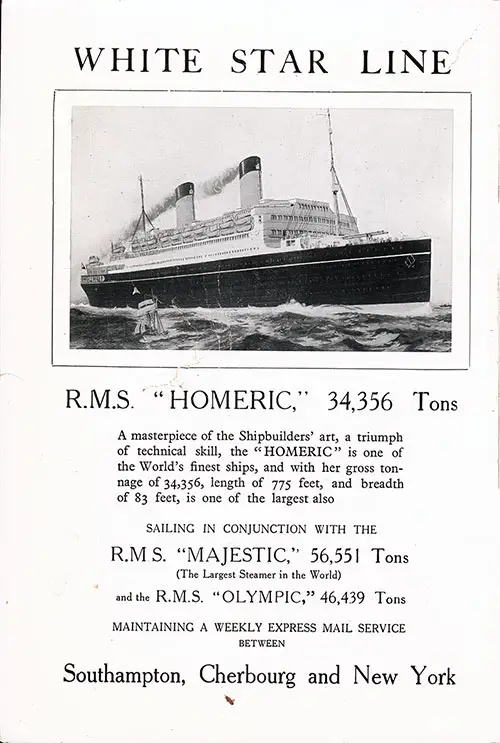 RMS Homeric of the White Star Line, 34,356 Tons. GGA Image ID # 12bc067b89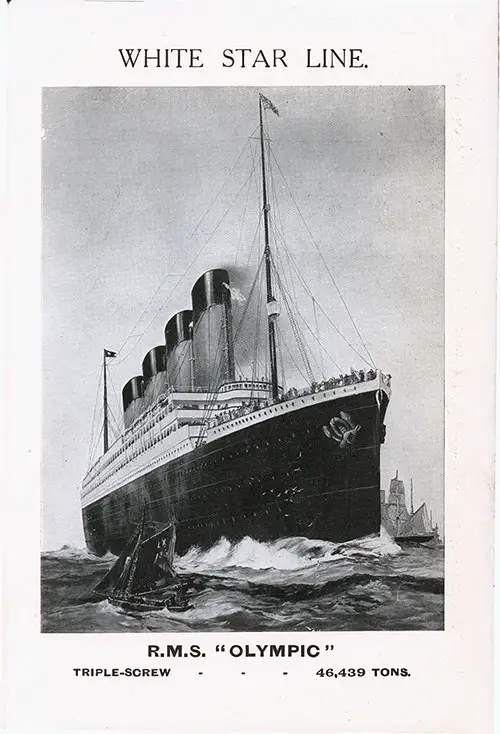 RMS Olympic of the White Star Line, Triple-Screw Propulsion, 46,439 Tons. GGA Image ID # 12bc1baa86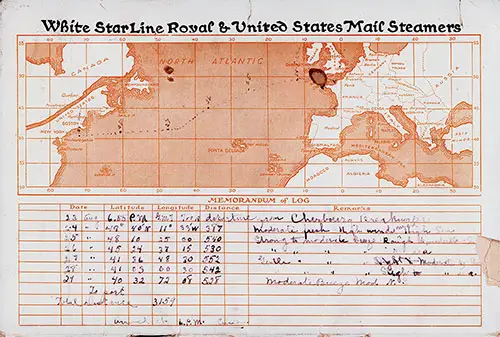 Track Chart and Memorandum of Log, Back Cover, Second Class Passenger List from the RMS Olympic of the Cunard Line Sailing 23 August 1922. GGA Image ID # 12bc2244eb