RMS Celtic Passenger List - 19 August 1904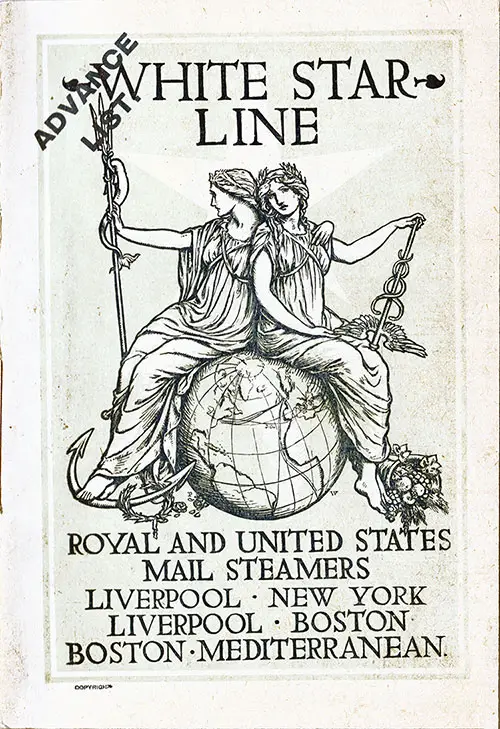 Front Cover, White Star Line RMS Celtic First Class Passenger List - 19 August 1904. GGA Image ID # 13bff41172
First Class Passenger List for the RMS Celtic of the White Star Line, Departing 19 August 1904 from Liverpool to Boston via Queenstown (Cobh), Commanded by Captain J. B. Ranson, R.N.R.
Notable Passengers: Edward (E. E.) Boynton, John J. Cain, Randall Thomas Davidson, 1st Baron Davidson of Lambeth GCVO PC, William Sloane Coffin Sr., B. Warren Corkran, Cyril James Humphries Davenport, Harry Kellar, Lucien Lucius (L.L.) Nunn, John S. Oram, Edward Pulling, Charles Hallace Romaine, The Countess of Yarmouth (Alice Cornelia Thaw)
Senior Officers and Staff
Captain: J. B. RANSON, R.N.R
Surgeon: S. M. Dickson
Purser: G. H. BREWER
First Class Passengers
Dr. Murray M. Adams
Mrs. Adams
Mr. C. D. Allister
Mrs. Allister
Mr. R. M. Anderson
Mrs. Anderson
Mr. J. C. Annan
Miss Fitzgerald Arnott
Mr. J. C. Arter
Mr. Edward W. Ashley
Mrs. Ashley
Mr. Morgan Ashley
Mr. E. Baerwald
Miss Ethel Beale
Mr. J. Harvey Bell
Mrs. J. Harvey Bell
Miss Mary E. Bell
Mr. Harvey W. Bell
Mr. E. E. Billows
Mr. Harry W. Blake
Colonel C. E. Bleyer
Mr. S. T. Bleyer
Mr. A. J. Bolton
Mr. E. Bottenweiser
Mr. E. E. Boynton
Edward Boynton was a successful lantern salesman and partner in the C. T. Ham Manufacturing Co. of Rochester. Most noted for commissioning The Edward E. Boynton House that was built in Rochester, New York in 1908. This two-story house is built in the elongated "T" plan. Frank Lloyd Wright won agreement from Boynton to not only design the house but also design the landscape and furnishings as well. It's the furthest east of Wright's Prairie houses
Miss B. H. Boynton
Mr. G. Brentnall
Mr. J. I. Briggs
Mr. F. F. Brightley
Mr. A. S. Brownell
Mrs. Brownell
Miss Brownell
Mr. Phineas H. Burton
Mr. John J. Cain
John J. Cain (1861–1937) was the 9th mayor of Bayonne, New Jersey from 1910 to 1912
Mr. Robert C. Cairns
Mrs. Cairns and Maid
Miss Agnes W Cairns
Miss Jessie C. Cairns
Mr. M. F. Campbell
His Grace The Lord Archbishop of Canterbury
Randall Thomas Davidson, 1st Baron Davidson of Lambeth GCVO PC (7 April 1848 – 25 May 1930) was an Anglican bishop of Scottish origin who served as Archbishop of Canterbury from 1903 to 1928
Mrs. Randall Davidson and Maid
Mr. R. B. Carpenter
Mr. James Carrie
Mrs. Carrie
Mr. M. B. Church
Mr. James W. Clarkin
Mr. J. G. Clayton
Mr. S. G. Clohessy
Miss K. Cochrane
Mr. Frank Coffee
Mr. Edmund Coffin
Mrs. Edmund Coffin
Miss Natalie Coffin
Mr. William S. Coffin
William Sloane Coffin Sr. (1879-1933) was a director of W. & J. Sloane - a furniture and rug store in New York City that catered to the wealthy, since graduation from Yale University in 1900, and a trustee of the Presbyterian Hospital since 1908. He was the father of Edmund Coffin 2d, William Sloane Coffin Jr., and Margaret Sloane, and a brother of Rev. Henry Sloane Coffin
Mr. Lloyd G. Corkran
Mr. B. Warren Corkran
B. Warren Corkran (1886-1963) was the 1922 winner of the Maryland Open
Mrs. B. W. Corkran, Jr.
Mr. Robert Cormack
Miss Grace Cortis
Mrs. J. Cossar
Miss M. J. Cossar
Mr. Dan Costello
Mr. Munroe Crane
Mr. Theo. Crane
Mr. J. B. Creighton
Mr. William Crompton
Mr. A. B. Crosby
Miss Harriet Currier
Miss Emily Currier
Miss Lucia Czisz
Mr. John Daniels
Major Cyril Davenport
Cyril James Humphries Davenport 1848-1941 F.S.A. Assistant to the Keeper of Printed Books, British Museum. Cantor Lecturer on Decorative Bookbindings, Society of Arts. Author of Royal English Bookbindings; English Embroidered Bookbinding; History of the Book; &c and this author wrote articles for the 1911 Encyclopædia Britannica
Mr. C. A. Day
Mrs. Day
Miss F. R. Day
Mr. Godfrey Degerberg
Dr. H. L. Deimel
Mr. F. J. Dobson
Mr. John Dougan
Mrs. Dougan
Mr. Emil Dreyfus
Mrs. Dreyfus
Mr. F. C. Duff
Miss Duff
Miss Mary E. Duggan
Miss Ellen M. Duggan
Mrs. M. J. Dunham
Mr. Felix Edwards
Mr. P. J. Edwards
Miss Fanny Egbert
Mr. Frank H. Egbur
Rev. J. H. Ellison
Mr. J. A. Finn
Mrs. R. P. Flower
Mr. R. M. Gallaway
Mr. W. P. Gammons
Mrs. Gammons
Mr. T. F. Garrity
Mr. George H. Gaston
Mrs. Gaston
Miss Dorothy W. Gaston
Mr. George H. Gaston, Jr.
Mr. W. N. German
Mr. Frank S. Gerrish
Mrs. Gerrish and Maid
Mr. Patrick Gill
Mr. J. P. Gill
Mr. M. A. Gill
Miss Anna M. Gill
Mr. John H. Gingell
Mrs. Gingell
Miss G. D. Gingell
Mr. George F. Glassco
Miss M. H. Glassco
Miss Ina Goldsmith
Miss Susie Graham
Mr. Robert K. Gray and Manservant
Mrs. H. L. Hazlett
Mr. G. F. Henblein
Mrs. Henblein
Mr. Frank P. Hill
Mr. Charles V. Hoffman
Mrs. Hoffman
Miss Mabel Hoffman
Mrs. W. B. Hoffman and Maid
Miss D. W. Hoffman
Miss M. A. Hoffman
Rev. Hyla Holden
Mr. Hornblower
Judge John D. Horsley
Mr. Edward H. Hoyt
Mrs. Hoyt
Miss F. N. Hoyt
Mrs. C. M. Jacobs
Miss Hannah S. James
Mrs. M. V. R. Johnson
Miss Hider Johnson
Miss E. Johnston
Miss H. Johnston
Miss M. Edith Johnstone
Mr. J. Jordan, M.P
Mrs. E. A. Judson
Miss C. D. Judson
Miss Pearl Judson
Miss M. Keane
Mr. Harry Kellar
Harry Kellar (July 11, 1849 – March 10, 1922) was an American magician who presented large stage shows during the late 19th and early 20th centuries. Kellar was a predecessor of Harry Houdini and a successor of Robert Heller. He was often referred to as the "Dean of American Magicians" and performed extensively on five continents. One of his most memorable stage illusions was the levitation of a girl advertised as the "Levitation of Princess Karnack", which was similar to an illusion invented by John Nevil Maskelyne, from which Kellar copied by bribing one of Maskelyne's theater staff
Miss Carrie Kelly
Mr. Alex. M. Kennedy
Miss Florence Kirby
Mr. J. H. Lane
Mr. W. Lawson
Mr. W. V. Leitch
Mr. Gardner C. Leonard
Mrs. Leonard
Mrs. M. Lepet
Mr. G. C. Lloyd
Dr. L. T. Lowder
Mrs. Lowder
Colonel R. G. Lowe
Mrs. Lowe
Mr.. T. L. Lutkins
Mrs. Lutkins
Mr. Thomas R. Lyon and Manservant
Mr. Fred MacKelcan
Mrs. MacKelcan
Mr. Mitchell H. Mark
Mr. John A. McCall
Mr. E. McClintock
Mrs. McClintock
Mr. Robert McClure
Master McClure
Mr. W. C. McCutcheon
Mr. P. J. McDonough
Rev. E. V. McElhone
Miss S. E. McIntosh
Miss Elizabeth Medican
Mr. E. C. Midgley
Mr. R. L. Milchner
Mrs. Charles Moat
Miss Gladys Moat
Mrs. William Moir and Manservant
Mr. G. L. Montgomery
Mr. G. A. Moore
Mrs. Moore
Miss Carol Moore
Mr. Alex. C. Morgan
Mr. J. Morris
Miss Morris
Mrs. William Moser
Mr. Washington Morton
Mr. Irving Murray
Mr. J. Kirkes Myers
Miss Myers
Mr. John W. Nary
Mrs. Nary
Miss Stella F. Nary
Mr. Walter Neal
Mrs. E. Neill
Master M. C. Neill
Miss F. L. Neill
Mrs. Nesbitt
Miss Flora Newcomb
Mr. J. Henry Norton
Mrs. Norton
Mr. E. Norwood
Mr. L. L. Nunn
Lucien Lucius Nunn (16 March 1853 Medina, Ohio – 2 April 1925 Los Angeles, California) was an American entrepreneur and educator who founded Telluride Association and Deep Springs College. He received his higher education at Oberlin College and for a year studied law at Harvard Law School
Mr. J. D. O'Donnell
Rev. W. O'Hara
Mr. D. L. Oliver
Mr. Nils Olsen
Mr. John S. Oram
John S. Oram (November 24, 1847-June 14, 1913) of Cleveland founded and built up in Cleveland an industry for the manufacture of barrel making machinery and his success in that business was largely due to the working and perfection of ideas and inventions of his own
Miss E. Jean Oram
Mr. A. Overton
Mrs. L. N. Pearson
Mr. J. Peter
Mr. Frank L. Pierce
Mrs. Pierce
Mr. A. Pirelli
Mr. W. H. Post
Mr. A. J. Prager
Mr. Walter R. Pretty
Mr. W. A. Prichard
Mrs. Prichard
Mr. T. J. Pulling
Mrs. Pulling
Master Edward Pulling
Edward Pulling (June 10, 1898 - April 17, 1991) founded Millbrook School in 1931. Pulling was a graduate of both Princeton University and Cambridge University, and he taught at both Groton School and Avon Old Farms as well as private schools in the United Kingdom
Miss Anna Pulling and Governess
Miss Margaret Rae
Miss Anne Rae
Mr. A. J. Richmond
Dr. Arthur E. Ridsdale
Miss Georgia Robertson
Mr. O. G. Robinson
Mrs. Robinson
Miss Isabelle Robinson
Mr. C. H. Romaine
Charles Hallace Romaine (July 11, 1866 - Jan 18, 1922) Professinal gambler who survived the sinking of the Titanic. Other careers including manager of the Hotel Doxey in Indiana and a Banker in New York City
Miss Katherine Rummell
Mr. C. M. Scanlon
Mrs. C. H. Senff
Mr. Frank Shannon
Miss A. Sheldon
Mr. P. C. Shine
Mr. H. E. Smith
Mr. O. W. Smith
Mr. James Smith
Dr. O. C. Snyder
Mr. L. R. Sober
Mrs. Sober
Mr. N. Ray Stiles
Miss B. L. Sutherland
Mr. Gecrge H. Sweeney
Mrs. Sweeney
Mr. V. L. Tatroe
Mr. Norman Tharpe
Mrs. Thaw and Maid
Mr. R. B. Thomson
Miss G. S. Tilney
Dr. B. T. Tilton
Mr. L. J. Tonnele
Mrs. Tonnele
Miss Mary Torrance
Mr. C. J. Tracey
Mr. G. R. Turnbull
Mrs. Turnbull
Miss Turnbull
Mr. Charles S. Turner
Mr. Albert Tusch
Mrs. H. A. Wade
Dr. Henry F. Walker
Miss Wallace
Miss H. E. Waters
Mr. Thomas Weir
Mrs. Weir
Mr. Thomas West
Mrs. West
Mr. John C. Westervelt
Mr. L. Westervelt
Mr. Fred L. White
Mrs: White
Miss White
Mr. J. G. Whytlaw
Mrs. Whytlaw and Maid
Mr. Ivan G. Whytlaw
Master G. G. Whytlaw
Miss M. G. Whytlaw
Mr. H. K. S. Williams
Mrs. Williams
Miss Williams
Mr. R. Williamson
Mr. Marshall C. Wilson
Mrs. Wilson
Miss Wilson
Mr. Louis H. Wilson
Miss Mary Woods
Mr. William J. Wright
Mrs. Wright
Miss Marion D. Wright
Master Courtney Wright
The Countess of Yarmouth and Maid
Alice Cornelia Thaw (January 2, 1880 - May 8, 1955) was an American philanthropist and, upon her marriage to George Seymour, 7th Marquess of Hertford, the Countess of Yarmouth
Information for Passengers
Breakfast from 8-30 until 10 o'clock.
Luncheon at 1-30.
Dinner at 7 o'clock.
The Bar closes at 11:00 pm, and the Smoking Room at 11:30 pm
Divine Service in the Saloon on Sunday at 10:30 am
Please apply to the Second Steward for Seating accommodation at Table. Children are not entitled to seats in the Saloon unless full fare is paid.
Cablegrams and Telegrams should be handed to the Saloon Steward an hour before the arrival at Queenstown.
The Saloon and Library Stewards will supply Stamps, Telegraph Forms, Books of Reference, and Railway Time Tables of the Principal Companies.
Questions relating to Baggage should be referred to the Second Steward, who is the Ship's Baggar Master. Trunks, Chairs or Rugs which Passengers may desire to leave in charge of the Company, should be appropriately labeled and handed to the Baggage Master on the Wharf at New York, and such articles will be stored entirely at owner's risk. It is necessary for Passengers themselves to see all their Baggage is passed by the U.S. Customs Authorities on landing.
Deck Chairs can be hired at a charge of 4/- each for the voyage, 24 hours' notice being necessary at the London or Liverpool Office.
It is desirable that valuables or Money should be placed in charge of the Purser for deposit in his safe. As no charge is made for carriage, the Company can accept no responsibility for loss or damage, however arising, but Passengers can protect themselves by insurance.
Passengers are requested to ask for a Receipt on the Company's Form, for any additional Passage Money, Chair Hire, or Freight paid on board.
For the convenience of Passengers the Purser is prepared to exchange a limited amount of English and American money. The rate of exchange will be $4.80 to the Li when giving American in exchange for English currency, and Li to $4.95 when giving English money for American.
First Class Passengers joining the White Star Mail Steamers for New York at Queenstown, must be at that port not later than 10-15 am Thursday.
First Class Passengers joining the Steamers of the Friday New York Service from Liverpool at Queenstown, must be at that Port not later than 8 o'clock on the Saturday morning.
Passengers Addresses may be left with the Saloon Steward, in order that any letters sent to the care of the Company may be forwarded
Nicholas Martin, 9, Rue Scribe - - Paris.
34, Leadenhall Street, E.C.,
London.
Ismay, Imrie & Co., 17, Cockspur Street, S.W.,
30, James Street - - Liverpool.
The Passenger Services of the White Star Line are maintained entirely by Twin Screw Steamers, including the "Oceanic," "Majestic." and "Teutonic," which are Among The Fastest Steamers afloat, and the "Baltic." "Cedric," and "Celtic," the Three Largest Vessels in The World.
The Boston Services include the Largest and Fastest Steamers sailing to Boston.
White Star Line New Services.
We have pleasure in announcing that the White Star Line has established, in addition to the Regular Liverpool-New York Services, a Regular Service between
Liverpool and Boston (Calling at Queenstown),
Also Between
New York
& Mediterranean Ports.
& Boston
These Services will be conducted by the large modern Twin-Screw Steamers :—
Repbulic : 15,400 Tons
Cretic : 13,500 Tons
Canopic : 13,000 Tons
Cymric : 13,100 Tons
Romanic : 11,400 Tons
which sail regularly throughout the year to and from Liverpool and Boston (calling at Queenstown), or to and from New York or Boston and Mediterranean Ports. See annexed sailing schedules giving the departures as at present arranged.
The attention of Passengers holding return tickets by the White Star Line is especially drawn to the choice of route thus offered, return tickets being available for their full value towards passage by any of the White Star Services.
Facilities will be offered for booking by the most attractive routes across the Continent between the various ports of call in the Mediterranean and Liverpool, which will thus enable Passengers to book the round trip from New York or Boston, via the Mediterranean, returning from Liverpool or vice versa.
Ismay, Imrie & Co.
Liverpool, August, 1904.