RMS Arabic Passenger List - 11 June 1909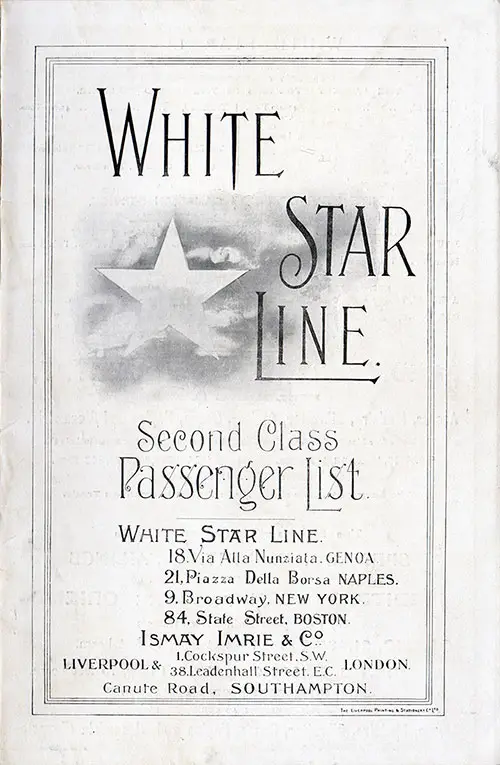 Front Cover, White Star Line RMS Arabic Second Class Passenger List - 11 June 1909. GGA Image ID # 13ba870dac
Second Class Passenger List for the RMS Arabic of the White Star Line, Departing Friday, 11 June 1909 from Liverpool to New York via Queenstown (Cobh), Commanded by Captain W. Finch.
Passenger List includes a photograph of the RMS Arabic and a Warning Notice about Professional Gamblers. We have seen a number of similar notices, especially in White Star Line and Cunard passenger lists of the late 1800s and early 1900s. Typically, you would find one included with the First Class or Saloon lists. This is the first Second Class passenger list we ran across included a "Professional Gamblers" Warning Notice.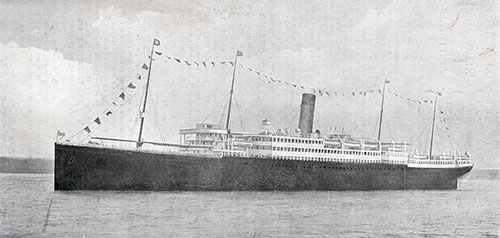 White Star Line Steamship SS Arabic
Senior Officers and Staff
Captain: W. Finch (Lt. R.N.R.)
Surgeon: A. V. Elder
Purser: J. Rooney
Chief Steward: G. Roberton
Warning! Professional Gamblers May Be Traveling in Second Class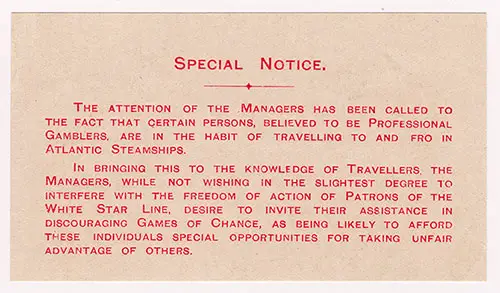 Insert, Special Notice - Professional Gamblers... Inserted into this passenger list.
Second Class Passengers
Mr. James Airlie
Mr. John Alderson
Mrs. Alderson
Miss Florrie Alderson
Miss Clara H. Allen
Mr. John J. Alnwick
Mr. John T. Archibald
Mrs. Archibald
Mrs. Agnes Atkinson
Mr. W. K. Bagnall
Mrs. J. H. Bailey
Mr. Frederick D. Barnes
Mrs. Maria Bestwick
Master H. Bestwick
Master Harold Bestwick
Master Frank Bestwick
Mrs. Maria Bestwick and Infant
Miss Lena Burman
Mrs. Bestford
Mrs. Anne L. Boulton
Miss Dorothy Boulton
Miss Anne Boulton
Miss Beatrice A. Brown
Miss Mary Bulcock
Mr. George Bullock
Mr. John Burnet
Mr. Alfred Burton
Mrs. Burton
Mr. Ernest P. Butler
Mr. John A. Caldwell
Mrs. Caldwell
Mr. Julius Calvert
Mrs. P. H. Carroll
Mr. Aaron Cohen
Miss Mary E. Collings
Mr. M. Collins
M r. Elias Compton
Miss Nellie A. Coniff
Mr. Hugh Cosgrove
Mrs. Rhoda Coulton
Mr. Timothy Curran
Mr. A. Cadman
Master Patrick Curran
Mrs. Ellie Curran
Mr. Herbert Davies
Mrs. Davies
Master H. G. Davies
Mies Florence Davies
Miss Vera Davies
Mr. William F. Ditch
Mrs. Ditch
Miss Gladys Ditch
Miss Eileen Doyle
Mr. Alfred Drakeford
Mrs. Drakeford
Miss Grace Drakeford
Mr. Patrick Driscoll
Miss Mary Duggan
Mr. L. Rae Dunrobin
Mr. Henry T. Durnford
Mrs. E. Dyer
Miss Violet Dyer
Miss Olive Dyer
Miss Jenny Dyer
Mr. Percy Dyer
Mrs. J. Earnshaw
Miss Adelaide Earnshaw
Mr. Lat Ellani
Mr. John Everington
Miss J. Everton
Mr. Cabel Fathers
Mr. William H. Fortune
Mr. Thomas Gallahue
Mrs. M. Galvin
Master Timothy
Galvin Mr. Gibson
Mr. Albert Gittins
Mr. A. S. Gray
Mr. Hugh St. V. Grover
Mr. Clem Hackney
Mrs. Sallie E. Hackney
Miss Emma Hackney
Miss Clementina Hackney
Master Henry Hackney
Miss Sallie Hackney
Master John Hackney
Mrs. Bridget Hade
Miss Patricia Hade
Mr. Williaim Hade
Mr. E. J. Hall
Mr. Cornwall Hart
Mr. Claude Hart
Miss Isabella. Hart
Miss Margaret Harten
Mr. Edgar Hartley
Miss Margaret Hartley
Mr. George A. Hill
Miss Margaret Horgan
Mr. Abdul Hosein
Mr. Novel Muck
Mr. Edward A. Hull
Mrs. Emma Hunt
Mr. Henry Isaacs
Miss Annie Isaacs
Mr. William Izzard
Mr. William H. James
Mrs. James
Master William H. James
Mr. James Jardin
Mrs. May Jardin
Mrs. H. S. Jones
Miss Marjorie L. Jones
Mr. D. A. Kapitzke
Mr. C. Kermond
Mrs. Kermond
Mr. H. Kermond
Mrs. Margaret King
Mrs. Jennie Kremer
Master Lionel Kremer
Mr. H. Landless
Mrs. R. A. Lane
Miss Dorothy Lane
Miss Ethel A. I. Lane
Miss Ruth Lattimore
Mr. Julius Lester
Mrs. Annie Lewis
Miss Rose Lewis
Miss Ethel Lewis
Mr. Albert Licence
Mr. Rudolph Lober
Mr. A. H. Ludwig
Mrs. Ludwig
Master E. A. Ludwig
Mr. E. L. Macabee
Mrs. Macabee
Master Fabian Macabee
Master Cedin Macabee
Miss Elaine Macabee
Mr. Robert MacNaughton
Mr. Thomas Martin
Mr. James Martin
Mr. Michael McCann
Mr. James McCann
Mr. Charles McGovern
Mrs. McGovern
Mr. Chajem Migden
Mr. E. J. Moulton
Mrs. Moulton
Master Fred Moulton
Master William Moulton
Mr. William Muirhead
Miss Wilhehmena Myatti
Mr. A. Oakley
Mr. Percy O'Connor
Mr. Thomas O'Brien
Mrs. Parr Miss Parr
Mr. A. Percy
Mrs. Mary Pond
Mr. Alfred Potvin
Mr. Albert E. Pugh
Mr. D. J. Quinn
Mrs. Quinn
Mr. D. G. Radcliffe
Mr. Eugene Randolph
Mr. Saul Rosin
Mrs. Rose Rosin
Miss Janet Rosin
Master Jack Rosin
Miss Bertha Rosin
Miss Leon Rosin
Mr. Edward Scanlon
Mr. Saul Schwartz
Mr. Albert S. Scott
Miss Lucy Slater
Mr. Ernest Smith
Mrs. Smith
Mr. Joseph Smythe
Rev. Joseph E. Spencer
Mr. Roland E. Stephenson
Mr. George Stewart
Mr. W. H. Stone
Mr. Charles Sweigle
Mrs. Sweigle
Mr. J. W. Thompson
Mrs. Lillian D. Thorne
Mr. Frank Thorne
Master Kenneth Thorne
Miss Florence Trevelion
Mr. David Uzell
Mrs. Uzell
Mr. Arthur Wade
Miss Elizabeth H. Wade
Mr. Albert Wade
Mrs. Wade
Miss Minnie Wade
Master Norman Wade
Mr. James Wardrope
Mrs. Edith Whitehead
Miss Rebecca Whitehead
Master Leonard Whitehead
Mr. Joseph Whittaker
Miss Whittaker
Mrs. E. Whorldall
Miss M. H. Whorldall
Mr. William Willetts
Mrs. Florence Williams
Miss Irene Williams
Mrs. E. A. Winstone
Mrs. Eunice Worsley
Mrs. Eliza Wright