RMS Majestic Passenger List - 4 September 1935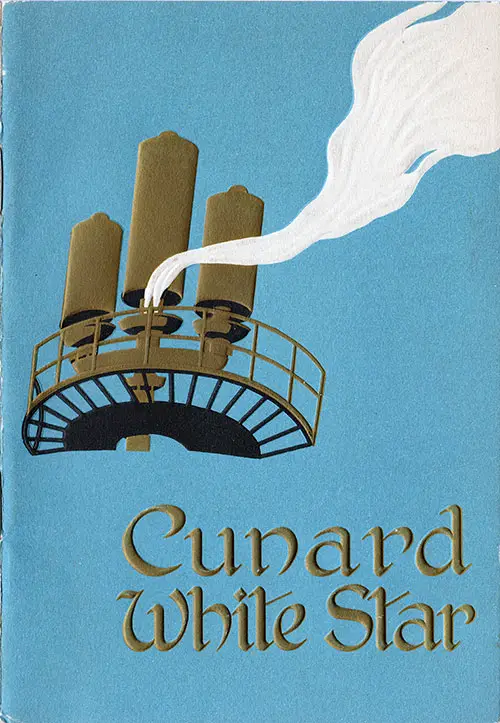 Front Cover, White Star Line RMS Majestic Tourist Class Passenger List - 4 September 1935. GGA Image ID # 13ca5df83d
Tourist Passenger List for the RMS Majestic of the White Star Line, Departing Wednesday, 4 September 1935 from Southampton to New York via Cherbourg, Commanded by Captain R. B. Irving, O.B.E., R.D., R.N.R.
Senior Officers and Staff
Captain: R. B. Irving, O.B.E., R.D., R.N.R
Staff Captain: J. Foyster
Chief Engineer: M. L. Evans
Staff Chief Engineer: J. W. Duffin
Chief Officer: J. Bertenshaw
Surgeon: L. H. Woods
Assistant Surgeon: D. Campbell
Purser: C. B. Lancaster
Staff Purser: M. Ferguson
Tourist Purser: H. S. Holman
Chief Steward: P. Biddlecombe
Tourist Steward: H. Ridgen
Tourist Passengers
Mr. R. W. Abberley
Mrs. Abberley
Mr. W. J. Adolph
Mrs. Adolph
Mr. H. M. Agoos
Mr. G. Anderson
Mrs. A. Applebaum
Mr. C. Claude Appleby
Mrs. Appleby
Mr. E. Applequist
Mr. A. Applequist
Mr. A. P. Ardito
Rabbi A. M. Ashinsky
Mr. F. Ashworth
Mr. S. P. Bach
Mr. B. Baer
Rev. M. K. Barry
Mr. E. M. Barton
Mr. M. B. Bass
Mrs. Bass
Mrs. C. Baum
Miss R. Bayard
Miss C. J. Beckwith
Miss M. Bellamy
Mrs. S. Bennett
Mrs. M. F. Biondi
Mr. E. S. Blake
Mrs. E. A. Blount
Miss H. M. Boe
Miss M. Boncza-Tomaszewska
Miss R. Boschwitz
Mrs. C. W. Boughey
Mrs. A. Boxill
Miss P. Boyd
Miss L. J. Brewer
Miss F. R. Brewer
Mr. A. C. Brooks
Mrs. Brooks
Mr. J. B. Brown
Mrs. Brown
Miss M. Brugger
Dr. Hans Brunner
Miss E. Burgess
Miss H. Burgess
Miss M. Burns
Mrs. A. Butleman
Dr. T. C. Butler
Mrs. M. Butler
Miss K. Cable
Mr. G. Carlton
Mrs. Carlton
Mr. S. Carroll
Mr. C. Carrolk
Mr. H. C. Cartwright
Miss K. Cerf
Dr. C. D. Champlin
Miss E. M. Charrington
Mrs. A. Cheffetz
Miss J. M. Christie
Dr. R. B. Clark
Mrs. Clark
Miss R. E. Clark
Dr. Mildred Clark
Mrs. A. A. Clarkson
Miss D. Clarkson
Mr. R. Clayton
Mr. A. E. Cluffe
Mr. T. D. A. Collet
Rev. J. M. Collins
Mrs. Collins
Miss D. Colman
Mr. G. M. Cook
Mrs. Cook
Mrs. M. E. Cook
Miss P. Cook
Miss H. Coomes
Miss M. W. Costello
Miss C. Cowe
Mrs. M. Cronksliaw
Miss G . Cronkshaw
Miss D. Cubitt
Mrs. C. P. Culloni
Mr. C. K. Cummings
Mrs. Cummings
Mrs. L. Curr
Miss B. De Beau
Mr. H. Deitrick
Miss H: De Stroumillo
Dr. Dimock
Mrs. Dimock
Mr. P. V. Dineen
Mrs. Dineen
Miss I. Dolby
Rev. C. M. Douglas
Mrs. Douglas
Mr. H. Dreyer
Mr. J. Drieson
Miss B. J. Du Beau
Mr. G. Dunn
Miss F. Edgar
Mr. H. C. Edgar
Miss M. K. Elkin
Mr. J. F. Ellmann
Mrs. Ellmann
Mr. E. Emerson
Mr. A. Emerson
Rev. M. Enright
Dr. G. Erlanger
Mrs. Erlanger
Miss R. Ernst
Mrs. E. Ernst
Mrs. A. R. Evans
Mrs. E. Evans
Miss J. Farr
Miss C. Feeney
Dr. A. Feldman
Mrs. F. A. Feldman
Mrs. J. Feront
Mrs. E. Finnerman
Miss C. Fish
Rev. E. M. Flipse
Mrs. Flipse
Prof. J. T. Flom
Mrs. Flom
Mrs. F. Frank
Miss L. Franklin
Mrs. M. Fraser
Miss J. Fraser
Prof. Dr. W. Friedlander
Mrs. Friedlander
Mr. N. Friedman
Mr. J. S. Fulton
Dr. N. W. Gable
Mrs. Gable
Mr. R. C. Gay
Mr. I. Geriminisky
Mrs. Geriminisky
Mr. H. Gilbert
Mrs. Gilbert
Master D. Gilbert
Miss E. E. Glover
Mr. S. Gluckstern
Mrs. Gluckstern
Miss E. R. Goddard
Dr. M. Goldberg
Mrs. Goldberg
Dr. J. Goldberg
Mr. S. Goldblum
Mr. D. Goldfarb
Mrs. Goldfarb
Mr. M. Goldsborough
Mr. B. Goldwasser
Mrs. Goldwasser
Miss D. Goodwin
Miss A. Goossens
Miss S. Goossens
Mr. C. G. Gordon
Miss M. Graham
Mr. W. A. Gravins
Mrs. Gravins
Mr. C. J. Gray
Mrs. Gray
Mr. Gray
Miss L. Green
Miss B. Da Costa Greene
Mr. O. L. Gregory
Mrs. Gregory
Miss E. E. Griffiths
Miss E. B. Grimball
Mr. H. Grossmark
Mrs. Grossmark
Miss R. Gurnett
Miss F. Gutman
Mr. A. S. Halaby
Miss F. Halperin
Miss J. I. Harris
Mr. J. T. Harvey
Mrs. C. H. Haskins
Miss Clare Elisabeth Haskins
Mrs. A. Heatley
Miss E. A. Hedgcock
Miss M. G. Hennebrv
Mr. E. L. Herrick
Mr. D. Herzmark
Rev. W. C. Hicks
Mrs. C. L. Hilleary
Miss M. Himelhoch
Mr. D. S. Himelstock
Miss E. Holmes
Miss Dorothy Hope
Miss B. Horsburgh
Miss G. W. Howard
Mr. A. Huey
Mrs. Huey
Mr. C. H. Hulme
Mrs. Hulme
Miss M. Hunt
Miss S. Hunt
Mr. R. W. Hurt
Mr. M. Huschman
Miss M. W. Innes
Dr. A. Irvine
Rev. W. G. Irwin
Mr. W. Jackson
Mrs. Jackson
Mr. G. Jackson
Mr. S. Jackson
Miss J. Jacquemetton
Dr. Eloise Jameson
Miss A. Jameson
Mrs. R. Jawls
Mrs. W. A. Jeal
Miss C. M. Jeal
Prof. A. E. Johnson
Mr. J. R. Johnson
Mr. L. Johnson
Mrs. L. Johnson
Miss H. Johnson
Miss L. Johnson
Miss Johnson
Mr. A. H. Jones
Mrs. Jones
Miss E. Kaske
Mr. J. Katz
Mr. S. Katzenelbogen
Mr. E. Kaufman
Mr. J. Keenan
Mr. E. J. Kelleher
Mrs. Kelleher
Rabbi H. B. Kellman
Mrs. Kellman
Mr. J. Kelly
Mrs. J. Kelly
Miss E. Kelly
Miss A. Kennedy
Mrs. A. Kimber
Mr. N. L. Kincaid
Mr. E. J. B. King
Mr. K. Kirkham
Mr. M. Klein
Mrs. Klein
Dr. M. Korn
Mrs. M. Kovenko
Miss N. Kozinsky
Mrs. S. Kozinsky
Mrs. G. Kravitz
Miss L. Kupersmith
Mr. E. Kuroda
Miss C. Lackey
Mrs. H. M. Lasky
Miss A. Laulergue
Miss J. B. Le Munyan
Miss B. Le Munyan
Mr. H. Lennard
Mrs. L. R. Leonard
Miss M. Leonard
Mr. R. M. Leveridge
Mr. M. Levine
Mr. D. C. Lewis
Mrs. Lewis
Mr. D. W. P. C. Lewis
Dr. A. Lieberman
Mrs. Lieberman
Mrs. E. Linzon
Miss S. Linzon
Miss A. Livermore
Mr. C. H. Livingston
Mr. L. V. Longhurst
Mrs. Longhurst
Mr. K. V. Ludlow
Mrs. Ludlow
Miss C. Maakestad
Miss M. Maakestad
Miss M. MacKenzie
Mr. C. Scott MacSkimining
Mrs. C. Magrath
Mr. E.G. Manning ) f
Mr. E. Manning
Mr. G. Man son
Mr. M. Margules
Miss J. Marsalek
Rev. C. A. Mathias
Mrs. Mathias
Mr. J. Mauter
Miss A. McAvoy
Dr. C. J. McCombe
Rev. E. McCollam
Miss I. McCullen
Dr. L I-D. McMurtrie
Mr. C. Medowick
Mrs. Medowick
Dr. A. M. Meldrum
Mr. F. Messmore
Mr. W. J. Miller
Miss E. J. Miller
Miss Miller
Mrs. F. Millican
Mr. F. Mirick
Miss R. L. Monkhouse
Miss M. M. Morgan
Mr. D. J. Moroney
Miss V. Morrisev
Mr. W. Morss
Dr. W. Moskowitz
Mrs. Moskowitz
Mrs. A. H. Neall
Mr. E. B. Nelson
Miss V. Newcomb
Mr. G. E. Nichols
Mr. R, Nicol
Mr. Max Nierenberg
Dr. A. Nimetz
Miss L. Noone
Rev. L. Novick
Mrs. E. Oberg
Mr. L. Olds
Miss A. Papplnheimer
Mr. J. Payne
Miss A. Peckham
Miss H. Pelcuger
Miss L. Pickard
Miss J. Pinta
Dr. S. M. Posnock
Mrs. D. Posnock
Dr. S. Posnver
Mrs. Posnver
Mrs. E. Preece
Mr. J. 0. Prickett
Mrs. A. Pnlner
Dr. J. J. Putnam
Mrs. Putnam
Miss B. H. Putnam
Miss E. Rathbone
Mr. V. Rendich
Mr. L. H. Revare
Mrs. Revare
Mr. Rhodes
Mrs. Rhodes
Dr. E. H. Richardson
Mrs. Richardson
Mr. J. Richmond
Mr. E. D. Robbins
Miss R. Roberts
Mrs. E. L. Robertson
Mr. E. Robinson
Mr. W. E. Robinson
Mrs. G. Rockey
Miss J. Rockey
Mr. F. M. Rogers
Mrs. Rogers
Mr. J. Rogers
Mrs. Rogers
Dr. S. Rosenblatt
Rabbi H. J. Routtenberg
Mrs. Routtenberg
Rabbi D. Rubin
Mr. H. Rubin
Rabbi S. M. Rubinsztejn
Mr. J. S. Ruby
Mr. J. D. Rucker
Miss M. A. Russell
Mr. K. Rushforth
Mr. J. R. Rybak
Rabbi S. Sachs
Miss D. Sandberg
Rev. H. E. Sawyer
Miss A. E. Saxton
Miss E. Saxton
Mr. R. W. Scott
Mrs. E. Scott
Miss B. J. Scott
Mrs. G. Scott
Miss G. Scott
Mr. C. R. Scoville
Mrs. Scoville
Dr. C. S. Scuderilfco
Mrs. Scuderi
Miss R. Segal
Miss L. Segal
Mr. L. Segoe
Mr. J. Shaulson
Mrs. Shaulson
Master G. Shaulson
Mr. E. P. Shaw
Mr. P. H. Shelton
Miss E. Shipplett
Mr. J. A. Silver
Mrs. Silver
Miss H. Skirball
Mrs. E. A. Smith
Mrs. H. F. Snell
Miss E. L. Snell
Mr. R. Snyder
Miss A. Sparks
Mrs. M. Spellman
Miss A. Spellman
Master M. Spellman
Mrs. H. J. Spragg
Miss V. Spray
Mr. G. Steele
Mrs. Steele
Miss L. Stephens
Mrs. F. E. Stevens
Mr. R. Stewart
Mrs. Stewart
Mr. R. C. Stewart
Dr. L. Stix
Mrs. Stix
Mrs. Y. Strickland
Mr. W. Strickland
Mrs. G. L. Strosnider
Miss M. Strosnider
Miss D. Strosnider
Miss E. Strout
Miss M. Stuart-Bunning
Miss C. Stuart-Bunning
Miss M. J. Stumer
Mr. H. Susskind
Mrs. Susskind
Mrs. J. Swingler
Mr. D. Taitz
Miss G. Tatum
Mrs. B. Tilghman
Mr. B. C. Tilghman
Mr. R. Tilghman
Mr. J. Tilghman
Mr. R. B. Tingey
Miss M. Tobias
Miss R. Tobias
Mr. M. Tolamas
Miss C. G. Townsend
Mr. R. J. Trimbey
Dr. M. Trumper
Mr. T. A. Tucker
Mrs. Tucker
Miss Tucker
Master Tucker
Dr. T. B. Turner
Mrs. Turner
Mr. J. Turzynski
Miss L. Ulen
Mrs. L. A. Van der Vort
Mr. J. Van Ek
Mrs. Van Ek
Mr. H. L. Van Leeuwen
Master E. E. Van Patten
Mr. S. Verdigiione
Mr. E. Voigt
Mr. P. Waller
Miss K. E. Walt
Mrs. T. R. Walton
Miss L. Watkins
Miss V. J. Watkins
Miss J. G. Weinman
Mr. N. L. West
Mrs. L. B. West
Miss E. Weston
Mr. R, White
Miss F. D. White
Mr. R. White
Mrs. Carroll White
Mr. J. B. Whitehead
Mr. R. Wilberforce, C.B.E
Mrs. Wilberforce
Mr. H. W. Wilhelm
Miss M. Winshaw
Rabbi S. Wohl
Mrs. C. Wolkon
Miss R. Wolkon
Mrs. J. K. Wright
Mrs. A. Yassukovitch
Miss S. Yudin
Mr. J. L. Zaro
Mrs. I. Zelkovitz
Miss M. M. Zelkovitz
Information for Passengers
Recovery Of U.S. Head Tax.
Passengers who desire to claim refund of Head Tax are required to comply with the following :—
Temporary visitors to the United States should state in Question 24 on the U.S. Declaration Form, which should be completed at the time of booking, that they intend to leave the United States within a period of 60 days from the date of entry.
Note—If a passenger states on the Declaration Form that the intended stay is to be in excess of 60 days, and later through unforeseen circumstances leaves within the prescribed period, United States Law stipulates that Head Tax is not recoverable
Application should be made to the Purser of the Westbound steamer for receipt covering the United States Head Tax paid. This is necessary to facilitate refund of the Head Tax after passengers have left the United States
Passengers should apply to the United States Immigrant Inspector at the port of arrival for Head Tax Transit Certificate (United States Form 514) without which form no refund of Head Tax will be considered by the Unites States Immigration Authorities, even though passengers should leave the United States within 60 days and would otherwise be entitled to refund of the Head Tax imder existing United States law
Refund of Head Tax will only be made by the United States Authorities when completed Forms 514 are filed with them within a period of 120 days from the date of entry into the United States as shewn on the top right-hand corner of the United States Form 514. No application for refund of Head Tax will be considered by the United States Authorities after the expiry of such period
Although the period of time between arrival at a Canadian port and departure from the United States may exceed 60 days, this does not necessarily mean that persons in this category are prohibited from securing refund of Head Tax, so long as the actual period spent in the U.S. does not exceed 60 days. The application for refund, however, must be filed with the U.S. Immigration Authorities within 120 days of the actual date of crossing the border from Canada into the United States.
Passengers returning to Europe in Cunard White Star Limited steamers may—on presentation of the necessary documents—viz. :— Transit Certificate Form 514 completed, and the Company's receipt for Head Tax paid—obtain refund of Head Tax from the Purser, providing the passengers have left the U.S. within the prescribed period of 60 days, and the completed Form 514 can be filed with the U.S. Authorities within 120 days of entry into the United States.
Refund of Head Tax is subject to strict compliance with the above procedure.

Meals will be served as follows :—
When One Sitting When Two Sittings
BREAKFAST ... from 8:00 am 8:00 am and 9:00 am
LUNCHEON ... 1:00 pm 12-15:00 pm and 1:30 pm
DINNER ... ... 7:00 pm 6:30 pm and 7:45:00 pm
Morning Soup and Afternoon Tea will be served on Deck and in the Public Rooms at 11:00 am and 4:00 pm respectively.
Automobiles. In order to facilitate Customs Clearance uncrated automobiles must be included on the U.S. Declaration Form.
Baqqaqe. Questions relating to Baggage should be referred to the Purser or Ship's Baggage Master.
Each package should bear initial label of surname to facilitate correct grouping in Customs Shed, also label with owner's name and address. On arrival baggage will be grouped alphabetically in Customs' Shed. Passengers are requested to attend personally at Customs examination.
It is for passengers themselves to see that all their baggage is passed by the Customs Authorities on landing, and they are specially requested to claim their baggage before leaving the Customs Shed, otherwise considerable delay and extra charges for carriage will be incurred in forwarding to destination any baggage not accompanying passengers on the railway.
Baggage Insurance. Passengers are recommended to insure their baggage as the Company's liability is strictly limited in accordance with the terms of the passage contract. Baggage Insurance carrying world-wide cover can be arranged through the Purser's office.
Baggage in Bond. Passengers en route to destinations outside the U.S.A. or Canada may have their checked baggage forwarded "In Bond" to a frontier point under Customs Manifest without examination of the contents by a Customs Officer at port of disembarkation. The Purser or Baggage Master will be pleased to supply information.
Barber and Hairdresser. The ship carries a well-equipped Barber's Shop and competent Hairdresser.
Catering. Passengers are invited to advise the Tourist Steward of their preference in the matter of diet and cooking and they can be assured of every attention being given to their wishes. Cooks of various nationalities are included in the kitchen personnel.
Cuisine. We ask passengers to kindly make known their preference in the Tourist Steward as kitchen or diet: the more attention will be paid to satisfy them. Kitchen staff includes Heads of various nationalities.
Cheques. Passengers are respectfully advised that the Purser cannot accept private cheques.
Changes In Accommodation. The Purser alone is authorized to make changes in accommodation and may only do so on payment of any difference in fare which may be required according to Company's tariffs.
Checking Baggage on Arrival at New York. Facilities are available whereby passengers may arrange with the Baggage Master for the transfer of their baggage from the Company's Pier in New York to any point in Greater New York, Jersey City and Hoboken, including railroad terminals, hotels, residences, express Companies or Warehouses.
Passengers are thus relieved of this detail after disembarking. Rates and further information regarding this service can be obtained at the Purser's office.
Customs Examination. All articles liable to Custom Duty must be declared. Any passenger who is in doubt should see the Purser or Baggage Master who will provide the latest information available.
U.S. Customs. All passengers are required to make a declaration of personal baggage for the U.S. Customs Authorities at the port of landing. Blank declaration forms are obtainable from the Purser. Returning Residents must declare all articles acquired abroad but wearing apparel and personal effects taken overseas from the U.S. in the first case are entitled to be passed free of duty upon return.
An exemption of $100.00 worth of purchases is allowed each returning resident, subject to certain conditions which will be detailed by -the Customs Officer. Visitors may take in free of duty wearing apparel and personal effects not intended for sale, but must declare all articles not included in this category. Severe penalties are imposed upon persons who make false declarations as to value, ownership or use of articles or who attempt to bribe or recompense a Customs Officer,
Deck Chairs, Cushions and Rugs are available for hire and can be obtained through the Deck Steward at a price of five shillings each article.
(Each rug is contained in a sealed envelope and bears a serial number worked into the material, thus enabling passengers to identify their own rugs.)
Divine Service is held each Sunday at 11:00 am in one of the Public Rooms.
There are frequent celebrations of Mass, according to the Roman Catholic Rite, fully equipped altars being available and facilities being placed at the disposal of Priests traveling in the ship.
Dogs. Passengers are notified that dogs should be handed over to the care of the live-stock attendant and that they are not allowed in Public Rooms or on the Passenger Decks.
Exchange of Money. For the convenience of passengers the Purser is able to exchange a limited amount of English and American money at rates which will be advised on application.
Fire Precautions. Passengers are earnestly requested to exercise care in disposing of cigar and cigarette ends and matches, and to make use of the receptacles provided for the purpose in the different parts of the ship, in view of the serious consequences which can arise
from carelessness in this respect. Throwing lighted cigarettes, etc., overboard should also be avoided.
Fire And Lifeboat Stations. Passengers are earnestly requested to acquaint themselves with the notice in the staterooms regarding lifeboat and fire stations.
Importation Of Liquor. A considerable quantity of liquor imported in the baggage of passengers is purchased " in bond " at a price below the regular market value of the country of purchase, and for that reason attention is called to the fact by the Collector, U.S. Customs Service, that the above market value must be ascertained and declared by the passenger instead of the price actually paid.
Landing Cards. It is necessary that passengers present their Landing Cards, together with Passports to the Immigration Inspector for endorsement before leaving the ship.
Library. The ship has a fully equipped library and passengers are invited to borrow the volumes—no charge will be made.
Mail. Passengers are requested to enquire for mail at the Purser's office. Letters for dispatch should be handed to the Librarian who holds supplies of stamps.
Payments. Passengers should obtain a receipt from the Purser on the Company's form for any payments made on board for additional Passage Money, Rugs, Chairs, Excess Baggage Freight, etc.
Portholes. As it is dangerous for passengers to handle the ports they are requested to ask the Bedroom Steward to open and close the ports in the staterooms as may be desired.
Professional Gamblers are reported as frequently traveling on Atlantic steamers and passengers are warned to take precautions accordingly.
Return Accommodation. For the convenience of those passengers who may be returning from Canada or the United States to Europe and who have not yet made the necessary arrangements the Purser will be pleased to radio for any accommodation required. This will enable passengers to complete their arrangements before leaving the ship and will consequently save them time and trouble after landing.
Special Notice For Round Trip Passengers. Passengers holding return tickets who are undecided about their United States and Canadian addresses should advise same to our nearest office in United States or Canada as soon as possible. If this is done by letter, please mention return sailing and accommodation reserved.
All passengers holding return tickets are requested to communicate with our nearest office at least a week in advance of their sailing from United States or Canada, so that necessary formalities may be arranged in connection with their return passage.
If for any reason the holder of a return ticket is unable to travel by the sailing shown thereon immediate advice should be given to the nearest Company's Office, so that any accommodation held can be released and other reservation made.
Rotarians traveling by this ship are invited to inspect the Rotary Register at the Purser's office and subscribe their name? The Purser will be glad, providing circumstances permit, to anange an informal Rotary Luncheon during the voyage.
Stewards Speaking Foreign Languages. Stewards speaking a number of European languages are available for the convenience of passengers and may be identified by the badge worn on the lapel of their coat bearing the flag of the country the language of which they speak.
Valuables. In their own interests passengers are advised not to leave articles of jewelry and other valuables lying about. Articles not required for frequent wear may be deposited with the Purser and will be placed in an envelope sealed in the presence of the passenger for custody in the ship's safe. A receipt will be given but no liability as to contents can be accepted.
Passengers are advised to protect themselves by insurance, which can be arranged on board on application to the Purser.
The Surgeon is authorized to make customary charges for his services, subject to the approval of the Captain.
A Registered Nurse is 011 board, whose services are available as necessary under the direction of the ship's Surgeon.
Travel Information. The Purser's office is at the disposal of passengers for furnishing detailed information concerning steamer, rail or air connections and arrangements can be made for tickets and reservations to be obtained.
Upper Berths. Passengers occupying upper berths can obtain steps for getting in and out of same on applying to the Steward or Stewardess.
LADIES s. d.
Suits, Costumes, Coat
Frocks or Dresses 2 6
Dress Coats and Plain Cloaks 2 6
Skirts ... ... ... 1 3
Special charges for:—
Garments — Velvet, Silk or pleated Fancy Dress, Blouses and Scarves.
Valeting Service. A Clothes Pressing Room, in charge of an expert attendant, is provided and work of this kind will be carried out for passengers at the following charges :—
GENTLEMEN s. d.
Lounge and Dress Suits ... 2 6
,, ,, ," Coats... 1 3
Trousers and Breeches 1 3
Overcoats—heavy ... 2 3
light ... 19
Wireless Telegram Rates. This vessel is fitted with Marconi system of Wireless Telegraphy and also with Submarine Signaling Apparatus.
Long Range Wireless Service. This vessel is also fitted with special long range wireless apparatus which will enable passengers to communicate with their friends or business connections on shore at any time during the voyage across the North Atlantic.
For particulars regarding Wireless communications established or expected please consult the Wireless notice board, where full information is posted daily throughout the voyage.
Wireless Telephone Service. Passengers can speak from the ship to Great Britain, France, Germany, Spain, Holland, Belgium, Sweden, Switzerland, Denmark, Austria, and to the United
States and Canada.
Rates per call of Each Extra
Three Minutes or less Minute
Great Britain ... ... £3 12s. Od. £1 4s. Od.
New York ... ... $18.00 $6.00
The rate to Great Britain is £1 16s. Od. (three minutes) plus 12/* each extra minute, when the ship is within 500 miles of Great Britain and $9.00 (three minutes) plus $3.00 each extra minute, to New York. when the ship is within 500 miles of the American coast.
Rates to other places reduced in cheap zones. Information regarding the rates to other places can be obtained on application.