RMS Republic Passenger List - 14 August 1907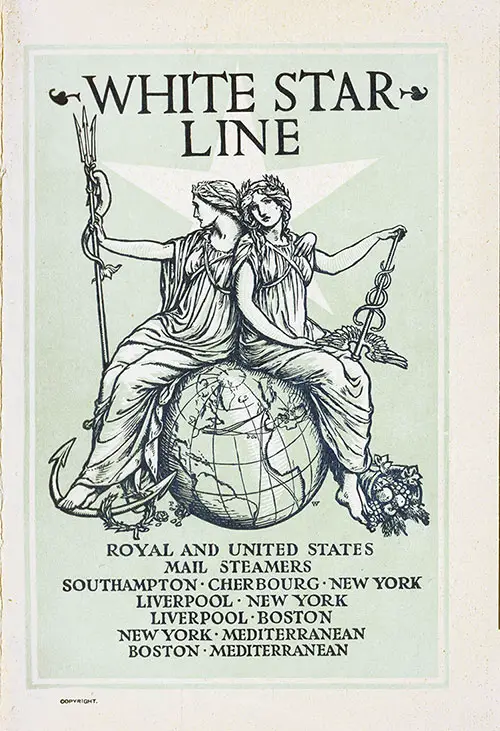 Front Cover, First Class Passenger List for the RMS Republic of the White Star Line, Departing Wednesday, 14 August 1907 from Liverpool to Boston via Queenstown (Cobh), Commanded by Captain J. McAuley. GGA Image ID # 13cc5ed369
Notable Passengers: Charles A. Baird, Brigadier-General Colin Robert Ballard, CB, CMG, William Keeney Bixby, George Hopkins Bond, William Booth, John Hutton Balfour Browne, Charles Henry Chapman, Daniel Frost Comstock, Sir Kenelm Edward Digby KCB, GCB, Hon. Lady Digby (Caroline Strutt), Admiral Sir William Robert Kennedy GCB, Sir Frederick Pollock, 3rd Baronet PC, George Presbury Rowell and Wife of Captain Edward Kinder Bradbury VC, Wife of Thomas Sherwin.
Senior Officers and Staff
Captain: J. McAuley
Surgeon: D. J. Young
Purser: W. O'Hagan
Chief Steward: J. S. Stanyer
First Class Passengers
Mr. L. Achorn
Mr. R. V. G. Adamson
Miss C. P. Ames
Mrs. N. Armitsted
Miss F. Armitsted
Mr. Charles Baird
Charles A. Baird (c. 1870 – November 30, 1944) was an American football manager, university athletic director, and banker
Mrs. Baird
Mr. C. R. Ballard
Brigadier-General Colin Robert Ballard, CB, CMG (1868–1941) was a Brigadier-General in the British Army, a knight of the Order of the Star of Romania, recipient of the collar of the Order of Carol I and a military author. Ballard was the second son of General John Archibald Ballard (1829–1880), and his wife Joanna, the daughter of Robert Scott-Moncrieff, and was born at Cockpen, Midlothian, Scotland on 20 July 1868. Ballard spent his early life in Scotland and then in Kent before attending the United Services College, Westward Ho!, Devon in 1885
Miss Orissa M. Baxter
Dr. Arthur L. Beals
Dr. John H. Bennett
Mrs. Bennett
Mr. W. K. Bixby
William Keeney Bixby (1857-1931) Industrialist, Collector, Philanthropist, Traveler from St Louis
Mrs. Bixby
Miss Emma Bixby
Miss Ruth Bixby
Mr. Paul R. Blackinur
Mr. George H. Bond
George Hopkins Bond (August 10, 1873 – May 8, 1954) was an American football player, coach, and lawyer. He served as the head football coach at Syracuse University for one season in 1894, compiling a record of 6–5. Bond was born in Syracuse, New York on August 10, 1873. He graduated from Syracuse University with a bachelor's degree in philosophy in 1894 and from Syracuse University College of Law in 1897. Bond was a senior partner in the law firm of Bond, Schoeneck & King until his resignation in 1953. In 1937 he served as president of the New York State Bar Association. He was also an organizer and president of the New York State Association of District Attorneys
Mrs. Bond
Miss Bond
Mr. William Booth
William Booth (10 April 1829 – 20 August 1912) was a British Methodist preacher who founded The Salvation Army and became its first General (1878–1912). The Christian movement with a quasi-military structure and government founded in 1865 has spread from London, England to many parts of the world and is known for being one of the largest distributors of humanitarian aid
Mr. F. M. Boswell
Mrs. Boswell
Mr. F. M. Boswell, Jr.
Mrs. Charles W. Boyd
Miss M. Boyd
Mrs. E. K. Bradbury
Wife of Captain Edward Kinder Bradbury VC (16 August 1881 – 1 September 1914) who was an English recipient of the Victoria Cross, the highest and most prestigious award for gallantry in the face of the enemy that can be awarded to British and Commonwealth forces
Mr. William A. Brooks
Mrs. Brooks
Miss M. Brooks
Mr. J. H. Balfour Browne, K.C.
John Hutton Balfour Browne (1845–1921) the son of the alienist Dr. William Alexander Francis Browne (1805–85). His elder brother was Sir James Crichton Browne (1840–1938), the physician and psychiatrist. Leader of the Parlimentary Bar; Registrar and Secretary to Railway Commission, 1874. Browne wrote a number of law books as well as four novels under the pseudonym "Max Hillary": Hunted Down (1885), Once for All (1885), The Turn of the Tide (1896), and The Blue Flag (1898) (the latter two historical novels). His memoirs, Forty Years at the Bar, appeared in 1916.

Miss Balfour Browne (Caroline Lush)
Dr. Edward S. Bryant
Mr. J. D. Buckingham
Miss Charlotte J. Burgess
Dr. Walter T. Burke
Mrs. Burke
Mrs. M. A. Byles
Miss Florence L. Byles
Mr. John T. Chamberlain
Mrs. Chamberlain
Miss M. Chamberlain
Mr. Charles H. Chapman
Charles Henry Chapman (June 20, 1870 - November 17, 1934) was one of the seven founders (commonly referred to as Jewels) of Alpha Phi Alpha fraternity at Cornell University in 1906. During the organization stages of Alpha chapter, he was the first chairman of the Committees on Initiation and Organization. Chapman entered the field of higher education and eventually became Professor of Agriculture at what is now Florida A&M University (FAMU). During his tenure at FAMU, Chapman was a founder of the fraternity's Beta Nu chapter
Mrs. Chapman
Mr. D. F. Comstock
Daniel Frost Comstock (August 14, 1883 – March 2, 1970) was an American physicist and engineer. Comstock is most well known as the co-founder of the company Kalmus, Comstock & Westcott, and of Technicolor Motion Picture Corporation, which developed the second major color film process, after Britain's Kinemacolor, and the most widely used color motion picture process in Hollywood from 1922 to 1952
Mrs. N. B. Comstock
Mrs. E. R. M. Cooke
Mr. Harold D. Corey
Mrs. Corey
Miss Eva D. Corey
Miss Linda E. Corey
Mr. Frederick T. Crossley
Mr. C. A. Crump
Mrs. Crump
Mr. Thomas F. Curley
Mrs. Curley
Dr. W. E. Darby
Mrs. Sarah Jane Davis
Mr. W. J. Cassidy
Miss Ethel Bradford Davis
Sir Kenelm E. Digby, G.C.B.
Sir Kenelm Edward Digby KCB, GCB, (9 September 1836 - 21 April 1916) was an English lawyer and civil servant. He was Permanent Under Secretary of State at the Home Office from 1895-1903
Hon. Lady Digby
Caroline Strutt (1848–1926), second daughter of Edward Strutt, 1st Baron Belper, the Liberal politician
Mr. C. Gardner
Miss Cora Eliza Dike
Mr. J. J. Gearin
Mrs. R. A. Gatcornb
Mr. R. R. Goodell
Mrs. Goodell
Mr. John R. Griffin
Mrs. Griffin
Dr. A. A. Eastman
Miss S. L. Edwards
Miss K Ellis
Miss J. S. Emerson
Miss Ada M. Fitts
Mr. K. R. Fletcher
Mrs. Fletcher
Miss E. Fletcher
Prof. A. C. Flick
Mrs. E. R. Fowle
Mr. Charles D. Harrington
Mrs. Harrington
Mr. A. Alonzo Harrison
Mr. James H. Hartney
Mr. N. V. C. Henderson
Dr. Alva A. Hoag
Mrs. Emily Howe
Mrs. O. C. Hubbard
Miss A. Hubbard
Mr. Frank Hunnisett, Jr.
Mrs. Hunnisett
Mr. J. E. Hunnisett
Miss J. G. Johnson
Mr. L. E. H. Jones
Mrs. Jones
The Rt. Hon. Sir William R. Kennedy (Lord Justice of Appeal)
Admiral Sir William Robert Kennedy GCB (4 March 1838 – 9 October 1916) was a Royal Navy officer who went on to be Commander-in-Chief, The Nore. He was also an accomplished author who wrote an extensive autobiography and other books
Mr. V. S. Kennedy
Rev. G. F. Kenngott
Mrs. Kenngott
Dr. Isabella D. Kerr
Miss Jessie M. Kimball
Mr. M. H. Mark
Miss B. P. Marvel
Mr. L. McCormick Goodheart
Mr. Robert McCullough
Mrs. McCullough
Mr. Henry M. McDewell
Mrs. McDewell
Mr. Rae S. McDewell
Mr. H. E. McDewell
Miss V. McDewell
Mr. John W. McEvoy
Mrs. William McMillan and Maid
Miss M. Mendell
Mrs. M. A. Moore
Mrs. Jacob Morse
Miss Jessie Morse
Mr. George McGregor Murray
Miss M. A. Little
Miss Louise Lovett
Mr. C. H. Nelson
Mr. David G. Lyon
Mrs. Nelson
Dr. Charles L. Nichols
Mr. George A. Pope
Mr. John R. Porter
Mr. M. D. Price
Mrs. Nichols
Miss Nichols
Mr. Nichols
Dr. A. W. Prichard
Miss Ida Prichard
Miss Mary J. O'Neill
Miss Ethel L. Osgood
Rev. M. A. O'Sullivan
Miss Irene Prichard
Mr. C. J. Prince
Mrs. Prince
Dr. F. J. Proctor
Mrs. Proctor
Mr. A. S. Paton
Mrs. Paton
Miss Agnes F Paton
Miss Pauline P. Paton
Miss Clara L. Paton
Mr. S. S. Paton
Mr. G. G. Phillimore
Sir Frederick Pollock, Bart.
Sir Frederick Pollock, 3rd Baronet PC (10 December 1845 – 18 January 1937)[2] was an English jurist best known for his History of English Law before the Time of Edward I, written with F.W. Maitland, and his lifelong correspondence with US Supreme Court Justice Oliver Wendell Holmes. He was a Cambridge Apostle
Mr. Frederick B. Rice
Dr. Ernest D. Richmond
Miss A. B. Roberts
Mrs. Robertson
Mr. B. Atwood Robinson
Mrs. Robinson
Mr. G. A. Rowbotham
Mrs. Rowbotham
Miss Rowbotham
Mr. George P. Rowell
George Presbury Rowell (July 4, 1838 - August 28, 1908) was an American advertising executive and publisher. He founded Printer's Ink, the first advertising trade magazine, in 1888
Dr. Victor Schneider
Mr. Schuyler F. Seager
Mrs. Seager
Mr. John L. Sheehan
Mrs. Thomas Sherwin
Wife of Thomas Sherwin (July 11, 1839 – December 19, 1914) who was an American Civil War general and executive. He was the son of educator Thomas Sherwin, master of the English High School of Boston. Sherwin enlisted in the 22nd Massachusetts Volunteer Infantry in 1861 as a lieutenant. The younger Sherwin taught in Dedham, Massachusetts before the war
Miss A. J. Sherwin
Mr. Shoemaker
Mrs. Shoemaker
Mr. F. H. Slack
Mr. Frank L. Smith
Mrs. Smith
Mr. John Baker Swift
Mrs. Swift
Mrs. G. L. Tebbutt
Miss I. M. Tebbutt
Mrs. William Theophilus
Mr. W. H. Thomas
Miss Ida Thompson
Mrs. M. E. Tisdale
Miss Helen B. Tisdale
Mr. John Towle
Mrs. Towle
Mr. Charles H. Utley
Mrs. Utley
Mr. J. Ronald Walker
Miss Kate Wallace
Mr. William E. Walsh
Mrs. Walsh
Miss A. M. Walsh
Miss Blanche Walsh
Mr. Albert Warren
Mrs. Warren
Miss Warren
Miss Nellie Warren
Miss E. F. Wells
Mr. George S. Winslow
Mrs. Winslow
Mr. Horatio D. West
Miss Elsa D. West
Mr. C. N. Whiting
Mr. P. N. Whiting
Miss C. Winslow
Miss Ethel E. Whitney
Mr. W. Wilkinson
Mr. J. Wylde
Mrs. Wm. E. Wilmerding
Mrs. Wylde
Master Cecil Wylde
Mr. J. Wylde, Jr.
Information for Passengers
Breakfast from 8 until 10 o clock
Luncheon at 1:00 pm
Dinner at 7 o'clock.
The Bar opens at 8:00 am, and closes at 11:00 pm
Lights aie extinguished in the Saloon at 11:00 pm, and Smoking Room at 11:30 pm
Divine Service in the Saloon on Sunday at 10:30 am
Please apply to the Second Steward for Seating accommodations at table.
Children are not entitled to seats in the Saloon unless full fare is paid.
All Southampton—New York, Liverpool—New York and Liverpool—Boston Mail and Passenger Steamers of the White Star tine are fitted with the Marconi Wireless system of Telegraphy, and messages for despatch should be handed to the Pursers.
AN Experienced Physician is attached to the Steamer. For medical attendance in case of sickness on board no charge is made; medicines are also provided free of charge. But the Physician is allowed to charge the usual fees, subject to the Commander's approval, to travelers who submit themselves to treatment for maladies not contracted during the voyage.
Cablegrams and Telegrams should be handed to the Saloon Steward an hour before arrival at Queenstown.
The Saloon and Library Stewards will supply Stamps, Telegraph Forms, Books of Reference, and Railway Time Tables of the principal Companies.
Questions relating to Baggage should be referred to the Second Sward, who is the Ship's Baggage Master. Trunks, Chairs or Rugs which Passengers may desire to leave in charge of the Company, should be appropriately labeled and handed to the Baggage Master on the wharf at Boston, and such articles will be stored entirely at owner's risk. It is necessary for Passengers themselves to see all their Baggage is passed by the U.S. Customs Authorities on landing.
Deck Chairs can be hired at a charge of 4/- each for the voyage.
Valuables.—The White Star Line has provided a safe in the office of the Purser in which Passengers may deposit money, jewels, or ornaments, for safe keeping. The Company will not be liable to Passengers for the toss of money, jewels, or ornaments by theft or otherwise, not so deposited.
Passengers are requested to ask for a Receipt on the Company's Form, for any additional Passage Money, Chair Hire, or Freight paid on board.
The Purser is prepared, for the convenience of Passengers, to exchange a limited amount of English and American money, and he will allow at the rate of $4.80 to the £1 when giving American money for English currency, or £1 for $4.95 when giving English for American money.
Passengers' Addresses may be left with the Saloon Steward, order that any letters sent to the care of the Company may be forwarded.
Travellers' Cheques, payable in all parts of Europe, can be purchased at all the principal offices of the White Star Line. These Cheques are accepted on board White Star steamers in payment of accounts, but the Pursers do not carry funds to enable them to cash same.
Landing Arrangements at Boston. Should The Steamer Arrive at The Boston Wharf After 8:00 pm Passengers Have The Option of Remaining on Board Overnight and Landing After Breakfast On The Following Morning.
ALL Twin-Screw Steamers.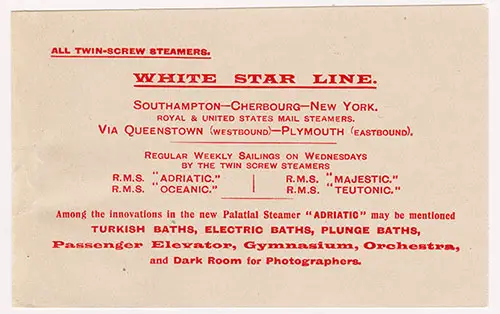 White Star Line All Twin-Screw Steamers. Insert to RMS Republic Passenger List, 14 August 1907. GGA Image ID # 1e57f792cd
White Star Line Royal & United States Mail Steamers.
Southampton—Cherbourg—New York Via Queenstown (Westbound), Plymouth (Eastbound).
Regular Weekly Sailings On Wednesdays By The Twin Screw Steamers RMS Adriatic, RMS Majestic, RMS Oceanic, and RMS Teutonic.
Among the innovations in the new Palatial Steamer "Adriatic" may be mentioned Turkish Baths, Electric Baths, Plunge Baths, Passenger Elevator, Gymnasium, Orchestra, and Dark Room for Photographers.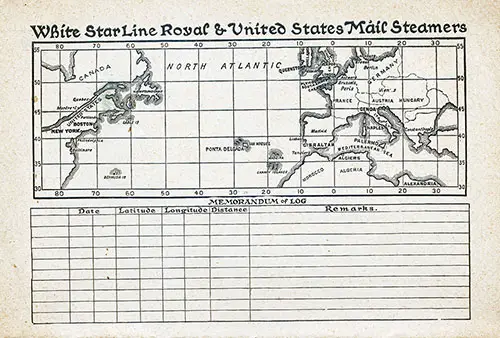 Track Chart and Memorandum of Log (Unused). RMS Republic Passenger List, 14 August 1907. GGA Image ID # 1e5804f11e