SS Homeric Passenger List - 5 September 1923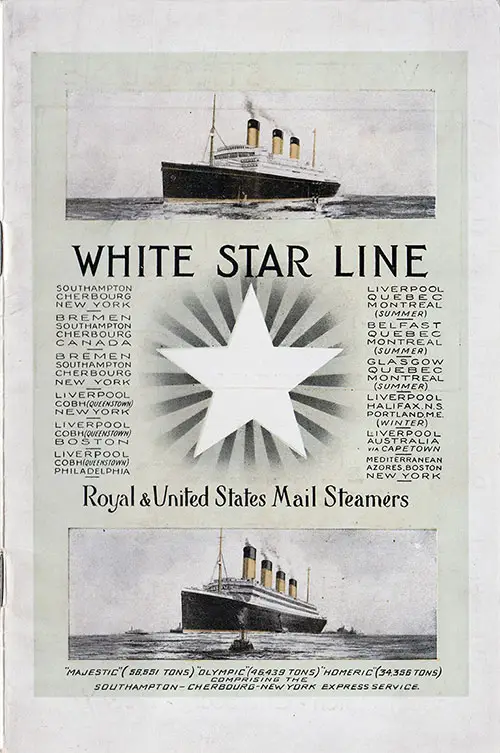 Front Cover, White Star Line RMS Homeric Second Class Passenger List - 5 September 1923. GGA Image ID # 13c44f5b25
Second Class Passenger List from the RMS Homeric of the White Star Line, Departing Wednesday, 5 September 1923 from Southampton to New York via Cherbourg, Commanded by Captain F. B. Howarth (Cmdr., R.N.R.).
Senior Officers and Staff
Commander: Captain F. B. Howarth (Cmdr., R.N.R.)
Chief Engineer: W. Rowe, D.S.O., R.D., R.N.R.
Surgeon: R. S. French, B.A., B.C.L. (Dublin)
Assistant Surgeon: T. O. J. A. Fuller, M.B., B.Ch. (Ireland)
Purser: W. Greenslade
Assistant Purser: C. E. Perry
Chief Steward. R. J. Hoey
Chief Second Class Steward: G. Duffin
Second Class Passengers
Aberle, Miss Marie J.
Adamova, Mrs. Anna
Adamova, Miss Olga
Adamova, Miss Silvie
Allsopp, Mr. Henry
Allsopp, Mrs.
Andersen, Mr. Christian
Andersen, Miss Edna
Andreaux, Miss Gaby
Andruszkicwicz, Mrs. Anna
Andruszkicwicz, Miss Helena
Andruszkicwicz, Miss Irena
Atkinson, Mrs. Mae
Atkinson, Master Eric Herbert
Bache, Miss Louisa J.
Ball, Dr. Allan P.
Ball, Miss Eleanor B.
Ball, Mr. Irving Q.
Ball, Mrs.
Bayle, Miss Florence Hannah Alice
Becker, Mrs. Kornbaum
Beery, Mrs. Dora
Beery, Miss Pauline
Bertelsen, Mr. Carl
Bertelsen, Mrs. Marie
Bevan, Miss E. M.
Bindofer, Miss Mary
Bisseroff, Mr. Stephan
Bisseroff, Mrs. Nilka
Blake, Miss Elizabeth
Bonandi, Mrs. Jeanne M.
Bonandi, Mr. Joseph A.
Bonifert, Mr.
Bonsfield, Mr. John D.
Bowers, Mr. Chas. C.
Bowers Mrs. Idda
Bowers, Miss Marie
Braun, Mrs. Rose
Braun, Miss Jeannette
Braun, Miss Lillian
Breslaw, Councillor Charles I.
Brest, Mr. George
Brest, Mrs. Harriet
Brown, Mr. David
Browne, Mr. William
Bull, Miss Marian L.
Bull, Mrs, J. Seaman
Bussom, Prof. J. W.
Buytas, Mrs. Marcella
Buytas, Miss Elisabeth
Camp, Mr. W, M.
arney, Miss Mildred
Chapman, Mr. Fred
Cherney, Mr. Edward
Cleary, Mrs. Lily
Cleary, Master Stanley
Clorfeine, Mrs. Sarah
Clorfeine, Master Solomon
Clorfeine, Master Irwin
Collins, Mr. V. Lansing
Collins, Mrs, Ella
Collins, Master Lansing
Conley, Miss
Cosgrove, Mrs. Elizabeth
Cosgrove, Miss Teresa
Cosgrove, Master Robert
Cross, Miss Donclla
Cross, Mrs. E.
Cuminings, Mr. Gerald E.
Cuminings, Mrs. Armanda
Cuthbertson, Mr. Charles H.
Dalin, Mrs. Anna
Dalin, Mr. Nils
Davies, Miss Emily M.
Delmotte, Mr.
Delmotte, Mrs.
Deming, Mr. Clyde L.
Diedecht, Miss Catherine
Dodd, Miss Florence
Dofflemyer, Mr. W. Todd
Dofflemyer, Mrs. Josephine
Dofflemyer, Master Francis
Dofflemyer, Master Robert
Dubicka, Mrs. Leontyna
Dubicka, Master Kazimerz
Dubicka, Miss Eugenja
Dubicka, Master Edward
Dufour, Miss Arline
Dyer, Miss Elizabeth
Ebel, Mr. Fred
Ebel, Mrs. Rose
Ebel, Master Lester
Ebel, Miss Maxine
Edwards, Mrs. Ellen
Edwards, Miss Ann
Edwards, Miss Katherine M.
Ellis, Dr. J. Stanley
Elshove, Mrs. Jane
Ely, Miss Edith G.
Epstein, Miss E.
Espinosa, Miss Gertrude
Falls, Mr, Archie
Falls, Mrs. Gertrude
Falls, Miss May
Fettretch, Mrs. Margaret
Fettretch, Mr. James
Finn. Mr. C. A.
Fitch, Mrs. Claire Theresa
Friskin, Mrs. Catherine
Friskin, Miss Katherine
Galysz, Mrs. Matania
Galysz, Master Leodor
Garber, Miss K. Louise
Georgevich, Mrs.
Georgevich, Master Stanley
Gerber, Mr. Jacob
Gerlach, Mr. Roman
Gerlach, Mrs. Antonina
Gerlach, Master Roman
Giles, Mr. David J.
Glander, Mrs. Florence
Goode, Miss Maria
Guma, Mr, Aladar
Guma, Mrs. Anna
Gunner, Miss Marie
Gunner, Mrs. Anthonie
Gunner, Miss Constance
Hajdu, Mr.
Haley, Mr, Patrick Joseph
Halliday, Miss Mary
Halliday, Miss Clifford
Handy, Miss Susan W.
Hanson, Mr. Christian
Harding, Mr. Louis
Harding, Mrs. Lillian
Harding, Mr, Joe
Harris, Mrs. Fannie
Heil, Miss Ruth
Heinemann, Mr. Hans
Hekemian, Mrs. L. M.
Helgesen, Miss Helga Nicoline
Henrickson, Mr. Aage
Henstridge, Mr. George
Henstridge, Mrs. Mary
Henstridge, Miss Audrey
Herzenberg, Mr, Edward M.
Herzenberg, Mrs, Jennie
Herzenberg, Master Herbert
Herzenberg, Miss Bernice
Hill, Mr. Stirling
Hill, Mr. Carroll
Hodges, Miss Jane
Hodges, Miss Helen
Hoefer, Miss Helen D.
Hyde, Miss Florence
Hyde, Mrs. Helen
Iversen, Mr. Hardy
Iversen, Mrs. Beatrice
Jacobsen, Mr. Hamlet P.
Jensen, Miss Frances
Jgnaczak, Mr. Stanislaw
Jones, Mr. T. Carlyle
Jones, Miss Gertrude
Jones-Williams, Mr. Walter Maurice
Jove, Dr. Jas. F.
Jove, Mrs. Caroline
Kaiser, Mr. Morris
Kaiser, Mrs. Terna
Kaiser, Miss Fanny
Kaiser, Master Jerry
Kaiser, Master Henry
Kalliwoda, Miss Helen
Kauma, Miss Saima
Keene, Miss Florence R.
Kennington, Mr. George
Kennington, Mrs. Florence
Kennington, Miss Marion H.
Kiddle, Mrs. Elizabeth
Kilborn, Mr. Russell D.
Kinner, Mr. Witi. Jno.
Kinner, Mrs, Ada B.
Kinner. Master Wm. Jas.
Klein, Mr. H. L.
Klein, Mrs. E. H.
Knowlton, Mr. A. Heywood
Koch, Mr. Richard F.
Kohlweieen, Mrs. Gyda
Kohlweiecn, Master George
Korbut, Mrs. Hetanja
Korbut, Miss Helena
Kovacs, Mr.
Krizek, Mr. Charles
Lamport, Mr. Victor
Lange, Miss Vera C.
Lamed, Mrs. Gladys L.
Lefren, Mrs. Signe
Lefren, Miss Margit
Lefren, Master Karl
Lipscomb, Mr. Thos. W.
Littlefield, Miss Henrietta
Lubliner, Dr. Salomon
Lubliner, Mrs. Becky
Lyons, Miss
Mathews, Miss Letitia
Matson, Mr. Hjalmar
Matson, Mrs. Mathilda
Matthews, Mr. Lewis
Matthews, Mrs.
May, Mr. Carroll H,
May, Mrs. Mary G,
May, Master Richard H.
May, Miss Marion C.
May, Master Robert C.
McCormack, Miss Margaret
McCormack. Miss Mary
McGregor, Miss Grace
McLane, Mr. David
McLane, Mr. Richard
McNair, Mr. R.
Medved, Mr, Peter
Meekings, Mr. William
Meekings, Mrs. Adelia
Meloy, Miss Luclla
Mertins, Mr. Carl
Meyer, Mrs. Fannie
Meyer, Mr. Laland W.
Meyer, Mrs. Louis
Meyer, Miss Mildred
Miller, Mrs. Bessie
Miller, Miss Sadie
Minowitz, Mr. Alex
Moffet, Mrs. E. M.
Moffet, Miss Klspeth M.
Moller, Mr. Jens
Moller, Mrs. Anine
Moore, Mr. Reginald
Morley, Mr, Edward W.
Morrish, Miss Florence
Motter, Mr. Thomas H, O.
Murray, Mr. Charles
Murray, Mrs.
Mygatt, Miss Tracy
Naef, Mr. Otto
Nardi, Mr. Pietro
Nardi, Mrs. Celestina
Nardi, Master Pierino
Newcomb, Miss Samson
Neumann, Mr. Siegbert
Nielsen, Miss Laura
Nilsson, Mr. Nils Petter
Nyman, Miss Hehni
O'Connor, Rev. John
Olivier, Miss Frances
Ortloft, Mrs. Emma E.
Ortloft, Miss E. Verna
Ovens, Mr. M. J.
Ovens, Mrs.
Ovens, Miss Edith A.
Painter, Mr. Sidney
Painter, Mr. Thomas
Palansky, Mr. Jon
Parker, Dr. George M.
Parker, Mr. John O.
Partridge, Miss Charlotte
Passey, Miss Helen E.
Pawlowski, Mr. Roman
Pawlowski, Mrs. Marja
Pease, Miss Marion D.
Peck, Miss Charlotte L.
Pelton, Miss Edith P.
Perkins, Mr. Chas. A.
Perrin, Dr. Henry Foote
Petersen, Mrs. Earl H.
Petersen, Master Earl D.
Petersen, Master Robert N.
Petman, Miss Maria
Poloncsik, Mr. Peter
Pompl, Rev. Rudolph H.
Ponsgaard, Miss Emma K.
Powers, Mrs. Mary
Provins, Mrs. Bessie
Pugsley, Mr. W. J.
Pugsley, Mrs.
Pzcherska, Mrs. Yadwiga A.
Quick, Rev. Ernest
Rabbersvig, Mr. Rudolf
Rasmussen, Mr. William
Rasmussen, Mrs. Anna
Rasmussen, Master William
Renouf, Mr. Ralph
Richardson, Mr. Frank
Richardson, Mrs. Olive
Richardson, Master George
Roberts, Mrs. Daisy Casen
Roethlisberger, Mr. Daniel
Roethlisberger, Mrs. Lina
Rogers, Mr. Cornwall
Rosenberg, Mrs. Rezsi
Rosenberg, Miss Eliane
Rosenfeld, Mrs.
Roth, Miss Rosa
Rowan, Mr. Thomas
Rusin, Mrs. Natalja
Rytatlowicz, Mr. Anthony
Sahli, Mr. Godefredo
Saird, Mrs. Marjorie
Saird, Miss Grace
Salant, Dr. William
Salant, Mrs. Annie
Sanford, Miss Vera
Saynor, Mr. Laurence
Sayner, Mrs. Ruth
Schaffer, Dr. Béla
Sejersen, Mrs. Agnes
Sejersen, Mr. Edwood
Sejersen, Miss Anna
Shave, Mr. Walter
Shaver, Miss Edna
Shearn, Mr. Thomas Charles
Sikorski, Mr. Tony
Sleeman, Mrs. Mary
Sleeman, Miss Vera
Smichswitz, Mr. Caleb
Smichswitz, Mrs. Ettie
Smith, Miss Martha
Smithers, Miss Adelaide E.
Sobieski, Mr. Feliks
Stagg, Mrs. Maisie A.
Stagg, Master Dudley
Stangenes, Mr. Hans Hansen
Stanley, Miss Anna
Steers, Mr. James R.
Stephens, Miss Irene
Stephens, Mr. Wm. Geo.
Stephens, Mr. James Henry
Stern, Mrs. Bertha
Stern, Miss Frieda
Stocks, Dr. Arthur L.
Strehler, Mr. Alfred
Sutton, Miss Ellen S.
Sutton, Miss Hilda D.
Szymanski, Mr. Franciszek
Taddei, Mr. Angelo
Tannhauser, Mr. Oscar
Tannhauser, Mrs. Louise
Taylor, Mr.
Tchoma, Mrs. Gessella
Tea, Mr. John H.
Thomas, Miss P.
Thomas, Mrs. S. B.
Thomas, Mrs. Jane Edwards
Thompson, Miss Sarah
Thornton, Mr. Albert
Thornton, Mrs. Nellie
Toncic, Mr. Joseph
Toncic, Master Claude
Topalovitch, Mr. Costa
Topalovitch, Mrs. Konstantin
Topalovitch, Master Andoniki
Torsen, Miss Gunhilde
Trimmer, Miss Agnes
Tucker, Mr. R. G.
Tucker, Miss Elizabeth
Turner, Mrs. E. A.
Ulansky, Mrs. Anna
Ulansky, Miss Estelfe
Ulansky, Miss Pauline
Ulansky. Miss Leona
Vender, Mr. Solomon
Vilstrup, Mr. Gudmund
Vincent, Mr. George C.
Vincent, Mrs. Lois
Voskerusa, Miss Marie
Waller, Miss Carrie
Walton, Mr. Dore
Ward, Mr. Sara Clay
Watton, Mr, Harry B.
Werstad, Miss Ann
Widmer, Mr. Hermann
Widmer, Mrs. Ernz
Wiener, Mr. Ernst
Wiercmski, Mr. Dominik
Wildputt, Miss Emilie
Willi, Mr. Simon
Williams, Miss Lillian D.
Williamson, Mr. John M.
Windsill, Mr. Benj.
Windsill, Mrs. Emilie
Wissemann, Mr. Henry
Wissemann, Mrs. Mary
Witherspoon, Miss Fannie
Wolman, Dr. Nicholas
Woodford, Miss Nina
Woodhouse, Mrs. Hannah J.
Wright, Mr. Cecil R.
Zachariasen, Mrs. Tyra
Information for Passengers
MEALS will be served as follows:—
MEAL
WHEN ONE SITTING
WHEN TWO SITTINGS
BREAKFAST
8:00 am
7.30 am and 8.30 a m.
LUNCHEON
12.30 p.m
12:00 noon and 1:00 pm
DINNER
6.30 pm
6:00 pm and 7:00 pm
The Bar opens at 8:00 am., and closes at 10:30 pm
Lights are extinguished in the Dining Saloon al 11:00 pm. Lounge. Reading and Writing Room, and Smoking Room at 11-50 pm
Divine Service will beo held in the Saloon on Sunday at 11:00 am
SMOKING is strictly prohibited in any of the Staterooms, Reading and Writing Room, or Dining Saloon.
SEATS AT TABLE. Passengers who have not previously arranged for seats at table to be reserved should apply for same to the Saloon Steward.
MEDICAL ATTENDANCE, The surgeon is authorized to make customary charges, subject in each case to the approval of the commander, for treating passengers at their request for any illness not originating on the voyage. In the case of sickness developed on the voyage no charge will be made, and medicine will be provided free in all circumstances.
The surgeon will be in attendance at the surgery for consultations at the following hours:
10:00 am 6:00 pm 8:30 pm
The surgeon will be available at all times in cases of urgency.
LETTERS, &c, FOR PASSENGERS will be brought on board before the passengers land.
Passengers should personally ascertain whether there is any mail for them before disembarking and they are invited to leave their addressee with the Saloon Steward for any later despatches to be ro-directed.
Postage Stamps can be obtained from the Saloon Steward, who will take charge of Cable Despatches and Telegrams for transmission.
CHARGES PAID ON BOARD. Passengers are requested to ask for a Receipt on the Company's Form for any additional Passago Money, Chair or Steamer Rug Hire, or Freight, Xlarconigram, Cablegram, ete., charges paid on board.
LIBRARY. Books can be obtained on applying to the Library Steward.
DECK CHAIRS and STEAMER RUGS can be hired on application at a charge of 6/6 each for the voyage.
VALUABLES. The particular attention of passengers is drawn to the ticket conditions regarding the carriage and custody of articles specified in Section 4281 of the revised Statutes of the United States, but passengers can and are accordingly advised to protect themselves by insurance.
The Line has provided a safe in the office of the Purser in which passengers may deposit money, jewels, ornaments, documents or other valuables for safe keeping and a deposit receipt will be issued by the Purser.
EXCHANGE OF MONEY. The Purser is prepared, for the convenience of passengers, to exchange a limited amount of English and American money, at rates which will be advised on application.
BAGGAGE. Questions relating to Baggage should bo referred to the Ship's Baggage Master. Trunks, Chairs, etc., which Passengers may desire to leave in charge of the Company should be appropriately labeled and handed to the Baggage Master on the Wharf at New York, and such articles will be stored entirely at owners' risk. It is for passengers themselves to see ail their Baggage is passed by the U.S. Customs Authorities on landing.
DOGS. Passengers are notified that dogs cannot be landed in Great Britain unless a license has previously been procured from the Board of Agriculture, London. Forms of license must bo obtained by direct application to the Department before the dog is taken on board at New York.
TRAVELLERS* CHEQUES, payable in all parts of Europe, can be purchased at all the principal offices of the White Star Line. These Cheques are accepted on board White Star steamers in payment of accounts but the Pursers do not carry funds to enable them to cash same.
DECK GAMES AND AMUSEMENTS. Deck Quoite, Shuffleboard, Bull Board and other games are provided on deck under the charge of a Quartermaster.
Chess, Draughts, Dominoes, etc., may be obtained on application to Saloon Steward.
PASSENGERS' QUARTERS. Second Class passengers are not allowed to enter First or Third Class compartments, or vice versa, as complications might arise under the Quarantine Regulations.
BARBER. The Barber is authorized to make the following charges :—
[Charges not Reproduced Here]
The Barber is allowed the privilege of selling various souvenirs and small articles on his own account.
PICTURE POSTCARDS. Picture Postcards of the steamer can be obtained gratis on application on board.
Company's Passenger Department
ON BOARD THE RMS "HOMERIC,"
Office, Deck " E
Mr. J. J. STANTON, Representative of the Passenger Department
FULL PARTICULARS OF SAILINGS.
RESERVATIONS AND PASSAGE TICKETS
FOR YOUR RETURN VOYAGE.
LANDING ARRANGEMENTS AT NEW YORK
Should the Steamer arrive at the New York Wharf after 8:00 pm, Passengers may land it they wish to do so and have their baggage passed by the Customs Authorities immediately on arrival, but those who prefer to remain on board may do so and have the whole of their Baggage passed the following morning not earlier than 7 o'clock. Breakfast will be served to those who remain on board overnight.
Uniform representatives of the American Railroads meet all steamers on arrival at New York. Railroad tickets may be purchased and baggage checked from the Steamship Pier to any point along the Lines of the Pennsylvania, New York Central, Erie, Lehigh Valley, and connecting railroads.
UPPER BERTHS.
Passengers occupying Upper Berths can obtain steps for getting in or out of same by applying to the Steward or Stewardess.
WARDROBE TRUNKS.
Passengers are advised lhat it is not always possible to arrange for the placing of Wardrobe Trunks in the passenger accommodation in a position where they are easily accessible, also that there is frequently difficulty with regard to the landing of such packages owing to their exceptional size. They are therefore recommended to use Steamer Trunks in preference.
The "HOMERIC" carries an Orchestra of skilled musicians-, which will play at intervals in the Second Class.
RECOVERY OF U.S. HEAD TAX.
This Tax can be recovered by passengers, if same has been paid, provided they inform the U.S. Immigration Inspector on arrival at New York of their intention to leave the United States within 60 days (the time prescribed by U.S. Law), and obtain from him Transit Certificate Form 514.
It is also necessary for Transit Certificate Form 514 to be handed to the transportation company when completed* in time to allow same to be placed before the Immigration Authorities in Washington within 120 days of passenger's arrival in the United States.
Unless this regulation is complied with the Tax cannot be recovered.
NOTE.—Will passengers who have not paid the Head Tax in consequence of their holding return tickets, or being in transit to points outside of the United States, kindly complete Form 514 (which must be obtained from the Immigration Officials at New York) and forward same to the White Star Line, 1 Broadway, New York, as soon as possible after their departure from the United States, or hand to the Purser of the steamer in which they return to the United Kingdom.