SS Georgic Passenger List 30 July 1932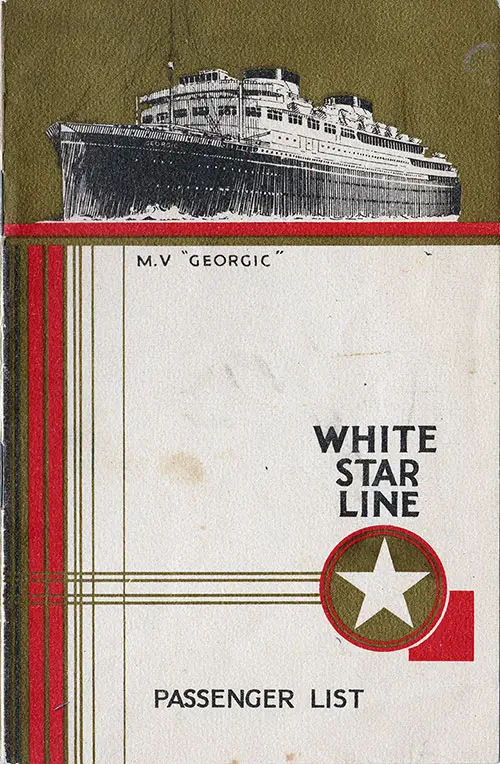 Front Cover, White Star Line RMS Georgic Cabin Class Passenger List - 30 July 1932. GGA Image ID # 13c3013bf7
Cabin Passenger List from the RMS Georgic of the White Star Line, Departing Saturday, 30 July 1932 from Liverpool to Boston and New York via Cobh And Galway, Commanded by Captain F. F. Summers, R.D. (Cmdr., R.N.R., Retd.).
Senior Officers and Staff
Commander: Captain F. F. Summers, R.D. (Cmdr., R.N.R., Retd.)
Chief Engineer: A. Wharton
Assistant Chief Engineer: J. Rae
Chief Officer: C. H. Bate
First Officer: G. R. Pope
Second Officer: W. Devlin
Sr. Second Engineer: F. S. Banks
Inter. Second Engineer: S. L. Parker
Jr. Second Engineer: M. J. Hartnett
Surgeon: J. D. Smylie, M.D., M.B., B.Ch., B.A.O., B.A.
Assistant Surgeon: C. H. Wilson, L.R.C.P., L.R.C.S., L.M.
Purser: T. L. Evans
Assistant Purser: G. W. McHugh
Assistant Purser: A. R. Holmes
Chief Steward: R. E. B. Robertson
Second Steward: D. M. Newall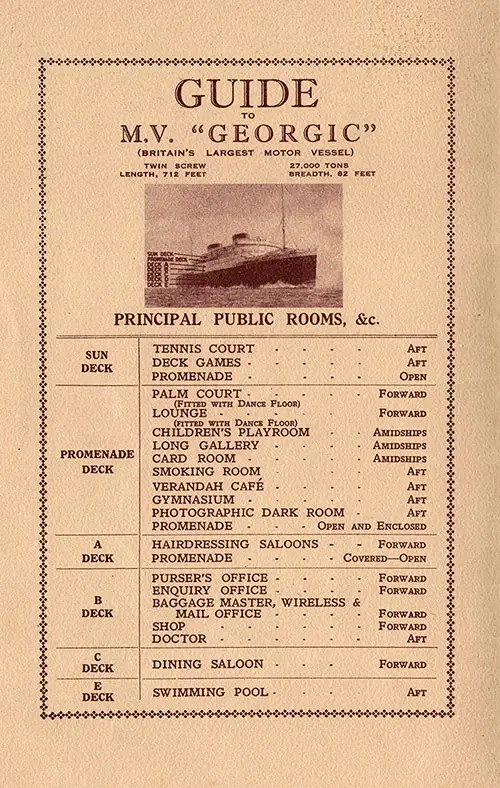 Cabin Passengers
Ackland, Mr. Wm. H.
Adams, Mr. J. Roland
Adams, Mrs.
Austin, Miss Mary C.
Bailey, Mr. W. H.
Ballou, Miss Anna M.
Bamngton, Mrs. N. R.
Barrington, Miss Eleanor
Bartholow, Miss Elizabeth R.
Bateman, Mr. G. C.
Beatrice, Sister Mary
Beattie, Miss Grace
Beattie, Miss Rosemary
Beebe, Miss Leslie
Beebe, Miss Sylenda
Bell, Mrs. R. M.
Bell, Mr. Joseph P.
Bell, Miss Miriam P.
Benedicta, Sister M.
Berchmans, Sister Mary
Bihler, Rev. Father H. J.
Binns, Mr. Jack
Binns, Mrs.
Blackham, Mr. James W.
Blackham, Mrs.
Bond, Mr. C. H. C.
Booth, Mr. Frederick H.
Boyle, Mrs. E. L.
Bradley, Jr., Mr. H. C.
Brangan, Dr. P.
Breen, Mrs. J.
Brignall, Mrs. E.
Brison, Mrs. C. S.
Brownell, Mrs. R.
Kurkette, Mrs. L.
Burns, Mr. James J.
Byrne, Miss R. E.
Byron, Rev. John I.
Byron, Mrs.
Carroll, Hon. F. L.
Carroll, Mrs.
Carroll, Mr, John M,
Carroll, Mr. Edward L.
Carroll, Rev. E. T.
Carroll, Miss Catherine R.
Chaitovitz, Dr. J.
Clark, Miss Katharine
Clark, Miss Nancy
Coburn, Mr. T.
Coburn, Mrs.
Coburn, Miss Ruth
Coburn, Master Thomas
Cohn, Mr. L. M.
Colberg, Mr. Edwin J.
Connell, Mr. C. Willis
Connor, Mr. Jerome
Cook, Mr. Cheney E.
Corley, Mr. T. J.
Corr, Mrs. John
Couliard, Mrs. M.
Couliard, Miss B.
Craft, Mr. G. S.
Crane, Mrs. W. F.
Crane, Dr. Martin
Croke, Mr. Louis W.
Croke, Miss Alice M.
Cross, Mrs. Wilson
Cullinane, Miss Hannah
Cuming, Mr. J.
Curtis, Mrs. L.
Daley, Rev. Father Joseph
Daley, Rev. Father Peter
Davis, Mr. Charles
Davis, Mr. Joseph
Davis, Mrs.
Dawson, Mr. Ralph K.
Dawson, Mrs.
Dean, Mr. E. Stanley
Dean, Miss E. M,
Deignan, S.J., Rev. Father P. H.
Delaney, Mr. J. T.
De Neri, Sister Mary
Dennis, Mr. W. A.
Dennis, Mrs.
Dennis, Mr. Wm.
De Paul, Sister
Devereux, Mrs. S.
Devereux, Mr. Henry K.
Dolores, Sister M.
Driunin, Most Rev. Dr. T. W.
Dumas, Miss P. F. G.
Durkin, Miss Mary
Durkin, Mr. John
Dyer, Mrs. M. H.
Dyer, Mr. Frederick P. N.
Eberhart, Mrs. M. O'Brien
Edmonda, Mother
Euphrasis, Sister Mary
Evans, Rev. E. Joseph
Ewens, Rev. Father John G.
Farlow, Mr. F. H.
Farnham, Mr. Charles
Farnham, Mr. Lawrence
Faust, Mrs. R.
Fanst, Mr. J. J.
Fidelis, Sister Mary
Fitzgerald, Mrs. M.
Fitzpatrick, Mr. A. L.
Fitzpatrick, Mrs.
Fitzpatrick, Miss M.
Fitzpatrick, Miss L. F.
Fletcher-Moulton, Miss Sylvia
Flewelling, Mr. Ford
Flynn, Very Rev. Msgr. Jas. F.
Flynn, Mr. Jas. F.
Flynn, Miss Adele C.
Foley, Mrs. H.
Fraser, Miss Jennie M.
Gage, D.S.O., General Moreton F.
Gage, Mr. Quentin H.
Galvin, Miss Helen C.
Gerdes, Miss Virginia G.
Glavin, Mr. John
Glennon, Mr. S. P.
Grace, Sister Mary
Grace, Rev, Father Wm. J.
Grant, Mr. A. B.
Grey, b.a., m.b.a., Mr. J. C.
Griffiths, Mr. W. H. G.
Griffiths, Mrs.
Guinenen, Mrs. E. H.
Guinenen, Miss E.
Gurney, Miss Helen
Hall, Mrs. E. C.
Hammer, Mr. A. H. H.
HanIon, Mr. E. K.
Harvey, Mr. J. H.
Harvey, Mrs.
Hawkes, Miss Charlotte
Hazen, Miss Helen
Heinsheimer, Mrs. R.
Hernig, Mrs. A. L.
Hescott, Mr. F. R.
Heuer, Mr. Douglas F.
Higgins, Mr. F. W.
Higgins, Mrs.
Higgins, Mr. D.
Higgins, Miss B. S.
Higgins, Miss F. L.
Higgins, Rev. Father E.
Higgins, Mr. F.
Hoch Mrs. R.
Hogan, Rev.Father J. A.
Holbeach, Mrs. C. H.
Holbeach, Miss Mary
Holbeach, Master Dudley
Holt, Mr. John V.
Holt, Mrs.
Hookey, Mrs. Frank A.
Horn, Rev. Father Edwin A.
Howland, Mrs. F.
Hubbeli, Mr. Arthur
Hubbeli, Mrs.
Hubbeli Miss Lucille
Hughes, Rev. Father John J.
Immaculata, Sister M.
Immaculate, Sister Regina
Isley, Mr. George H.
Isley, Mrs.
Jackson, Mr. J. A.
Jeffcoat, Mr. Frank AY.
Johnson, Dr. Orville E.
Johnson, Mrs.
Johnson, Mr. F. S.
Jones, Mrs. F.
Jones, Mrs. H. A.
Joseph, Sister Agatha
Junglass, Mr. W. P.
Junglass, Mrs.
Kelly, Mrs. M.
Kenna, Rev. Father E. J.
Kenney, Mrs. M. A.
Kenny, L.L.D., Rev. Father John R.
Kiernan, Mrs. John
Kiernan, Miss Esther
Kingston, Miss M.
Kirby, Mr. Richard
Kitzel, Miss A.
Knight, Mr. Richard N.
Knight, Mrs.
Knight, Miss Anne
Knight, Jr., Mr. Richard N.
Laurence, Mr. John R.
Laurence, Mrs.
Lavarack, Mr. F. C.
Le Fort, Mr. Bernard
Le Fort, Mr. Robert C.
Lesher, Mr. William H.
Lewis, Mrs. E. S.
Lioba, fSister Mary
Lonergan, Mrs. J. E.
Lord, Mrs. A.
Lord, Miss Carol
Lord, Miss Phyllis
Loudoun, Mr. Wood D.
Loudoun, Mrs.
Lovegrove, Mr. Wm. F.
Lovegrove, Master John L.
Lowe, Dr. E. A.
Loyola, Sister Mary
Luby, Miss Mary A.
Mackay, Dr. W. D.
Magoun, Mrs. F. P.
Manning, Mrs. M.
Manning, Master J.
Mary, Sister Agnes
Matthews, Rev. Father T. L.
Maunsell, Mrs. F. W.
Mayer, Mr. Arnold J.
McBride, Mr. John J.
McCarthy, Miss Ruth
McCormick, Miss Evalyn
McCrory, Miss A.
McDermott, Mrs. M. A.
McGovern, Mr. B. A.
McGovern, Mrs.
McGurl, Miss M. Blanche
Mcllrath, Mrs. M.
McKay, Rev. Father Thos. J.
McKenney, Rev. Father Thos. E.
McLintock, Mr. D.
McLintock, Mrs.
McNeary, Mrs. G.
McSweeney, Dr. Patrick E.
McSweeney, Mrs.
Meg, Sister Mary
Mercer, Mr. William J.
Mercer, Mrs,
Mercer, Master Frederick A.
Mercer, Master Desmond W.
Monica, Sister Mary
Moore, Mr. John
Moore, Mrs.
Mumford, Mr. H. W.
Mumford, Miss Betty
Mumford, Master Cyril
Murname, Mrs. Thos.
Murphy, Mrs. M.
Nurenberg, Mrs. F.
O'Brien, Rev. Father Thomas
O'Brien, Rev. Father Thomas [sic]
O'Connell, Rev. Father Francis J.
O'Doll, Miss Edith
O'Donnell, Rev. Father John
O'Dwyer, Rev. Father Thos. J.
O'Loughlin, Mrs, N.
Parker, Mr. Howland
Paul, Sister Mary
Pearle, Miss Catharine R.
Perry, Miss Blanche T.
Petrovits, Rev. Father Joseph
Phelps, Mrs. L. D.
Porafret, Mr. J. T.
Pomfret, Mrs.
Porter, Mr. Elias W.
Powers, Mrs. G. W.
Pratt, Miss Mary B.
Prendergast, Mrs. M.
Prudden, Miss Lilian
Ramadell, Mr. Sayre M.
Ramsdell, Mrs.
Rawsey, Mrs, A. M.
Reeves, Mr. Peter
Reeves, Mrs.
Reeves, Miss C.
Reeves, Mr. Francis
Reeves, Mr. James
Regina, Sister Mary
Rohn, Mrs. B.
Rowland, Mrs. John E.
Rubenherg, Mr. Dan
Rubenberg, Mrs.
Russell, Miss E.
Russell, Miss C.
Rypinski, Mrs. M. C.
Rypinski, Miss Frances
Sawyer, Miss Helen A.
Schaufele, Mrs. Charles
Schaufele, Mr. C. B.
Schmeltzer, Mrs. G.
Schmeltzer, Master Jack
Schwan, Mr. R. L.
Schwan, Mrs.
Schwan, Miss Aubrey
Sebastian, Sister Mary
Shannon, Mrs. W. T.
Shaw, Mrs. J. Milton
Shaw, Miss Lena B.
Shea, Mr. Charles E.
Shearer II., Mr. James
Sheehan, Mr. John W.
Sheehan, Mrs.
Sheehan, Miss Bridie
Sheldon, Mr. Harrison T.
Sheldon, Mrs.
Sheldon, Miss Anne
Sheriff-MacGregor,
Miss M. Una
Siller, Mrs. W. A.
Singh, Mr. J. J.
Skinner, Mr. James M.
Skinner, Mrs.
Slocumb, Mrs. R.
Smart, Miss Nellie
Smart, Miss Margaret
Snodgrass, Miss R.
Spalding, Mr. Chas. C.
Sparry, Mrs. H. F.
Sperry, Miss Dorothy E.
Sprott, Capt. J. L,
Stewart, Mr. B. A.
Stokes, Mr. N. J.
Stubbs, Mr. J. A.
Stubbs, Mrs.
Sturgis, Bliss Catherine
Sullivan, Mr. J. D.
Sullivan, Miss M.
Sutton, Mrs. Wm.
Sutternan, Miss Mae
Sweeney, Mr. John D.
Tabor, Mr. F. A. M.
Taylor, Miss A.
Taylor, Mr. G. R. T.
Taylor, Mrs.
Teliain, Mrs. M.
Teilain, Master W. J.
Temple, Rev. Father P. J.
Thornley, Mr. James W.
Thornley, Mis.
Titcomb, Mr. Andrew A.
Tyson, Mrs. F. E.
Tyson, Mr. George F.
Ursula, Sister Mary
Van Vleck, Mrs. E.
Wainwright, Mr. Richard T.
Wainwright, Miss Alice C.
Wheatley, Miss B.
Wylde, Mr. Cecil I.
Wylde, Mrs.
Information for Passengers
RECOVERY OF U.S. HEAD TAX
Refund, of Head Tax can be obtained provided passengers have complied with the following conditions:—
(1) Inform the U.S. Immigration Inspector on arrival that it is their intention to leave the United States within sixty days, and obtain from the Inspector "Head Tax Refund Certificate" (Form 514).
(2) When leaving the United States to have the departure certified on Form 514 by the Purser of the vessel or by the conductor of the train upon which the departure takes place.
(3) The Immigration Authorities impose a time limit of 120 days from date of entry, after which claims for refund will not be considered. Passengers must, therefore, submit Form 514, duly completed, to the Company in sufficient time to enable the Company to make their application within this limit of time (120 days).