SS Majestic Passenger List 24 August 1927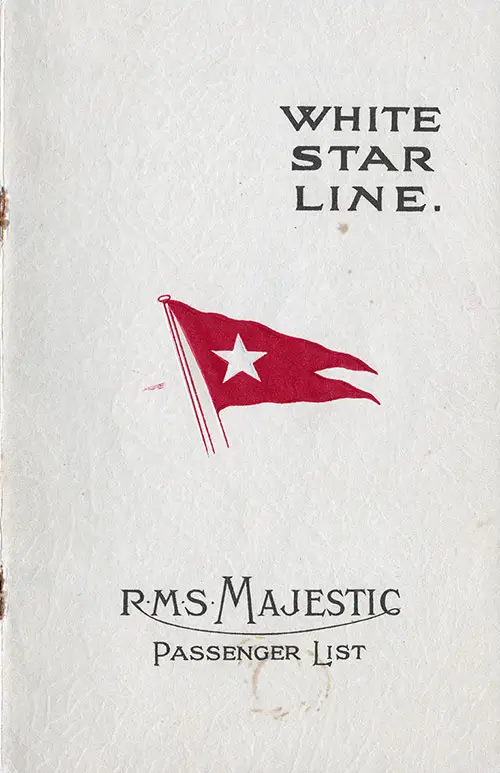 Front Cover, First Class Passenger List from the RMS Majestic of the White Star Line, Departing Wednesday, 24 August 1927 from Southampton to New York via Cherbourg, Commanded by Captain G. R. Metcalfe, Lt. Cdr. RNR, Retd. GGA Image ID # 13c96661d6
Senior Officers and Staff
Commander: Captain G. R. Metcalfe, Lt. Cmdr. R.N.R., Retd.
Assistant Commander: W. M. Western
Chief Engineer: J. Wolff, O.B.E.
Assistant Chief Engineer: M. L. Evans
Surgeon: T. E. Blunt, M.R.C.S. (Eng.), L.R.C.P. (Lond.) (Surgeon-Capt., R.N., Retd.)
Assistant Surgeon: J. B. Maguire, M.B., B.Ch., B.A.O. (Dub.) L.M. (Rotunda)
Purser: C. B. Lancaster
Purser: A. J. Byrne
Assistant Purser: W. H. Haywood
Assistant Purser: G. B. Carter
Chief Steward: R. J. Hoey
Second Steward: T. Rigby
Restaurant Manager: M. Boscasso
First Class Passengers
Adams, Mr. J. N.
Adams, Mrs.
Adams, Mr, R. H.
Adams, Mrs.
Adams, Mr. Kempton
Adams, Mrs.
Adams, Mr. Edward D.
Adler, Mr. Jerome J.
Adler, Mrs.
Airey, Mrs. L. M.
Airey, Miss Louisa R.
Arents, Jr., Mr. George
Arents, Mrs.
Arnstein, Mr. N.
Asay, Mrs.
Ascher, Mr. Louis
Ascher, Mr. Robert
Ash, Miss Ruth
Ast, Mr. A. W.
Ast, Mrs.
Attwood, Mr. Frederick
Auchincloss, Mr. Charles C.
Auchincloss, Mrs.
Auchincloss, Miss Rosamond L.
Auchincloss, Miss Josephine L.
Auchincloss, Mr. Richard S.
August, Mr. Samuel
Avila, Mr. Leon
Avila, Mrs.
Babbitt, Mr. Niles S.
Babbitt, Mrs.
Baer, Mr. Julius
Baer, Mrs.
Baer, Mr. Robert J.
Baer, Mr. Martin C.
Baker, Mr. Milo
Baker, Mrs.
Balch, Mr. George R.
Balch, Mr. Harold N.
Balderston, Mr. John Lloyd
Ballard, Miss E. G.
Ballard, Mr. E. L.
Banghart, Mr. O. H.
Barreau, Mrs. L. P.
Bauman, Mrs. B.
Baylis, Mr. W. N.
Baylis, Mrs.
Becker, Miss Ruth
Bell, Mrs. lone
Bellerby, Mr. Norman
Berden, Mr. William and Manservant
Berg, Mr. Adolph
Berg, Mrs.
Bergfeld, Mr. George F.
Bergfeld, Mrs.
Bernheim, Mr. Eli H.
Bick, Mr. E. C. T.
Bick, Mr. Carl E.
Bingham, Mr. Barry
Blackmore, Mr. J. J.
Blair, Mr. J. C.
Blair, Mrs.
Blair, Miss Josephine
Blair, Miss Mary
Blair III, Mr. A. G.
Blank, Mrs. J.
Bloch, Mrs. Bert K.
Blum, Mr. H. H. and Maid
Blum, Mrs. and Maid
Boggs, Jr., Mrs. David C.
Bon de Sousa, Mr. P.
Bon de Sousa, Mr. Manuel
Bonwit, Mr. Walter B.
Bonwit, Mrs.
Bool, Mr. S. E.
Bool, Mrs.
Bool, Miss Ann E.
Boone, Mrs. E. T.
Breniser, Mrs. A.
Briscoe, M.P., Capt. R.
Brown, Mrs. E. B.
Brown, Mr. Thomas
Brown, Mrs.
Bruck, Mr. Leo
Bruck, Mrs.
Buchanan, Miss Mary J.
Buchner, Mr. Sam
Buchner, Mrs.
Buckley, Mr. F. J.
Buckley, Mrs.
Burbach, Mr. George M.
Burbach, Mrs.
Burbach, Jr., Mr. George M.
Burkardt Mr. S. A.
Burke, Mr. J. R.
Burnham, Mrs.
Burr, Mr. Nelson
Burr, Mrs.
Byron, Mr. Edward B.
Byron, Mr. Victor S.
Cahn, Mrs. Joel G.
Calhoun, Mr. C. Morris
Campbell, Mr. Douglas H.
Campbell, Mrs.
Cariello, Mr. Antoninio
Cariello, Mrs.
Carter, Mr. Robert R.
Chadlorne, Mr. Thomas L.
Chance, Mrs. Burton
Childs, Mr. S. C.
Childs, Mrs.
Clark, Mrs. R. D.
Cohn, Mr. Harry
Cohn, Mrs.
Cohn, Miss Marie Louise
Cohn, Miss Lenore
Cohn, Mr. Morris
Cohn, Mrs.
Cohn, Miss Frances A.
Cohn, Mr. Norman V.
Colescott, Mr. William A.
Colescott, Mrs.
Colescott, Jr., Mr. William A.
Colescott, Miss Mary
Colton, Mr. E. T.
Coons, Dr. W. S.
Coons, Mrs.
Cordia, Mr. M. P.
Cordia, Mrs.
Cordia, Mr. Reginald
Cordia, Mr. Alan
Cordia, Miss Frances and Nurse
Cossins, Miss Edith
Costanzi, Miss Jennie
Cox, Mr. W. E.
Crane, Mr. Jason
Crane, Mrs.
Crane, Miss Margaret
Crane, Mr. Allen
Crane, Jr., Mr. R. T.
Cullinan, Mr. Thomas M.
Cutlers, Mrs.
Cutner, Mr. H. B.
Cutner, Mrs.
Cutner, Miss Louise
Cutner, Miss Ruth
Daning, Mr. M. J.
Dantzler, Mr. A. M.
Dantzler, Mr. A. F.
Dawson, Mr. Henry
De Card, Mr.
De Coppet, Mr. Andre
De Coppet, Mrs.
De Coppet, Miss Clara
De Coppet, Miss Dorothea
de Valladares, Mrs. E.
Dickson, Mrs. J. H.
Dillon, Mr. E. H.
Dittenhoffer, Judge I.
Dittenhoffer, Mrs.
Dodge, Mr. C. G.
Dodge, Mrs.
Doherty, Mrs. W. H.
Doherty, Mr. Douglas
Dolfin, Countess Denise
Douglas, Mr. Lee
Dowd, Mr. James H.
Dowd, Miss Mary A.
Drees, Mr. Drew
Drees, Mrs.
Dreyfus, Mr. Harry
Dreyfus, Mr. Herbert M.
Dreyfus, Miss Charlotte
du Voisin, Miss Alice
Duff, Miss Helen M.
Durn, Miss T.
Dutton, Mr. George
Early, Miss M. V.
Echevarria, Mr. V.
Eckstein, Mr. Ignatz
Edelman, Mr. M.
Edelman, Mrs.
Edelman, Junr., Mr. M.
Edelman, Master Alfred
Edelman, Master Richard
Edwards, Mr. Edward W.
Edwards, Mr. Charles C.
Eichel, Mr. Charles N.
Eldridge, Mr. William T.
Elkan, Mr. Leo H,
Ellerman, Mr. Sidney
Ellerman, Miss Lillian F.
Elliott, Mr. R. C.
Ells, Mr. A. E.
Ells, Mrs.
Elsasser, Mr. Meyer
Elsasser, Mrs.
Emerson, Mr. William
Emerson, Mrs.
Farnum, Mr. Peter E.
Fay, Mrs. Charles J.
Fay, Miss Jane E.
Feil, Mr. Joseph
Ffoulkes, Mrs. E. C,
Finkelstein, Mr. Paul
Finkelstein, Mrs.
Finkelstein, Mr. Armand
Flickinger, Mr. C.
Flynn, Miss Martha
Forstner, Mr. William
Forstner, Mrs.
Forstner, Miss A.
Fox, Mr. G. L.
Frankel, Mrs. J. F.
French, Mr. J. E.
French, Mrs.
French, Mr. J. D.
French, Mr. Jack
Frieberg, Dr. M.
Frieberg, Mrs.
Frost, Mr. Herbert H.
Frost, Mrs.
Fuller, Mr. C. E.
Fuller, Mrs.
Gage, Mr. Harry L.
Gage, Mrs.
Gage, Miss Katharine
Gage, Mr. Hugh F.
Geis, Miss E.
Gervain, Miss M. D.
Giesecke, Mr. Herbert
Gillett, Miss F. E. P.
Girand, Miss Cecile
Glass, Mr. Harry E.
Glenn, Mr. William H.
Glenn, Mrs.
Glenn, Mr. John F.
Glenn, Jr., Mr. William H.
Goepel, Mrs. E. T.
Goldberg, Miss Doris
Goldhammer, Mr. John
Goldman, Dr. A. J.
Goldman, Mrs.
Goldman, Mr. Samuel
Goldman, Miss Rose N.
Goldman, Mr. Seymour J.
Goldsmith, Mr. Benjamin S.
Goldsmith, Mrs.
Goldstein, Mr. A. L.
Goldstein, Mrs.
Goldstein, Mr. C. S.
Goldstein, Mrs.
Gomez, Mr. Jose
Gomez, Mrs.
Gomez, Miss Lilian and Maid
Goodall, Mr. William K.
Goodall, Mr. Aaron R.
Goodhue, Mrs. George H.
Goodrich, Miss Lee
Goodwin, Mr. Robert Harvey
Gould, Mr. Raymond C.
Gourley, Miss Frances
Grant, Miss Stella
Grant, Miss Josephine
Gray, Mr. Bowman
Gray, Mrs.
Gray, Jr., Mr. Bowman
Gray, Mr. Gordon
Gray, Mr. William A.
Gray, Mrs,
Green, Miss Floride
Greendain, Mr. Milton
Greenwald, Mr. Henry D.
Greenwald, Mrs.
Gross, Mr. Benjamin
Gross, Mrs.
Gudeman, Mr. Edward
Gutwillig, Miss M.
Haas, Mr. Max
Haas, Mrs.
Hadley, Mrs. N.
Hadley, Miss S.
Hadley, Miss Helen M.
Haim, Mr. William
Hall, Mrs. J. A.
Halpert, Mr. I.
Halpert, Mrs.
Hammill, Mr. J. F.
Hamper, Mr, Louis
Hamper, Mrs.
Hanley, Mrs. F. R.
Hansen, Miss Vaugn
Harmsworth, M.P., Hon. Esmond and Manservant
Harrison, Mr. A. Dalton
Harry, Mr. L. J. J.
Haven, Mr. Joseph Woodward and Valet
Haven, Mrs. and Maid
Haven, Miss Ethel L.
Heald, Mrs. H.
Heine, Mr. John
Heine, Mrs.
Heinsman, Mr. J. H.
Heller, Mrs. I.
Hely-Hutchinson, Mr. Maurice
Herkness, Mr. N.
Herndon, Mrs. C.
Hertz, Mr. Emanuel
Hertz, Mrs.
Hertz, Miss Edith Ruth
Hertz, Miss Miriam
High, Mr. S. H.
High, Mrs.
High, Jr., Mr. Samuel
High, Mr. Gilbert P.
High, Miss Sarah Betsy
Hirsch, Mrs. C. Philipps
Hitchcock, Mrs. W. J.
Hitchcock III., Mr. William J.
Hoblitzelle, Mrs. G. K.
Hoblitzelle, Miss E.
Hoblitzelle, Miss T.
Hodge, Mr. O. T.
Hodge, Mrs.
Hoffman, Mrs. J. Ogden and Maid
Hoover, Mr. S. L.
Hosmer, Miss Mildred
Hudson, Mrs. C. I.
Hurlbut, Mrs. Henry A.
Hyman, Mr. H.
Hyman, Mrs.
Hyman, Mr. Bram
Hyman, Master Alex
Jackson, Mrs. Huntington
Jackson, Mr. P.
Jackson, Miss A.
Jamieson, Mr. Stillman
Jamieson, Mrs.
Johnson, Mr. James Lawrence
Jones, Mr. G. W.
Jones, Miss A. E.
Jongers, Mrs. Alphonse
Joseph, Judge Herman
Joseph, Mrs.
Judkins, Mr.
Junkins, Mrs.
Jungebluth, Mr. Nicholas
Jungebluth, Mrs.
Kalisch, Jr., Mr. S.
Kalisch, Mrs.
Kalisch, Mrs. Rachael
Kaltenbacher, Mr. Joseph
Kaltenbacher, Mrs.
Kaltenbacher, Mr. Joseph C.
Karagheusian, Miss L.
Kaufman, Mrs. Samuel
Kaufman, Miss M.
Kaufman, Miss Lucille
Kausmun, Mr. Samuel
Keene, Mr. Charles A.
Keene, Mrs.
Kershaw, Mr. C. G.
Kershaw, Mrs.
Kierstede, Miss G.
Kimmel, Mr. Charles
Kimmel, Mrs. B.
Kimmel, Miss Sara
Kimmey, Mr. Sherwood
Klein, Mrs. L.
Kloster, Mr. G. W.
Kloster, Mr. C. H.
Kolm, Mr. Emil W.
Kohn, Mrs.
Kohn, Mr. Joseph
Kolm, Mrs.
Kohn, Mr. Bernard
Kohn, Mrs.
Kohn, Mr. Lewis
Kopel, Mr. Oscar
Kopel, Mrs.
Krayer, Mr. Guenther
Kruskal, Dr. I. D.
Kuhn, Mrs. Ferdinand
Kurjan, Mr. Max
Kurjan, Mrs.
Lamb, Mr. George F.
Lamb, Mrs.
Lamb, Miss Regina
Lamport, Mrs. E.
Lamport, Miss Charlotte
Lamport, Miss Sarah
Lawes, Mr. P. N.
Lawes, Mrs.
Leavy, Mrs. E.
Leibowitz, Mr. Abraham
Leibowitz, Mrs.
Leibowitz, Miss Beatrice
Leibowitz, Miss Sylvia
Leibowitz, Miss Ruth
Leighton, Mr. F. D.
Leighton, Mrs.
Leon, Mr. Henry
Levi, Mrs. A.
Le Vin, Mme. Regina
Levy, Mr. Louis S.
Levy, Mrs. and Maid
Lewis, Mr. C.
Ley, Mr. James Duncan
Lichtenstein, Mr. M.
Lichtenstein, Mrs.
Lincoln, Mr. Sidney H.
Lissner, Mr. Herman
Lissner, Mrs.
Little, Mr. E. H.
Little, Mrs.
Loeb, Mr. A. A.
Longaker, Mrs. C. R.
Longaker, Miss M. Margaret
Loring, Mr. Eugene
Loscalzo, Mr. N.
Loscalzo, Mrs.
Lousley, Mrs. C. M.
Lower, Miss Mabel F.
Lower, Miss Molly
Lukens, Mr. Charles K.
Lukens, Mrs.
MacBride, Dr. Edith
MacBride, Miss Rowena
Magnin, Mr. E. John
Magnin, Mrs.
Mann, Mrs. S. F.
Manning, Bishop William T.
Marcus, Mr. H.
Marcus, Miss Linda Chapin
Marine, Mr. Earl C.
Mathez, Miss A.
Mays, Miss Myrtle
Maxudian, Mr. Y.
McCabe, Mr. Frank J.
McCabe, Mrs.
McCallay, Mr. E. L.
McCallay, Mrs.
McCallay, Mr. Louis
McDonnell, Mrs. Robert E.
McDonnell, Mr. John P.
McDonnell, Mr. James L.
McDonough, Miss M. F.
McGlinn, Miss Alice A.
McLaughlin, Dr. William
McLaughlin, Mrs.
McKnight, Miss M. E.
McLerie, Mr. H.
McLerie, Mrs.
McLerie, Miss
McLure, Mr. N. R.
McLure, Mrs.
McVeady, Miss C.
Metesser, Mrs. E.
Miller, Mr. E.
Miller, Mrs. B.
Miller, Mrs. Eugene S.
Miller, Jr., Master Eugene S.
Mixsell, Dr. Harold R.
Molkehansen, Mr. I. J.
Moore, Mrs. L. L.
Moore, Mr. Robert London
Morgan, Mr. C. D.
Morrissey, Miss Mary
Morrow, Mr. George K.
Morrow, Mrs.
Morrow, Miss Emily
Mosbacher, Mrs. B.
Moskowitz, Mr. A.
Moskowitz, Mrs.
Moskowitz, Master Leonard
Moskowitz, Miss Vita
Mott, Mr. John R.
Mountbatten, Lady Louis and Maid
Munger, Mr. H. C.
Munger, Miss J.
Murray, Mr. James A.
Nash, Mr. Myles
Newbold, Miss A. S. and Maid
Nichols, Miss Edith
Norden, Mr. A. C.
Nordman, Mr. J.
Nolte, Mr, Josphe H.
Nolte, Mrs.
Nolte, Miss Anna N.
O'Cock, Mr. Wilfred P.
Onody, Miss S,
Oettinger, Mr. Jonas
Oettinger, Mrs.
Ohto, Mr. Katsuichi
Olds, Mr. Irving S.
Olds, Mrs.
Oviatt, Mr. James
Oviatt, Mr. Vernon
Palmer, Mr, Russell
Parrill, Mrs. F.
Payden, Mr. Joseph R.
Payne, Mr. John M.
Payne, Mrs. Howard H.
Pechin, Mrs. A. M.
Pedro, Mr. D.
Pendergast, Mr. T. J.
Pendergast, Mrs.
Pendergast, Miss Marceline
Pendergast, Jr., Mr. Thomas J.
Pendergast, Miss Aileen
Penick, Mr. S. B.
Perry, Mr. J. P. H.
Perry, Mrs.
Perry, Mr. Charles
Phillips, Mr. L.
Phillips, Mrs. B.
Phipps, Mr, A. J.
Phipps, Mrs.
Pickles, Mr. F. Senior
Pickles, Mrs.
Plant, Mr. Leopold
Plant, Mrs.
Plumer, Mr. B.
Plumer, Mrs.
Pouch, Mr. O. G.
Pouch, Mrs.
Pouch, Miss Dorothy
Pouch, Mr. Leslie O.
Putnam, Mr. Albert W.
Putnam, Mrs.
Putnam, Miss Betty W.
Putnam, Mr, G.
Putnam, Mrs.
Putnam, Miss
Rascoder, Miss Clara
Rathberg, Mrs. Max
Ray, Mr. Arthur B.
Reid, Miss Evelyn C. and Maid
Reiss, Mr. Hugo
Replogle, Mr, J. Leonard
Replogle, Mrs.
Rhines, Mr. Frank K.
Rhines, Mrs.
Rich, Mr. Samuel
Rich, Mrs.
Richard, Mr. W. L.
Richard, Mrs. and Maid
Richards, Mrs. C. B.
Rocdelheimer, Mr.
Rogers, Mr. Winfield H.
Rogers, Mrs. E.
Rosenberg, Mr. Samuel S.
Rosenberg, Mr. Bernard A.
Rosenberg, Mrs.
Rosenberg, Mr. Bernard
Rosenberg, Mrs.
Rosenfeld, Mr. Max
Rosenfeld, Mrs.
Rosenfeld, Miss Florence
Rosenfeld, Master Mortimer
Rosenfield, Mr. I.
Rosenthal, Mr, E. M.
Rosenthal, Miss Maxine
Ross, Mrs. Henry C.
Ross, Miss Millie
Ross, Miss Mabel
Rowan, Mr. Robert
Rowan, Mr. L. A.
Rowan, Mr. George
Royal, Mr. Thomas M.
Royal, Mrs.
Royal, Miss Eleanor
Rudolph, Mrs. H.
Rumsey, Jr., Mr. George A.
Rumsey, Mrs.
Sablosky, Miss Ethel
Sacks, Mr. Samuel
Sacks, Mrs.
Salzer, Mrs. Benjamin
Salzer, Mrs. M. G.
Salzer, Master Richard
Sargent, Mrs. Arthur H.
Schenck, Mr. Charles L.
Schenck, Mrs.
Schenck, Mr. J. Cornell
Schlivek, Hon. Max
Schlivek, Mrs.
Scoaelli, Mr. Frank
Seidman, Mr. Joseph A.
Seidman, Mr. Albert G.
Seigel, Mr. Jacob
Seiglie, Mrs. R.
Seiglie, Miss Nemia
Sellers, Miss Iva Bly
Shapiro, Miss Evelyn
Sheinart, Mr, Max
Sheinart, Mrs.
Silver, Mrs. B. P.
Simon, Mr. S. W.
Simon, Mrs.
Simon, Mr. Myron
Simon, Mrs.
Simon, Master Peter L.
Simonson, Miss V.
Sloane, Mr, Henry T. and Manservant
Smith, Mr. Dorsey
Smith, Mr. George B.
Smith, Miss Martha
Snow, Mrs. Richard B.
Snowman, Mrs. A. E.
Soukup, Mr. Anton
Soukup, Mrs.
Sparrow, Mr. W. W. K.
Sparrow, Mrs.
Sparrow, Miss Jessie
Spector, Mr. Maurice
Spector, Mrs.
Spector, Miss Sarabell
Spencer, Mrs. F. W.
Spielberg, Miss Adeline
Springman, Mrs. C. K.
Srankel, Miss Mandel
Staats, Mr. Okey
Staats, Mrs.
Staniland, Mrs. H.
Staniland, Miss
Starks, Mr. Isaac F.
Starks, Mrs.
Stegeman, Miss Betty
Stein, Miss Beatrice
Steinberg, Mr. Morris
Steinberg, Mrs.
Steinberg, Miss Hilda
Steinam, Mr. Edward S.
Steinam, Mrs. and Maid
Steinam, Miss Dorothy M.
Steinam, Miss Edna L.
Stenberg, Mrs. M.
Stephenson, Mr. I. W.
Stephenson, Mrs.
Stephenson, Mrs. K.
Stephenson, Miss Mary Elizabeth
Sterling, Mr. Louis
Sterling, Mrs.
Stern, Mr. S.
Stern, Miss
Stief, Miss R. R.
Stieglitz, Mr. Albert
Stieglitz, Mrs.
Stinnes, Dr. Edmund
Stokes, Mr. Edward E.
Stone, Mrs. E.
Stone, Miss Ethel
Stonington, Mr. Edgar H. L.
Strang, Miss M. L.
Strasser, Mrs. L. G.
Strasser, Jr., Master L. G.
Strauss, Mr. Walter
Strauss, Mrs.
Strauss, Miss Victoria
Stropp, Mr. Leon E.
Stropp, Mrs.
Stropp, Miss Lenore
Stropp, Master Edward K.
Suarez, Mr. Alfred
Sweet, Mr. Stanley A.
Sweet, Mrs.
Sweetjer, Mr. H. B.
Swift, Mr. Charles H. and Maid
Swift, Mrs. and Maid
Tallman, Mr. F. G.
Taylor, Mrs. D. R.
Taylor, Mr. Herbert C.
Taylor, Mrs.
Taylor, Miss Ruth
Thaete, Mr. J.
Thaete, Mrs. Edward H.
Thaete, Miss Regina K.
Thatch, Mr. Robert G.
Thompson, Jr., Mr. John R.
Thompson, Mrs.
Thompson, Miss Eleanore
Thompson, Miss Loise
Thorek, Mr. Philip
Thorek, Mrs.
Thorek, Dr. Max
Thorek, Mrs.
Thurn, Miss Ursula
Tipper, Mrs. M.
Tipper, Miss Frances
Tobin, Mr. Horace B.
Tobin, Mrs.
Tobin, Miss Margaret L.
Toppin, Mr. F. and Manservant
Tower, Mrs. E. M. C.
Trask, Miss Evelyn
Tree, Mr. Ronald and Manservant
Trimble, Mrs. H. N.
Trimble, Miss Suzanne
Tuck, Captain A. J. M.
Tuthell, Mr. H.
Tuthell, Mrs. H. S.
Ureles, Mr. N.
Ureles, Mrs.
Vaccaro, Mr.
Vaccaro, Mrs.
Van Deventer Mr. Samuel
Van Druten, Mr. John
Vecsey, Mr. Armand
Verdi, Miss Nancy Clare de S.
Von Daehne, Mr. Arthur
Vondermuhll, Mr. Alfred E.
Vondermuhll, Mrs.
Vondermuhll, Miss Dorothy
Vondermuhll, Miss Barbara
Vondermuhll, Miss Marie L.
Wade, Mrs. H. L.
Wade, Mr. D. E.
Wagner, Mr. Josphe
Waisal, Mr. Solomon E.
Waisal, Mrs.
Waitzfelder, Mr. Clarence
Warfield, Miss Estelle
Warfield, Miss Irene
Warren, Miss Anna W.
Watson, Mr. Alex
Watson, Mrs.
Watson, Mrs. John
Webb, Mr. James
Webb, Mrs.
Webb, Jr., Mr. James
Wegnian, Mr. Albert C.
Weinstein, Mrs. E.
Weiserbs, Mrs. S.
Welch, Mrs. Gregg J.
Welt, Mr. M. S.
Welt, Mrs.
Wende, Mr. Albert
Wende, Mrs.
Wende, Miss Louise
Wende, Miss Jean
Wetherill, Miss M. L.
Whitaker, Mrs. A. B.
White, Mr. W. H.
White, Mrs.
White, Miss Elizabeth
White, Mr. Henry W.
White, Mrs. Franck D.
Whitetield, Dr. G. F.
Whitmarsh, Mr. Theo F.
Whitmarsh, Mrs.
Whitmarsh, Mr. Francis L.
Whitmarsh, Mrs.
Whiton, Mr. Herman Frasch and Manservant
Whittaker, Mr. Charles James Mackie
Wieden, Mr. Herman
Wieden, Miss Josephine
Wiegand, Mr. A. F.
Wiegand, Mrs.
Williams, Mr. W. H.
Williams, Mrs.
Williams, Mr. John B.
Williams, Mrs.
Willson, Mr. J. H.
Willson, Mrs. J. H.
Willson, Miss M. J.
Wilson, Mr. J. Sawyer
Wilson, Mrs. B. D.
Windmuller, Mrs. C. T.
Wolf, Mr. Louis
Wolf, Mrs.
Wolff, Judge I.
Wolff, Mr. B.
Yamakawo, Mr. Shi Kasaburo
Yund, Mr. Theodore J.
Yund, Mrs.
Zeman, Mr. Anton
Zeman, Mrs.
Zeman, Jr., Master Anton
Information for Passengers
LANDING ARRANGEMENTS AT NEW YORK
Should the steamer arrive at the New York Wharf after 8:00 pm, all passengers who have been passed by the U.S. Immigration Authorities may land or remain on board overnight, at their own option.
Those passengers who have been passed by the Immigration Authorities and desire to remain on board may have all their baggage passed by the U.S. Customs that night or the following morning, at their Own option.
No baggage will be passed before 7:00 am the day following arrival. Breakfast will be served to those who remain on board overnight.
In the event of the Steamer Arriving at Quarantine After the Hours Mentioned Hereunder Passengers, Other Than United 8tate8 Citizens, May Be Required by the U.S. Immigration Authorities to Remain on Board Overnight and to Have Their Passports Examined the Following Morning:—
October to December Inclusive 5:30 pm
January to March Inclusive 6:00 pm
April to June Inclusive 7:30 pm
July to September Inclusive 7:15 pm
Breakfast Will Be Served in the Usual Course.
Upon landing at New York and upon application to the uniformed representatives of the railroads, who meet all steamers, railroad tickets may be purchased and baggage checked from the Steamship Pier to any point along the Lines of the Pennsylvania, New York Central, New York, New Haven, and Hartford, Erie, Lehigh Valley, Baltimore and Ohio, Delaware, Lackawanna and Western and Central Railroad of New Jersey, and connecting railroads.
Passengers destined to New York City, or nearby points, will find on the Pier, representatives who will arrange for the expeditious transfer of baggage to hotels, railroad terminals or residences.
BREAKFAST from 8:00 am until 10:00 am.
LUNCH at 1:00 pm
DINNER at 7-30 pm
The Bar opens at 8:00 am. and closes at 11:30 pm
Lights are extinguished in the Saloon at 11:00 pm. Lounge midnight (Sundays 11:30 pm) and Reading and Writing Room at 11:30 pm
Lights are extinguished in the Smoking Room at midnight.
Divine Service ro the Lounge on Sunday at 11:00 am
SMOKING. Passengers are kindly requested not to smoke in the Dining Saloon.
SEATS AT TABLE- Passengers who have not previously arranged for seats at table to be reserved should apply for same to the Second Steward.
When the steamers sail with full lists, children under the age of ten years not paying the adult fare are provided with meals at separate sittings in the Dining Saloon.
MEDICAL ATTENDANCE, the surgeon is authorized to make customary charges, subject in each case to the approval of the commander, for treating passengers at their request for any illness not originating on the voyage. in the case of sickness developed on the voyage no charge will be made, and medicine will be provided free in all circumstances.
The Hours for Consultation are as follows:—10 am, 6 pm, 8:30 pm
but the Surgeon is available at all times in case of urgency.
AN ENQUIRY OFFICE has been provided for the convenience of passengers where all enquiries for information of a general character can be made.
Letters, Cables, Telegrams and Marconigrams are received here for despatch, and Postage Stamps can be purchased, and Deck Chairs and Steamer Hugs hired at this Office, through which also all Mails will be distributed. Postage Stamps can also be obtained from the Lounge Steward.
None of the ship's staff other than those on duty in the Enquiry Office are authorized to accept Letters or Telegrams for despatch.
CHARGES COLLECTED ON BOARD. Passengers are requested to ask for a receipt on the Company's Form for any additional Passage Money, Chair or Steamer Rug Hire, charges collected for Marconigrams, Cablegrams or Telegrams or Freight paid on board.
PASSENGERS' ADDRESSES may he left at the Enquiry Office in order that any letters received after passengers have left the steamer may be forwarded.
DECK CHAIRS and STEAMER RUGS can be hired on application at the Enquiry Office, at a charge of (or $1.50) each for the voyage.
DECK CHAIR CUSHIONS. A limited supply of Cushions, with loose covers, for Deck Chairs is available for hire at a charge of 6/6 (or SI.50) each for the voyage.
VALUABLES. For the convenience of passengers, the Line has provided in the office of the Purser a safe in which money, jewels, ornaments, documents or other valuables may be deposited by passengers.
A receipt for any articles so deposited will be issued by the Purser, but the Line does not, having regard to the ticket conditions and to the provisions of Section 602 of the Merchant Shipping Act, 1894, and of Section 4281 of the revised Statutes of the United States, accept any responsibility for the safe custody of any such articles. Passengers are accordingly advised to protect themselves by insurance.
PRECIOUS STONES or other similar articles of merchandise may not be taken as baggage, but all passengers must deliver such goods to the Purser of the vessel. The Pursers are instructed to furnish passengers with a receipt for merchandise so delivered and place the goods in the safes aboard their vessel until a Customs permit is presented to the Inspectors ordering the goods into the U.S. appraiser's stores for examination,
EXCHANGE OF MONEY. The Purser is prepared, for the convenience of passengers, to exchange a limited amount of English and American money at rates which will be advised on application.
BAGGAGE. Questions relating to Baggage should be referred to the Baggage Master. Trunks, Chairs, etc., which passengers may desire to leave in charge of the Company, should be appropriately labeled and handed to the Baggage Master on the Wharf at New York, and such articles will be stored entirely at owner's risk. It is for passengers themselves to see all their baggage is passed by the U.S. Customs Authorities on landing.
WARDROBE TRUNKS. Passengers are advised that it is not always possible to arrange for the placing of Wardrobe Trunks in the passenger accommodation in a position where they are easily accessible, also that there is frequently difficulty with regard to the landing of such packages owing to their exceptional size. They are therefore recommended to use steamer trunks in preference.
DOGS. Passengers are notified that dogs cannot be landed in Great Britain unless a license has previously been procured from the Board of Agriculture, London. Forms of license must be obtained by direct application to the Department before the dog is taken on board.
TRAVELLERS' CHEQUES, payable in all parts of Europe, can be purchased at all the principal offices of the White Star Line. These Cheques are accepted on board White Star steamers hi payment of accounts, but tfie Pursers do not Carry funds to enable them to cash same except to a very limited amount.
AUTOMOBILE TOURS. Arrangements have been made whereby passengers by the White Star Line can hire automobiles to meet them on arrival of the steamer at Liverpool or Southampton for tours in the British Isles or on the Continent. Orders may bo sent from America or Canada through the White Star Offices or direct from the steamer by the aid of the Marconi Wireless Telegraph.
DECK GAMES AND AMUSEMENTS. Deck Quoits, Shuffleboard, Bull Board and other games are provided on deck under the charge of a Quartermaster.
Chess, Draughts, Dominoes, etc., can be obtained on application to the Lounge Steward.
PASSENGERS' QUARTERS. First Class passengers are not allowed to enter Second or Third Class compartments, or vice versa, as complications might arise under the Quarantine Regulations.
BOOTS AND SHOES. These will be cleaned if left outside the Stateroom door.
BARBER, LADY HAIRDRESSER, and LADY MANICURIST are provided. The Barber's hours are from 7:00 am to 7:00 pm, but for the general convenience of the greater number, passengers are requested not to apply for hair-cutting or shampooing except between the hours of noon and 5:00 pm
The Barber is allowed the privilege of selling various souvenirs and small articles on his own account.
DIRECTORIES of London and New York aro placed on the Liverpool - New York steamers, and those of London, New York and Paris, on the Southampton - New York ships.
PICTURE POSTCARDS. Picture Postcards of the steamer can be obtained on board gratis.
POSTAL INFORMATION
HIGH SEAS MAIL.— On all British steamers British Postage Stamps and rates are used when mailing letters for European points, and such letters should be posted in the ship's letter box in the ordinary way.
The mail bag is closed a few hours previous to arrival. Full particulars can be obtained at the Enquiry Office upon application.
WIRELESS TELEGRAM
This Steamer is fitted with Marconi's system of Wireless Telegraphy and aiso with Submarine Sigttaifi/ig Apparatus.
LONG RANGE WIRELESS SERVICE
This vessel is fitted with special long range wireless apparatus which will enable passengers to communicate with their friends or business connections on shore at any time during the voyage across the North Atlantic Ocean.
OCEAN LETTERS. The Marconi Company have inaugurated an "Ocean Letter" service by which messages may be sent from one ship to another going in an opposite direction for delivery by Registered Post from the first port of call of the latter vessel.
POSTE RADIOTELEGRAMS. These messages are accepted for transmission to a selected vessel for mailing on arrival in port. This service provides a most economical channel of communication with friends and relatives on shore when full rate facilities are not desired.
For particulars regarding Wireless communications established or expected please consult the Wireless notice board, where full Information Is posted dally throughout the voyage.
RMS "MAJESTIC" - 56,551 Tons
THE LARGEST STEAMER IN THE WORLD
RESTAURANT. In addition to the Regular Dining Saloon there is a large modem à la carte Restaurant, on Deck B, where meals may be obtained at any time between S am and 11 p,m. at fixed charges, as shown on the Bill of Fare issued from day to day.
THE RESTAURANT IS UNDER THE MANAGEMENT OF THE COMPANY.
If the passage is booked entirely without meals in the regular Dining Saloon, a reduction of £5 or $25 per adult will be made from the Ocean Rate for passage to include meals.
Provided the Restaurant is not fully booked, passengers may, on notifying the Purser within 24 hours after sailing, take their meals exclusively in the Restaurant, and avail of the rebate. Or, passengers who have booked for meals in the Regular Dining Saloon may take occasional meals in the Restaurant at fixed charges, if there is room available.
Passengers wishing to use the Restaurant should apply on board to the Manager for the reservation of tables.
In the event of passengers who have booked for meals in the Restaurant of the " Majestic," being invited by friends to join them in the main saloon, such can be arranged at fixed charges, providing, of course, seals are available there.
PALM COURT. Adjoining the Restaurant is the Palm Court, a magnificent apartment decorated in the style of the Italian Renaissance and with a ceiling 20 feet high supported by eight columns. Light refreshments may be obtained at fixed charges.
READING and WRITING ROOM. On Deck B, forward, furnished in the style of the Adams Brothers. Here are well stocked Bookcases, and Books may be obtained on application to the Steward in charge.
By special arrangement with Harrod's Library, a supply of recent works is placed on board each voyage, as a supplement to the permanent collection of standard works.
SMOKING ROOM. On Deck A, forward, with large square glass windows giving a magnificent view towards the bow and also to the side of the steamer. This room is decorated in the style of the English Renaissance and is panelled in light stained oak, richly carved.
DINING SALOON. On Deck F, is the loftiest ever built in any ship, its height being 31 feet, and there is a rioor area of 4,600 square feet. The magnificent painted dome and the decorations of the apartment have received special attention, the lighting effect being very pleasing. The seating arrangements in the Dining Saloon are unrivaled.
678 persons can be seated at once, and tables are provided for 2, 4 or more persons to enable all requirements to be met,
CARD ROOM. On Deck B, an innovation which will prove exceedingly popular amongst enthusiasts who like a quiet rubber free from the distractions unavoidable in apartments not solely devoted to the game.
LOUNGE. On Deck B, amidships, intended for the use of both Ladies and Gentlemen, This popular room is the centre of social intercourse on board. Here afternoon tea and after-dinner coffee will be served, while liqueurs, cigars, cigarettes, chocolates and candies may be purchased, if desired.
Postage Stamps can also bo obtained from the Lounge Steward. The Lounge has an area of 2,410 square feet, a height of 26 feet, and the area of the Glass Dome is 1,500 square feet.
A special DANCING FLOOR has been laid in this apartment.
SWIMMING BATH. * The Swimming Bath, with ample accommodation for bathers, including 30 dressing rooms, also a gallery|for spectators, is situated on Deck G, and will be available (with use of costume) for—
Gentlemen from 6:00 am to 9:00 am ... Free
Ladies from 10:00 am to 12:30 pm ... Free
Ladies & Gentlemen from 2:00 pm to 7:00 pm 2/6 (60 cents)
The Swimming Instructress is allowed to make a charge for lessons given on application, but not for ordinary assistance rendered.
ELECTRIC BATHS-* Fully equipped Electric Baths (also situated on Deck G) with experienced attendants in charge, available by appointment.
Tickets 5/6 ($1.25), obtainable at the Enquiry Office.
GYMNASIUM. * Fully supplied with modern appliances, located on Deck A, and is open for exercise by Ladies, Gentlemen and Children during the following hours;—
Gentlemen ... ...from 6:00 am to 9:00 am
Ladies ... ... ".from 10:00 am to 12 noon.
Ladies and Gentlemen from 12 noon to 1:00 pm
Children ... ...from 2:00 pm to 3.30 pm
Ladies and Gentlemen from 3.30 pm to 7:00 pm
No charge is made for the use of the appliances.
* The Company Accepts No Responsibility Whatsoever for Any Accident from Whatever Cause Arising to Any Passenger Using the Swimming Bath, Electric Baths or Gymnasium.
PASSENGER ELEVATORS. Three Elevators are provided, two of which are situated in the main Companionway amidships, and one in the forward Companionway running between Decks A, B, C, D, E and F.
A CLOTHES PRESSING ROOM is in charge of an expert Attendant, and work of this kind will be carried out for Ladies and Gentlemen.
HOT AND COLD WATER. All First Class Staterooms are fitted with hot and cold fresh water supply, excepting rooms C24, C25, D133, and D136.
STENOGRAPHER. An experienced Stenographer is carried, and his services are at the disposal of passengers at the following charges :—
2 1/2 d. or 5 cents per folio (72 words).
1d. or 2 cents per folio for carbon copies.
1s. 6d. or 40 cents (minimum) for a letter.
Particulars can be obtained at the Enquiry Office.
Special Notice
The attention of the Managers has been called to the fact that certain persons, believed to be professional gamblers, are in the habit of traveling to and fro in Atlantic Steamships.
In bringing this to the knowledge of travelers, the Managers, while not wishing in the slightest degree to interfere with the freedom of action of patrons of the White Star Line, desire to invite their assistance in discouraging games of chance, as being likely to afford these individuals special opportunities for taking unfair advantage of others.
THE "MAJESTIC" carries an Orchestra of skilled musicians which will play daily at the undermentioned times and places—
4:00 pm to 5:00 pm - - - First Class Lounge
9:00 pm to Midnight - - - First Class Lounge
8:30 pm to 11:00 pm (Sundays) - First Class Lounge
Passengers' Mail
All mail coming on board on the steamer's arrival is at once sent to the Enquiry Office where passengers should apply for same.
It is not possible in the short time available to distribute the mail to the staterooms.
Passengers are invited to leave their addresses at the Enquiry Office for any later despatches to be re-directed.
RECOVERY OF U.S. HEAD TAX
This Tax can be recovered by passengers, if same has been paid, provided they inform the U.S. Immigration Inspector on arrival at New York of their intention to leave the United States within 60 days (the time prescribed by U.S. Law) and obtain from him Transit Certificate Form 514.
It is also necessary for Transit Certificate Form 514 to be handed to the transportation company when completed, in time to allow same to be placed before the Immigration Authorities in Washington within 120 days of passenger's arrival in the United States.
Unless this regulation is complied with the Tax cannot be recovered.
Note.—Will passengers who have not paid the Head Tax in consequence of their being in transit to Canada kindly complete Form 534 (which must be obtained from the Immigration Officials at New York) and forward same to the White Star Linev 1 Broadway, New York, as soon as possible after their departure from the United States.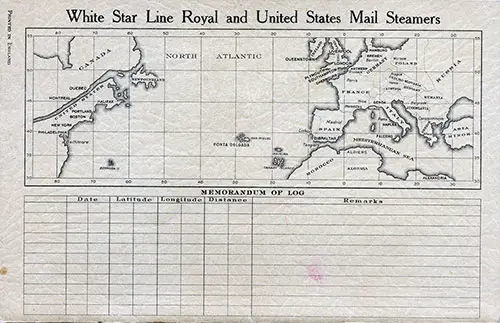 Track Chart and Memorandum of Log (Unused). SS Majestic Passenger List, 24 August 1927. GGA Image ID # 1dd24a14e7