SS Cedric Passenger List - 8 October 1927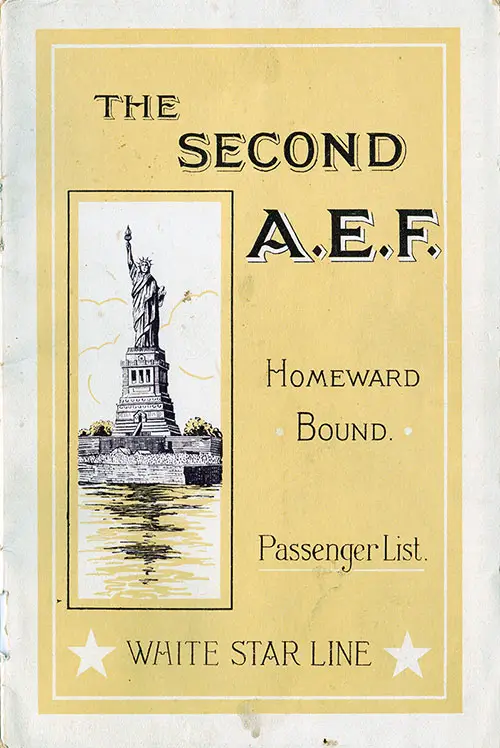 Front Cover, White Star Line RMS Cedric American Legion Passenger List - 8 October 1927. GGA Image ID # 13bebde4b1
American Legion Passenger List from the RMS Cedric of the White Star Line, Departing Saturday, 8 October 1927 from Liverpool to New York via Cherbourg Commanded by Captain R. G. Smith.
Senior Officers and Staff
Commander: Captain R. G. Smith
Chief Engineer: J. A. Mungall
Surgeon: A. G. V. Elder, D.S.C., M.R.C.S. (Eng.), L.B.C.P. (Lond.)
Assistant Surgeon: D. J. Evans, M.R.C.S. (Eng.), L.R.C.P. (Lond.)
Purser: J. T. Cummins
Assistant Purser: H. E. Wardrop
Chief Steward: E. Masters
Second Steward: J. Wareing
American Legion Passengers
Ackerley, Canta C.
Ackerley, Samuel
Adair, William M.
Adam, Elizabeth M.
Adams, George H.
AIdrich, Harry
Alexander, Hooper, Jr.
Allard, Joseph C.
Allen, Henry D.
Allen, Lillian M.
Allston, Mark P.
Ames, Clotilde
Ames, Warren W., Jr.
Anderson, Clarence O.
Anderson, Bertha N.
Anderson, Wesley H.
Angleberger, Lela B.
Arehhold, George A.
Arehhold, Ethel A.
Arnold, Bertie N.
Arnold, John W.
Athey, Charles
Atkinson, R. M.
Aul, Otto A.
Baldwin, Laura J.
Banta, Grace O.
Barnes, Edward J.
Barnes, Percival S.
Barnes, William S.
Barr, Agnes.
Barry, Anna L.
Bartlett, Charles
Barton. Ida C.
Bassett, Brindel
Bates, Emily Louise
Beall, Alice M.
Beaty, Elsie J.
Bedell, Virginia V.
Bell. Edward C.
Bennett, Emma
Benton, Winifred
Bergen, George M.
Bermond, Germaine
Bermond, Wm.
Betz, Philye B.
Bishop, Isaac O.
Blackburn, Roy C.
Bobo, Clyde T.
Bohvrsky, Ben
Borman, Charles A.
Borman, Fritz C.
Borton, George K.
Borton, Wayne
Bosanko, Elizabeth J.
Boudot, Marie Z.
Bowe, Clarence M.
Bowman, Leonard C.
Bowman, Olga
Bown, Dean A.
Braey. Benjamin A.
Bralsford. Joseph H.
Branan, Alvora
Brehm, William H.
Brewton, William L.
Brewton, Voncile A.
Bricker, David A.
Broad, John
Broker, F. L.
Brooks, Melvin B.
Brown, Mark A.
Brua, C. Dean
Bruger, Helen A.
Burgess, Lloyd S.
Burgess, Eva
Burgess, Eugene J.
Burton, Harold W.
Burton, William S.
Burton. Selma F.
Burton. Barbara
Burton. Harry
Butler, Clarence M.
Butler. George O.
Butler. William O.
Caffyn, Walter W.
Caldwell. Margie Lin
Campagna, Michael
Campbell. Robert W.
Campbell, Archie
Carlson, Gustav
Carmody, Richard T.
Carroll. James W.
Carswell. Lonnie A.
Carter. Ellis E.
Carter. Harry W.
Carter, Doris B.
Carter, Raymond
Carter, R.
Carter
Carter, S.
Carter. William C.
Cartwright, Jacob A.
Cawthorn. Hazel R.
Chase, Edmund V.
Chidsey, Stanley A.
Chidsey. Sara
Choate, Ona
Churchill. Lucille D.
Clark, Karl F.
Clark, Ada M.
Clark, James G.
Clark, William C. M.
Clemmer, Harriet D.
Clewell, James J.
Cline, William C.
Clock, Fred. E.
Cloud. B.
Cochran. Raymond E.
Cocuzzi, Felix A.
Cocuzzi. Mary F.
Coffey, Martin F.
Coffman. Samuel A.
Coleburn. Arthur B.
Collins, Gerald R.
Collins. Dorothy C.
Collins. Kate
Combs. Isadore E.
Compton, Lucile
Comstock, Warren E.
Condon. Margaret M.
Conlon, Margaret H.
Conrad. Louise F.
Cooper, Mary F.
Cooper, Ruben L.
Copeland, Lloyd C.
Cosenza, Leonard J.
Coughlin. Elizabeth A.
Coughlin. Catherine M.
Courtney, Thomas J.
Cox. Albert F.
Cox. Zella D.
Coyle. Mary C.
Cragin, Franklin P.
Crandall. Roland
Crandall, Julia K.
Crandall. Roland. Jr.
Crawford, Jr., Henry C.
Crenshaw. Mollie
Crist. Franklin W.
Cromer. Robt. S.
Cross, Percy G.
Cross, Cynthia
Crow. James T.
Crowley, Catherine F.
Crutchfield, Thomas
Cummins, Arthur W.
Cunningham, Elza E.
Czerwinski, Effi S.
Damsel, Hiram S.
Daniels, Amy J.
Davis, Edward
Davis, Goldie B.
Davis, Bond J.
Davis, Chester E.
Davis, Robert
Davis, Gussie
Davis, Roy E.
Davison, Margaret W.
Day, Simon V.
Dearing, Elsie M.
Dee, Harald J.
Dee, Mary C.
Deering John H.
Deering, Mollie B.
Dennis, James
Devlin, Arthur R.
Dewey, John H.
Dickson, Chirstina M.
Dickson, Robert H.
Diggs, Carl M.
Dolphin, James B.
Donley, Guy B.
Doudna, Irvine M.
Dougherty, Wm.
Dougherty, Fay
Druckmiller, Edna
Dudgeon, Hazel F.
Dudley, Hugh B.
Dudley, Margaret E.
Dunbar, Robert J.
Dunham, Morton J.
Dunlop, Harry F.
Dunn, Clarence T.
Dupes, Marion R.
Dyas, Lutheria S.
Dyer, Herbert R.
Eason, Charles A.
Eason, Clara B.
Deinger, McDonald E.
Elliott, John
Elliott, Grace J.
Elliott, Van Buren
Ely, Ernest
Engel, George W.
Engel, Jacob
Eppstein, Herman
Esposito, Fortunato
Evans, Lyla W.
Everett, Clarence
Everson, Byron
Eyclesheimer, T. M.
Fecho, Andrew
Fecho, John
Fee, Will I.
Fega, Charles
Feldhaus, August
Feldman, Frank
Feller, Neva R.
Feltzman, Elizabeth M.
Finch, Thomas J.
Fischman, Frances J.
Fischman, Gustav A.
Fisher, Edward G.
Fitton, Donald W.
Fitton, Nannie V.
Fitzgerald, James
Fleming, Carl S.
Flynn, Ella D.
Forsberg, Arthur P.
Forsberg, Carrie N.
Fowler, Benjamin J.
Fowler, Joseph B.
Fowler, Marion B.
Fowler, Hazel H.
Fox, Henry
Frailey, Thomas J.
Francke, Kent S.
Francke, Emily B.
Frankenstein, Stella H.
Frankenstein, Walter Von
Freeman, G. K.
French, G. Decker
French, Mrs.
Fritz, Helen C.
Fritz, Katherine L.
Gallimore, Marvin A.
Gant, Earnest G.
Garard, Charles J.
Garrett, John C.
Gaskins, Anery E.
Gassert, Emil J.
Gavin, Edward
Geiger, Charles
Geisendorf, Louis C.
Geisendorf, Lillian M.
George, William E.
Gerow, Hugh M.
Getther, Richard J.
Ghiggeri, Steve
Giemple, Earl
Gill, Fred
Glasheen, Mabel I.
GLenn, Sarah T.
Godwin, Frank W.
Godwin, Wilmer F.
Goodman, Edward
Graham, William W.
Graham, Margaret H.
Greenlee, Doris
Greenlee, Pleas. E.
Grimes, John C.
Grimm, Joseph F.
Griswold, Hattie B.
Guilmartin, Mildred A.
Gunderson, Samuel C.
Haas, Pius T.
Haberstich, Oscar A.
Hacker, N. B.
Haekworth, Roy
Haekworth, Edith I.
Hale, Charles L.
Hale, Gwyn O.
Haley, Arthur
Hall, Harvey A.
Hall. Margaret.
Hall, Elma M.
Hall, Elmer E.
Halseth, Norman A.
Hamilton. Fred. B.
Hamilton, A. Maree
Hammer. Fred. Minor
Hammond, George L.
Hammond, Mary R.
Hannah. Wilda L.
Hardin. Charles, Jr.
Harrell. Dwight L.
Harris, George M.
Hartsrield, Samuel E.
Havens, John H.
Havens, Anna M.
Haward, Julia M.
Hayward, Clarie P.
Hayward, William H.
Heater, Monroe D.
Heinemann. Aaron
Heinemann, Phyllis
Heinemann, Caroline
Helpingstine, John W.
Henderson, Alpheus, L.
Henderson, Annie L.
Henderson, Harold W.
Henderson, Ralph A.
Henderson, Gertrude H.
Henderson, Rita E.
Herlinger, Ralph D.
Herner. May B.
Hess, Benjamin
Hickie, Leone M.
Hill, Carrie M.
Hill, Fred R.
Hill. Lee N.
Hillmar, Krause G.
Hindman, Richard L.
Hirsch, Gustav
Hirsch, Alette K.
Hirsch, Irene D.
Hoffman, Otto A.
Hogan, Daniel
Hogge, Joseph B.
Holt, Georg F.
Honegger, Otto
Horeis, William A.
Horman, Tom
Horton, Jr., Joseph P.
Hottsberg, Max
Howard, Daniel S.
Howell, Jennie C.
Hulbert, John R.
Hulsman Anna M.
Humphrey, Annie S.
Hutchinson, Carl J.
Ibock, Horace H.
Jacobson, Ulric
Jarolim, Joseph
Joens, Josephine F.
Johnson, Charles F.
Johnson, C. F.
Johnson. E.
Johnson. Genevieve
Johnson. Getty S.
Johnson, Harry
Johnson. Henry C.
Jones, Daniel
Jones, Dorothy
Jones, Edgar H.
Jones, Elmer J.
Jones, J. T.
Jones. Mamie
Jones. Robert M.
Joyner, Annie M.
Kaezmarch, John
Kain, Bessie R.
Kain, Forest M.
Kale, John A.
Kane, Harold H.
Keller, Lyla C.
Kelly, Ethel P.
Kennedy, Charlotte M.
Kenyon, Nellie D.
Keyes, John J.
Kier, Lennie M.
Kilty, Charles B.
Knapp, Harold S.
Koenke, Alfred E.
Kostomlatsky, Mat S.
Koatomlateky, Lillian L.
Kraus, Joseph M.
Kraus, Charles.
Kremer, Johanna D.
Kuaggs, Perry R.
Kuam, Anton
Kucera, Sophia A.
Kuhn, Charles A.
Kull, Louis L.
Kurtz, Herman P.
Ladish, Milton E.
Laird, Dorothy H.
Laird, Ralph J.
Lambeth, John W.
Langdon, Harry B.
Langfitt, Frank V.
Lapvyade, I. L.
Latta. Milton M.
Latta, Franeese
Lawrence, Annie
Lawrence, Samuel E.
Layden, Edward H.
Layden, Frances H.
Layman, Claude
Layman Mildred
Leanell, Fred. W.
Leanell, Freda E.
Leary, William C.
Leavitt, Mary C.
Lee, Annie
Lee, Thomas A.
Legarty, Katherine M.
Lemon, Walter
Leonard, James A.
Letourneau, T. A.
Letsch, John H.
Letsch, Josie O.
Lewis, Clarence E.
Lidenberg, Victor H.
Liebreieh, Mary V.
Liembach, Paul L.
Lightfoot, Elmira
Lightner, Paul A.
Lindner, Edward J.
Lippitt, Montague
Littlefield, Amelia A.
Littlejohn, Charles E.
Llewellyn, Anne E.
Loar, Fred. S.
Long, Eldridge R.
Long, Inez
Long, Richard M.
Longe, Andrew J.
Louy, Charles.
Louy, Helen E.
Love, Dora W.
Low, Floyd
Lowenstein, Albert
Lower, Edward H.
Lower, Elsie
Lacier, Edith R.
Lueddus, Carls S.
Lynch, Charles F.
Lynch, Kleanor
Lynch, John H.
Lynn, Rose A.
MacDonald, Thomas
Mackintosh, Alexander F.
Hagee, Ruth K.
Mahannah, Alva E.
Mahery, Harold A.
Mahoney, Francis A.
Maier, F. L.
Maroney, Margaret E.
Maroney, Marion F.
Marshall, Roy J.
Martin, Don R.
Martin, George W.
Martin, William B.
Martinelli, Florence J.
Matthews, Benjamin
Mauer, Charles A.
Maxwell, Floyd R.
Maxwell, Edith
Mayfield, Harry F.
McCarthy, Daniel J.
McCarthy, John W.
McCracken, Arthur J.
McCracken, Jr., Arthur
McCracken, Mary J.
McCracken, Mary J.
McDonald, Lena
McGeary, Claire A.
McGovern, Philip J.
McGregor, Albon V.
McKerrey, John L.
McKinney, Joe H.
McKinney, Augusta
Mcintosh, A. S.
Mcintosh, Eunice L.
McMann, Carl S.
McMann, Emma E.
McVicker, Franklin K.
Mecca, Dan. W.
Mehigan, John
Meier, James J.
Meier, Clara L.
Meisler, H. Griss
Melicher, James A.
Meyer, Alphonse H.
Meyer. Kulalie A.
Meyer, James
Midgley, John L.
Milardo, Salvator
Miles, Frank
Milkey, Walter
Milkey, Natalie
Miller, Ray J.
Miller, Angelo A.
Miller, Byron W.
Miller, Roland B.
Miller. Frank E.
Miller, Herman
Miller, Lola
Mills, John R.
Milter, Margaret E.
Minns. Carl E.
Minns. Sarah
Mitchell. Edward
Mitchell, Eulah
Mitchell, Frank E.
Mitchell, Fred. O.
Mitchell, Ruth D.
Moebuis, Franklin
Moennond, Marion W.
Monroe, Ida N.
Montgomery, Clarence V.
Montgomery, Walter C.
Montone, Charles P.
Montone, Alyee M.
Moore, Morgan E.
Moore, William S.
Moore, Sherwood G.
Morea, William W.
Morris, Fred. H.
Morrison, John F.
Muench, Harry E.
Mulcahy, Michael P.
Murphy. Helen M.
Murphy, Joseph L.
Newby, Roy A.
Nicholas, John
Niedermeyer, Zila
Nisbet. Benjamin L.
Nitter, Robert V.
Nolan. John J.
O'Bannon, John W.
O'Bannon, Werdna
O'Bannon, Ethel
Ochs, Everett J.
O'Connell, Richard A.
O'Connor, Catherine M.
O'Donnell, Alice M.
O'Donnell, C.
Ogren, Katherine
Ogren, Edward E.
Olive, Hubert
Olive, Anne
O'Mara, Daniel J.
O'Neill, William E.
O'Rourke, John E.
Osborne, Elisha L.
Ott, Rollin L.
Paige, David R.
Painter, Pennell C.
Palmer, Blizabetfa & Infant
Palmer, James
Parfitt, Sherley
Parfitt, Jeanette
Parker, George
Parker, William H.
Patterson, Blanche E.
Patterson, Jesse B.
Peak, John E.
Pearce, Basil O.
Pearce, Annie H.
Pearlman, Samuel
Perley, George E.
Perley, Louise J.
Peterson, Larry T.
Petrik, Alicis R.
Pickering, Frank K.
Pickering, Ruby A.
Pierce, Harry A.
Pierie, Harry
Pilliod, Harry G.
Pink, Frank F.
Pollock, Harry E.
Popovich, Harry
Popovich, Emma
Powers, Mary R.
Powers, Thomas R.
Prenitti Marion
Quinlish. Virgil D.
Quinn, John W.
Randall, Prank A.
Randall. Edith R.
Raymond. Thomas C.
Redinell, Joseph E.
Reich. James G.
Rice, Walter B.
Riddiek. Maxic C.
Riggles. Mae
Riggles.Chester A.
Rix, Nellie R.
Roach, H.
Robb. Andrew
Robison, Pearl W.
Robson. Albert
Rodgers. Frances
Rodgers, Joseph
Rodgers, Ruth L.
Rodgers, Vernor P.
Rokusek. Charles
Rooney. D. J.
Ross. Belle A.
Rowton, Charles H.
Royal. Florence
Roykey, Harold
Rosetta, Robert H.
Ruth. Chester W.
Ruth. Laura K.
Rutherford, Henry
Ryan. Krnest A.
Ryan, Francis M.
Sailor. Edith B.
Sailor. George
Sallis, Delmer B.
Sambursky. Samuel
Schempf, Barry J.
Schempf, Marcela G.
Schliesser, John G.
Schlink. Henry A.
Schlink, Mary J.
Schmitt, Edwin
Schmitz, Emily M.
Schonberg, Saul S.
Schreiber. Adam W.
Schroeder. Reinhart
Seiverdig, Victor
Severance, Freeman D.
Seward. Mabel C.
Seward. Lydia G.
Shurte, Raymond P.
Sibert. Floyd W.
Sibert, Mary K.
Siegmund, Raymond P.
Sisk, Grace
Skaer, Carl F.
Skeldon, Frank L.
Skraba, Henry D.
Sledd, Herbert T.
Small. William G.
Smallwood. Carey E.
Smart, Joseph R.
Smith, Beulah
Smith, Theall
Smith, Charlotte L.
Smith. Clarence B.
Smith, Jr., Edward J.
Smith. Frank
Smith, Glenn W.
Smith. Howell T.
Smith, Reo. J.
Smith. Robert F.
Smogor, Eugene
Shell, Donna M.
Snell, Bruce M.
Solana, Alexander J.
Sorensen, Emil
Spence, John
Spoon, Byron C.
Sprague, Thurman
Springade, Carl G.
Steele, Rufus
Steele, Mabel
Steinkoenig, Joseph L.
Stephens, Win. E.
Stevens, H.
Stevens, Henry L.
Stifel, Louise
Stifel. Richard E.
Stinson, Marjorie C.
Stockett, John M.
Stoudt, Clarence O.
Stowell, Grace C.
Stratton, Nell
Stratton, Fred. M.
Streit. Edna C.
Stuber, Frank G.
Stutler, Boyd B.
Stutler, William M.
Sullivan. William S.
Summers, Joseph
Tallant. Robert H.
Tallent, George W.
Tarapani, Abe L.
Tarleton, Howard S.
Tate. Frederick W.
Taylor. George H.
Taylor. Morris G.
Tekesky, Joseph
Ten Syck, Mills
Thalman. Sigmund
Thayer, Burgess D.
Theobald, H.
Thomas. Emil H.
Thomas. Henry J.
Thomas. Margaret G.
Thornton. Arthur L.
Thurston. Claire P.
Tippett, Edwin J.
Towle, Florence H.
Towle, Francis B.
Towner. William S.
Townsend, Hollis L.
Tracy. Charles P.
Tracy, Yvonne D.
Tripp, Roy Charles
Trusdell, Enos L.
Trusdell, Ella L.
Tuckerman, Harry
Tudor, Robert L.
Turner. Courtney S.
Tyrier. Eliz. M.
Vaughan, Dorothy
Verkamp. Walter F.
Vichery. Thomas
Vogel. Walter
Vogelmeier. Edward L.
Walker. Thomas A.
Walsh. James P.
Walsh. Thomas S.
Walsh. Helen R.
Walton, John S.
Walton. Emma L.
Walton. Sarah E.
Walton. William S.
Walton. Agnes G.
Ward. John W.
Wardlaw J. K.
Warner. Lewis H.
Wathen. William H.
Weaver. Paul L.
Weaver. Kerne B.
Webster. Daniel H.
Weesner. Clarence
Weir. James A.
Weir. Madelvn K.
Welch, George G.
Wells, Marie H.
Wells. Harvey L.
Werner. Ralph W.
Wendel. Paul H.
Wensinger, Arthur J.
Wenz, Elmer G.
Westly. Gabriel S.
Westly. Jean H.
Wheeler. Jennie W.
Wheelock, William J.
White, Edwin P.
White, James
Whitehead, Harry R.
Wick, Jr., Henry C.
Willard, Raxanna B.
Willemsen, France
Williams, John H.
Williams, Rosa L.
Williams, Willis T.
Williams, Frank E.
Wilson, Isabella M.
Wischer, Alva L.
Witherspoon, Lillian D.
Wolf, Lula C.
Woodford, Edna A.
Woodzell. Marjoric D.
Woolley, Floyd W.
Wright, Charles C.
Wright, Walter N.
Wright, Jennie E.
Young, Mottie C.
Younts, Paul R.
Zele, Marcel F.
Information for Passengers
The Second A.E.F. (American Legion) Homeward Bound Voyage from Paris Convention, September 19-24, 1927.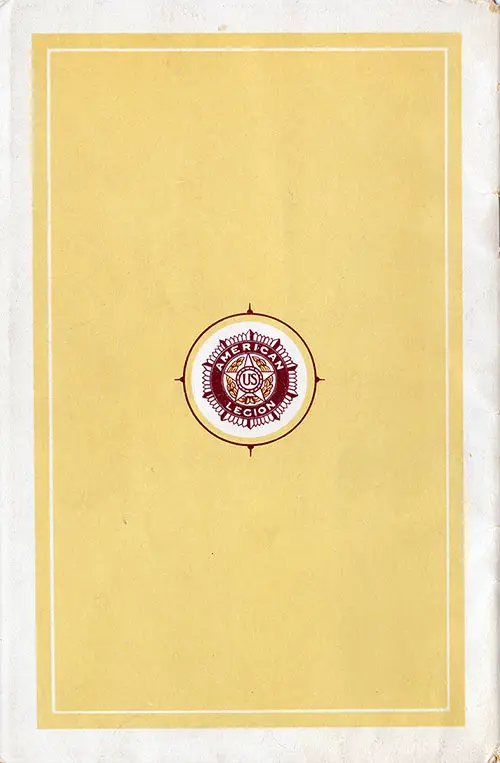 Back Cover, White Star Line RMS Cedric American Legion Passenger List - 8 October 1927. GGA Image ID # 13bef04a23