RMS Cymric Passenger List - 7 September 1906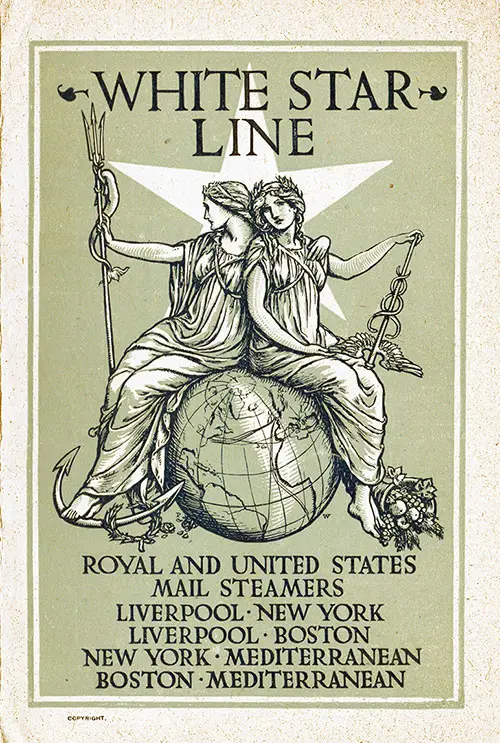 Front Cover, White Star Line RMS Cymric First Class Passenger List - 7 September 1906. GGA Image ID # 13c1eeabe1
First Class Passenger List for the RMS Cymric of the White Star Line, Departing Friday, 7 September 1906 from Liverpool to Boston, Commanded by Captain C. A. Bartlett, (Lt. R.N.R.).
Notable Passengers: Francis Richmond Allen, Charles William Bartlett, Charles Curtis, Henry Clayton Metcalf, Wife of Melvin Ohio Adams, Widow of Woodbury Kane
Senior Officers and Staff
Captain: C. A. Bartlett, (Lt. R.N.R.)
Surgeon: Ashley Hopper
Purser: H. H. Pomeroy
Chief Steward: G. Cooper
First Class Passengers
Mrs. Melvin O Adams
Wife of Melvin Ohio Adams (November 7, 1847 – August 9, 1920) who was an American attorney and railroad executive who was part of Lizzie Borden's legal defense team, the United States Attorney for the District of Massachusetts from 1905 to 1906, and the President of the Boston, Revere Beach and Lynn Railroad
Mr. Francis R. Allen
Francis Richmond Allen (1843-1931) American Architect who was a partner in Allen & Collens that was a "leading New York firm" in the early 1900s. The firm was known for its Gothic Revival design work, and "[m]ost notable of the firm's works are the reconstructed Cloisters at Fort Tryon Park and a Gothic Revival hall at Vassar College, in Poughkeepsie, New York
Mrs. Allen
Miss Dorothy Allen
Mr. Joseph August
Mrs. August
Mr. Charles W. Bartlett
Charles William Bartlett (1 June 1860 – 16 April 1940) was an English painter and printmaker who settled in Hawaii
Mrs. Bartlett (Catherine "Kate" Main)
Miss Henrietta Bean
Mrs. William V. Bennett
Miss Lillian Bennett
Miss Florence Bennett
Mr. Hugh Birckhead
Mr. G. A. Blais
Mrs. Blais
Miss M. Bowen
Miss Mary A. Brennan
Miss Fannie Brewer
Mr. Carter
Mrs. Hamilton V. Castner
Mrs. James K. Cavanagh
Mr. Alexander S. Clarke
Mrs. Clarke and Maid
Miss S. Louise Clark
Miss Mary Clark
Miss Frances Clark
Mrs. P. H. Clifford
Mr. J. Frank Cooper
Mr. William A. Cousens
Miss Alice Curtin
Mr. Charles A. Curtis
Charles Curtis (January 25, 1860 – February 8, 1936) was a Kaw Nation Native American Indian who served as a Republican Vice President of the United States. After serving as a United States Representative, and then a longtime United States Senator from Kansas Curtis was later chosen as Senate Majority Leader by his Republican colleagues, and the 31st Vice President of the United States (1929–1933). He was the first person with significant acknowledged Native American ancestry and the first person with significant acknowledged non-European ancestry to reach either of the two highest offices in the United States government's executive branch
Mr. A. A. Cushman
Mr. Herbert E. Day
Mrs. Day
Miss Helen Dennis
Mrs. Marietta N. Dewey
Mr. Ernest A. De Wolf
Mr. R. D. De Wolf
Mr. John E. de Wolf
Mrs. J. F. J. Driscoll
Mr. George S. Dunham
Mr. Duncan Elliott
Mr. Robert Elliott
Mr. Geraud Elliott
Mr. Henry C. Emmet
Mr. Watson C. Emmet
Mr. Malcolm E. Erskine
Miss E. B. Farrington
Mr. Frank G. Fitzpatrick
Miss Mary Fitzpatrick
Miss Elizabeth Fitzpatrick
Miss G. Flatley
Miss Josephene Flatley
Miss Blanche Goell
Miss Nellie Gourley
Rev. James B. Gregg
Mrs. Gregg
Mr. Percy L. Guiterman
Dr. William H. Hale
Mrs. Hale
Master E. G. Hale
Mr. Edward Hanna
Miss Mary A. Hayden
Miss Elizabeth Hayden
Mrs. R. A. Hersey
Mr. Walter S. Hinchman
Mr. H. M. Hind
Mr. Henry Hoelljes
Miss E. M. Hoppin
Miss E. Humphreys
Miss Mary L. Hussey
Miss Alice C. Jenness
Mrs. Otis N. Jones
Miss Mary E. Jones
Mr. Benjamin M. Joseph
Mrs. Woodbury Kane
Widow of Woodbury Kane (8 February 1859 – 5 December 1905) who was a noted yachtsman and bon vivant, and member of Theodore Roosevelt's Rough Riders. A director of the Metropolitan Register Company, Kane served aboard the Columbia in the 1899 America's Cup race. He also was a noted hunter of big game, both in North America and South Africa
Miss E. A. Kinnimonth
Dr. F. Park Lewis
Mrs. Lewis
Miss Katharine Lewis
Miss Dorothea Lewis
Miss Frances Lewis
Mr. Walter D. Little
Mr. Richard W. Lodge
Dr. Fred. W. Lyons
Mr. J. M. B. MacNary
Mr. T. B. Magram
Mr. A. F. Marsh
Rev. Walter McDonald
Mr. Eugene McSweeney
Mrs. McSweeney
Miss Vetta Merrill
Mr. Henry C. Metcalf
Henry Clayton Metcalf (February 22, 1867 - August 1942) was an early American organizational theorist, Professor of Political Science at Tufts College in Massachusetts and Chairman of Tufts College, known from his publications on management with Ordway Tead and Lyndall Urwick
Mr. William Miller
Mrs. Miller
Miss Grace M. Miller
Miss Mary Moag
Dr. A. A. Moore
Miss Mattie Morgan
Mr. James J. Muir
Mr. R. G. Munroe
Miss Margaret Murphy
Miss Gerda Nelson
Mr. Theodore Nevin
Mrs. Nevin
Master Hugh Nevin
Miss Susan Nevin
Mr. Nathaniel Nichols
Mr. F. Oxley
Mrs. Oxley
Miss C. Pace
Miss Ruth B. Packard
Miss Emma S. Packard
Mr. George S. Payson
Mrs. Payson and Maid
Miss Ellen L. Payson
Master Randolph Payson
Miss Margaret L. Payson
Mr. H. A. Phinney
Mrs. Phinney
Miss Helen Pillsbury
Miss Harriet A. Potter
Mrs. John W. Pridmore
Miss May Pridmore
Miss Jessie Pridmore
Mr. John Reid
Miss M. A. Riley
Miss C. Ritchie
Miss S. Robinson
Mr. A. Cecil Sandays
Mrs. Sandays
Mrs. H. H. Sayles
Miss Seccombe
Mr. W. G. Shaw
Mrs. H. Shrev
Miss Annie J. Silsbee
Miss Elizabeth W. Silsbee
Dr. Fred. T. Simpson
Miss A. E. Simpson
Miss F. E. Simpson
Mr. Walter Slack
Miss Lulu R. Smith
Miss Mary P. Smith
Miss M. Sneath
Mrs. William A. Stetson
Mr. Howard Stetson
Miss Nellie H. Swift
Mr. Gerrit S. Sykes
Mrs. Sykes
Miss Milly G. Sykes
Miss Annie C. Sykes
Mrs. S. A. Tatum
Mr. W. Harold Taylor
Miss Helen Thomas
Miss Katharine C. Tileston
Mrs. K. W. Toll
Mr. Oliver W. Toll
Mr. Henry W. Toll
Dr. James Utley
Mrs. Utley
Miss H. W. Vaille
Rev. F. B. Van Kleeck, D.D
Mrs. Van Kleeck
Rev. James Vannevar
Mrs. Vannevar
Miss Dorothy Vannevar
Miss Edith Vannevar
Mrs. M. J. Venter
Mr. W. G. Walker
Mrs. Livonia E. Ware
Mr. Joseph Watt
Mrs. Watt
Mrs. G. M. Weaver
Miss Helen S. Weaver
Miss Gertrude C. Weaver
Mr. Daniel D. Webber
Miss C. G. Westcott
Mr. Reutin Whidden
Mrs. Whidden
Miss E. Whidden
Mr. James K. Whittemore
Mrs. Whittemore
Miss Amy R. Whittier
Mr. R. Williamson
Mrs. Williamson
Master A. Williamson
Master R. Williamson
Mrs. Edward A. Woods
Miss Marjory Woods
Master Edward A. Woods
Miss Yeomans
The Services And Connections Of The White Star Line Encircle The Globe. The Passenger Services Of The White Star Line Are Maintained Entirely By Twin Screw Steamers, Including "Oceanic," Majestic," And "Teutonic," Which Are Among The Fastest Steamers In The World,"Baltic," 23,876 Tons, " Cedric " 21,035 Tons, And "Celtic," 20,904 Tons, Three Largest British Steamers Afloat."Arabic" And "Republic" Are The Largest, Fastest, And Finest Steamers Calling To Boston.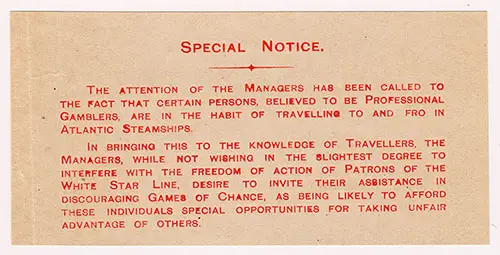 Specail Notice - Professional Gamblers Alert included with Passenger List