SS Teutonic Passenger List - 18 May 1898
Front Cover of a Saloon Passenger List from the SS Teutonic of the White Star Line, Departing 18 May 1898 from Liverpool to New York, Commanded by Captain J. G. Cameron, R.N.R. GGA Image ID # 162f259a1b
Senior Officers and Staff
Commander: Captain J. G. Cameron, R.N.R.
Surgeon: A. W. Mackenzie
Purser: T. H. Russell
Saloon Passengers
Mr. D. Alexander
Mr. J. J. Van Alen and Manservant
Mr. N. E. Andersson
Mr. R. H. Ayres
Mrs. Ayres
Master Ayres
Mr. O. C. Barber
Mr. H. K. Beatty
Mr. G. Beekman
Mr. W. Beekman
Miss Beekman and Maid
Madame Bertrand
Mr. E. V. Bird
Mrs. Bird and Maid
Rev. Paul H. Birdsall
Mrs. Birdsall
Mr. Alex. Blyth
Mrs. T. D. Boardman and Maid
Miss Boardman
Mr. C. Bohlen
Mr. E. D. Boit
Mrs. Boit and Maid
Miss Boit
Miss M. L. Boit
Miss J. Boit
Mr. R. J. R. Boreel
Mr. F. G. Bourne and Manservant
Mr. L. S. Bracher
Miss S. C. Bradlee
Miss G. G. Bright
Mr. I. Brill
Mr. H. J. Brown
Mr. R. E. Brown
Mr. R. G. Bushnell
Miss Bushnell
Mr. J. H. Mayne Campbell and Manservant
Mrs. Chapman and Maid
Miss Alice S. Cheney
Miss M. Cheney and Maid
Mr. John Christie
Mr. E. H. Conant
Mrs. Conant
Mr. H. T. Conant
Mr. F. A. Constable
Mrs. Constable
Miss M. L. Constable
Miss E. Constable and Maid
Mr. S. L. Cook
Mr. N. W. Cramp
Mrs. J. B. Creighton
Mrs. J. G. Cushing and Maid
Miss Cushing
Mr. R. Fulton Cutting
Mrs. R. Fulton Cutting and Two Nurses
Mr. Bayard Cutting
Miss Helen Cutting
Miss E. Cutting and Maid
Miss Ruth Cutting
Master Fulton Cutting
Master C. S. Cutting
Mr. P. Dahlgren
Mr. Norman N. Dodge
Mrs. Dodge
Mr. John Dolbeer
Miss B. M. Dolbeer
Mr. H. Douglas
Rev. A. Dunlea
Mr. J. B. Edmiston
Mr. G. W. Edwards
Mrs. Edwards
Mr. E. J. Elliott
Dr. Bache Emmet
Mrs. Bache Emmet
Mr. Arthur B. Emmons
Mrs. Emmons
Miss E. Emmons and Nurse
Mrs. Fairchild
Miss Fairchild
Mr. A. Fries
Mrs. Fries
Miss Fries
Mr. G. T. Fulford
Mrs. Fulford and Maid
Miss D. M. Fulford
Miss M. H. Fulford
Mr. Frank Fuller
Mrs. Fuller
Mr. W. P. Gill
Mr. J. R. Girling
Mr. T. G. Gowland
Mrs. Gowland
Mr. E. L. Griswold
Miss Griswold
Miss Harriet G. Hamelin
Miss Jane G. C. Hamelin
Mr. G. de Saumarez Hamilton
Mr. E. Herz
Mr. C. de Hereida
Mrs. de Hereida and Maid
Miss Holland
Mr. M. Holzapfel
Mrs. Holzapfel
Miss Hopkins
Mr. James Hopkins
Mr. C. E. Hovey
Mr. E. G. Howes
Miss Humphreys
Mr. William Mills Ivins
Mrs. Ivins
Miss Ismay
Mrs. Julian-James
Miss M. S. Janeway
Mr. F Caverhill Jones
Mr. Arthur Keen
Mr. Harry A. Keen
Mr. Charles Kelly
Mrs. Kernochan, Maid, and Manservant
Mrs. W. Kohl and Maid
Miss Kohl
Mr. E. Krell
Miss C. R. Lane
Mr. Irwin Laughlin
Mr. Amory A. Lawrence
Miss Edith Lawrence and Maid
Mr. Ashton Lee
Mr. Lamar Lyndon
Mrs. Lyndon
Mr. F. L. Martin
Mr. T. McGaw
Mr. T. D. McGaw
Mr. A. J. Meakio
Mr. Wm. F. Mellor
Mr. J. Melis
Mrs. Bailey Meyers and Maid
His Excellency M. Garcia Merou Argentina Minister to U.S.
Mrs. Garcia Merou and Maid
Miss A. Garcia Merou
Miss V. Garcia Merou
Miss R. Garcia Merou
Mr. R. W. Milbank
Colonel Miley
Mrs. K. W. Moffat
Miss Moffat
Master John Moffat
Mr. J. Dyson Moore
Mr. Charles J. Morse
Mr. James Munro
Professor Munyon
Mrs. Munyon
Mr. E. Naylor
Captain Phillips
Mr. W. E. Briggs Priestley
Mrs. Priestley
Mr. W. B. Quaintance
Mr. A. J. Quanz
Mr. R. Quinn
Mr. Arthur W. Richards
Mrs. L. Riggs
Mr. J. Roosevelt
Mrs. Roosevelt
Mr. J. Saltar, Jr.
Mr. J. M. Savage
Mr. John Scullen
Mr. O. H. Shepard
Mr. P. S. Sears
Mrs. Sears
Mr. Alexander Sedgwick
Mrs. Sedgwick
Mr. J. W. Seymour, Jr
Mr. W. C. Spencer
Mrs. Spencer
Mr. T. W. Stevens
Mr. C. C. Stutz
Miss Evelyn Sturgis
Right Hon. Lord Sudeley
Mr. M. J. Taylor
Mr. Charles Tebbetts
Mrs. Tebbetts
Miss Thornton
Miss Thornton
Mr. R. Tyndale
Miss B. M. Warren
Mr. Charles Wehrhane
Mrs. Charles Wehrhane
Miss Flora Wehrhane
Miss E. Wilson
Mr. Fred Winthorp
Captain Wister
Mr. F. W. Woerz
Mrs. Woerz
Mrs. J. A. Wright and Maid
Mrs. J. W. Yates
Mr. A. Scott Younger
Information for Passengers
Breakfast from 8:30 until 10:00 am
Luncheon at 1:30 pm
Dinner at 7:00 pm
Divine Service in the Saloon on Sunday at 10:30 am
PLEASE apply to the Second Steward for Seating Accommodation at Table.
Letters for Passengers on-board outward-bound Steamers at Queenstown, mailed on the day the Steamer sails from Liverpool, must be registered and addressed thus:
c/o The Commander,
M……….. Passenger per R.M.S.
Queenstown.
Telegrams must be addressed to care of "Ismay. Queenstown," otherwise a charge of 5/- extra is made if addressed to the steamer direct.
Cablegrams and Telegrams should be handed to the Saloon Steward an hour before arrival at Queenstown.
The Saloon Steward will supply Stamps, Telegraph Forms, Books of Reference, and Railway Timetables of the principal Companies.
Questions relating to Baggage should be referred to the Second Steward, who is the Ship's Baggage Master; Trunks, Chairs, or Rugs which Passengers may desire to leave in charge of the Company, should be properly labelled and handed to the Second Steward.
Deck Chairs can be hired at a charge of 4/- each for the voyage, 24 hours' notice being necessary in London, or 12 hours at the Head Office, Liverpool.
The Company will not be responsible for Valuables or Money unless given in charge of the Purser, who will give a receipt for the same on the Company's Form.
Passengers are requested to ask for a Receipt on the Company's Form, for any additional Passage Money or Freight paid on board.
Saloon Passengers joining the White Star Mail Steamers at Queenstown and leave Euston, London at 8.45 pm, or Liverpool at 11.00 pm on the day of sailing; Holyhead by Mail Steamer, 2.25 a.m. Thursday; and from Amiens Street Station, Dublin, by the Special American Mail Train, 6 am, arriving at Queenstown 10.15 am Thursday.
N.B. Passengers will please note, that no dogs can be brought from American into Great Britain without a license from the Board of Agriculture.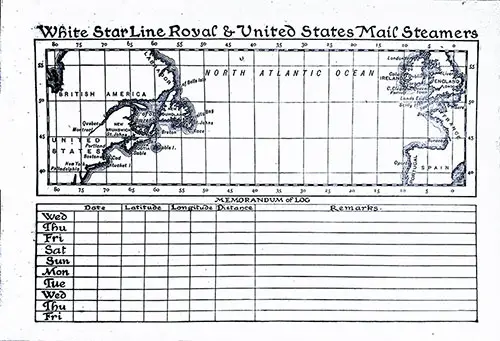 Track Chart on the Back Cover, White Star Line SS Teutonic Saloon Passenger List - 18 May 1898. GGA Image ID # 162f3b7080