RMS Olympic Passenger List - 8 September 1920
Front Cover, Second Class Passenger List for the RMS Olympic of the White Star Line, Departing Wednesday, 8 September 1920 from Southampton to New York via Cherbourg, Commanded by Capt. Sir Bertram Hays. GGA Image ID # 13cb14c9f4
Senior Officers and Staff
Commander: Capt. Sir Bertram Hayes, K.C.M.G., D.S.O., R.D., A.D.C., R.N.R
Assistant. Commander : E. L. TRANT
Chief Engineer: J. H. THEARLE
Surgeon: J. C. H. Beaumont, L.R.C.P. & s. (Edinburgh), L.F.P.S. (Glas.)
Assistant Surgeon: Robley Browne, O.B.E., M.R C.S. (Eng.), L.R.C.P.(Lond
PURSERS: C. B. Lancaster. E. W. WHITEHEAD
Assistant Purser: A. S. CAUTY
Chief Steward: J. O. JENNINGS
Second Class Passengers
Adams, Mr. G
Adams, Mrs
Adams, Mr. Reginald W
Alexander, Mr. Joseph
Alexander, Mrs. Jennie
Armishaw, Mr. Horace
Armishaw, Mrs
Arnold, Mrs. Sarah D
Atkins, Mr. Herbert Wm
Austin, Miss Alice
Baglin, Miss Lavinia
Balderstone, Miss Ruth
Barber, Mrs. Esther
Barks, Mr. J. T
Barks, Mrs. E
Barrett, Miss Mary C
Beale, Mr. A. F. J
Beckitt, Mrs. Daisy
Beckitt, Miss Louise
Behlen, Miss L
Bell, Miss Marion M
Belsitzmann, Mr. Vladimir
Bendon, Mr. George
Berry, Miss Bridget
Beswanick, Mr. John A
Beswanick, Mrs. May E
Beswanick, Master John A
Beuer, Mr. Chas
Binford, Mr. Lindley M
Binford, Mrs
Bishop, Rev. George E
Bishop, Mrs
Bishop, Mr. Wm. John
Blackmore, Miss E. M
Boring, Mr. Ralph
Boylan, Mr. Patrick J
Boylan, Mr. John P
Braley, Mr. Berton
Brand, Mr. Hyman
Branford, Mr. Jas. W
Branford, Mrs. Edith
Breen, Mr. Dennis
Breen, Mrs. Mary
Brennan, Mr. Thos. C
Breton, Mr. G. E
Brooke, Miss Gladys
Brooke, Mr. Chas. F
Brown, Mr. George M
Brown, Mrs, Gertrude
Brown, Miss
Bryan, Mr. G. R
Bryle, Miss Agnes
Bumford, Mr. Emanuel
Burke, Mr. Fred S
Byron, Miss Clarice
Calvari, Mr. Paul
Calvari, Mrs. Bessie
Calvari, Miss Leah
Camdon, Mr. Robert
Campbell, Mrs. D
Canover, Mr. Vern W
Carroll, Mr. Dudley D
Carter, Miss Arabella
Cassidy, Mrs. Sarah
Cavalien, Miss Virginia
Chambers, Mr. Thos H
Chambers, Miss Agnes
Chambers, Miss Harriet R
Charville, Mrs. Wm
Chasen, Mr. David
Chubb, Miss Emma
Claney, Mrs. Catherine
Claney, Master John
Clarke, Mr. Alfred
Clarke, Mrs. Rosa P
Clarke, Master Alfred G
Clarke, Miss Rosalie M
Clarke, Miss Dorothy G
Clayton, Mr. Edward A
Clayton, Mrs. Grace
Clayton, Miss Grace E
Clifton, Mr. Herbert
Clifton, Master Neal
Clissold, Mrs. Geo
Clissold, Master Henry
Clissold, Master Walter
Clissold, Miss Florence
Cochrane, Miss Jennie
Cockerill, Miss Florence M
Cockett, Mr. Wrn
Cockett, Mrs. Clara
Coelmtt, Master Wm. G
Cockett, Mrs. Lizzie
Cockett, Miss Margaret
Cockett, Miss Dorothy
Cockett, Mils Gladys
Coghlan, Rev. Matthew
Collins, Rev. John L
Cooper, Mr. A. W
Cop, Miss Carrie L
Croker, Mr. George H
Crosman, Mr. A. Harford
Crow, Mrs. Evalina
Cullen, Miss Amy L
Cunningham, Mrs. Jessie
Cunningham, Master William
Dakin, Mr. F. C. W
Dickson, Mr. John
Dion, Mr. Anthony J
Dome, Miss Winifred
Douglas, Mr. James G
Douglas, Mr. James
Douglas, Mrs. Laura C
Dove, Mr. John
Dove, Mrs. B
Dove, Miss Mary
Dove, Master John
Edgerton, Mr. C. Willis
Edgerton, Mr. David R
Edwards, Miss Minnie
Ellis, Mr. R S
Ellis, Mrs
Endler, Dr. Gustav
English, Mr
Evans, Mr. Wm. R
Evans, Mrs
Eves, Mr. Wm. C
Eves, Mrs. Wm. C
Ewington, Mrs. Isabel
Faloon, Miss Mary H
Faloon, Mrs. Margaret C
Faloon, Miss Margaret
Fatheringham, Mr. David L
Ferguson, Miss Marion
Field, Dr. Henry
Field, Miss
Fittes, Miss Mary E
Fitzpatrick, Mr. Joseph E
Forbes, Mrs. Bessie G
Foster, Miss E
Foster, Mrs. P. B
Foster, Miss Patricia
Foster, Miss Phyllis
Fowler, Miss Margaret A
Fox, Mrs. E. E
Fox, Miss Hester
Freedman, Miss Rae
Frost, Mr
Frost, Mr
Fruhman, Mr. S
Gabrilos, Mr. Nicholas
Gabrilos, Mr. Dirnitni
Gabrilos, Mr. Panayiotis
Gambier-Bodsfield, Miss Elfrida
Gates, Mr. W
Gates, Mrs. E. E
Gates, Miss M. E
Gifford, Mrs. Elizabeth
Gillnagh, Miss Mollie
Gilmore, Mrs. Lilian M
Gilmore, Miss Rachel
Godwin, Mrs. Mabel
Goodson, Mr. G. F
Goodson, Mrs
Goodwin, Miss Ethel
Gordon, Mr. L
Gorman, Miss Helen
Grant. Mrs. John
Grant, Master John
Gravelle, Mr. John D
Greenwood, Mrs. A
Greenwood, Master Wm
Grennon, Mrs. Margaret
Grieve, Mr. John
Grieve, Miss Margaret
Griffiths, Mr. Clarence M
Griffiths, Mr. Howell
Griffiths, Miss Lulu E
Guggenheim, Mr. Joseph
Hall, Miss Eileen
Harding, Miss Dorothy
Hardy, Mr. C. L
Hardy, Mrs
Harper, Mrs. Annie
Harrison, Mrs. L
Harrison, Miss A
Harrison, Miss M
Harrison, Miss J
Hedwell, Mr. Harold
Held, Miss Fanny
Herkner, Mrs. Anna
Hewes, Miss Evelyn
Hipkin, Mr. James D
Hipkin, Mrs. Nina
Hobbs, Mr. Cyrits M
Hodgin, Mr. S. Addison
Hodgin, Miss Ona
Hoffmann, Mr. Joseph
Hoffmann Mrs
Holt, Mr. William
Holt, Mrs
Honor, Mrs. Annie E
Honor, Master Ernest B
Hughes, Mr. Matthew
Hughes, Mrs. Letta
Hunt, Miss N
Junes, Mrs. Alice
Jacobs, Mr. Jacob
James, Miss Nesta M
James, Miss Olne M
Jennings, Mr. L. E
Jennings, Mrs
Jensen, Mr. G. E
Jensen, Mrs
Jensen, Master Oliver
Johns, Mr. Wm. J
Johnson, Mr. James
Jones, Mr. Sylvester
Kells, Mrs. Mary
Kells, Miss M. E
Kells, Miss M. A
Killi, Mr. Edward F
Killi, Mrs
Killi, Miss Isabel
Killi, Miss Mary
Kirkbride, Mr. R. W
Kirkham, Mr. J. Ellis
Kirkpatrick, Mrs. Martha
Kirkpatrick, Mrs. J
Kirkpatrick, Mr. Frank
Kolar, Mr. W. A
Kolar, Mrs
Kuntz, Mr. A
Kupfer, Mrs. Hester
Kupfer, Miss Josephine
Lamb, Rev. H. L
Lang, Mr. Herman
Lang, Mrs
Lauchlen, Miss Mary
Lee, Mr. R. A. H
Leinhardt, Miss Jenny
Lennie, Mr. Wm
Lennie, Mrs. Isabella
Lennie, Miss Jean
Lennon, Mr. J. P
Lennon, Mrs
Levy, Miss Leah
Levy, Mrs
Levy, Master
Lidgey, Mr. Thos. A
Lindley, Mr. Harlow
Lippencott, Mr. John S
Lipson, Mr. Maurice
Loeser, Mrs. Mabel
Long, Miss Edwina
Loomey, Rev. Wm. A
Love, Mr. A. S
Loveless, Mrs. M. J
Lugton, Mr. Peter
Lugton, Mrs
Lucas, Mrs. Lizzie
Lucas, Miss Lily
Lucas Mr. Stephen
Lunt, Mr. Ernest
Lunt, Mrs
Lunt, Miss Alice
Lyon, Mr. Samuel
Lyon, Mrs. Margaret
Lyon, Master Archibald
Macdonald, Mr. Percy E
Macdonald, Mrs. Agnes M
Mackay, Mr. Robert
Maher, Miss Bertha J
Maher, Rev. Edward
Malpass, Mr. Richard Hy
Malpass, Mrs. Amelia
Marlor, Miss Alice
Marriott, Mrs. Agnes
Marsh, Miss Minnie
Marshall, Mr. Edward W
Marshall, Mr. Franklin O
Marshall, Miss Eva R
Marshall, Mr. Thos
Marshall, Mrs
Marshall, Master
Martell, Mrs. Lilly
Martin, Mr. Lawrence F
Martin, Mr. Joseph
Maxwell, Miss Jeannie
McAdam, Mr. Owen
McGath, Mrs
McGloy, Mrs. Mary
McGrew, Mr. Henry E
McPhee, Mr
McPhee, Mrs
Meier, Miss Lingdava
Mendenhall, Miss Alice H
Mesner, Mr. John E
Mills, Mr. Sumner A
Mills, Miss Elizabeth
Minshull, Mrs. Rachel
Minshull, Miss Ellen
Mitchell, Miss Frances
Moore, Mr. Olin H
Moore, Miss Mabelle C
Morris, Mr. Mark
Morrison, Miss Mary
Mourant, Mrs. Ellen le
Mulke, Mrs. Jane
MuIke, Master David
Murdock, Mr. R. W
Murray,, Mrs. Mary
Mybioie, Miss Dorothy P
Naschitz, Mr. Hy
Naschitz, Mrs
Naylor, Miss Anna
Neill, Mr. Wm. G
Neill, Mr. Edmund C
Neill, Mrs. Kate
Neill, Master Edmund S
Nicholson, Mr. Wm
Nickson, Miss E
Noonan, Rev. Edward
Ormshaw, Mr. J. C
Ormshaw, Mrs. M. L
Osborne, Miss Eliz
Painter, Miss Adelaide
Palmer, Mr. Francis W
Palmer, Mrs. Mary
Palmer, Miss Violet V
Parr, Mr. Chas. A
Patrick, Mr. Frank C
Patterson, Mr. Samuel
Peebles, Miss Margaret
Pegram, Miss Ina E
Perkins, Mr. George L
Perkins, Miss Agnes F
Perrott, Mrs. E. W
Pettle, Miss Margaret
Phillips, Mrs. Alice M
Phillips, Mrs. Sarah
Pickett, Mr. Clarence E
Pilgrim, Mr.. George
Pilgrim, Mrs. Eleanor
Pilgrim, Miss Jessie E
Poley, Mr. Irvin C
Pons, Mr. F. Joseph
Pons, Mrs
Popple, Miss Emily G
Powell-Tuck, Mr. Hector
Purdy, Mr. Ellison R
Purdy, Mr. Alexander
Pyle, Mrs. Robert
Randall, Mr. A. E
Randall, Mrs
Ratnei, Mrs. Rachel
O'Connor, .Rev. James
Reever, Mrs. L. H
O'Connor, Mrs. J. B
Reever, Mrs. H. S
O'Flynn, Rev. Patrick
Reever, Miss A. R
O'Flynn, Rev. M
Reid, Mr. Robert
O'Reilly, Mrs. Josephine S
Reid, Mrs. Jessie
O'Reilly, Miss Moya G
Reusch, Mrs. Alice
O'Reilly, Miss Agnes F
Reusch, Master Herbert
Richmond', Mr. Abe
Rignall, Miss Edith
Ritchie, Mr. Charles
Ritchie, Mrs. Jade H
Roberts, Miss Anna S
Roberts, Mr. Chas
Roberts, Mrs
Robin, Mrs. Rosa de Jersey
Robinson, Miss Nellie
Robinson, Mrs
Robinson, Mr
Robinson, Mr. Hy. G
Rockett, Mr. Wm. D
Rockett, Mrs. Mary E
Rogers, Mrs. Romelia
Rogers, Mr. Frederick
Rogers, Mrs. Mary A
Rooke, Miss Margaret
Rorrie, Mr. Thos
Rose, Mr. R
Rose, Mrs
Rose, Rev. Richard S
Rose, Mrs. Isabella B
Ross, Mr. John A
Rouse, Miss Josephine
Rowett, Mrs. Flossie
Rowett, Miss Ethel
Rumball, Miss D. M. G
Salter, Mrs. Alice
Sanders, Miss L. E
Sanders, Miss E. M
Sandilands, Mr. Adam
Saunders, Mr. George H
Sayers, Mr. Wm. J
Schiffer, Mrs. Emilie
Schneider, Mr. Carl
Sculley. Mr. Denis A
Sculley, Mrs. Elizabeth
Sculley, Miss Mary
Sculley, Mrs. Susan
Scully, Miss Catherine
Sechler, Mrs. Sabnior
Sechler, Miss Gladys
Seigenberg, Mrs, Rebecca
Shea, Miss Emma J
Shore, Mr. Fred
Shore, Mrs
Simon, Mrs. Esther
Simpson, Mrs. Catherine
Simpson, Miss Charlotte
Smith, Miss Bertha V
Smith, Mr. Alfred
Smith, Mrs
Smith. Master H
Smith, Master E
Smith, Master
Smith, Mr. Henry
Smith, Miss Edith
Smyth, Mr. Samuel
Spilmer, Mr. August
Stanley, Mrs. C
Stanley, Mr. C
Stark, Mrs. Minnie
Steadman, Mr. Samuel
Steele, Miss Ednar M
Stevenson, Mrs. Helen
Stevenson, Mr. John F. C
Stevenson, Mr. Clinton E
Stevenson, Mr. C
Stift, Miss May
Stratton, Mrs. Dillwyr
Stratton, Mr. Dillwyr
Sturzenegger, Miss Bertha
Sunderland, Mrs. Edith
Sunderland, Master Douglas
Swanson, Mr. Louis
Sykes, Mr. Tom
Sykes, Mrs
Taylor, Mr. A
Taylor, Mrs. D
Taylor, Miss D. R
Tet, Rev. Kong Yin
Thomas, Mr. Wm. J. B
Thomas, Mr. John Hy
Thomson, Mr. Matthew
Thomson, Mrs. Annie
Tindall, Mr. E. G
Todd, Miss E
Totheringham, Miss Belle
Totheringham, Miss Grace
Triffitt, Mr. Herbert
Triffitt, Mrs
Triffitt, Miss Muriel
Turner, Mrs. Alice M
Turner, Master Wm. K
Uren, Mrs. Edith
Van Arx, Mr. Emil
Van Praagh, Mr. Alex. P
Verran, Mr. Edward J
Vezzetti, Miss Anacleta
Viant, Mr. Wm. John
Walch, Mrs. Chester
Walch, Prof. Chester M
Walker, Miss May
Walker, Mrs. F. M
Wallace, Miss Mary Gwen
Waterfield, Mr. Jas
Waterfield, Mrs
Waterfield, Master James
Waterfield, Master Frank
Watwood, Miss Florence
Webb, Mr. Frank E
Webb, Mrs. Susan
Wells, Miss Mary A
Westhoff, Rev. Edward
Weyhe, Mrs. Hannah
Weyhe, Miss Gertrude
Weyhe, Master Arthur
Whear, Mr. Wm. Hy
Wheelock, Mr. Edward le
Whitaker, Miss May D
Whiting, Mr. Norman
Whytall, Miss Rose
Wilcox, Miss Dora
Wild, Mr. W. W
Wild, Mrs
Wildman, Mr. W. Wendell
Williams, Mrs. Lily
Williams, Miss Margaret
Williams, Mrs. Beatrice M
Williams, Master Douglas
Williams, Miss Linda V
Williams, Miss Rita M
Winpenny, Mrs. S. H
Winpenny, Master F. H
Wolf, Mr. Joseph
Wolstencroft, Mrs. Mary
Woodward, Mr. Walter
Woodward, Mr. Chas H
Woodward, Mrs
Woolan, Mr. Roy H
Wright, Miss Marion
Wright, Miss Hilda G
Yardley, Mr. Chas. J
Yardley, Miss Hattie
Young, Mrs. E
Young, Master Robert
Young, Miss Eliz
Members of The Orchestra
Hill, Mr. F. W
Chapman, Mr. W. G
Linscott, Mr. J. H
Good, Mr. A. H
Sturman, Mr. T
Watkinson, Mr. J. W
Burgiss, Mr. E. P
Walker, Mr. W. H
Cox, Mr. W
Claxton, Mr. W. J
Information for Second Class Passengers.
First Sitting.
Breakfast at 7:30 am
Luncheon at 12 noon.
Dinner at 6:00 pm
Second Sitting.
Breakfast at 8:30 am
Luncheon at 1:00 pm
Dinner at 7:00 pm
The Bar opens at 8:00 am, and closes at 10:30 pm
Lights are extinguished in the Saloon at 11:00 pm, Library and Smoke Boom at 11.30 pm.
Baggage. Questions relating to Baggage should be referred to the Ship's Baggage Master. Trunks, Chairs, etc., which Passengers may desire to leave in charge of the Company, should be appropriately labeled and handed to the Baggage Master on the Wharf at New York, and such articles will he stored entirely at owner's risk. It is for Passengers themselves to see all their Baggage is passed by the U.S. Customs Authorities on landing.
Deck Chairs can be hired at a charge of 7/6 each for the voyage.
Steamer Rugs can be hired at a charge of 7/6 each for the voyage.
Passengers are requested to ask for a receipt on the Company's Form, for any additional Passage Money, Chair Dire, or Freight paid on board.
The Surgeon is Authorized to Make Customary Charges, Subject in Each Case to the Approval of the Commander, for Treating Passengers at Their Request for Any Illness Not Originating on Board the Ship. In the Case of Sickness Developed on Board, No Charge Will Be Made, and Medicine Will Be Free in All Circumstances.
Smoking is strictly prohibited in any of the Staterooms, Library or Dining Saloon.
Library. Books can be obtained on applying to the Library Steward.
Postage Stamps can be obtained from the Saloon Steward in the Dining Saloon who will take charge of Cable Dispatches and Telegrams for Transmission.
Meals are not permitted to be served in the Library.
Second Class Passengers are not allowed in First or Third Class quarters.
Valuables. The White Star Line has provided a safe in the office of the Purser, in which Passengers may deposit money, jewels or ornaments for safe keeping. The Company will not be liable to Passengers for the loss of money, jewels, or ornaments by theft or otherwise not so deposited.
Exchange of Money. The Purser is prepared. for the convenience of Passengers, to exchange a limited amount of English and American money. at rates which will be advised on application.
Travellers' Cheques, payable in all parts of Europe. can be purchased at all the principal offices of the White Star Line. These Cheques are accepted on board M lute Star steamers in payment of accounts, but the Pursers do not carry funds to enable them to each Same.
Passengers' Addresses may be left with the Saloon Steward, in order that any letters sent to the care of the Company may be forwarded.
Dogs. Passengers are notified that dogs cannot be landed in Great Britain unless a licence has previously been procured from the Board of Agriculture. London. Forms of license must be obtained by direct application to the Department before the dog is taken on board.
The "Olympic" carries an Orchestra of skilled musicians, which will play daily at the undermentioned times and places :
10:00 am to 11:00 am : Second Class Companionway
7:30 pm to 8.30 pm : (outside Lounge)
All Public Telephones, With Booths and Operators, on our New York Piers.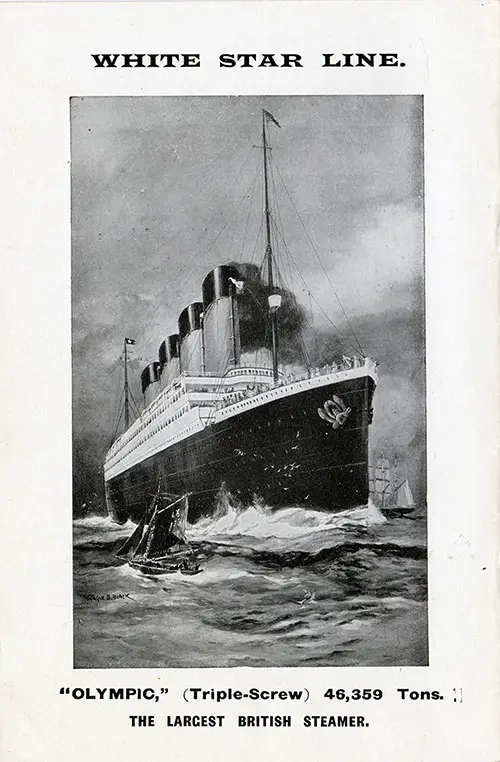 The RMS Olympic, Triple-Screw, 46,359 Tons. The Largest British Steamer. GGA Image ID # 1dcb2073ae