RMS Majestic Passenger List - 6 September 1922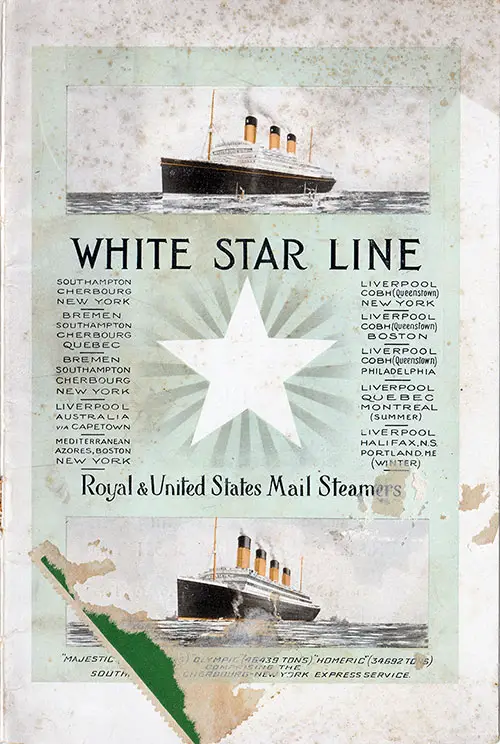 Front Cover, White Star Line RMS Majestic Second Class Passenger List - 6 September 1922. GGA Image ID # 13c88888e9
Second Class Passenger List for the RMS Majestic of the White Star Line, Departing 6 September 1922 from Southampton to New York via Cherbourg, Commanded by Captain Sir Bertram Hayes.
Senior Officers and Staff
Commander : Sir Bertram Hayes, K.C.M.G., D.S.O., R.D.
(Commodore R.N.R., and Commodore White Star Line Fleet)
Asst. Commander : E. L. Trant (Commander R.N.R., Retd.)
Chief Engineer: J. Wolff, O.B.E
Surgeon: J. C. H. Beaumont, L.R.C.P. & S. (Edinburgh), L.F.P.S. (Glasgow)
Asst. Surgeon : G. B. H. Jones, M.R.C.S. (Eng.), L.R.C.P. (London)
Purser: C. B. Lancaster
Purser: B. O. Bartlett, R.D. (Paymaster Lr. Commander R.N.R.)
Assistant Purser : W. H. Haywood
Chief Steward: J. O. Jennings
Second Class Passengers
Mr. Lazarus Abelson
Mrs. Rebecca Abelson
Mr. Isaac Abelson
Miss Sarah Abelson
Miss Esther Abelson
Hermann Adler
Sarah Adler
Mr. Joseph Adler
Mrs. Emma Adler
Mrs. Pauline Alexis
Mr. Joseph E. Allard
Miss Clara Alther
Mr. William Alway
Miss Elizabeth Amen
Mr. Emil Andersen
Mrs. Augusta Andersen
Mr. Elinor Anderson
Mrs. Regina Anderson
Master Elimer Anderson
Miss Anna Anderson
Mr. Carl Anderson
Mr. Edward Andries
Mrs. Alida Andries
Miss Gertrude Anger
Mrs. Katherine Aphold
Mr. N. Arnaez
Mr. Francis F. Atkins
Mrs. Guseppina Baccala
Miss Alde Baccala
Miss Elizabeth D. Bache
Mr. Andrew J. Backa
Mrs. A. J. Backa
Mr. Carl W. Backus
Mr. Henry W. Backus
Mrs. H. W. Backus
Mr. Baer
Mrs. Baer
Miss E. Barr
Mrs. E. Barry
Mr. J. M. Bartels
Mr. William Barth
Miss Alanette Bartlett
Miss May T. Bassett
Mr. Henry Bauer
Mrs. Helen Bauer
Mr. Harry P. Becken
Miss Vera Bel
Mr. Joseph Bell
Mrs. William Bell
Mr. Frederick W. Benjamin
Prof. Charles E. Bennett
Mr. Alex Berenson
Mr. Jacob Berger
Mr. Koppel Berger
Mr. William Berger
Mrs. Mollie Berger
Miss Ruth Berger
Master Benjamin Berger
Mr. Samuel Berkowitz
Miss Dora Berkowitz
Mr. M. Berlin
Mr. P. F. Berry
Mrs. Berry
Miss E. Berrz
Mrs. Mary E. Betzer
Mr. Emanuel Biedermann
Miss Flora Biedermann
Mr. Joseph Biggs
Mr. Sidney W. Binns
Mr. J. Bloom
Mr. Hans A. Bluntschli
Mrs. Otis B. Boise
Miss Margaret G. Boise
Miss Laura J. Bomford
Mr. Lucien Bonte
Mr. Leon Bonte
Miss Mary E. Booth
Mr. Wm. C. Borden
Mrs. Borden
Mr. Fred Boyce
Mrs. Ellen Boyce
Miss Blanche Brackett
Mrs. Ellen Bradley
Mr. Lew Bregman
Mrs. Bregman
Miss B. Bregman
Rev. Dr. August C. Breig
Mrs. Marie Brening
Mr. Robert Brening
Miss Therese Brening
Miss Dina Brening
Miss Isabelle Bronk
Dr. George Broodman
Mrs. M. G. Brooks
Miss Margaret Brooks
Mr. Gordon Brown
Miss Anne F. Brown
Miss Lydia L. Brown
Mr. Peter Brughelli
Mr. Ernie Burch
Mrs. Burch
Mr. Stanton Burch
Mrs. Burch
Miss Kate Bushouse
Mrs. A. A. Busse
Mrs. Rose Butler
Mr. Albert R. Button
Mrs. Albert L. Button
Mrs. Grace E. Byers
Master George M. Byers
Master David K. Byers
Mr. Ascanio Carderelle
Miss Ruth F. Carlson
Miss Hattie M. Carmichael
Mrs. Robert Christie
Mr. Wm. A. H. Church, Jr.
Miss Virginia Church
Mrs. Theckla K. Clark
Miss Jeannette Clarke
Dr. Thomas A. Clay
Mrs. Lillian Clift
Master Edwin Clift
Miss Catherine Clift
Mrs. Nancy Coates
Mr. Stanwood Cobb
Mrs. Nayan Cobb
Miss Jeanne Cochenet
Miss Lucie Cochenet
Mr. Alfred Codman, Jr.
Miss F. M. Cohn
Miss Alzada Comstock
Mrs. Hilda Conrad
Mr. Benjamin E. Conrad
Master Geoffrey Conrad
Miss Helen M. Cook
Miss Flora J. Cooke
Mrs. Hannah Coombe
Miss F. E. Cox
Mr. John H. Creighton
Mrs. Creighton
Mr. Bondy Croner
Mr. G. E. Cullen
Mrs. Cullen
Mr. Shirley Culver
Miss Dorothy Dann
Mr. Harry De Boer
Miss M. Deisling
Mr. Michel Derzynski
Mrs. Rosalie de Somer
Mr. Ernest T. Dewald
Mr. Joseph J. Dias
Mr. Robert Dixcon
Mr. John Doerig
Mr. M. J. Dougherty
Mrs. W. T. Downing
Miss Downing
Miss Ruth Drake
Miss Barbara Drakslova
Miss Annie Drew
Mr. David Duncan
Mrs. Isabel Duncan
Mr. Michael J. Dunne
Mrs. Dunne
Miss M. D. Dushane
Mrs. H. G. Eades
Mrs.. W. Easton
Mr. Philip Eberman
Mr. David Edmunds
Mr. Nathan Eischner
Mr. J. Eliot
Miss M. Ely
Miss Elizabeth K. English
Mr. John Erickson
Mrs. Sophia Erickson
Miss Agnes Erickson
Mr. Gustaf Eriksson
Miss Walborg Eriksson
Mr. Fred A. Ernst
Mrs. Ernst
Miss Marie M. Esch
Miss Ruth M. Esch
Miss Ada M. Escott
Mr. Paul Exanoff
Mr. Erle Fairfield
Miss Terezia Fanesali
Mr. John Feldman
Mrs. Feldman
Miss Rosalie Feldman
Mr. Frank Ferrario
Mr. Maurice Firth
Mr. Max Fixler
Mr. John Flach
Mrs. Mary A. Flach
Mr. Simon Fleschner
Mrs. H. Float
Mrs. Victoria Foley
Mr. Victor E. Francois
Mrs. Matilda Francois
Mr. S. Franghakis
Mrs. Elizabeth Frederick
Mr. Bernhard Friedberg
Mrs. Helen Friedberg
Mr. William Friedman
Mrs. Mary Friedman
Master Herbert Friedman
Mr. Christian Gantsel
Mrs. Ané Gantsel
Mr. Fred J. Gerber
Mr. Everett L. Getchell
Mrs. Maude Getchell
Mrs. Agnes Gibson
Miss Agnes Gibson
Mrs. Margaret M. Gimblett
Miss Eunice Goddard
Mr. Harold Golder
Mr. George F. Goodson
Mr. Wm. Goodson
Mrs. Mary Goodson
Mr. Morris Gorlin
Mr. Harry Gorlin
Mr. Alfred Graw
Miss Mildred Gray
Mr. Stephen Greene
Mr. George W. Griffith
Miss Henrietta Groner
Mr. Louis Groner
Miss Gulden
Mr. Siegfried Guthman
Miss Grace Guthrie
Mr. M. B. Gwinn
Mrs. M. B. Gwinn
Mr.Jesse J. Haas
Mrs. Edith Haas
Mr. Arthur H. Hall
Miss Mary M. Hallock
Mr. J. Halloman
Mr. Joseph Halpern
Mrs. Rose Halpern
Master Harold Halpern
Miss Ruth Halpern
Miss Hilda Hamman
Miss Hilda Hammann
Miss Eleanor Hammett
Mrs. Eliz. L. Hammond
Miss Jenny Hansen
Rev. S. M. Hargett
Mr. Russel Harris
Miss Fannie N. Harrison
Miss Elizabeth R. Harter
Miss E. Harton
Miss Harton
Miss Ola M. Hartshorn
Miss Margery Hast
Mr. Albert B. Hastings
Mrs. Hastings
Mr. William S. Hayes
Mrs. Hayes
Mr. Benjamin Hebald
Mrs. Hebald
Mr. Ralph Hebald
Miss May Hebald
Mr. Herman Heidenrich
Mr. Frank Heindrich
Miss L. E. Hemington
Mr. Wm. Wilson Henderson
Mr. Ernest Henry
Miss Herdman
Mrs. Fannie Herrick
Miss Marjory P. Herrick
Mr. Abraham Hershgold
Mr. Charles Hewlett
Rev.John J. Hilmenga
Miss Miriam B. Hilton
Mr. Frank Hofmeister
Mr. H. W. Hogden
Mr. Martin Hoimark
Dr. Anna Holm
Mr. Oscar Holmlund
Mrs. Helen Holmlund
Mr. Percy F. Hook
Mrs. Kate Hopkins
Mr. Nathan Horn
Mrs. Horn
Mr. Samuel Horowitz
Mr. Isaac F. Hoskins
Rev. J. W. Houch
Mr. W. Howland
Miss Frances S. Hundley
Miss Mary W. Hundley
Miss Florence Hyde
Miss S. Inzeberg
Mrs. Hattie Irwin
Mr. Gerard M. Ives
Mrs. Myrtle Jackson
Mme. Adele Jais
Mme. Anna Jais
Miss Helen Jamieson
Miss Gertrude Jansen
Miss Louise Jansen
Mr. Armand Jaquet
Miss Jeanne Jaquet
Miss Mary Jauch
Mr. Samuel Jaulus
Miss Mary Jibany
Miss Jennie Johnson
Miss Joline
Mr. Samuel Jones
Miss Grace E. Jones
Mr.Joseph Kaelin
Mrs. Bertha Kaelin
Miss S. Kamensky
Mr. Benjamin Kamin
Mrs. Kamin
Mr. Henry Kamin
Master W. Kamin
Mr. J. M. Karpass
Miss E. Keef
Miss Florence R. Keene
Mr.Josef Keller
Mrs. Mabel H. Kendall
Mrs. E. C. Kennett
Mr. S. Kenward
Mr. Szaja Kieselman
Mrs. Kieselman
Master Moszek Kieselman
Mr. Thomas J. Killin
Mrs. Clar. S. King
Mr. Harry Kinsport
Mrs. Olive Kinsport
Miss M. S. Kisover
Rabbi Bernat Klein
Mrs. Helen Klein
Miss Berta Klein
Miss Eva Klein
Mrs. Ida Klein
Master George Klein
Miss Helen Klock
Dr. John D. Klopper
Mrs. Klopper
Mr. Leonard Klopper
Master Robert Klopper
Mr. Frederick H. Knight
Prof. E. E. Knight
Miss C. Marion Kohn
Mrs. Zoe Kotlezoff
Master Kotlezoff
Mr. Frank Kretschner
Mrs. Louise Kretschner
Mr. Barend Kroeze
Mr. Robert Kroeze
Miss Nettie B. Kroeze
Mr. Isaac Kronheim
Mrs. Itka Krupiemia
Mr. Meyer Krupiemia
Miss Paja Krupiemia
Dr. Charles Kullmer
Mrs. S. E. Lackwood
Mr. W. P. Ladd
Mrs. A. Ladd
Miss M. E. Ladd
Master John Ladd
Master Edward Ladd
Miss Penelope Ladd
Mr. William Landau
Mrs. Fanny Landau
Mrs. Anna Larsen
Miss Estella Larsen
Mr. E. C. Lawrence
Mr. George Lee
Mrs. Emma Leighton
Mrs. Jessie Levering
Mr. Wilson Levering
Master Wilson Levering
Miss Sara R. Levi
Miss Sadie Leviton
Mr. Emile Levy
Mrs. Emma L. Levy
Mr. William E. Hann
Mr. Arthur Lichstein
Mrs. Priscilla Lichstein
Miss Theodora Lichstein
Miss Marie Lisec
Mr. B. Lisec
Mrs. Apolouro Lodyga
Dr. Louis E. Lord
Mrs. Frances Lord
Mrs. Florence Loria
Miss Marjoria Loria
Mrs. Jennie Loucks
Mr. Harry Love
Miss K. Lovell
Mr. Basil Lynn
Mr. James Macintosh
Mrs. Macintosh
Mrs. C. MacLean
Miss Estelle Makover
Mr. David Mallel
Miss Clara Manley
Miss Violet Margot
Miss Dorothy Martin
Mrs. Martini and Two Children
Miss H. Masters
Mr. Barney Maticka
Mrs. Cornelia Maticka
Mr. George J. Matthews
Miss Margaret Mclntist
Miss M. McLeod
Dr. W. T. McMannis
Miss Elizabeth McNaman
Mr. Parker McCollester
Mrs. McCollester
Mr. Maxwell McCreery
Mr. John Medd
Mr. Abraham Melzer
Mrs. A. Melzer
Mr. Lester Melzer
Miss Edith Melzer
Mr. Herman Menaker
Mrs. Menaker
Mrs. Mary Merrill
Miss Madre Merrill
Rev. Dr. Sebastian Messmer
Mr. Gustav Metz
Miss Mann Alice Metz
Mr. Louis Meyer
Miss Freda Meyer
Mrs. Anna Meyer
Miss Emma Meyer
Miss Sophie Meyer
Mr. Emil Meyer
Mrs. E. Meyer
Mr. William Meyer
Miss Aline Michner
Mr. Edward Miller
Mrs. Ellen Miller
Mr. Harry Miller
Miss W. G. Miller
Mr. A. Mitchell
Miss Lena Moeke
Mrs. Lena Moeller
Miss Helen Moeller
Mr. Harry M. Morgan
Mrs. Beatrice Morgan
Mr. Trebor Morgan
Miss Annie P. Morris
Mr. Lemel Moses
Miss Catherine Murphy
Mr. Joseph Mutinsky
Mr. Walter Myer
Mr. Frederick Nadler
Mrs. Ettie Nadler
Miss Elena Nearing
Mr. Nathan Nettle
Mrs. M. T. Newboy
Mr. Thomas Newhoff
Mrs. T. Newhoff
Mr. Thomas Newhoff
Mr. C. C. W. Nicol
Mr. Edward L. Nightingale
Mr. Olaf Nilsson
Mr. Frank Norris
Mrs. Margaret Notovitz
Miss Ruth Notovitz
Master Harvey Notovitz
Mrs. Mary Novotny
Miss Mary Novotny
Miss Anna Ochec
Miss Helen Ochec
Miss Sheila O'Connell
Miss Phyllis M. Ogle
Mr. B. Ohlin
Miss Pelia Oppenheimer
Mr. Gustave Orlander
Mrs. Orlander
Miss Margaret O'Rourke
Mr. Herbert Patrick
Mr. Luigi Pavlivi
Rev. Boleslaub Pawlowski
Miss Alice B. Pedersen
Mrs. B. F. Pepper
Mr. B. F. Pepper
Mr. George W. Pepper
Miss Anne S. Pepper
Mr. John Perko
Mrs. Bertha Perko
Miss Germaine Pernet
Mr.Joseph T. Peters
Mrs. Jane Peters
Mrs. Margaret Peters
Mr. Isidore Pieran
Mrs. Charles Platt
Mr. Charles Platt
Miss Dorothy Platt
Miss Elizabeth Platt
Mr. Morris Poole
Mr. Walter J. Powell
Mrs. Annie Powell
Miss Marjorie G. Powell
Mr. William W. Price
Miss Margaret L. Price
Mr. John C. Quinlan
Mr. H. Raff
Mrs. Raff
Mr. Frederick D. Ramm
Mr. Ralph Raper
Mr. Christian Ravn
Mr. T. T. Read
Mrs. B. C. Reeder
Mrs. Josephine Remer
Miss Virginia Remer
Miss H. E. Renwick
Mr. Konrad Reyer
Mr. Baron C. Renard
Mr. Harry T. Reynolds
Mrs. Reynolds
Mr. Wm. de Rham
Mr. E. R. Rheiner
Mrs. Rheiner
Mr. Joseph Ribstein
Mrs. Ribstein
Mr. Paul Ribstein
Miss Gertrude Richards
Mrs. W. D. Richards
Mr. Francisco S. Richardson
Mrs. Miriam R. Richardson
Miss Cora M. Riggs
Mr. William Rinderspacher
Mr. W. S. Robertson
Mr. Alson Robinson
Mrs. Margery Robinson
Mr. P. J. Rock
Mrs. Rock
Miss Florence Rock
Miss Clara L. Rockwell
Miss Sylvia Rogers
Miss Rogers
Mr. Paul Rogez
Mr. Alexander Rose
Dr. Bruno Roselli
Mrs. Margit Rosenberg
Miss Evelin Rosenberg
Miss Dorothea Rosenberg
Mr. S. Rosenblum
Mr. Bernat Rosenstein
Mr. Jacob Roth
Dr. Alma Rothalz
Miss Edna Rothalz
Mrs. Evelyn Rothenberg
Prof. William T. Rowland
Miss Blanch C. Ryon
Miss Helen C. Ryon
Mrs. Amalia Sairanja
Master Koloys K. Sairanja
Dr. M. J. Salamson
Mr. Sundel Saland
Mrs. Rachel Saland
Mr. Isaac Sandler
Mr. Charles Schneider
Mr. O. K. Schubert
Mrs. Schubert
Mr. Clarence Schubert
Mr.Joseph Sefsak
Mrs. Sefsak
Master Joseph Sefsak
Master Louis Sefsak
Mr. Frank Seibert
Rev. P. H. Seiller
Miss Harriet Sellner
Miss Julia Shafer
Mr. Thomas Sharman
Mrs. Matilda Sharman
Master Leroy Sharman
Mr. Clarence E. Shepard
Mr. O. E. Sholz
Mrs. Sholz
Mr. David Shousz
Mrs. Elise Sibweizer
Mr. Philip Silverman
Miss Amy D. Simmons
Mrs. H. Sindall
Miss B. Sindall
Mrs. M. Singleton
Miss F. Sloney
Mr. A. W. Smith
Mrs. Smith
Mr. F. R. Smith
Mrs. Smith
Miss Margaret Smith
Mr. August Sokolowski
Mr.James Sorensen
Mr. Soren Sorensen
Mrs. Ani Sorensen
Dr. Wm. Speakman
Miss Janet Speakman
Mr. H. E. B. Speight
Mrs. M. L. Spencer
Miss Nellie Staab
Mr. A. R. Stanley
Mrs. Stanley
Miss Marjorie Stanley
Mr. Arthur Stanley
Mr. William Stark
Mrs. Esther Stavisky
Master Cecil Stavisky
Master Maurice Stavisky
Mrs. Florence M. Steadman
Master Kenneth E. Steadman
Miss Sylvia F. Steadman
Mr. Eli Stein
Mr. Emanuel Steinem
Mrs. Steinem
Miss Clare Stevens
Mr. Samuel Stockhammer
Mr. R. E. Streeter
Mrs. A. Stupple
Miss Alice Stupple
Miss Winifred Sturdevant
Mrs. Beckie Surdut
Miss Eva Surdut
Miss Bertha Surdut
Miss Gussie Surdut
Mrs. Frima Svartzfeld
Mr. Erick R. Svenson
Miss Alma Svenson
Mr. Martin Svenson
Mrs. A. Swern
Mrs. Bernalie Szobel
Master Derso Szobel
Master Albert Szobel
Mr. John Tanner
Mr. Francis Taylor
Mr. Harry Tenenbaum
Mrs. Dora Tenenbaum
Miss Bertha Tenenbaum
Miss Anna Tenenbaum
Miss Mildred Tenenbaum
Miss Beatrice Tepper
Mrs. J. O. Tepper
Mr. P. H. Theopold
Mr. Levi Thomas
Master David J. Thomas
Mrs. G. T. Thomsen
Master Lief T. Thomsen
Mr. Richard W. Thorington
Mrs. Amalia Threedy
Mr. John Tilton
Mr. William F. Tonkin
Mrs. Sándorné Toth
Mr. George H. Trever
Mrs. Trever
Mr. Cornelius Twomey

Mrs. Sadie Twomey
Mrs. M. F. Valentine
Mr. Wilbert Van Appledorn
Miss Sofia M. Van Hengel
Mr. Henry Van Noord
Mr. Edward Vekemans
Mr. A. Verwey
Mr. Vincenzo Vitti
Miss Eva M. Volk
Mrs. Catherine M. Vosbury
Miss Edna Wagner
Miss Waldo
Mr. Ernest J. Walker
Miss Clara L. Walker
Dr. Schuler R. Waller
Mrs. R. Walorska
Miss A. Walorska
Mr. Dore Walten
Mrs. Dore Walten
Miss Hilda Walten
Mrs. Ivy Waltz
Mr. Fremont P. Ward
Mrs. Flora Ward
Mr. P. Wasserstein
Mrs. Wasserstein
Miss Evelyn G. Webb
Mr. Allen Wehrli
Mrs. Cornelia Wehrli
Mr. Carl T. Weinberg
Miss Hedwig Weiner
Mr. Tivadar Welkuz
Mrs. Bela Welkuz
Miss Mary Wells
Mrs. Florence Welton
Miss Unis M. Welton
Mr. Himan N. Werntz
Miss Ida Wessa
Miss Dagmar Westling
Miss May Wheeler
Mrs. Amy White
Miss Charlotte White
Miss Florence White
Mr. J. B. Whitley
Mrs. Whitley
Master B. Whitley
Master Alex. Whitley and Infant
Miss I. Widick
Miss Jean Wilcox
Mr. Arthur Williams
Mr. John S. M. Williams
Miss Elizabeth Williamson
Miss Ada Winslow
Miss E. B. Winston
Mr. Hermann Wirshing
Mr. John Wirshing
Miss Mercedes Wirshing
Mr. Samuel Wishnitzer
Dr. Meyer Wishnoch
Mr. Josef Witek
Mrs. Annie Witek
Master Robt. Witek
Mr. Sam D. Wohlfeil
Miss Carrie E. Wolfe
Mrs. F. Woll
Miss E. Woll
Mr. George A. Wood
Mr. Jack Woodbridge
Mr. George R. Woods
Mr. Jim T. Wright
Mr. Urbain Wybo
Mrs. Mamie Young
Information for Second Class Passengers.
Landing Arrangements at New York
Should the Steamer arrive at the New York Wharf after 8:00 pm, Passengers may land if they wish to do so and have their baggage passed by the Customs Authorities immediately on arrival, but those who prefer to remain on board may do so and have the whole of their Baggage passed the following morning not earlier than 7 o'clock.
Breakfast will be served to those who remain on board overnight.
Uniformed representatives of the American railroads meet all steamers on arrival at New York. Railroad tickets may be purchased and baggage checked from the steamship Pier to any point along the Lines of the Pennsylvania, New York Central, Erie, Lehigh Valley, and connecting railroads.
Public Telephones
With Booths and Operators, on our New York Piers
Meals WILL Be SERVED AS FOLLOWS :
When One Sitting
Breakfast: 8:00 am to 10:00 am
Luncheon: 12:30 pm
Dinner: 6.30 pm
When Two Sittings
Breakfast: 7.30 am and 8:30 am
Luncheon: 12:00 noon and 1:00 pm
Dinner: 6:00 pm and 7:00 pm
The Bar opens at 8:00 am, and closes at 10.30 pm
Lights are extinguished in the Dining Saloon at 11:00 pm, Lounge, Reading, and Writing Room, and Smoking Room at 11:30 pm
Smoking is strictly prohibited in any of the Staterooms, Reading and Writing Room, or Dining Saloon.
Seats at Table. Passengers who have not previously arranged for seats at table to be reserved should apply for same to the Saloon Steward.
Medical Attendance. The Surgeon is Authorised To Make Customary Charges, Subject in Each Case To The Approval of The Commander, for Treating Passengers at Their Request for Any Illness Not Originating On The Voyage. in The Case of Sickness Developed On The Voyage NO Charge WILL Be MADE, and MEDICINE WILL Be PROVIDED Free in ALL CIRCUMSTANCES.
Letters, &C., for Passengers will be brought on board before the Passengers land.
Passengers should personally ascertain whether there is any mail for them before disembarking and they are invited to leave their addresses with the Saloon Steward for any later despatches to be re-directed. Postage Stamps can be obtained from the Saloon Steward, who will take charge of Cable Despatches and Telegrams for transmission.
Charges PAID on Board. Passengers are requested to ask for a Receipt on the Company's Form for any additional Passage Money, Chair or Steamer Rug Hire, or Freight paid on Board.
Library. Books can be obtained on applying to the Library Steward.
Deck Chairs and Steamer Rugs can be hired on application at a charge of 7/6 each for the voyage.
Valuables. The particular attention of Passengers is drawn to the ticket conditions regarding the carriage and custody of articles specified in Section 4281 of the revised Statutes of the United States, but Passengers can, and are accordingly advised to, protect themselves by insurance. The Line has provided a safe in the office of the Purser in which Passengers may deposit money, jewels, ornaments, documents or other valuables for safe keeping and a deposit receipt will be issued by the Purser
Exchange of Money. The Purser is prepared, for the convenience of Passengers, to exchange a limited amount of English, and American money, at rates which will be advised on application.
Baggage. Questions relating to Baggage should be referred to the Ship's Baggage Master. Trunks, Chairs, etc., which Passengers may desire to leave in charge of the Company should be appropriately labeled and handed to the Baggage Master on the Wharf at New York. and such articles will be stored entirely at owner's risk. It is for Passengers themselves to see all their Baggage is passed by the U.S. Customs Authorities on landing.
Dogs. Passengers are notified that dogs cannot be landed in Great Britain unless a license has previously been procured from the Board of Agriculture, London. Forms of license must be obtained by direct application to the Department before the dog is taken on board at New York.
Travellers' Cheques, payable in all parts of Europe, can be purchased at all the principal offices of the White Star Line. These Cheques are accepted on board White Star steamers in payment of accounts,but the Pursers do not carry funds to enable them to cash same.
Deck Games and Amusements. Deck Quoits, Shuffleboard, Bull Board and other games are provided on deck under the charge of a Quartermaster.
Chess, Draughts, Dominoes, etc., may be obtained on application to Saloon Steward.
Gymnasium.—Fully supplied with modern appliances, located on Deck D, and is open for exercise by Ladies, Gentlemen and Children during the following hours :-
Gentlemen ... from 6:00 am to 9 a.m
Ladies ... from 10:00 am to 12 noon
Ladies and Gentlemen from 12 noon to 1:00 pm
Children ... ... from 2:00 pm to 3.30 p.m
Ladies and Gentlemen from 3.30 pm to 7p.m
No charge is made for the use of the appliances. Tickets obtainable at the Purser's Office, " E " Deck.
Passengers'Quarters. Second Class Passengers are not allowed to enter First or Third Class compartments, or vice versa, as complications might arise under the Quarantine Regulations.
Barber. The Barber is authorized to make the following charges : (s. d. - Shiilings Pennies)
Shaving 0 9
Hairdressing 1 0
Shampooing ... 0 9
Singeing 0 9
Face Massage 1 6
Scalp Massage 1 0
Tonic Dressing ... 3
The Barber is allowed the privilege of selling various souvenirs and small articles on his own account.
Picture Postcards. Picture Postcards of the steamer can be obtained gratis on application on Board.
Postal Information.
High Seas Mail.—On all British steamers British Postage Stamps and rates are used when mailing letters for European points, and such letters should be posted in the ship's letter box in the ordinary way.
The mail bag is closed a few hours previous to arrival. Full particulars can be obtained at the Enquiry Office upon application.
for Letters Mailed in The United States.
Rates on letters to points in the United States, Canada, and British Colonies, and to Great Britain and Ireland, two cents an ounce or fraction thereof.
The above rates apply to letters to England, Ireland, Scotland, and Wales; the Bahamas, the Barbadoes, British Guiana, British Honduras, the Dominican Republic, the Dutch West Indies, the Leeward Islands, Newfoundland, Trinidad (including Tobago). New Zealand; and the Windward Islands (including Grenada, St. Vincent, the Grenadines, and St. Lucia).
Rates on letters to all other countries—five cents for the first ounce. and three cents for each additional ounce or fraction.
Rates on postal cards to all countries (except United States, Canada, Cuba, Mexico, and Panama, one cent to each)—two cents each; on return or reply cards, four cents each.
Canadian Postal Rates.
Letters to points in Canada, United States and Mexico, three cents for the first ounce, two cents for each additional ounce (War Tax included); rated to points in Great Britain and all other places within the Empire, four cents for the first ounce, three cents for each additional ounce(War Tax included), rates to other countries, ten cents for the first ounce, five cents for each additional ounce.
Postal Cards to points in Canada, Great Britain, and all other places within the Empire, United States and Mexico, two cents each (War Tax included); rates to other countries, six cents each.
Canadian Newspapers to points in Canada, Great Britain and certain places within the Empire, United States and Mexico, one cent for four ounces.
Printed Matter to points in Canada, United States and Mexico, one cent for two ounces; rates to other countries two cents for two ounces.
Literature for the Blind to points in Canada, United States, Mexico and Newfoundland free; rates to all other countries one cent per lb.
Commercial Papers to all countries other than Canada, ten cents for the first ten ounces, two cents for every additional two ounces.
Samples to points in Canada, United States, and Mexico one cent per two ounces; rates to all other countries four cents for the first four ounces, two cents every additional two ounces.
Acknowledgment of Receipt of Registered Articles to points in Canada and all other countries, ten cents if requested at the time of submitting the article, 20 cents if requested after posting the article. posting
Wireless Telegram Rates.
This Steamer is fitted with Marconi's system of Wireless Telegraphy and also with Submarine Signalling Apparatus.
Long Range Wireless Service.
This vessel is fitted with special long range wireless apparatus which will enable the ship to communicate with the shore throughout the voyage across the North Atlantic Ocean.
The wireless rate for messages directed through the wireless stations in the United Kingdom is 10d. (10 Pennies) per word, land telegraph or cable charges additional, and for messages through the special wireless stations in North America the wireless rate is 11 1/2 d. (11 1/2 Pennies) per word, land telegraph or cable charges additional.
Ordinary Wireless Service.
When the ship is nearing the American and Canadian shores, messages can also be forwarded through the ordinary wireless coast stations situated on the Atlantic seaboard at the following rates :
for United States. The Wireless rate via New York, New London, Siasconsett, Newport, or Chatham, is calculated at 11 1/2 d. per word; every word in the address, text, and signature counted; landline charges additional; all fees must be prepaid.
The Wireless rate via Cape Race, Sable Island, Cape Sable, is calculated at is. 3 1/2 d. per word; every word in the address, text, and signature counted; landline charges additional; all fees must be prepaid.
for Canada. The Wireless rate via Cape Race, Sable Island, Cape Sable is calculated at 1s. 3 1/2 d. per word; every word in the address, text, and signature counted; landline charges additional; all fees must be prepaid.
The Wireless rate via Montreal, Quebec, Grosse Isle, Father Point, Cape Bear, Pictou, is calculated at 3d. per word; every word in the address, text, and signature counted; landline charges additional; all fees must be prepaid.
The Wireless rate via Clarke City, Fame Point, Harrington, Heath Point, Camperdown, Grindstone Island, North Sydney, St. John, Belle Isle, Cape Ray, Point Rich, Point Armour, is calculated at 6 1/2 d. per word; every word in the address, text, and signature counted; land tine charges additional; all fees must be prepaid.
for United Kingdom. The rate via Valentia, or other stations in the United Kingdom, is 10d. per word; every word in address, text, and signature counted; landline charges additional; all fees must be prepaid.
Ship To Ship. The General rate for messages exchanged between British Ships is 8d. per word, and for messages exchanged with foreign ships the general rate is 10d. per word, but as Dutch, Belgian and certain other vessels apply a ship tax with a minimum of ten words, the charges on these vessels will be calculated as follows :-
For less than 10 words .. 4s. 2d. plus a charge of 5d. per word
For 10 words or more .. 10d. per word
Ocean N Letters. The Marconi Company have inaugurated an "Ocean Letter" service, by which messages may be sent from one ship to another going in an opposite direction, for delivery by Registered Post from the first port of call of the latter vessel.
For an " Ocean Letter " sent to a British Ship controlled by the Marconi Company, the rate is (inclusive of wireless, postage and registration) 7s. 6d. for 30 words plus 2d. for each additional word up to a maximum of 100 words.
For an " Ocean Letter " sent to a foreign ship the rate is 9s. 41d. for the first 30 words, plus 2 1/2 d. for each additional word, up to a maximum of 100 words. This class of message must contain full Postal Address.
Time On Shipboard.
On the voyage from Europe, owing to the alteration in time as the ship proceeds Westward, it is necessary to put the clock back every 24 hours. The alteration in time is made at about midnight, and the clock is usually put back from 35 to 45 minutes on each occasion, the exact amount of time depending upon the distance the ship is estimated to make by noon the next day. During the first 24 hours, however, owing to the change from Mean Time to Apparent Time, the alteration is likely to be consider- ably more than 45 minutes, especially while Summer Time is in use.
Upper Berths
Passengers OCCUPYING Upper Berths CAN OBTAIN STEPS for GETTING in or OUT of SAME On APPLYING To The Steward or StewardESS.
Innovation Trunks.
Passengers are advised that it is not always possible to arrange for the placing of Innovation Trunks in the passenger accommodation in a position where they are easily accessible, also that there is frequently difficulty with regard to the landing of such packages owing to their exceptional size. They are therefore recommended to me steamer trunks in preference.
The " Majestic " carries an Orchestra of skilled musicians, which will play daily at the undermentioned times and places :
11:00 am to 12 noon and 2.30 pm to 3.30 pm : Second Class Dining Saloon
Recovery of U.S. Head Tax
This Tax can be recovered by Passengers, if same has been paid, provided they inform the U.S. Immigration Inspector on arrival at New York of their intention to leave the United States within 60 days (the time prescribed by U.S. Law), and obtain from him Transit Certificate Form 514.
It is also necessary for Transit Certificate Form 514 to be handed to the transportation company when completed, in time to allow same to be placed before the Immigration Authorities in Washington within 120 days of passenger's arrival in the United States.
Unless this regulation is complied with the Tax cannot be recovered.
White Star Line RMS Homeric
RMS HOMERIC, 34,356 Tons
A masterpiece of the Shipbuilders' art, a triumph of technical skill, the " HOMERIC " is one of the World's finest ships, and with her gross tonnage of 34,356, length of 775 feet, and breadth of 83 feet, is one of the largest also Sailing in CONJUNCTION with The RMS "Majestic," 56,551 Tons (The Largest Steamer in the World) and the RMS "Olympic," 46,439 Tons
MAINTAINING A Weekly Express Mail Service Between Southampton, Cherbourg and New York
Some Facts about the White Star Line and White Star-Dominion Line
The Steamers of the White Star Line and White Star-Dominion Line will take you with comfort and expedition to and from
Southampton-Cherbourg-New York
Liverpool-Cobh (Queenstown)-New York
Bremen-Southampton-New York
Liverpool-Cobh (Queenstown)-Boston
Liverpool-Cobh (Queenstown)-Philadelphia
Liverpool-Quebec-Montreal
(Summer Service)
Liverpool-Halifax, N.S.-Portland, Me.
(Winter Service)
New York, Boston, and Mediterranean Ports
(Via AZORES and Madeira)
Liverpool-CAPE TOWN-Australia
London-New Zealand
(Via PANAMA CANAL)
Winter Cruises to the SUNNY
West Indies, The Mediterranean & Egypt
Throughout the World the Steamers of the Organization are renowned for their EXCEPTIONAL SIZE, Great STEADINESS. SOLID COMFORT, and EXCELLENT Service
White Star Line and White Star-Dominion Line Fleet
Steamship Propulsion Tons Remarks

Majestic Quadruple Screw 56,551 The Largest Steamer in the World.

Olympic Triple Screw 46,439

HOMERIC Twin Screw 34,356

Adriatic Twin Screw 24,541

Baltic Twin Screw 23,884

Cedric Twin Screw 21,073

Celtic Twin Screw 21,026

Ceramic Triple Screw 18,495

Arabic Twin Screw 16,786

Regina Triple Screw 16,500

Doric Twin Screw 16,500 Building

Pittsburgh Triple Screw 16,322

Megantic Twin Screw 14,878

Cretic Twin Screw 13,518

Suevic Twin Screw 12,686

Runic Twin Screw 12,663

Corinthic Twin Screw 12,367

Athenic Twin Screw 12,366

Ionic Twin Screw 12,352

Medic Twin Screw 12,222

Canopic Twin Screw 12,097

Persic Twin Screw 12,221

Haverford Twin Screw 11,635

Canada Twin Screw 9,472

Vedic Twin Screw 9,302

Rimouski Twin Screw 9,281 Completing

Cufic Twin Screw 8,304

Zealandic Twin Screw 8,090

Tropic Twin Screw 8,230

Bardic Twin Screw 8,010

Gallic Twin Screw 7,912

Nomadic Twin Screw 1,260

Traffic Twin Screw 640

Magnetic Twin Screw 619
Grand Total 522,598 Tons.
Fleet of OVER HALF A MILLION Tons.
Associated Companies
Associated with the White Star Line and White Star-Dominion Line are :-
The Red Star Line - Antwerp-Cherbourg-New York Calling at Southampton (Westbound) and Plymouth (Eastbound)
The American Line - Hamburg-New York
The Atlantic Transport Line - London-New York
The Leyland Line - Liverpool To Boston and New Orleans West Indies. Mexico, and CENTRAL America
White Star Line Company S Offices in America
New York • 1, Broadway
Atlanta • 68, North Broad Street
Baltimore • 127, East Baltimore Street
Boston • 84, State Street
Chicago • 14, North Dearborn Street
Cleveland • Swetland Building
Dallas • Cotton Exchange Building
Detroit • 1265, Griswold Street
GALVESTON • Cotton Exchange Building
Halifax • 93, Hollis Street
HOUSTON • Hermann Building
Minneapolis • 121, South Third Street
MOBILE • Water and St: Francis Streets
Montreal • 211, McGill Street
New Orleans • St. Charles and Common Streets
Norfolk • Flat Iron Building
Philadelphia • 1319, Walnut Street
PITTSBURG • 338, Sixth Avenue
Portland, ME • 1, India Street
Quebec • 53, Dalhousie Street
San Francisco • 550, Market Street
Seattle, WASH. • 619, Second Avenue
St. John, N.B • 147, Prince William Street
St. Louis • 1101, Locust Street
Toronto • 41, King Street East
Washington • 1208, F Street, N.W
Winnipeg • 286, Main Street
TELEGRAPHIC Address for Each of The ABOVE Offices IMMERCO."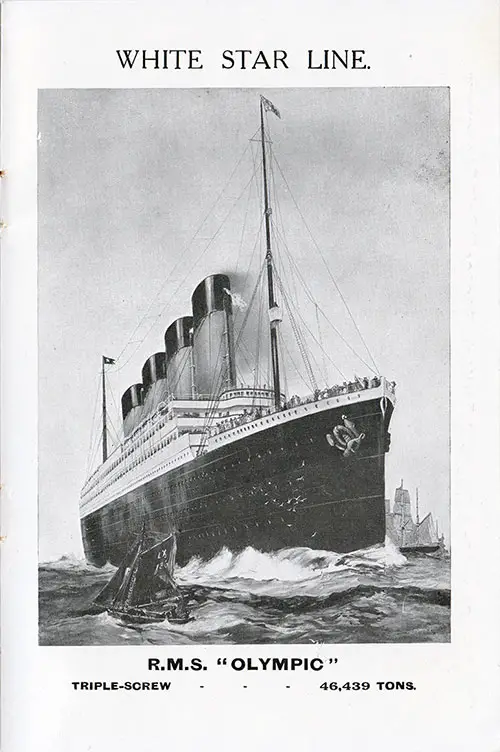 RMS "Olympic" Triple-Screw - 46,439 Tons