RMS Titanic Passenger List - 10 April 1912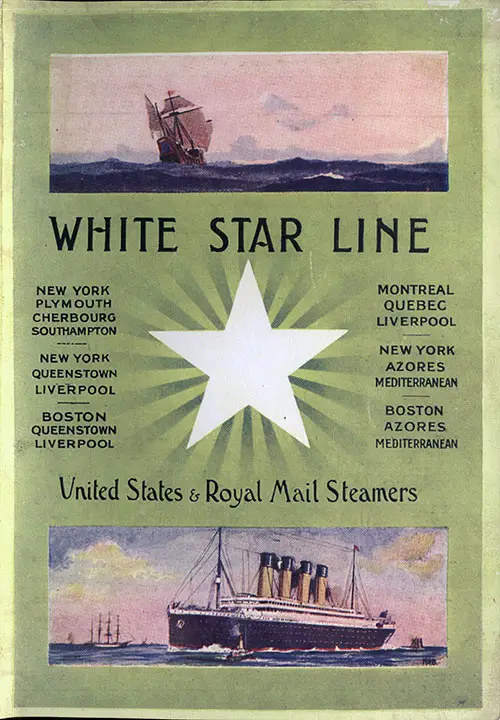 Front Cover, First Class (Saloon) Passenger List for the RMS Titanic of the White Star Line From Southampton to New York via Cherbourg and Queenstown (Cobh), Departing Wednesday, 10 April 1912, and Sunk on Sunday, 14th April 1912, Commanded by Captain E. J. Smith. GGA Image ID # 13cce0aebe
Senior Officers and Staff
Captain: E. J. Smith, R.D. (Cmdr. R.N.R.)
Surgeon: W. F. N. O'Loughlin
Asst. Surgeon : J. E. Simpson
Purser: H. W. McElroy
Purser: R. I. Barker
Chief Steward. A. Latimer
First Class Passengers
Miss Elizabeth Walton Allen
Mr. H. J. Allison
Mrs. H. J. Allison and Maid
Miss Allison
Master Allison and Nurse
Mr. Harry Anderson
Miss Cornelia I. Andrews
Mr. Thomas Andrews
Mrs. E. D. Appleton
Mr. Ramon Artagaveytia
Colonel J. J. Astor and Manservant
Mrs. J. J. Astor and Maid
Mrs. N. Aubert and Miad
Mr. A. H. Barkworth
Mr. J. Baumann
Mrs. James Baxter
Mr. Quigg Baxter
Mr. T. Beattie
Mr. R. L. Beckwith
Mrs. R. L. Beckwith
Mr. K. H. Behr
Mr. D. H. Bishop
Mrs. D. H. Bishop
Mr. H. Bjornstrom
Mr. Stephen Weart Blackwell
Mr. Henry Blank
Miss Caroline Bonnell
Miss Lily Bonnell
Mr. J. J. Borebank
Miss Bowen
Miss Elsie Bowerman
Mr. John B. Brady
Mr. E. Brandeis
Mr. George Brayton
Dr. Arthur Jackson Brewe
Mrs. J. J. Brown
Mrs. J. M. Brown
Mrs. W. Bucknell and Maid
Major Archibald W. Butt
Mr. E. P. Calderhead
Mrs. Churchill Cardell
Mrs. J. W. M. Cardeza and Maid
Mr. T. D. M. Cardeza and Manservant
Mr. Frank Carlson
Mr. F. M. Carran
Mr. J. P. Carran
Mr. William E. Carter
Mrs. William E. Carter and Maid
Miss Lucile Carter
Master William T. Carter
Mr. Howard B. Case
Mr. T. W. Cavendish
Mrs. T. W. Cavendish and Maid
Mr. Herbert F. Chaffee
Mrs. Herbert F. Chaffee
Mr. N. C. Chambers
Mrs. N. C. Chambers
Miss Gladys Cherry
Mr. Paul Chevré
Mrs. E. M. Bowerman Chibnall
Mr. Robert Chisholm
Mr. Walter M. Clark
Mrs. Walter M. Clark
Mr. George Quincy Clifford
Mr. E. P. Colley
Mrs. A. T. Compton
Miss S. R. Compton
Mr. A. T. Compton, Jr.
Mrs. R. C. Cornell
Mr. John B. Crafton
Mr. Edward G. Crosby
Mrs. Edward G. Crosby
Miss Harriett Crosby
Mr. John Bradley Cummings
Mrs. John Bradley Cummings
Mr. P. D. Daly
Mr. Robert W. Daniel
Mr. Thornton Davidson
Mrs. Thornton Davidson
Mrs. B. de Villiers
Mr. A. A. Dick
Mrs. A. A. Dick
Mr. Washington Dodge
Mrs. Washington Dodge
Master Washington Dodge
Mrs. F. C. Douglas
Mr. W. D. Douglas
Mrs. W. D. Douglas and Maid
Mr. William C. Dulles
Mrs. Boulton Earnshew
Miss Caroline Endres
Miss E. M. Eustis
Miss E. Evans
Mrs. A. Flegenhein
Mr. J. I. Flynn
Mr. B. L. Foreman
Mr. Mark Fortune
Mrs. Mark Fortune
Miss Ethel Fortune
Miss Alice Fortune
Miss Mabel Fortune
Mr. Charles Fortune
Mr. T. P. Franklin
Mr. T. G. Frauenthal
Dr. Henry W. Frauenthal
Mrs. Henry W. Frauenthal
Miss Marguerite Frolicher
Mr. J. Futrelle
Mrs. J. Futrelle
Mr. Arthur Gee
Mrs. L. Gibson
Miss D. Gibson
Mr. E. L. Goldenberg
Mrs. E. L. Goldenberg
Mr. George B. Goldschmidt
Colonel Archibald Gracie
Mr. Graham
Mrs. William G. Graham
Miss Margaret Graham
Mrs. L. D. Greenfield
Mr. W. B. Greenfield
Mr. Victor Giglio
Mr. Benjamin Guggenheim
Mr. George A. Harder
Mrs. George A. Harder
Mr. Henry Sleeper Harper and Manservant
Mrs. Henry Sleeper Harper
Mr. Henry B. Harris
Mrs. Henry B. Harris
Mr. W. H. Harrison
Mr. H. Haven
Mr. W. J. Hawksford
Mr. Charles M. Hays
Mrs. Charles M. Hays and Maid
Miss Margaret Hays
Mr. Christopher Head
Mr. W. F. Host
Mr. Herbert Henry Hilliard
Mr. W. E. Hipkins
Mrs. Ida Hippach
Miss Jean Hippach
Mrs. John C. Hogeboom
Mr. A. O. Holverson
Mrs. A. O. Holverson
Mr. Frederick M. Hoyt
Mrs. Frederick M. Hoyt
Miss A. E. Isham
Mr. Ismay and Manservant
Mr. Birnbaum Jakob
Mr. C. C. Jones
Mr. H. F. Julian
Mr. Edward A. Kent
Mr. F. R. Kenyon
Mrs. F. R. Kenyon
Mr. E. N. Kimball
Mrs. E. N. Kimball
Mr. Herman Klaber
Mr. Fletcher Fellowes Lambert-Williams
Mrs. F. A. Leader
Mr. E. G. Lewy
Mrs. Ernest H. Lines
Miss Mary C. Lines
Mrs. J. Lindstroem
Mr. Milton C. Long
Mr. J. H. Loring
Miss Gretchen F. Longley
Miss Georgette Alexandra Madill
Mr. J. E. Maguire
Mr. Pierre Mareehal
Mr. D. W. Marvin
Mrs. D. W. Marvin
Mr. T. McCaffry
Mr. Timothy J. McCarthy
Mr. J. R. McGough
Mr. A. Melody
Mr. Edgar J. Meyer
Mrs. Edgar J. Meyer
Mr. Frank D. Millet
Dr. W. E. Minahan
Mrs. W. E. Minahan
Miss Daisy Minahan
Mr. H. Markland Molsom
Mr. Clarence Moore and Manservant
Mr. Morgan
Mrs. Morgan and Maid
Mr. Charles Natsch
Mr. A. W. Newell
Miss Alice Newell
Miss Madeline Newell
Miss Helen Newsom
Mr. A. S. Nicholson
Mr. E. C. Ostby
Miss Helen R. Ostby
Mr. S. Ovies
Mr. M. H. W. Parr
Mr. Austin Partner
Mr. V. Payne
Mr. Thomas Pears
Mrs. Thomas Pears
Mr. Victor Penasco
Mrs. Victor Penasco and Maid
Major Arthur Peuchen
Mr. Walter Chamberlain Porter
Mrs. Thomas Potter, Jr.
Mr. Jonkheer J. G. Reuchlin
Mr. George Rheims
Mrs. Edward S. Robert and Maid
Mr. Washington A. Roebling II
Mr. C. Rolmane
Mr. Hugh R. Rood
Miss Rosenbaum
Mr. J. Hugo Ross
The Countess of Rothes and Maid
Mr. M. Rothschild
Mrs. M. Rothschild
Mr. Alfred Rowe
Mr. Arthur Ryerson
Mrs. Arthur Ryerson and Maid
Miss Ryerson
Miss Ryerson
Master Ryerson
Mr. AAdolphe Saalfeld
Mr. A. L. Saloman
Mr. Schabert
Mr. Frederic K. Seward
Miss E. W. Shutes
Mr. Silverthorne
Mr. William B. Silvey
Mrs. Willaim B. Silvey
Mr. Oberst Alfons Simonius
Mr. William T. Sloper
Mr. John M. Smart
Mr. J. Clinch Smith
Mr. R. W. Smith
Mr. John Snyder
Mrs. John Snyder
Mr. Frederick O. Spedden
Mrs. Frederick O. Spedden and Maid
Master R. Douglas Spedden and Nurse
Mr. W. A. Spencer
Mrs. W. A. Spencer and Maid
Dr. Max Stahelin
Mr. W. T. Stead
Mr. Max Frorlicher Stehli
Mrs. Max Frolicher Stehli
Mr. C. E. H. Stengel
Mrs. C. E. H. Stengel
Mrs. W. B. Stephenson
Mr. A. A. Stewart
Mrs. George M. Stone and Maid
Mr. Isidor Straus and Manservant
Mrs. Isidor Straus and Maid
Mr. Frederick Sutton
Mrs. Frederick Joel Swift
Mr. J. B. Thayer, Jr.
Mr. G. Thorne
Mrs. G. Thorne
Mr. G. M. Tucker, Jr.
Mr. M. R. Uruchurtu
Mr. Whchoff Van der Hoef
Mr. W. Anderson Walker
Mr. F. M. Warren
Mrs. F. M. Warren
Mr. J. Weir
Mr. M. J. White
Mr. Percival W. White
Mr. Richard F. White
Mrs. J. Stuart White, Maid and Manservant
Mr. George D. Wick
Mrs. George D. Wick
Miss Mary Wick
Mr. Goerge D. Widener and Manservant
Mrs. George D. Widener and Maid
Mr. Harry Widener
Miss Constance Willard
Mr. Duane Williams
Mr. R. M. Williams, Jr.
Mr. Hugh Woolner
Mr. George Wright
Miss Marie Young
Steamer Rugs and Chairs
Can be hired on application to the Enquiry Office, at a charge of 4/- (4 Shillings) each for the voyage.
Notice.
Landing Arrangements at New York
Should the Steamer arrive at the New York Wharf after 8:00 pm. Passengers may land if they wish to do so and have their baggage passed by the Customs authorities immediately on arrival, but those who prefer to remain on board may do so, and have their baggage passed the following morning not earlier than 7 o'clock. Breakfast will be served to those who remain on hoard overnight.
White Star Line ROUTES
New York Plymouth Cherbourg Southampton
New York, Queenstown, Liverpool
Boston, Queenstown, Liverpool
Montreal. Quebec, Liverpool
New York, AZORES, Mediterranean
United States & Royal Mail Steamers
Voyage Summary
Date of Voyage: 1912 April 10
Vessel: Titanic
Class: First Class Passengers
Route: Southampton » Cherbourg » Queenstown » New York
Captain: E. J. Smith, R.D. (Cmdr. R.N.R.)
Number of Printed Pages: 12
Transcription: Paul K. Gjenvick
Récapitulation:

First Class Passengers: 287 + 20 Maids + 2 Nurses + 8 Manservants
Senior Officers and Staff : 6

Notable Passengers: Not Researched
Language(s): English
Dimensions: 13.9 x 19.7 cm