SS California Passenger List - 24 May 1930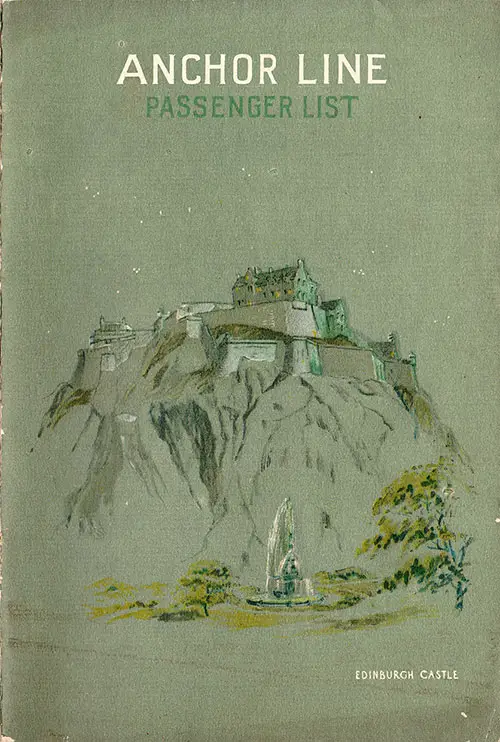 Front Cover of a Cabin and Tourist Third Cabin Passenger List from the SS California of the Anchor Line, Departing Saturday, 24 May 1930 from New York and Boston to Glasgow via Belfast, Commanded by Captain Robert Smart.
Senior Officers and Staff
Captain: Robert Smart
Chief Officer: Thos. W. Hawley
Chief Engineer: N. Nairne
Surgeon: W. Best
Purser: T. K. McGregor
Chief Steward: Archibald Woodrow
Tourist Third Cabin Purser: J. Patterson
Tourist Third Cabin Steward: Wm. Rae
Cabin Passengers
Embarking at New York
Mr. William Adams
Mr. Mark Allerton
Miss Margaret W. Allison
Mrs. M. A. Ballantyne
Mrs. Christine Bennett
Mr. Daniel Bennie
Mrs. Bennie
Miss M. Bennie
Mr. Charles C. Bernard
Mrs. Bernard
Miss Marie Bernard
Mr. J. L. Boyle
Mrs. Boyle
Mr. Boyse
Mr. Boyse
Mr. A. D. Brownlie
Mr. Calder
Mrs. Catherine Calderwood
Mr. T. K. Cheng
Miss Daly
Mr. C. Duncan
Miss Mary Ferry
Mr. W. R. Finnie
Miss F. Fitzpatrick
Miss Anna Fletcher
Miss Elizabeth Galway
Mr. John Gordon
Mr. Frank D. Haimes
Mr. Henry J. Hewat
Miss Jane Holden
Mr. J. D. Hutton
Mrs. Hutton
Miss Mary Hutton
Mrs. Catherine Jeans
Miss Mary Jeans
Master Frank Jeans
Dr. A. J. Jeffrey
Mrs. Annie B. Kneas
Mrs. S. Bryan Kneas
Mr. Y. Y. Leu
Mr. Donald MacDonald, III.
Mrs. J. McAnuff
Miss Patricia McAnuff
Mr. Robert McBratney
Mrs. Anna McBratney
Mr. Robert McCormick
Mr. McDonald
Mr. Walter McDougall
Mrs. James L. McEwen
Mrs. Owen McGuire
Mrs. Catherine McGuire
Mr. Tames McMillan
Mrs. McMillan
Miss Cecilia Malcolm
Mrs. M. Mathewson
Mr. John Melrose
Mr. H. Morley
Mrs. E. Morley
Rev. H. Andrew Morrison
Dr. Morrison
Miss Elsie Morrison
Mrs. J. Mulligan
Miss M. A. Olde
Miss M. R. Olde
Mr. James Oliver
Mrs. Oliver
Miss Nancy Oliver
Miss Mary Patterson
Mr. S. W. Phillips
Miss Quinn
Mrs. A. S. Reeves
Miss Jean B. Robertson
Miss Ellen Rooney
Miss Elisabeth Rooney
Mr. Thomas Sloss
Mrs. B. Stokes
Mr. W. J. Thompson
Miss M. A. Vint
Mr. Walter Westervelt
Mrs. Westervelt
Mrs. J. A. Wilson
Mrs. J. A. Wilson
Mr. Y. W. Wong
Embarking at Boston
Miss Adams
Mr. Lawrence Cockburn
Mrs. Cockburn
Mr. Frank T. Ferguson
Mrs. Ferguson
Mrs. Susan Goebel
Miss Emilv Hale
Miss H. Kelly
Mr. T. F. Lamood
Mrs. Lamond
Mrs. G. Henderson Lyonns
Miss Aim MacDonald
Mr. Phillip Moore
Miss Isabel Moore
Dr. H. A. Murray, Jr.
Mrs. Murray
Miss Josephine L. Murray
Mr. Thomas Payne
Mrs. John Carroll Perkins
Miss M. K. Randetl
Mrs. Alice K. Smith
Mr. Wallinger
Mrs. J. A. Wilson
Tourist Thrid Cabin Passengers
Embarking at New York
Addison, Mr. James
Addison, Mrs.
Addison, Master James
Aitken, Mrs. T.
Aitken, Master John
Aitken. Miss Mamie
Alexander, Miss E.
Allardyce, Mrs.
Amos, Mrs. Isabel P.
Amos, Master James R.
Amos, Master Douglas D.
Auld, Mr. John
Baikie, Miss Marjorie
Barclay. Miss J.
Barr, Miss Agnes
Bell, Mrs. Dorothy
Berry, Miss Isabelle P.
Black, Mrs. John
Blackie, Miss E.
Boag, Miss K.
Boag, Miss A. T.
Bogie, Mrs. Annie
Bogie, Mr. David
Brewster, Miss Sarah
Brown, Miss J. B.
Brown, Mrs. M.
Brown, Mr. K. L.
Bryce, Mrs. Elizabeth
Bryce, Miss Rose
Bryson, Mrs. Jane
Bryson, Master
Buchanan, Mr. C.
Burns, Mrs. John F.
Burns, Miss Iris E.
Cameron, Mrs. Isabella
Cameron, Miss Doris M.
Cameron, Master George
Campbell, Mr. J.
Campbell, Mr. J. Jr.
Candlin, Miss Mary
Cashel, Mr. J.
Chalmers, Mr. Francis
Chalmers, Mrs. Jane
Clark, Mrs. Jane
Clark, Mr. R. C.
Clark, Mrs.
Clark, Mr. T.
Clark, Mrs.
Clements, Mrs. E.
Clements, Mrs. H.
Clunie, Mrs. Jessie
Corbett, Miss Georgina M.
Cormack, Miss M.
Costello, Mrs. J. V.
Costello, Master
Craig, Miss H.
Cunningham, Mrs. Isabella
Currie, Mr. M.
Daines, Mrs. F. C.
Davidson, Mrs. C.
Dempster, Miss M. D.
Dickson, Mr. L. M.
Dickson, Miss Jean
Dinnage, Mrs. Hannah and infant
Doerr, Mrs. Lydia
Doerr, Mr. Alexander
Donnelly, Mr. Frank
Donnellv, Miss E.
Donnelly, Miss M.
Drack, Mrs. R. J.
Drummond, Mrs. J. P.
Duncan, Mrs. Mina
Duncan, Miss Bessie
Duncan, Miss Nessie
Eastland, Mr. John J.
Eastland, Mrs.
Easton, Mr. J.
Edward, Mrs. Caroline
Erwin, Mrs. J. M.
Fairley, Miss L.
Falconer, Mrs. E.
Fingland, Mrs. Isabella
Fingland, Miss Janet M.
Fingland, Mr. William
Finlayson, Mr. John G.
Finlayson, Mr. William
Finn, Mrs. Catherine
Fitzpatrick, Mr. John
Fitzpatrick, Mrs.
Fitzpatrick, Master
Fleming, Miss Mary
Fleming, Miss Millie
Floyd, Miss E.
Forrester, Mr. A. M.
Forrester, Mrs.
Forrester, Miss J.
Fosbrook, Mr. Walter
Franklin, Mrs. W. E.
Franklin, Miss Margaret
Fraser, Miss Jemima A.
Eraser, Mrs. W.
Fraser, Miss W.
Gardner, Mr. Hugh
Gardner, Mrs.
Gartley, Mrs. F.
Gartley, Miss J.
Gaston, Mr. Samuel
Gibb, Mrs. E.
Gilchrist, Mrs. Isabella
Given, Miss Mary J.
Gladfelter, Mrs. R.
Gourley, Miss Ann
Graham, Miss A.
Grant, Miss R.
Green, Mrs. Mary
Grieve, Mr. James
Grinton, Mr.
Grinton, Mrs.
Guthrie, Mrs. Jean
Guthrie, Master David
Hamilton, Mr. Matthew
Hanna, Mrs. Annie
Harkness, Miss C.
Hastie, Miss Elizabeth
Haxton, Mrs. Janet
Hay, Master G.
Hegarty, Miss M.
Henderson, Mrs. C.
Henderson, Miss Mona
Henry, Mr. John
Hepburn, Miss Agnes
Higgins, Miss Mary
Horner, Mrs. A.
Horner. Miss M.
Houston, Mrs. L.
Howieson, Mrs. A.
Hunt, Mr. P.
Hunt, Mrs.
Hunt, Miss M.
Hutchinson, Mrs. M.
Hutchinson, Master J.
Irvine, Mr. James A.
Jeans, Mrs. Catherine
Jeans, Miss Mary
Jeans, Master Frank
Johnston, Miss Mary
Johnston, Mrs. E.
Kane, Mr. H.
Kearney, Mrs. A.
Kearney, Mrs. William
Kearney, Master William J.
Kearney, Master Charles
Kearney, Master Frank
Kennedy, Mrs. J.
Kennedy, Mrs. Margaret
Kerr, Mrs. J.
Kerr, Mr. Robert
Kerr, Mrs. Agnes
Kerr, Mrs.
Kidd, Miss Ann
Kirkpatrick, Mrs. Catherine
Kirkpatrick, Miss Rhona
Lamont, Miss Martha
Levine, Miss M.
Lindsay, Mr. Robert
Little, Mrs. T.
Little, Master Thomas
Legie, Mrs. C.
Logie, Master Gordon
Logue, Mr. George F.
Lorimer, Miss Agnes
Low, Mrs. Mary W.
Low, Miss Margaret
Low, Master Archie
Lumsden, Mr. H.
Lutton, Mr. Ralph
Lyon, Mr. R.
Lyon, Mrs.
MacDougal, Miss Jessie
MacKay, Miss C.
MacKay, Miss M.
MacKenzie, Mrs. J.
MacLean, Mrs. M.
MacLean, Miss A.
MacLean, Master M.
MacLean, Mrs. D.
MacLeod, Mr. Allan J.
McArthur, Mrs. E.
McArthur, Master A.
McAskill, Mr. Alexander
McAskill, Mrs.
McClelland, Miss N.
McClelland, Mrs. LI.
McCubbin, Miss M.
McDowall, Mr. J.
McDowall, Mrs.
McEachan, Miss M.
McEwan, Mrs. C. and infant
McGivern, Miss Rose
McHenry, Mrs. Helen M. A.
Mclvor, Miss Martha
McKie, Miss Mary A.
McKinley, Mrs. W.
McKinley, Miss Violet
Mckinstrv, Mrs. J.
McKinstry, Miss Mabel
McLardy, Mr. Tan
McLaughlin, Mrs. Jessie
McLean, Mr. J. H.
McLellan, Miss Mary
McLennan, Miss Margaret
McLennan, Mrs. J.
McNeill, Mrs. Margaret
McNeill, Miss Dorothy
McWhinnie, Mrs. A.
Macpherson, Mrs. E.
Maddick, Mrs. Frances M.
Manderson, Miss C.
Mann, Miss C.
Marshall, Mrs. Andrina
Marshall, Master Rupert J.
Marshall, Mrs.
Massie, Mr. Alexander
Massie, Mrs.
Merritt, Mrs. M.
Mevatt, Miss J.
Miller, Miss J.
Milne, Miss Lilly
Molloy, Mrs. G. C.
Moore, Mrs. J.
Moore. Miss D. H.
Morris, Miss J.
Mulhall, Mr. P.
Mulhall, Mrs.
Mulhall, Miss C.
Mulhall, Master J.
Munro, Mr. N.
Munro, Mrs.
Murray, Mr. J. B.
Murray, Miss E.
Nash, Mr. George E.
Nash, Mrs.
Neal, Mr. Ernest J.
Neil, Miss L.
O'Donnell, Bro. Bede
O'Farrell, Mrs. Agnes
Ogilvie, Mr. Charles
Ogilvie, Mr. W.
Oliver, Miss Lilly R.
Oppenheim, Mr. Alexander
Orr, Mrs. J. R.
Paterson, Mrs. Margaret
Paterson, Master Robert
Paterson, Miss Margaret
Paton, Mr. David
Patterson, Miss M.
Pattison, Miss I.
Pattison, Miss R.
Paul, Mr. George
Pepworth, Mrs. Margaret
Pepworth, Miss Margaret
Power, Mrs. C.
Prentice, Mr. Robert
Prentice, Mrs.
Provan, Mrs. Jenny
Queen, Mrs. Jemina
Rafferty, Mr. P.
Rafferty, Mrs.
Raith, Miss Mary
Rankin, Mr. H.
Reid, Mr. George
Reid, Miss B.
Ritchie, Mr. R.
Ritchie, Mrs.
Roan, Mrs. J.
Roberts, Miss Mary A.
Roberts, Miss Elizabeth E.
Robertson, Mrs. Janet
Robertson, Miss Helen
Robertson, Master John
Robertson, Mrs. Janet
Robertson, Miss Margaret
Robertson, Miss I.
Robertson, Miss A.
Robertson, Mr. John
Robertson, Mrs.
Robertson, Miss Mary
Rodgers, Mrs. Grace
Rodgers, Miss Mary
Ross, Mr. T.
Ross, Mrs.
Roy, Miss Jessie
Russell, Mrs. M.
Russell, Mrs. Annie B.
Russell, Master John
Rutherford, Miss Isabella
Sands, Mrs. Lizzie
Sands, Miss Henrietta
Schoen, Mrs. Leonora
Scott, Mr. John
Scott, Mrs.
Scott, Miss Margaret
Sennette, Mrs. Mary
Sennette, Miss Dorothy
Sennette, Master Dick
Sennette, Miss Mary
Sharkey, Miss B.
Shearer, Mrs. Margaret
Shearer, Master Alexander
Shields, Mrs. Isabella
Shields, Master Albert McKay
Shields, Miss Barbara
Singer, Mrs. Catherine B.
Slingerland, Mrs. Jessie
Sloane, Mrs. Fred
Smith, Mrs. J.
Smith, Mrs. Margaret
Sommerville, Miss Annie
Spence, Dr. John
Spencer, Miss C.
Spencer, Mr. James
Stephen, Mr. George
Stevenson, Miss
Steward, Mrs. F.
Steward, Miss E.
Stewart, Mrs. M.
Stewart, Mrs. H.
Stewart, Master A.
Stewart, Miss E.
Stewart, Miss M.
Stewart, Mr. D.
Strain, Miss M.
Stratton, Mrs. Alexander
Stratton, Miss Margaret L.
Stuart, Mrs. Charlotte
Stuart, Master John K.
Sullivan, Mrs. C.
Sullivan, Master John J.
Tait, Mr. E. W.
Tait, Mrs.
Tait, Master G.
Tait, Mrs. Elizabeth
Thomas, Miss M.
Thomas, Miss
Thomson, Mrs. C.
Thomson, Master James
Thorburn, Mrs. Agnes
Todd, Mr. Tohn
Todd, Mrs.
Turk, Miss H.
Turner, Mrs. Margaret
Tyre, Miss Agnes
Uibel, Mrs. Catherine
Valentine, Miss Annie
Van Den Hoek, Mrs. A. M.
Ventor, Miss J.
Waldie, Miss R.
Watson, Mrs. J.
Watson, Master W.
Watson, Mrs. Jane P.
Watters, Mrs. J.
Weir, Mrs. Elizabeth
Whitelaw, Miss M.
Whitney, Mrs. Jessie
Willis, Miss V.
Wilson, Miss I.
Wright, Mrs. M.
Wyler, Mr. Johnston
Wyler, Mrs.
Wyler, Master Johnston R.
Wyler, Miss Margaret J.
Wylie, Mr. John
Yeats, Miss A. J.
Young, Mrs. Mary
Young, Master James W.
Young, Miss N.
Young, Mrs.
Young, Mr. William
Embarking at Boston
Adamson, Miss Mary
Atkins, Mrs. Jean I.
Atkins, Master Reginald C.
Barraclough, Mrs. George
Barrie, Mr. William
Boleyn, Mrs. Janet
Brown, Mr. Samuel
Brown, Master Samuel
Bruning, Mrs. Jessie
Collins, Miss Margaret
Connell, Mr. David
Connell, Mrs.
Costello, Mrs. Catherine
David. Mrs. Agnes
David, Miss Alice
Dickson, Mrs. William
Dickson, Miss Mary
Dovle, Miss Alice
Driver. Mr. H. B.
Esplin, Miss Jamima
Feeney. Miss Elizabeth
Forbes, Mr. William
French. Mrs. Esther
Gilmout. Miss Mathilda
Gould, Mrs. S. L.
Halkett. Miss Alice
Hastie, Mrs.
Houston, Mrs. Annie T.
Hughes, Mrs. Ada
Hughes, Master George B.
Hughes, Miss Florence B.
Hydman, Mr. John
Lawrence. Mrs. Frank
McCallum, Mrs. Elizabeth
McCallum, Master Kenneth
McMahon, Mrs. Catherine
McPherson, Mr.
Maguire, Mr. John
Marshall, Mrs. and child
Mondle, Mrs. Margaret
Morris. Mr. Adam
Morris, Mrs.
Munro, Mr. R.
Munro, Mrs.
Munlock, Mrs. Catherine
Murdock, Master Logan
Murdock, Miss Betty
Murdock, Master George
Noble, Mr. A. W.
Noble, Mrs.
Paterson. Mr. William
Quinn, Miss Bridget
Scobie, Mr. Charles
Scott. Mr. William
Shannon, Miss Catherine
Shannon, Miss C.
Sheves, Mr. Andrew
Sheves, Mrs.
Soutar, Miss Dorothy
Tawse, Mrs. Alexander
Tawse, Master Alexander
Tawse, Miss Margaret
Templeton, Mr. William
Thomson, Miss Christina
Todd, Miss Elizabeth
Troughton, Mrs. Sarah
Troughton, Master John F.
Younger, Mr. George
Information for Passengers
THE BAR will be closed at 11:00 pm
DIVINE SERVICE may be held In the Saloon (weather permitting) once every Sunday between 11 and 12. For those who so desire facilities are provided for the celebration of Mass.
ADDITIONAL PASSAGE MONEY OR FREIGHT paid on board passengers should obtain a receipt on the Company's form.
WARDROBE TRUNKS—Tlie attention of passengers is called to the fact that the steamer has a Baggage Room whore trunks may be stored during the voyage. It is not always possible to have large wardrobe trunks placed in an accessible position in passengers' staterooms.
BAGGAGE—Enquiries regarding baggage on board ship should be addressed to the Baggage Master.
Trunks, Wraps, etc., may be stored and re-shipped by the Company for the return voyage.
To facilitate examination and identification of baggage on landing all packages should have an initial label afllxed; these labels are supplied on board on application.
BAGGAGE INSURANCE—Passengers are recommended to insure their baggage, as, in the event of loss or damage, the Company cannot accept liability beyond the limit specified on the Steamer Contract Tickets. Rates and particulars on application.
BARBER'S SHOP—Barber's shop Is on board for the convenience of passengers. The barber will attend to ladies by appointment.
CLOTHES PRESSING—Application should be made to the barber, from whom rates and other particulars can be obtained.
COMPLAINTS—Complaints of incivility, carelessness or inattention on the part of any of the ship's staff should be Immediately reported to the Purser or Chief Steward and failing satisfaction, to the Captain.
KIOSK—Passengers can obtain confectionery, toys, souvenirs. etc., in the Kiosk.
DECK CHAIRS AND RUGS may be hired at a cost of 6/3 (or $1.50) each on application to the Deck Steward. At the end of each voyage the rugs which have been in use are sent to the store and thoroughly cleaned before being re-Issued.
DRAFTS are issued, free of charge, payable In currency at any of the Offices of the Company in the United States and Canada, and, similarly, drafts are issued in the United States and Canada payable at any of the Company's Offices in the United Kingdom in sterling, or at the Company's Offices in Europe in the currency of the country on which they are drawn.
DOGS AND CATS—Passengers are notified that dogs and cats cannot be landed in Great Britain unless a license lias been procured from the Board of Agriculture, London. Forms of License can only be obtained by direct application to the Depart incut before the dog or cat is taken on board.
LIBRARY—Library Books may be obtained on application to the Librarian. The Books are issued free of charge.
MEALS—Breakfast, 8:00 am to 10:00 am; Lunch, 1:00 pm; Dinner, 7:30 pm
When two sittings are necessary, meals will be as follows:
Breakfast, 8:00 am to 10:00 am; Lunch, 1st sitting 12:30 pm; 2nd sitting, 1:30 pm
Dinner, 1st sitting, 6:15:00 pm 2nd sitting, 7:30 p m.
Passengers may reserve seats at table for the voyage on application to the Chief Steward.
CHILDREN'S MEALS—Breakfast, 9:00 am; Dinner, noon; Tea, 5:00 pm to 6:00 pm
PORT HOLES—Passengers are requested not to open the port holes. The Stewards will do this whenever practicable.
REDIRECTION OF MAIL—Passengers who expect letters or parcels to be delivered to the ship after they have disembarked should leave their full names and addresses at the Bureau in order that their mail may be forwarded to them.
RETURN BOOKINGS—The Purser and his staff will at all times be pleased to assist passengers to arrange their return passages, or to supply them with the name and address of the agent in the town to which they are proceeding.
RAILWAY TIME-TABLES—Railway and steamer time-tables may be consulted on application to the Librarian.
DISEMBARKATION ARRANGEMENTS AT LONDONDERRY— Passengers landing at Londonderry disembark by tender off Moville, whence they are taken to Londonderry—a distance of about 17 miles—the journey, by tender, taking about 1 and 1/4 hours.
No passengers land at Moville; baggage is inspected at Londonderry. Moville Is in the Irish Free State whereas Londonderry is in Northern Ireland.
The distance, by rail, from Londonderry to Belfast is 100 miles, and from Londonderry to Dublin 163 miles.
DISEMBARKATION AT GLASGOW—Passengers disembark either by tender at Greenock—which is on the River Clyde about 20 miles from Glasgow—or go up the river and disembark at Yorkhill pier, which is within easy reach of the principal railroad stations in Glasgow.
Passengers disembark at one or the other of the places mentioned according to the state of the tide, also the time of arrival of the steamer off Greenock.
When passengers disembark at Greenock and customs formalities have been gone through, they are conveyed, free of charge, to Glasgow, either by a special or regular train; if the number of passengers does not warrant a special train, coaches are attached to a regular train for the convenience of Anchor Line Passengers.
RECOVERY OF U. S. HEAD TAX—This tax can be recovered by Passengers, if same has been paid, provided they inform U. S. Immigration Inspector on arrival at New York of their intention to leave the United States within sixty days (tlie time prescribed by U. S. Law), and obtain from him Transit Certificate Form 514.
It is also necessary for Transit Certificate Form 514 to be handed to the transportation company when completed, in time to allow same to be placed before the Immigration Authorities in Washington within one hundred and twenty days of Passenger's arrival in the United States.
Unless this regulation is complied with, the Tax cannot be recovered.
SMOKING—Children are not allowed in tlie Smoke-room. Smokers are requested to be careful when smoking on deck to see that cigars, cigarettes and pipe ashes are extinguished before being thrown away.
STORAGE—The Company will undertake to store Deck Chairs and Steamer Trunks belonging to passengers at owner's risk until they are required when returning.
Chairs and Trunks should have owner's name painted on them, and they will not be reshipped without instructions being sent to Baggage Master, Anchor Line, York hill Quay, Glasgow.
A description of the articles should be given, also name of steamer from which they were landed and date. No shawls, rugs, etc., to be attached to Chairs. No charge for storage is made if the owners return by the Company's vessels. If Chairs or Trunks are forwarded by rail this is done at owner's risk and expense.
THE SURGEON is authorized to make customary charges for his service subject to the approval of the Commander, to First Class, Cabin, Second Class and Tourist Third Cabin passengers.
TOBACCO, SPIRITS, etc.—Tobacco, cigars, cigarettes, wines, spirits and perfumery are liable to duty on being brought into the United Kingdom, and even the smallest quantities should be declared to the Customs authorities.
THE DAILY MAIL ATLANTIC EDITION, giving the latest news by wireless and the closing prices on the London and New York Stock Exchanges, is published on board. The paper will be delivered each morning to the passenger's stateroom if an order is given to the Bedroom Steward.
THROUGH BOOKINGS TO GIBRALTAR, EGYPT AND INDIA—The Anchor Line steamers engaged in this service have excellent Saloon accommodation. Full particulars as to Fares, etc., on application.
VALUABLES—The Company is not responsible for the theft of valuables or money if kept in state-rooms. All such articles may be deposited free of charge, in the ship's safe, under the care of the Purser.
Passengers are warned that they should not on liny account part with money or valuables to any persons representing themselves as members of the ship's staff.
ANCHOR LINE New York and Glasgow Service
SERVICES
To and From
New York, Londonderry and Glasgow
Boston, Londonderry and Glasgow
Glasgow, Manchester, Liverpool
Gibraltar, Port Said, Suez and Bombay
Bombay to Marseilles
Fleet
TSS "CALEDONIA" 17,000 Tons
TSS "CALIFORNIA" 17,000 Tons
TSS "TRANSYLVANIA" 17,000 Tons
TSS "TUSCANIA" 17,000 Tons
TSS "CAMERONIA" 16,365 Tons
SS "BRITANNIA"8,464 Tons
SS "ASSYRIA" 8,142 Tons
SS "CASTALIA" 6,600 Tons
SS "CIRCASSIA" 6,861 Tons
SS "ELYSIA" 6,757 Tons
SS "MASSILIA" 5,156 Tons
SS "TARANTIA" 4,939 Tons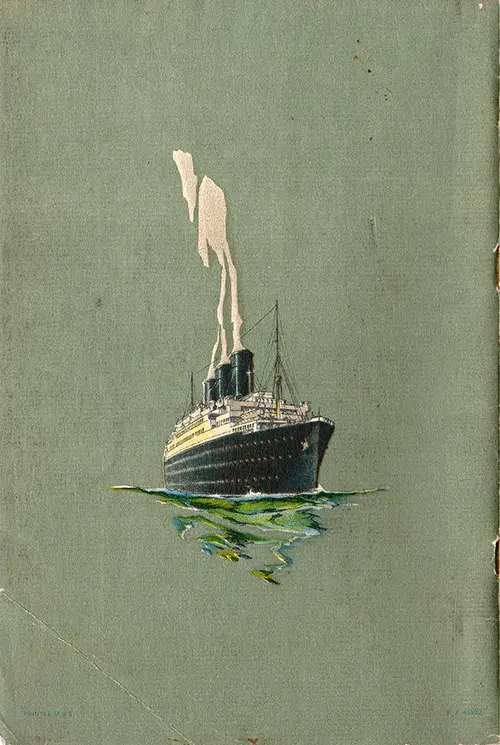 Back Cover of a Cabin and Tourist Third Cabin Passenger List from the SS California of the Anchor Line, Departing Saturday, 24 May 1930 from New York to Belfast and Glasgow via Boston.