SS Columbia Passenger List - 17 August 1912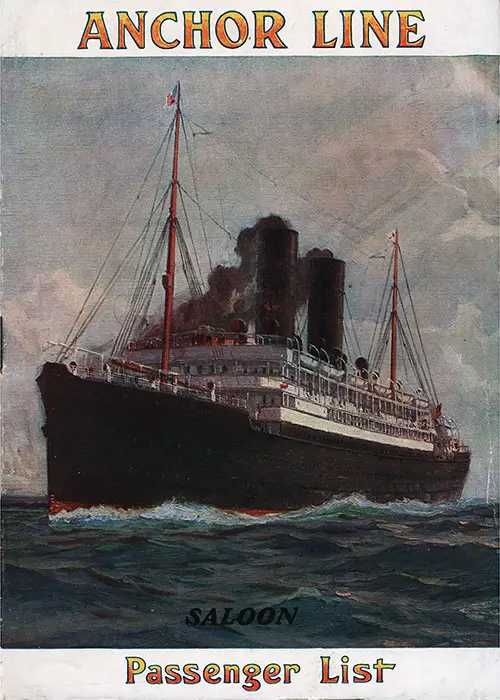 Front Cover of a Saloon Passenger List for the SS Columbia of the Anchor Line, Departing Saturday, 17 August 1912 from Glasgow to New York via Moville, Commanded by Captain John Black. The ship arrived in New York on 25 August 1912. GGA Image ID # 172ff2589c
Senior Officers and Staff
Captain: John Black
Surgeon: David Moffatt
Purser: A. C. McCall
Chief Steward: T. White
Stewardess: Mrs. Wright
Stewardess: Mrs. McMenamie
Saloon Passengers
Mr. H. L. Allen
Mr. W. K. Baillie
Mr. George M. Barr
Mr. Hy Barry
Miss Margt. Bell
Mrs. Bell
Mr. Byron W. Benson
Miss L. Bond
Mr. Robert Boyd
Mrs. Wm. M. Brewster
Miss Dorothy Brewster
Mr. Brown
Mrs. Brown
Miss M. E. Cameron
Mr. F. M. Campbell
Mr. Charles M. Clarkson
Mrs. Clarkson
Mrs. Nellie D. Clement
Miss Grace K. Crumb
Miss Frances Crumb
Miss Nina G. Crumb
Mr. W. Morgan Davies
Mrs. Alice Davis
Mr. H. E. Davison
Mrs. H. E. Davison
Miss Ethel Davison
Mrs. V. E. Dessart
Mr. John Lewthwaite Dewar
Mrs. Dewar
Mr. James M. Dewey
Mrs. Dewey
Miss Agnes Dougal
Miss A. Sarah Drake
Mrs. H. C. Elliot
Miss H. Elliott
Miss Pearl Embree
Mr. A. Ferrie
Mrs. Ferrie
Miss Grace Fraser
Miss Bertha S. Fulton
Miss Elizabeth A. Gatter
Miss G. Gatter
Mr. Gilmore
Mrs. May Louise Goodall
Mr. John Grant
Mr. Thos E. Greene
Mrs. Greene
Master Jas. V. Greene
Miss Hallie Groce
Miss Olive Hartwig
Miss Cherry Head
Mrs. Caroline Henwood
Miss Marian Henwood
Miss May Hifley
Miss Mamie Howren
Miss Frances A. Jay
Miss Marie L. Jones
Miss Bertha Jones
Miss Dorothy Kelsey
Miss Vera Kelsey
Mr. Herbert Kirkwood
Miss Helen Knapp
Mr. E. H. Landon
Mrs. Landon
Miss Ruth Landon
Miss Lucy Landon
Miss Daisy Leake
Mr. John Milner Lester
Mrs. Florence Lester
Miss Myrtle D. Lester
Master Geoffrey M. Lester
Miss Caroline E. Lester
Miss Lutie Long
Mr. Fredric A. Lucas
Mrs. Lucas
Mr. Wm. F. McGowan
Mrs. H. L. McGregor
Mr. F. McLaren
Mr. Abraham McNamara
Miss Jessie A. McWilliams
Mr. H. S. Mallalieu
Miss Caroline Margues
Miss Foy Marshall
Miss Edith F. Matheny
Mr. Archibald J. Meston
Rev. J. C. Mimms
Mr. David A. Mitchell
Mrs. Mitchell
Miss Matie Mitchell
M R. Moffatt
Miss C. Montgomerie
Mrs. Susan Moodie
Miss Effie S. Moodie
Master George Moodie
Miss Mamie Moore
Mrs. Mortland
Miss Elizabeth Mortland
Miss Mabel Mortland
Master Edward Mortland
Miss Carolyn B. Mountain
Mr. Alexander S. Paton
Miss Jessie Patterson
Miss Ruth Petersen
Miss Pearl Petersen
Miss Azalete Pidcocke
Miss B. Poison
Dr. J. L. Porteous
Mr. Wm. H. Porter
Mr. Robert Kerr Porter
Mrs. F. Putney
Mrs. A. C. Regan
Mr. John M. Reid
Mr. William Ritchie
Mrs. Ritchie
Miss Dorothy Ritchie
Master Morrison Ritchie
Miss Arviila Robertson
Miss Clara Robinson
Mrs, W. E. Robinson
Miss Helen Robinson
Miss Margaret M. Robinson
Mr. Irving L. Roe
Miss Olive C. Ross
Mr. W. J. Roulston
Mr. Julius Schuh
Miss Mamie Sherard
Miss Louise Sherman
Mr. Alex. Smith
Mrs. Smith
Miss J. C. Smith
Master W. L. Smith and Nurse
Mr. David Smith
Miss Louise Smith
Mr. T. Guthrie Speers
Mr. E. Stevenson
Mrs. Rosa M. Swearengen
Master Jas. D. Swearengen
Miss Ida May Swearengen
Miss Sarah B. Swearengen
Miss Blanche Talbot
Miss L. Tate
Mr. Winfield J. Taylor
Mr. Miles G. Thompson
Mr. James B. Thomson
Mrs. M. L. Thomson
Master J. M. Thomson
Master James Thomson
Miss Grace Townley
Miss Emma C. Tucker
Miss Ella Warner
Mr. George A. Wigman
Mrs. Wigman
Miss Mollie T. Wilson
Miss Marion Wilson
Mr. Randolph C. Wilson
Mr. R. Wimmers
Miss Earl Winn
Dr. T. F. Wolfe
Miss Mary F. Wolfe
Rev. S. B. Wylie
Mrs. S. B. Wylie
Mr. Hugh Wylie
Miss Jeannette Wylie
Miss Ella Yakey
Mr. John Young
Mrs. Young
Mr. William R. Young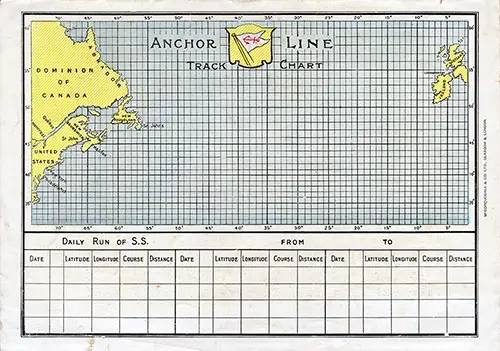 Track Chart, Unused, from the 17 August 1912 Voyage of the SS Columbia. GGA Image ID # 1da592e383
Information for Passengers
SALOON
Meals will be served in the Saloon at the following times:
Breakfast from 8 to 10:
Luncheon at 1 p.m.;
Dinner at 6:30.
Supper, if required, will be served before 10 o'clock.
The Bar will be closed at 11 p.m. and the Smoke Room at 11-30 p.m.
Seats at Table.—The Chief Steward has the arrangement of the seats at table.
Forms, Stamps, Etc.—Music Room Steward is provided with Telegraph Forms, Stamps, etc. Telegrams and Letters for despatch to be handed to this Official (fully prepaid) one hour before leaving Moville. This Official will also provide Railway Time 'Fables for use of Passengers.
Divine Service may be held (once) on Sunday.
Dogs.—Passengers are notified that dogs cannot be landed in Great Britain unless a license has been previously procure d from the Foard of Agriculture, London. Forms of license can only be obtained hv direct application to the Department before the dog is taken on board. Dogs may be taken on certain dates and by special agreement only.
Baggage.—All enquiries regarding baggage should be made to the Second Steward and Trunks, Wraps, etc., will be received, stored and shipped by the Company for the return voyage. The Second Steward will provide Passengers with Initial Labels for Boxes, so as to facilitate examination of baggage on landing.
Steamer Chairs may be hired from the Deck Steward at a cost of $1.00 for the voyage. Printed receipt to be obtained by Passengers for this hire.
Valuables.—The Company is not responsible for the loss of money or valuables. The Purser will be glad to place such in his safe, if Passengers so desire. As no charge is made for carriage, the Company cannot accept any responsibility for loss or damage, however arising, but Passengers can protect themselves by Insurance.
Receipts.—Passengers should obtain a receipt on the Company's form for any additional Passage Money or Freight paid on board.
Glasgow to New York Passengers.—Passengers joining Steamers for New York at Londonderry, must be at our Office there not later than 3 o'clock Afternoon on day Steamers leave Glasgow.
Customs.—Tobacco, cigars, etc., wines, spirits and perfumery are liable to duty on being brought into the United Kingdom, and the smallest quantities should be declared to the Customs authorities when required. Reprints of copyright books and music will be confiscated.
Surgeon.—Each Steamer carries an experienced Surgeon, who is authorized to make customary charges, subject to the approval of the Commander, for treating Saloon Passengers at their request for any illness not originating on board the ship. In the case of sickness contracted on board no charge will be made and medicine will be provided free.