SS Cameronia Passenger List - 31 July 1926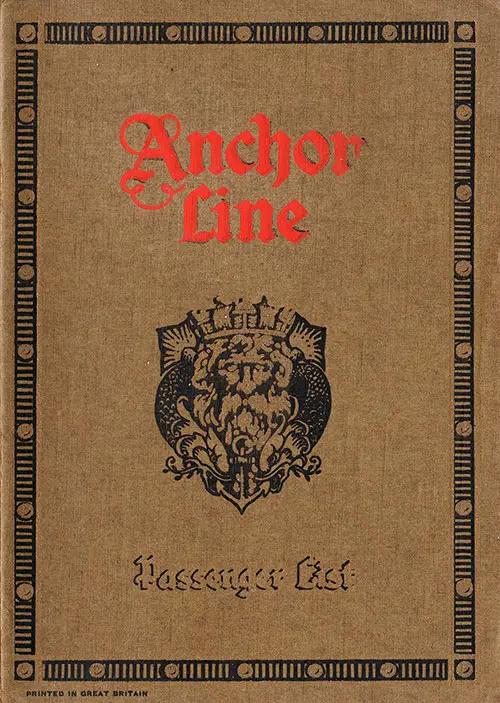 Front Cover of a Cabin Passenger List for the TSS Cameronia of the Anchor Line, Departing Saturday, 31 July 1926 from Glasgow to New York via Moville, Commanded by Captain Robert Smart.
Senior Officers and Staff
Captain -- Robert Smart
Chief Officer Andrew Fraser
Chief Engineer Robert Greenshields
Surgeon Daniel Murphy
Purser Alastair McGilvray
Chief Steward George Morrison
Saloon Passengers
Mr. Arthur L. Barney
Mrs. Barney
Mr. William H. Bothwell
Mr. William H. Brown
Mrs. Brown
Master William D. Brown
Miss Mona A. Brown
Mr. James Cochrane
Mr. John E. Cochrane
Mr. Thomas Cuthbertson
Mrs. Cuthbertson
Miss J. Cuthbertson
Miss Jean Darrell
Mrs. Darte
Mr. Robert Hill
Mrs. Hill
Mr. James Livingston
Mrs. Livingston
Master Donald Livingston
Judge Charles P. McClelland
Mr. Donald MacLeod
Miss Henrietta MacLeod
Lt.-Col. Donald M. MacLeod
Mr. Caul H. Milam
Mr. James Miller
Mr. A. D. Noel-Paton
Mr. John G. Paul
Miss Helen Ross
Miss Laura Schnabel
Miss Margaret Stark
Mrs. Stark
Mr. William J. Tillson
Mrs. Tillson
Mr. Elias Z. Wallower
Mrs. Wallower
Mr. Franklin L. S. Walter
Miss Martha S. Wettnauer
Second Class Passengers
Mrs. Eliz. Aitken
Mr. Peter Allan
Mr. James Allan
Mr. Wm. Alexander
Mr. John Anderson
Mrs. Helen Anderson
Mr. Philip Anderson
Mrs. Margaret Anderson
Master John Anderson
Miss Williamina Anderson
Mr. John Archer
Mr. John Backus
Mr. Donald Barrie
Mrs. Elizabeth S. Beattie
Mr. Thomas James Beatty
Mr. William Bennet
Miss Elizabeth Black
Miss Evelyn Black
Mrs. Agnes Blackadder
Mr. Martin Boyd
Mr. John Boyd
Mr. John Bryan
Mr. E. W. Burr
Miss Elizabeth Cameron
Mr. Archibald Campbell
Mr. Edward Campbell
Mr. Robert Campbell
Mrs. Agnes Campbell
Miss May Carson
Miss Jeannie Castles
Mr. Robert Conn
Mr. Joseph Connell
Mr. James Coyle
Mrs. Joseph Craft
Miss Jeannette Craft
Miss Nellie Cranmer
Miss Isabella M. Crossan
Mr. Wm. Crawford
Mrs. Anna Crawford
Mrs. Mary G. Crawford
Mrs. Margaret Cumisky
Miss Mary Cumisky
Mrs. Eliz. S. Denton
Mr. Michael Kevin Devine
Mrs. Margaret Dick
Dr. William B. Doherty
Mr. Archibald Donachie
Mr. Hugh Donoghue
Mrs. Rose Donoghue
Master John Donoghue
Master Thomas Donoghue
Master Hugh Donoghue
Mrs. Helen R. Dorans
Master Cornelius Dorans
Miss Helen Dorans
Miss Mary Dorans
Mrs. Annie Downs
Mr. William Downs
Mr. William Dunlap
Miss Hazel Dunlap
Mr. William K. Dunn
Miss Annie Einhorn
Mr. Elias Einhorn
Mr. Aaron Einhorn
Mr. John Elliott
Miss Eliz. Ewing
Miss Janet M. Ferguson
Mr. George Fleck
Mrs. Margaret Florence
Miss Marion Forsyth
Mr. James M. Fraser
Mr. James Gardner
Mrs. Anne Gormley
Miss Margaret Hadden
Miss Eleanor M. Henderson
Mr. Richard Hodge
Mrs. Isabella Hollinsworth
Miss Nan Howell
Mr. M. Y. Hughes
Mrs. Jane Hume
Mrs. Jolly
Miss Agnes Keelty
Mrs. Caroline Kelly
Master Matthew Kelly
Mr. Edward J. Kelly
Miss Barbara Kennedy
Miss Alexanderina Kennedy
Mrs. Nellie Kidd
Miss Ella Kidd
Miss May Kidd
Mr. William Kyle
Mrs. Elizabeth Laing
Mr. William Lang
Mrs. Williamina Lang
Miss Alice Leckie
Mr. Patrick Leddy
Miss Agnes C. Lemmon
Mrs. John Levack
Billy Levack
Miss Jessie Levack
Master John Levack
Mr. Walter Lindsay
Miss Mary Logan
Miss Agnes Lumsden
Mrs. Elizabeth McBride
Miss Kathleen McBride
Mr. James McCartney
Mrs. McCartney
Mr. Andrew McCleary
Miss Elizabeth McCrorie
Miss Jane McCully
Miss Annie McCully
Mr. Donald Macdonald
Miss Jane Ann McElduff
Mr. James McElduff
Mr. John McFarlane
Mrs. Lilian McFarlane
Mr. Peter McGuirk
Mr. John McKee
Miss Kathleen McLarnon
Mrs. Mabel McLay
Master Robertson McLay
Master Andrew Allay
Dr. D. McLean
Mrs. Jessie McLearie
Miss M. J. MacTaggart
Miss Jessie Marshall
Rev. Walter G. Menzies
Mrs. H. S. Menzies
Master Robert G. Menzies
Master Walter P. Menzies
Miss Dorothy Menzies
Mr. Lyell Mitchell
Miss Mary Aim Molloy
Mrs. J. E. Moncrieff
Mrs. Bridget Morgan
Mrs. Elizabeth Mowery
Miss Gertrude Mowery
Mr. James Muir
Mr. Allan Muirhead
Mrs. Edith Muirhead
Mrs. Isabella Nelson
Miss Isabella Nelson
Miss Catherine Nelson
Mr. Thomas Nelson
Miss Kate O'Donnell
Mrs. Isabella Owens
Miss Margaret Owens
Mrs. Henrietta Paterson
Miss Jessie Paterson
Master John G. Paterson
Miss Matilda Patterson
Mr. James Rahill
Mr. John F. Ramsay
Mrs. Ramsay
Miss J. E. Ramsay
Mr. David Rarity
Mr. Hugh Reilly
Mr. David Ritchie
Mr. James Ritchie
Miss Ann P. Robertson
Mr. Wm. Robertson
Mrs. Robertson
Mrs. Mary Ross
Mr. James Scott
Miss Jean Sim
Miss Agnes Smith
Mr. Alexander Smith
Miss Mary Ellen Smith
Mr. Harry T. Smith
Mrs. H. T. Smith
Mrs. Margt. K. C. G. Smith
Master Walter Smith
Mrs. Jane Spence
Mrs. Mary H. Stewart
Miss Catherine Stewart
Miss Catherine Stott
Miss Bretta M. Taggart
Miss Agnes Turnbull
Mr. Mark Turnbull
Mr. Thos. A. Watt
Miss Alexandra H. Waugh
Mr. David Williamson
Mrs. Bessie Wilson
Master John Chalmers Wilson
Miss Delia Wymbs
Mr. D. G. Young
Mrs. Jean Young
Miss Catherine Young
Mrs. W. J. Young
Information for Passengers
Additional Passage Money or Freight paid on board—Passengers should obtain a receipt on the Company's form for such disbursements.
Baggage.—Enquiries regarding baggage on board ship should be addressed to the Second Steward.
Trunks, Wraps, etc., will be stored and re-shipped by the Company for the return voyage.
To facilitate examination and identification of baggage on landing, all packages should have an official label affixed; these labels are supplied on board on application.
Baggage Insurance.—Passengers are recommended to insure their baggage, as, in the event of loss or damage, the Company cannot accept liability beyond the limit specified on the Steamer Contract Tickets. Rates and particulars on application.
Bar closes at 11:00 pm
Barber's Shop.—Barber's Shop is situated on board for the convenience of Passengers. The Barber will attend to ladies by appointment.
Cables and Telegrams.—Cables and Telegrams for despatch by ordinary land wire should be handed in at the Wireless Telegraph Office. The time of acceptance for cables and telegrams to be sent by ordinary land wire will be intimated on the Notice Boards.
Wireless, Cable and Telegraph forms may be obtained from the Librarian or Wireless office.
Clothes Pressing.—Application should be made to the Barber, from whom rates and other particulars can be obtained.
Complaints.—Complaints of incivility, carelessness or inattention on the part of any of the ship's staff should be immediately reported to the Purser or Chief Steward, and failing satisfaction to the Captain.
Confectionery and Souvenirs.—Confectionery and Souvenirs are on sale at reasonable prices.
Copyright Books and Music are forbidden and will be confiscated by the Customs authorities.
Deck Chairs and Rugs may be hired for the voyage at the Company's offices or from the Deck Steward. Printed receipt to be obtained by Passengers for this hire.
Divine Service may be held in the Saloon (weather permitting) once every Sunday forenoon.
Dogs.—Returning Passengers are notified that Dogs cannot be landed in Great Britain unless a licence has been procured from the Board of Agriculture, London. Forms of Licence can only be obtained by direct application to the Department before the dog is taken on board.
Dogs can only be carried by special arrangement being made with the Company prior to embarkation. Whilst on board they are not permitted in any of the public rooms or staterooms.
Drafts are issued, free of charge, payable in currency at any of the Offices of the Company in the United States and Canada, and, similarly, drafts are issued in the United States and Canada payable at any of the Company's Offices in the United Kingdom in sterling or at the Company's Offices in Europe in the currency of the country on which they are drawn.
Information.—If Passengers are in doubt on any point appertaining to their ocean voyage, or railroad journey, they are advised to consult the Purser, who will be pleased to give any assistance or information desired.
Library.—Library Books may be obtained on application to the Librarian. The Books are issued free of charge.
Lifebelts.—Lifebelts must not be removed from staterooms, except in cases of extreme danger and necessity.
Lights in Saloon until 11:00 pm; in public rooms until 11:30 pm
Meals.—Breakfast, 8:00 am to 10:00 am; Lunch, 1:00 pm; Dinner, 7:00 pm
When two sittings are necessary, meals will be served as follows :-
Breakfast, 8:00 am to 10:00 am;
Lunch, First sitting, 12:30 pm; Second sitting, 1.30 pm
Dinner, First sitting, 6:15 pm; Second sitting, 7.30 pm
Passengers may reserve seats at table for the voyage on application to the Chief Steward.
Meals cannot be served in cabins or on deck unless with the Surgeon's permission.
Children's Meals—Breakfast, 9:00 am; Dinner, noon; Tea, 5:00 pm to 6:00 pm
Ports.—Passengers are requested not to open the ports. The Stewards will do this whenever practicable.
Postage Stamps.—Postage stamps are on sale at Purser's Bureau. A Notice will be displayed stating the hours at which stamps may be obtained and also the latest time for posting mail matter on board.
Railway Time Tables.—Railway and steamer time tables may be consulted on application to the Librarian.
Recovery of U.S. Head Tax.—This tax can be recovered by Passengers, if same has been paid, provided they state on the Declaration Form (in Column 20), at time of booking, that they will return within sixty days (the time prescribed by United States Law).. They must also inform the Immigration Inspector at the Port of Landing and request from him Certificate Form 514.
It is also necessary for Transit Certificate Form 514 to be handed to the Transportation Company when completed, in time to allow same to be lodged with the American Authorities within one hundred and twenty days of Passenger's arrival in the United States.
Unless this regulation is complied with the Tax cannot be recovered.
Redirection of Mail.—Passengers who expect letters or parcels to be delivered to the ship after they have disembarked should leave their full names and addresses at the Bureau in order that their mail may be forwarded to them.
Return Bookings.—The Purser and his staff will at all times be pleased to assist Passengers in the arranging of their return passages, or to supply them with the name and address of the agent in the town to which they are proceeding.
Smoking.—Cigarettes smokers are requested to be careful when smoking on deck to see that cigarettes are extinguished before being thrown away. Children are not allowed in the Smoking Room.
Storage.—The Company will undertake to store Deck Chairs and Steamer Trunks belonging to Passengers at owner's risk until they are required when returning. Chairs and Trunks should have owner's name painted on them, and they will not be re-shipped without instructions being sent to Baggage Master, Anchor Line, Yorkhill Quay, Glasgow, or, in the case of Italian Ports, care of Anchor Line, Genoa, or Anchor Line, Naples. A description of the articles should be given, also name of steamer from which they were landed and date. No shawls, rugs, &c., to be attached to Chairs. No charge for storage is made if the owners return by the Company's vessels. If Chairs or Trunks are forwarded by rail this is done at owner's risk and expense.
Table-Seating.—The Chief Steward has the arrangement of table-seating.
The Surgeon is authorized to make customary charges, subject to the approval of the Captain, for treating Saloon and Second Class Passengers at their request for any illness not originating on board the ship. In the case of sickness contracted on board no charge will be made and medicine will be provided free.
Through Bookings to Gibraltar, Egypt and India.—The Anchor Line Steamers engaged in this service have excellent saloon accommodation. Full particulars as to Fares, etc., on application.
Tobacco, Spirits, etc. —Tobacco, cigars, cigarettes, wines, spirits and perfumery are liable to duty on being brought into the United Kingdom, and the smallest quantities should be declared to the Customs authorities.
Valuables.—Money or valuables should not be exposed in staterooms. The Company will not be responsible for articles lost or stolen. Valuables may be deposited in ship's safe, under care of the Purser, free of charge.
Passengers are warned that they should not on any account part with money or valuables to any persons representing themselves as members of the ship's staff.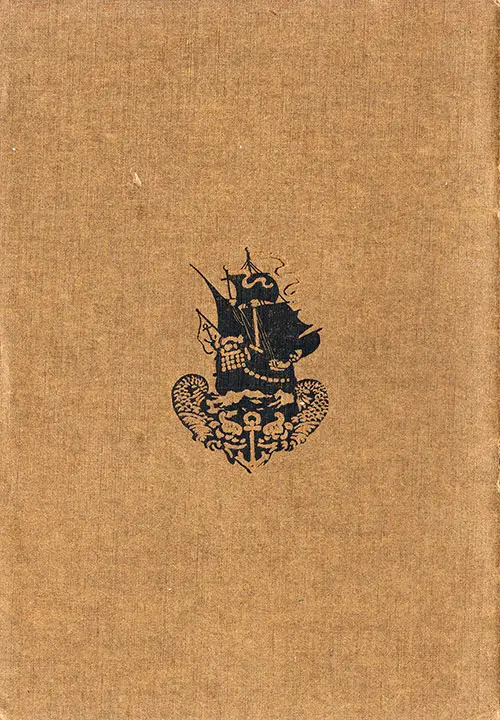 Back Cover, SS Cameronia Cabin Passenger List, 31 July 1926. GGA Image ID # 1fc62497f5