SS Assyria Passenger List 26 August 1922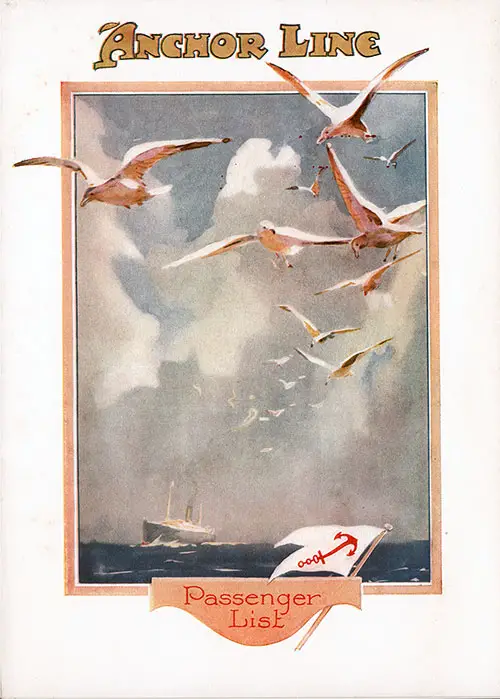 Front Cover of a Cabin Passenger List from the SS Assyria of the Anchor Line, Departing Saturday, 26 August 1922 from Glasgow to New York via Moville, Commanded by Captain C. E. F. Osborne, R.D., R.N.R. GGA Image ID # 1fc9679a47
Senior Officers and Staff
Captain: C. E. F. Osborne, R.D., R.N.R.
Chief Officer: And. Fraser
Chief Engineer: Alex Denholm
Surgeon: J. Gasperine
Purser: R. Wheate
Chief Steward: W. D. Watson
Cabin Passengers
Mr. Carl Aichberger
Miss Mary Aitken
Miss E. C. Allen
Miss M. Louise Baker
Miss E. Bayer
Miss N. Bayer
Miss Annie Bennett
Miss Agnes Bennett
Mr. George Bernard
Mrs. Vida Friday-Bertrand
Miss Hildegarde Best
Miss E. L. Beury
Miss Susanna S. G. Beury
Miss Elizabeth Bickley
Miss Mary Bickley
Miss Catherine Van Binshorteri
Mr. William Blackman
Mrs. Blackman
Miss K. W. Boyce
Mrs. Jean Boyd
Master Harry Boyd
Master Kenneth Boyd
Miss Patricia Boyd
Miss Ruth Brocklebank
Miss Catherine Brogan
Mr. Bancroft H. Brown
Mrs. Brown
Rev. William Brown
Mrs. Brown
Miss Elizabeth Brown
Miss Margaret Brown
Miss Mabel E. Brownlow
Miss Helen Campbell
Mrs. Campbell
Miss Charlotte Carpenter
Miss Anna E. Carpenter
Mr. Patrick Carr
Mrs. Anna Chesley
Miss Margaret Chism
Miss Alice Clark
Mr. John Clarkson
Miss E. E. Comby
Mr. George Cowan
Mrs. Cowan
Mrs. M. E. Cowell
Mrs. Lucy Craig
Mrs. Mary Cross
Miss Jean Cross
Miss Annabel Cross
Mr. Robert Cumming
Mrs. Cununing
Miss Angie Damon
Mrs. Day
Mr. James Donaghy
Miss Irene Dairy
Miss Edna Dudley
Mr. Edward Dudley
Mr. Peter Duff
Mr. George Dutcher
Mrs. Dutcher
Mr. Charles Edgar
Mrs. Edgar
Master Charles Edgar
Master Alexander Edgar
Mrs. Martha R. Edger
Miss Francis Ellis
Mrs. Annie Fisk
Mr. John Galloway
Mrs. Mildred Kahler-Geare
Mr. J. R. Goodale
Mrs. M. F. Gould
Miss Ellen Grant
Mrs. Janet Gray
Mrs. Harriet Greenhalgh
Mr. James Grieve
Mr. John Grieve
Mrs. Elizabeth Hall
Miss Edna Hall
Mrs. Elizabeth Hay
Miss Marguerite Harvey
Miss Marion Hawley
Miss Marion Heath
Miss G. Heath
Miss Claire Hendrix
Mrs. Jennie J. Herbert
Miss Annie Herbert
Miss Edith Herbert
Master Julius J. Herbert
Mrs. Ida Herniansen
Master George J. Hermansen
Mr. Louis Herrick
Miss Emily Hibbard
Miss Mary Hickey
Mr. John Hughes
Mrs. Harry J. Hugues
Miss Isabella Hugues
Mrs. Bertha Huggins
Miss Alison Huggins
Mrs. Emily Hunt
Miss Elizabeth Hunt
Miss Mary Jack
Mrs. Mary Johnstone
Mr. Alexander Johnstone
Rev. Patrick Kavanagh
Miss Ida Keedle
Miss Marcia Keith
Miss Susan Kennedy
Mrs. M. Lane
Miss Cora L. Lean
Mrs. Elizabeth D. Liggat
Miss Christina Locke
Mrs. Catherine Lynn
Miss Margaret Macauley
Captain Macauley
Mr. James McCabe
Dr. James E. McCartney
Miss Mary McCaw
Miss Julia McFadden
Miss Jessie McFarlane
Miss Marjorie McFarlane
Mr. Kenneth McFarlane
Mr. John McFarlane
Mrs. Helen McFarlane
Miss Gertrude McGinnis
Mrs. Thomas Mclntush
Miss Margaret McNaught
Mrs. Mary McNeilly
Miss Lillian MacVeigh
Miss Hope Mabry
Miss G. Mahon
Miss Georgia Marster
Mr. John Martin
Mrs. Martin
Miss Fannie Martin
Mr. Patrick Median
Mr. Robert Mercur
Mr. Frederick Mercur, jr.
Miss E. Estelle Miles
Miss Martha Mitchell
Mr. John Moll
Mr. Richard Montague
Mrs. Montague
Mr. George Moore
Mr. Moore
Master George Moore
Miss Helen Murrie
Miss Elizabeth Morrison
Miss Julia Morrison
Miss Marion Morse
Miss Helen K. Munroe
Miss Agnes Munro
Mr. Thomas Nesbitt
Mrs. Nesbitt
Mr. Crawford S. Norris
Mr. Herbert Nussey
Mrs. Nussey
Miss Margaret Palmer
Miss Gladys Pardoe
Mr. George Patterson
Miss Editli Payne
Mrs. Margaret Ferry
Mr. S. Pfaffmann
Mrs. Martha Pillsbury
Mrs. Mary Pirie
Miss Caroline Poole
Miss Josephine Porter
Miss Laura Ramsdell
Mrs. Margaret Ridtlull
Mrs. Robertson
Mr. William Robertson
Mrs. Mina Robertson
Dr. Alfred Rogers
Mr. William Root
Mrs. Root
Miss Kli/abeth Ross
Miss Myrtle Sawyer
Mr. Harry Sayford
Mrs. Sayford
Miss Augusta Schramm
Mrs. W. G. Scott
Miss Julia Scule
Miss Agnes Seymour
Miss Margaret Shearer
Mr. L. Parker Siceloff
Mr. Edward Simpson
Mrs. Simpson
Miss Kmma Singer
Miss Lillian Spilman
Mrs. Rachel H. Spooner
Miss Florence Sprague
Miss Dorothy Stevens
Mr. William P. Tarsk
Miss Edith Taylor
Mr. Hugh Tennant
Mrs. Ellen Thomas
Mr. James Henry Thompson
Miss Jeanetta Thrackmorton
Miss A. Thrackmorton
Miss Alice Titus
Mrs. Bridget Trainor
Mrs. Jane Trask
Miss Annie Trask
Miss Lydia Trask
Mr. Millard Trask
Miss Annie Turnbull
Mr. Andrew Turnbull
Mrs. Turnbull
Mrs. Annie Turner
Miss Catherine Turner
Mr. Colin Turner
Miss M. F. Votruba
Mrs. Lillian Wadleigh
Mrs. G. Walker
Miss Elizabeth Walsh
Mr. Percy Webber
Miss Laura Weber
Miss Catherine Weir
Mr. Robert Weir
Miss Primrose Whitfield
Mr. H. D. Whitfield
Miss Fanny Whitfield
Miss Louise Whitfield
Mrs. Fmily Whitfield
Mr. J. Whitfield
Mr. Frederick White
Mrs. White
Master Walter White
Master Edward White
Master Robert White
Miss Emma J. Wilson
Miss Elizabeth Wilson
Miss Anne Wilson
Mr. Archibald Wilson
Mr. Hopekirk Wilson
Mrs. Wilson
Miss Ida Wilson
Miss Harriett Wonson
Mr. George Wotherspoon
Miss Mary Yeaton
Mrs. Alsie Young
Mrs. Youtz
Mr. Ernest Youtz
Information for Passengers
Additional Passage Money on Freight paid on board—passengers should obtain a receipt on the Company's form for such disbursements.
Baggage.—Enquiries regarding baggage on board ship should be addressed to the Second Steward.
Trunks, Wraps, etc., will be stored and re-shipped by the Company for the return voyage.
To facilitate examination and identification of baggage on landing, all packages should have an official label affixed; these labels are supplied on board on application.
Baggage Insurance.—Passengers are recommended to insure their baggage, as, in the event of loss or damage, the Company cannot accept liability beyond the limit specified on the Steamer Contract Tickets. Rates and particulars on application.
Bar closes 11:00 pm
Barber's Shop.—Barber's shop is situated on board for the convenience of passengers. The barber will attend to ladies by appointment.
Clothes Pressing.—Application should be made to the Barber, from whom rates and other particulars can be obtained.
Complaints.—Complaints of incivility, carelessness or inattention on the part of any of the ship's staff should be immediately reported to the Commander.
Confectionery and Souvenirs.—Confectionery and Souvenirs are on sale at reasonable prices on application to the Deck Steward.
Copyright Books and Music are forbidden and will be confiscated by the Customs authorities.
Deck Chairs and Rugs may be hired for the voyage at the Company's officesorfrom the De k Steward. Printed receipt to be obtained by passengers for this hire.
Divine Service may be held in the Saloon (weather permitting) once every Sunday between n and 12 noon.
Dogs.—Returning passengers are notified that Dogs cannot be landed in Great Britain unless a licence has been procured from the Board of Agriculture, London.
Forms of Licence can only be obtained by direct application to the Department before the dog is taken on board.
Dogs can only be carried by special arrangement being made with the Company prior to embarkation.
Whilst on board they are not permitted in any of the public rooms or staterooms.
Drafts are issued, free of charge, payable in currency at any of the Offices of the Company in the United States and Canada, and, similarly, dralts are issued in the United States and Canada payable at any of the Company's Offices in the United Kingdom in sterling, or at the Company's Offices in Europe in the currency of the country on which they are drawn.
Library.—Library Books may be obtained on application to the Deck Steward.
Lights in Saloon until 11:00 pm; in public rooms until 11:30 pm
Lifebelts—Lifebelts must not be removed from staterooms, except in cases of extreme danger and necessity.
Meals—
Breakfast, 8:00 am to 10:00 am;
Lunch, 1:00 pm;
Dinner 7-30 pm
When two sittings are necessary, meals will be served as follows:—
Breakfast, 8:00 am to 10:00 am;
Lunch, 1st silting, 12:30 pm; 2nd sitting, 1:30 pm
Dinner, 1st sitting, 6:15 p m.; 2nd sitting, 7:30 pm
Passengers may reserve seats at table for the voyage on application to the chief steward.
Meals cannot be served in cabins or on deck unless with the surgeon's permission.
Children's Meals—Breakfast, 9:00 am; Dinner, noon; Tea, 5:00 pm to 6:00 pm
Ports.—Passengers are requested not to open the ports. The Stewards will do this whenever practicable.
Recovery of U.S. Head Tax.—This Tax can be recovered by Passengers, if same has been paid, provided they inform U.S. Immigration Inspector on arrival at New York of their intention to leave the United States within sixty days (the time prescribed by U.S. Law), and obtain from him Transit Certificate Form 514.
It is also necessary for Transit Certificate Form 514 to be handed to the transportation company when completed, in time to allow same to be placed before the Immigration Authorities in Washington within one hundred and twenty days of Passenger s arrival in the United States.
Unless this regulation is complied with, the Tax cannot be recovered.
Railway Time-Tables may be consulted on application to the Music-Room Steward.
Smoking.—Smoking in saloons and state-rooms is strictly prohibited. Children are not allowed in the Smokeroom. Cigarette smokers are requested to be careful when smoking on deck to see that cigarettes are extinguished before being thrown away.
Storage.—The Company will undertake to store Deck Chairs and Steamer Trunks belonging to passengers at outer's risk until they are required when returning.
Chairs and Trunks should have owner's name painted on them, and they will not be re shipped without instructions being sent to Baggage Master, Anchor Line, Yorkhill yuay, Glasgow, or in the case of Italian Ports, care of Anchor Line, Genoa, or Anchor Line, Naples.
A description of the articles should be given, also name of steamer from which they were landed and date. No shawls, rugs, &c, to be attached to Chairs. No charge for storage is made if the owners return by the Company's vessels. If Chairs or Trunks are forwarded by rail this is done at owner's risk and expense.
Table Seating.—The Chief Steward has the arrangement of table seating.
Telegrams and Letters for despatch should be handed to the Music-Room Steward (fully prepaid) one hour before leaving Moville.
Telegraph Forms and Postage Stamps can be had from the Writing-Room Stewards.
The Surgeon is authorized to make customary charges, subject to the approval of the Captain, for treating Saloon Passengers at their request for any illness not originating on board the ship. In the case of sickness contracted on board no charge will be made and medicine will be provided free.
Through Booking to Gibraltar, Egypt and India.—The Anchor Line steamers engaged in this service have excellent saloon accommodation. Full particulars
as to Fares, etc., on application.
Tobacco, Spirits, etc.—Tobacco, cigars, cigarettes, wines, spirits and perfumery are liable to duty on being brought into the United Kingdom, and the smallest quantities should be declared to the Customs authorities.
Valuables.—Money or valuables should not be exposed in staterooms. The Company will not be responsible for articles lost or stolen. Valuables may be deposited in ship's safe, under care of the Purser, free of charge.
Passengers are warned that they should not on any account part with money or valuables to any persons representing themselves as members of the ship's staff.
Wines.—It is requested that Wines be ordered one hour before meals, so that they may be cooled ready for use.
Wireless Telegraphy.—Wireless Tslegraph messages should be handed to the Turser for transmission.