SS Transylvania Passenger List - 3 September 1927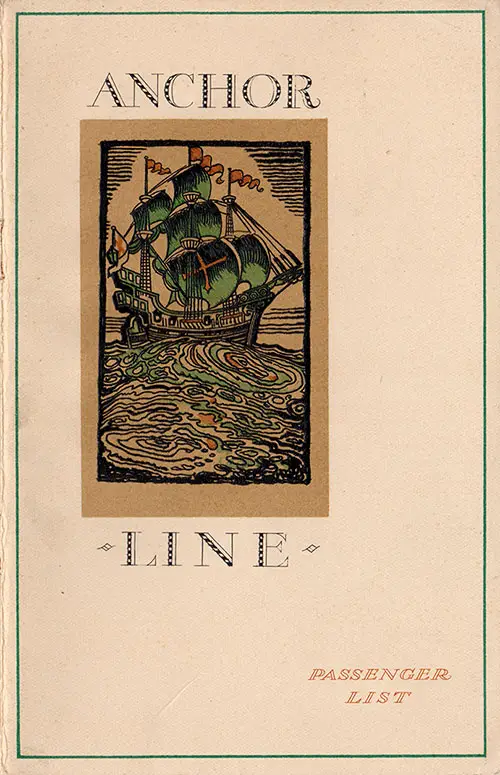 Cabin Passenger List for the TSS Transylvania of the Anchor Line, Departing 3 September 1927 from Glasgow to New York via Moville, Commanded by Captain David W. Bone. Includes Information for Passengers.
List of Saloon and Second Cabin Passengers
Anchor Line
TSS Transylvania
Captain David W. Bone
From Glasgow to New York via Moville
Saturday, 3 September 1927

Senior Officers and Staff
Captain: David W. Bone
Chief Officer: Frank M. Henderson
Chief Engineer: James P. McGown
Surgeon: William C. Borrie
Purser: R. S. Willoughby O.B.E., R.D., R.N.R
Chief Steward: A. E. Jones
Saloon Passengers
Mr. W. F. Adam
Mrs. Adam
Mr. Richard L. Adam
Miss Mary Adams
Mr. Carlyle E. Ahrens
Mrs. Andrews
Miss Louise Andrews
Miss L. M. Barker
Miss Alice Bartlett
Mr. Frank D. Bell
Mrs. Bell
Mr. Stephen Bell
Miss Frances Bell
Mr. Fred. S. Beveridge
Dr. G. G. Brownell
Mrs. Brownell
Mrs. Wm. C. Burling
Miss Lillie A. Burling
Miss Alice C. Burling
Mrs. M. G. Cameron
Mrs. M. Cameron
Miss Constance Cameron
Miss Laura H. Cassedy
Miss Mary Chamberlain
Miss Molly N. Childs
Miss Ethel Cochrane
Miss J. Cochrane
Mr. J. Cole
Mrs. Cole
Master Charles Cole
Mrs. M. Coombs
Mr. Robert P. Craig
Miss Margaret Cronin
Miss Ernestine Crummel
Mrs. Jennie Cunningham
Miss Anne Cunningham
Miss Nell Dooley
Mr. Alexander Dawson
Mrs. Dawson
Mr. Basil D'Emo
Mrs. D'Emo
Mr. Joseph Egerer
Mrs. Agnes Egerer
Mr. Peter Elder
Mrs. Elder
Miss Elizabeth Fleming
Mr. Talton Francis
Mrs. Francis
Miss Jane Francis
Miss Miriam Francis
Miss Ethel Fenn
Mr. Wm. Ferguson
Mrs. Ferguson
Mr. David Ferguson
Miss Margaret Ferguson
Miss Janet Ferguson
Miss Margaret Gallagher
Miss E. H. Gebbard
Miss Edith Grieve
Mrs. Frederica Guilker
Mr. Robert A. Hamilton
Mrs. Hamilton
Miss C. Hamilton
Mr. John Harman
Mrs. Harman
Master John Harman
Mr. Samuel W. Hawley
Miss Lenore Hellman
Mr. William Hendry
Mr. Henry Hewart
Mr. Richard Hewart
Mr. George Hewart
Mr. V. L. Highland
Miss Ethel Holingsworth
Mr. James Irving
Mrs. Irving
Master Ellis Irving
Mrs. Elsie Jack
Miss Dorothy Jackson
Miss Martha C. James
Dr. P. C. Jameson
Mrs. Jameson
Miss Edith Johnson
Miss Alice Kranz
Mr. Douglas Laird
Mr. Thos. Lawrence
Mr. Henry Lawrie
Mr. John Lawrie
Mrs. Lawrie
Mr. James Leitch
Mrs. Leitch
Miss Ann Lemen
Mr. Richard Lindabury
Mrs. Lindabury
Col. Chas. Lloyd
Mrs. Lloyd
Mr. James G. Ludlum
Miss Ruth Luetkemeyer
Miss Marguerite Lux
Mr. Robert McBratney
Mrs. McBratney
Mr. James McCunn
Mrs. McCunn
Mrs. McDermott
Mr. Fred MacDonald
Mrs. MacDonald
Mr. Patrick McGraw
Mrs. McGraw
Mrs. J. C. McKeown
Miss I. McKeown
Mr. Wm. McKewen
Mrs. McKewen
Mrs. Martin
Miss Florence Martin
Mrs. G. P. Martindale
Mr. James V. Martindale
Mr. Henry H. Meyers
Mrs. Meyers
Miss Mildred Meyers
Dr. Edith M. Meyers
Miss Jeanette Meyers
Mr. Frank Miller
Mrs. Miller
Mrs. Mills
Miss Cath. Mills
Miss Laura Mohun
Dr. William D. Morgan
Miss Margaret Moir
Miss Janet Moir
Mr. Davis Morris
Mrs. Morris
Miss Martha Morris
Miss F. C. Myers
Dr. Hanley Pallister
Mrs. Eliz. Pallister
Miss Helen Pallister
Miss Beatrice Pallister
Mr. F. M. Paltzgroff
Mrs. Paltzgroff
Mr. G. M. Porterfield
Mrs. Edward Rock
Miss Eveline I. Rock
Dr. E. Rayman
Mrs. Rayman
Master Norman Rayman
Miss Sylvia Rayman
Miss Laura C. Riffe
Mrs. Mary L. Rifle
Mrs. Alfred A. Ritchie
Miss Margaret Robertson
Dr. Nathaniel Robinson
Mrs. Robinson
Miss Marjorie Ross
Mr. Robert Ross
Mrs. Ross
Mr. Jacob A. Samuel
Mrs. Samuel
Dr. Robert D. Scott
Mrs. Scott
Miss E. Sellier
Mr. Samuel Sharpe, Sr
Mr. Samuel Sharpe, Jr.
Mr. Samuel C. Shaw
Mrs. Shaw
Mr. Fred S. Shaw
Miss Margaret E. Shaw
Mrs. Shortall
Miss Helen Shortall
Mr. Walter Sinclair
Miss Sadie Smith
Miss Florence Smith
Mr. Leon Sobel
Mr. A. P. Spence
Mr. H. G. Spence
Mr. A. P. Spence, Jr.
Mrs. Spence
Miss Doris Spence
Master Gordon Spence
Miss Mary M. Stabb
Mr. Robert Stephen
Mrs. Stephen
Mr. John N. Stockwell
Miss Jane W. Stockwell
Miss Alice K. Stockwell
Mr. William Sutherland
Mrs. Sutherland
Miss Eliz. Sutherland
Miss Jane Sutherland
Miss Caroline Sutherland
Master James Sutherland
Mr. Wm. Tait
Mrs. Tait
Miss Helen Tait
Mrs. Howard S. Thayer
Dr. Cuthbert Thompson
Mrs. Thompson
Miss Emily Thorpe
Mr. Alexander Tweed
Miss C. A. Vanderpoel
Mrs. Katherine I. Vedder
Mr. Alexander Walker
Mrs. Walker
Mrs. Bates Warren
Mr. Laurence F. White
Mr. Hilson H. White
Mrs. White
Mrs. J. E. White
Miss Dorothy White
Master Jesse. White
Mr. Gordon P. Williams
Mrs. Wilson
Master John Wilson
Mr. A. C. Wood
Mrs. L. B. Wright
Second Class Passengers
Miss Jenny Abercrombie
Miss H. Ackerly
Mrs. Margaret Aitken
Mr. William B. Alston
Mr. George M. Anderson
Mr. John C. Anderson
Mrs. Mary Andrew
Master Thos. G. Andrew
Mrs. M. Bailey
Mr. David J. Barry
Mr. Thos. Begg
Mr. John A. Bell
Mrs. Eliz. Bicket
Mrs. Margaret Birrell
Miss Isabella Birrell
Mrs. Janet Black
Mr. William Black
Mrs. M. Bonnington
Miss Mary Borland
Mrs. Margaret Boyd
Miss Henrietta Boyd
Miss Mary Boyle
Miss Rose Boyle
Miss Mary A. Boyle
Miss May Brown
Mr. James Buick
Mrs. Minnie M. Buick
Mrs. Sarah Buxton
Master James Buxton
Master Willis Buxton
Mr. Alex. Campbell
Mrs. Eliz. Campbell
Mrs. Mary Campbell
Miss Margaret Cance
Mrs. J. Carnegie
Miss M. Carnegie
Miss A. Carnegie
Mr. J. G. Carnegie
Miss Agnes Cherrie
Miss Alice Clarke
Mr. David W. T. Cochrane
Miss Winifred Colvin
Master Owen Connolly
Miss Susannah Conway
Mr. Chas. S. Cook
Mr. Findley Cook
Mrs. Findley Cook
Master James Crawford
Mrs. Eliz. Cruickshank
Mrs. Anna Curran
Mr. James Dallas
Mr. Frank Deakin
Mr. Thomas Deuchars
Mr. James Devine
Mr. Patrick Devine
Mrs. Nellie Devine
Miss Mart. Doig
Mr. Daniel Doonan
Mrs. Mary Doonan
Miss Janet Dougan
Miss Margaret Dugan
Miss Rose Durnin
Mrs. Madge Elwood
Master Cecil Elwood
Mr. Fredk. Eurick
Mrs. J.R. Fairhurst
Mr. Henry Fenn
Mrs. Margaret Fenn
Miss Mary Ellen Ferry
Mrs. Jane Fiddes
Miss L. Florence
Mrs. Normant E. Ford
Miss Annie Ford
Mrs. Sarah Forsythe
Miss Jeanie Fraser
Miss Mary Anne Galbraith
Mr. Daniel Gallaher
Miss Nora Gibbons
Miss Mary Gilfidden
Miss Eliz. Goldie
Miss Flora M. Grant
Mrs. Henrietta Gregory
Mr. William Guthrie
Mr. Wm. C. Hackett
Mrs. Susan Hackett
Mr. David Hackett
Mr. Wm. C. Hackett
Mrs. Ann Hamilton
Mrs. Eliz. Hamilton
Mr. R. Hanna
Master George Hanna
Mrs. R. Hanna
Mrs. Jane K. Hay
Mr. Robert Hay
Mrs. Robert Hay
Mrs. Daniel Hearty
Miss Ruth Hearty
Mr. George Hill
Mrs. Helen Howat
Mr. Hugh Hunter
Mr. William Hunter
Miss Mary Irvine
Mrs. Jean Jackson
Miss Mary R. Johnston
Miss Mabel Jordan
Mr. Robert Kay
Mrs. Richard Kay
Miss Isabel Kay
Mr. Alex. Kindness
Mr. W. Graham Lees
Mrs. Eliz. Leishman
Mr. John Littlejohn
Mrs. J. J. Littlejohn
Master Jack Littlejohn
Mrs. Eliz. Livingston
Miss Lilian Livingston
Miss Agnes Livingston
Mrs. Mary Logan
Miss Josephine Logan
Mr. Campbell McCall
Mrs. Campbell McCall
Master James McCall
Miss Margaret McCall
Miss Beatrice B. McCann
Mrs. Martha McClure
Miss Mary McColl
Miss Mart. McCool
Mr. Alexander McCormick
Mrs. Mary McCoughan
Mrs. Eliz. McCulloch
Miss Mary McCulloch
Mr. Patrick McDermott
Mrs. Susan McDermott
Miss J. MacDonald
Mr. Archie McDougall
Mrs. Mary McDougall
Mr. Wm. McDougall
Mrs. Susana McDougall
Miss Annie McDougall
Master Arch. McDougall
Rev. William McDougall
Mrs. Marion McDougall
Miss Teresa McDougall
Miss Jean McDougall
Mrs. Agnes McElhinney
Miss Elizabeth McElhinney
Master Richard McElhinney
Mrs. Mary McFarland
Master Robert McFarland
Mrs. Mona McHugh
Miss Mary McHugh
Master Frank McHugh
Miss Cath. Mcllhagga
Miss Jane McIntosh
Miss Amy Macintyre
Miss Rose A. McIntyre
Mr. John MacKenzie
Miss Kennethina McKenzie
Mrs. Alice Mackey
Mr. Walter Mackie
Mrs. Mary Mackie
Master Walter Mackie
Miss Bettie Mackie
Miss Anna McKillop
Miss Cath. McKinnon
Miss Mary McLernon
Miss Elizabeth McPhillips
Miss Margaret McPhillips
Mrs. Isabella Magilton
Master James Magilton
Mrs. A. Malcolm
Mr. Frank Mallon
Mr. James Mallon
Mrs. Mary Mallon
Master Gordon Marquis
Miss Janet Mathie
Mrs. Annie Matthewson
Miss Martha E. Melville
Mrs. Kate Merry
Miss Margaret Millar
Mrs. Jeanie Miller
Master Robert Miller
Miss Caroline Milligan
Miss Jessie Milne
Mr. Andrew Milton
Mr. Donald Mitchell
Mrs. Catherine Monaghan
Mrs. Jessie Morrison
Mrs. Jennie Newman
Miss Sophie Newman
Baillie R. Nicol
Mrs. Alice Nicol
Mrs. Agnes O'Brien
Mr. Charles O'Connor
Miss Isabella O'Donnell
Mrs. Lizzie Orr
Mrs. Margt. Osborne
Master Thos. Osborne
Mr. S. W. Park
Mrs. S. W. Park
Master Colvin Park
Master Gordon Park
Mr. George Paton
Miss Annie G. Philan
Mrs. Anna G. Pira
Miss Charlotte Porter
Mr. George Purgavie
Mrs. Isabella Purgavie
Miss Maria Reid
Miss Charlote Richardson
Mrs. A. Ritchie
Miss Constance Ritchie
Miss Margt. Robbie
Mr. Anus Robertson
Mrs. Isabella Saunders
Miss Margaret Scott
Mr. Thomas J. Scullion
Mrs. Mary Jane Selleck
Miss Celia Shields
Mrs. Myra Siefried
Master August Siefried
Miss Annie Smith
Mr. James Smith
Mr. Wm. D. Smith
Mrs. Wm. D. Smith
Mr. Hugh Stein
Mrs. Allen Stocks
Miss Juan Stocks
Mr. Alex. Sutherland
Mrs. Alex. Sutherland
Miss Agnes Sutherland
Miss Lucy Sutherland
Miss Charlotte Swanson
Miss Mary A. Timoney
Mrs. Jeanie Topping
Mr. Donald Treasurer
Mrs. Gertrude Treen
Mr. Norman Uprichard
Mr. Alfred Uprichard
Miss Marguerite Walker
Mr. W. S. Walt
Mrs. W. S. Walt
Master W. Walt
Miss Nellie Walt
Miss Alice Watt
Miss Helen D. Watt
Mrs. John Weir
Master John Weir
Dr. W. Powers Wilkinson
Mrs. W. Powers Wilkinson
Miss Margaret Wright
Mrs. Gertrude E. Wylie
Mr. Samuel J. Wylie
Mrs. Eliz. Wyllie
Miss Alice J. Yeats
Mr. Robert Young

Anchor Line Fleet
Caledonia
17,046
Britannia
8,464
Transylvania
16,923
Castalia
6,600
California
16,792
Circassia
6,861
Tuscania
16,991
Elysia
6,757
Cameronia
16,365
Massilia
5,156
Assyria
8,142
Scindia
5,178
Services
Glasgow and New York (Via Moville)
Glasgow and Boston
Glasgow, Manchester and Liverpool to Gibraltar, Port Said, Suez and Bombay
Bombay to Suez, Port Said, Marseilles
Marseilles to Gibraltar, Liverpool and Glasgow
Table of Distances
Glasgow to Greenock : 21 Miles
Greenock to Moville : 104 Miles
Moville to Malin Head : 22 Miles
Malin Head to Nantucket Lightship : 2,578 Miles
Nantucket Lightship to Fire Island : 164 Miles
Fire Island to Sandy Hook Lightship : 30 Miles
Sandy Hook Lightship to Sandy Hook : 8 Miles
Sandy Hook to New York : 16 Miles
Total : 2;943 Miles
When on Southern Track the distance is slightly longer.
Information for Passengers
Additional Passage Money or Freight paid on board —Passengers should obtain a receipt on the Company's form for such disbursements.
Baggage.—Enquiries regarding baggage on board ship should be addressed to the Second Steward.
To facilitate examination and identification of bag- gage on landing, all packages should have an official label affixed; these labels are supplied on board on application.
Trunks, etc., will be stored and re-shipped by the Company if desired (see Storage).
Baggage Insurance.—Passengers are recommended to insure their baggage as, in the event of loss or damage, the Company cannot accept liability beyond the limit specified on the Steamer Contract Tickets. Rates and particulars on application.
Bar closes at 11p.m.
Barber's Shop.—There is a well-appointed Barber's Shop on board. Ladies will be attended to by appointment.
In addition to the usual toilet requisites, useful articles, ranging from photographic films to material for fancy dress costumes, are on sale.
Cables and Telegrams for despatch by ordinary land wire should be handed in at the Wireless Telegraph Office. The time of acceptance for cables and tele- grams to be sent by ordinary land wire will be intimated on the notice boards.
Wireless, cable and telegraph forms may be obtained from the Wireless office.
Clothes Pressing.—Application should be made to the Barber, from whom rates and other particulars can be obtained.
Complaints of incivility, carelessness or inattention on thepart of any of the ship's staff should be im- mediately reported to the Purser or Chief Steward, and failing satisfaction to the Captain.
Deck Chairs and Rugs may be hired at a cost of 6/3 (or $1.50) each, on application to the Deck Steward. Each rug is contained in a sealed cardboard box, and bears a serial number worked into the material so that Passengers will have no difficulty in identifying their rugs. At the end of each voyage the rugs which have been in use are sent to the store and thoroughly cleaned before being re-issued.
Divine Service may be held in the Saloon (weather permitting) once every Sunday forenoon, and for those who so desire facilities areprovided for the celebration of Mass.
Dogs cannot be landed in Great Britain unless a licence has been procured from the Board of Agriculture, London. Forms of Licence can only be obtained by direct application to the Department before the dog is taken on board.
Dogs can only be carried by special arrangement being made with the Company prior to embarkation. Whilst on board they are not permitted in any of the public rooms or staterooms.
Drafts are issued, free of charge, payable in currency at any of the offices of the Company in the United States and Canada, and, similarly, drafts are issued in the United States and Canada payable at any of the Company's offices in the United Kingdom in sterling or at the Company's offices in Europe in the currency of the country on which they are drawn.
Information.—If Passengers are in doubt on any point appertaining to their ocean voyage, or railroad journey, they are advised to consult the Purser, who will be leased to give any assistance or information desired.
Kiosk.—Passengers can obtain confectionery, fruit, toys, souvenirs, novels, etc., at reasonable prices in the Kiosk.
Library.—Library books may be obtained on application to the Librarian. The books are issued free of charge.
Lifebelts must not be removed from staterooms, except in cases of extreme danger and necessity.
Lights in Saloon until 11:00 pm; in Public Rooms until 11:30 pm
Meals.—Breakfast, 8:00 am to 10:00 am; Lunch, 1:00 pm; Dinner, 7:00 pm
When two sittings are necessary, meals will be served as follows :—
Breakfast, 8:00 am to 10:00 am.; Lunch, First sitting, 12:30 pm; Second sitting, 1.30 pm
Dinner, First sitting, 6:15 pm; Second sitting, 7.30 pm
Passengers may reserve seats at table for the voyage on application to the Chief Steward. Meals cannot be served in cabins or on deck unless with the Surgeon's permission.
Children's Meals— Breakfast, 9:00 am; Dinner, noon; Tea, 5:00 pm to 6:00 pm
Ports.—Passengers are requested not to open the ports. The Stewards will do this whenever practicable.
Postage Stamps are on sale at Purser's Bureau. A notice will be displayed stating the hours at which stamps may be obtained and also the latest time for posting mail matter on board.
British stamps must be used for correspondence posted on the High Seas. Rates :—Letters to United Kingdom and United States of America, 11d. for the first ounce and id. for each additional ounce. Post- cards, 1 1/2 d. each.
Railway and Steamer Time Tables may be consulted on application to the Librarian.
Recovery of U.S. Head Tax.—To enable the refund of United States Head Tax to be secured, Passengers who intend staying in the United States for less than sixty days must state so on Declaration Form at time of booking. They must also inform the Immigration Officer at the Port of Landing that they are returning within 60 days, and obtain from him Certificate Form 514.
It is also necessary for Transit Certificate Form 514 to be handed to the Company when completed, in time to allow same to be lodged with the American Authorities within 120 days of passenger's arrival in the United States.
Unless this regulation is complied with the Tax cannot be recovered.
Passengers who declare at the Port of Landing their intention of remaining in the United States for a period loner than 60 days will not be refunded Head Tax by the United States Government, even although they eventually leave the country within the 60 days limit.
Redirection of Mail.—Passengers who expect letters or parcels to be delivered to the ship after they have dis- embarked should leave their full names and addresses at the Bureau in order that their mail may be forwarded to them.
Return Bookings.—The Purser and his staff will at all times bepleased to assist Passengers in the arranging of their return passages, or to supply them with the name and address of the agent in the town to which they are proceeding.
Smoking.—Cigarette smokers are requested to be care- ful when smoking on deck to see that cigarettes are extinguished before being thrown away. Children are not allowed in the Smoking Room.
Storage.—The Company will undertake to store deck chairs and steamer trunks belonging to Passengers at owner's risk until they are required when returning. Chairs and trunks should have owner's namepainted on them, and they will not be re-shipped without in- structions being sent to Baggage Master, Anchor Line, Yorkhill Quay, Glasgow, or, in the case of Italian Ports, care of Anchor Line, Genoa, or Anchor Line, Naples.
A description of the articles should be given, also name of steamer from which they were landed and date. No shawls, rugs, &c., to be attached to chairs. No charge for storage is made if the owners return by the Company's vessels. If chairs or trunks are forwarded by rail this is done at owner's risk and expense.
Table-Seating —The Chief Steward has the arrangement of table-seating.
The Surgeon is authorized to make customary charges, subject to the approval of the Captain, for treating Passengers at their request for any illness not originating on board the ship. In the case of sickness contracted on board no charge will be made and medicine will be provided free.
Through Bookings to Gibraltar, Egypt and India.— The Anchor Line steamers engaged in this service have excellent saloon accommodation. Fullparticulars as to fares, etc., on application.
Tobacco, Spirits, etc.—Tobacco, cigars, cigarettes, wines, spirits and perfumery are liable to duty on being brought into the United Kingdom, and the smallest quantities should be declared to the Customs Authorities.
Valuables.—Money or valuables should not be exposed in staterooms. The Company will not be responsible for articles lost or stolen. Valuables may be deposited in ship's safe, under care of the Purser, free of charge.
Passengers are warned that they should not on any accountpart with money or valuables to any persons representing themselves as members of the ship's staff.
Wireless Telegraph Rates
Ship To Shore Messages
Via British Stations.—For messages to the United Kingdom the rate is 11d. per word, inclusive of landline charges.
Via United States Stations.—The rate via New York, Chatham, Mass., East Moriches, is 9d.per word, plus landline charges.
Via Canadian Station.—The rate via Louisburg, N.S., is 9d. per word,plus landline charges.
Note.—All charges must be prepaid. Every word in the address, text, and signature is counted and charged for.
Reserving Hotel Accommodation.—By arrangement with certain hotels, messages reserving accommodation may be sent by Passengers free of charge. A list of these hotels is kept in the W.T. Office, and Passengers should enquire there.
Ship To Ship Messages
The rate on ship to ship messages is 8d. per word,
Wireless Letters
A Wireless Letter consists of a message transmitted to a ship traveling in the opposite direction and posted on her arrival at destination by " Registered Post." These messages are only charged for at the rate of 5s. for the first twenty words with 2d. per additional word to a maximum of 100 words.
At certain times during the day a wireless operator is in attendance in thepassenger quarters for the purpose of giving information and receiving messages for transmission. Notices giving time and place are displayed throughout the ship. At all times, however conduct their business at the Wireless Office if they prefer to do so.
Anchor Line Offices and Agencies
London : Anchor Line, 48 Fenchurch Street, E.C.3
London : Cunard Line, 26-27 Cockspur Street, S.W.1
Liverpool : Anchor Line, Cunard Building, Water Street
Manchester : Anchor Line, 64 Cross Street
Dundee : Anchor Line, 52 Commercial Street
Londonderry : Anchor Line, Foyle Street
Belfast : James Little & Co. (Belfast), Ltd., 1 Albert Square
Southampton : Cunard Line, Maritime Chambers, Canute Road
Cherbourg : E. Rose, Cunard Line Agent, 54 Quai Alexandre III
Paris : Compagnie Nord Atlantique, 6 Rue Scribe
Havre : Compagnie Nord Atlantique, 23 Quai George V
Berlin : Cunard Line Reisebureau G.m.b.H., Hotel Bristol
Hamburg : Cunard See Transport G.m.b.H., Neuer-Jungfernstieg 5
Vienna : Cunard Line, Karntnerring 4
Gibraltar : Cunard-Anchor Office, 102 Main Street
Marseilles : Compagnie de Consignations Maritimes, A. V. Fenton & Cie., 1 Rue Beauvau
Nice : Compagnie Nord Atlantique, 11 Promenade des Anglais
Genoa : Carr Brothers, 41 Piazza Nunziata
Leghorn : Carr Brothers, Piazza Vittorio Emanuele 18
Naples : Di Luggo Wood & Co., 59 Via Guglielmo Sanfelice
Rome : Cunard-Anchor Office, 155 Via del Tritone
Venice : A. Bertoli & Co., 4191 Riva Schiavoni
Copenhagen : C. Mogensen, Cunard-Anchor Building, 1 Nyhavn
Gothenburg : Carl O. M. Forsberg, Sodra Hamngatan 65
Oslo : F. J. Elster & M. R. Raffel, Princensgate 2c
Stockholm : Emil Alin, Gustav Adolfs Torg. 18
Port Said : Cory Bros. & Co., Ltd
Suez : G. Beyts & Co
Cairo : Thos. Cook & Son, Ltd., Tourist Office, nr. Shepheard's Hotel
Alexandria : Albert Mussa, 6 Marina
Algiers : Atwater Shipping Co., 5 Boulevard Carnot
Bombay : Grahams Trading Co., Ltd., Graham's Buildings, Parsee Bazaar Street
Calcutta : Grahams Trading Co., Ltd. (P.O. Box No. 147), 9 Clive St
Karachi : Grahams Trading Co., Ltd. (P.O. Box No. 30), McLeod Rd
Madras : Best & Co. (P.O. Box No. 63), First Line Beach
Colombo : Delmege, Forsyth & Co
New York : Anchor Line, 25 Broadway
Chicago : Anchor Line, 140 N. Dearborn Street
Atlanta : Anchor Line, 30 Walton Street
Baltimore : Anchor Line, 107 East Baltimore Street
Boston : Anchor Line, 126 State Street
Cleveland : Anchor Line, 1022 Chester Avenue
Detroit : Anchor Line, 1243 Washington Boulevard
Minneapolis : Anchor Line, Corner Third Street and Second Avenue, S
New Orleans : Anchor Line, 205 St. Charles Street
Philadelphia : Anchor Line, 220 South 16th Street
Pittsburgh : Anchor Line, 712 Smithfield Street
San Francisco : Anchor Line, S.W. Corner Market and First Streets
Seattle : Anchor Line, White Building, 407 Union Street
St. Louis : Anchor Line, 1135-37 Olive Street
Washington : Anchor Line, 1406 H. Street, N.W
Portland, ME. : The Robert Reford Co., Inc., 198 Middle Street
Montreal : The Robert Reford Co., Ltd., 20 Hospital Street
Quebec : The Robert Reford Co., Ltd., 67 St. Peter Street
Halifax, NS : The Robert Reford Co., Ltd., Corner George and Granville Sts
St. John, NB : The Robert Reford Co., Ltd., 162 Prince William Street
Toronto : The Robert Reford Co., Ltd., Bay and Wellington Streets
Vancouver : Anchor Line, 622 Hastings Street
Winnipeg : Anchor Line, Scott Block, 270 Main Street