TSS Caledonia Passenger List - 1 November 1935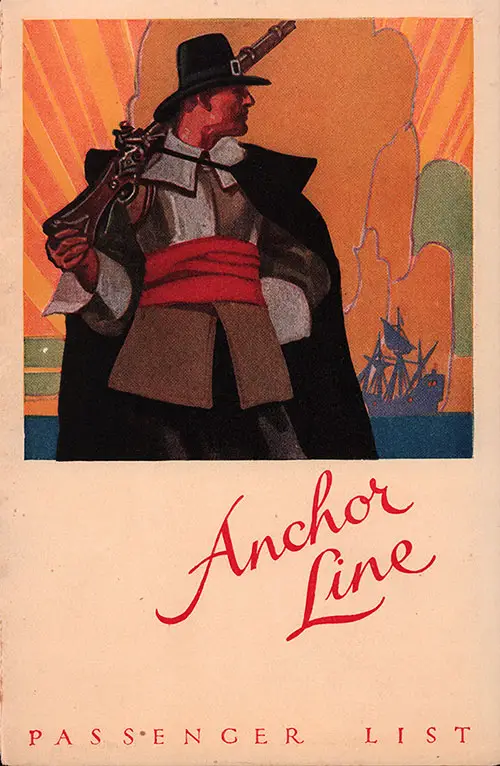 Front Cover of a First Class and Tourist Passenger List from the TSS Caledonia of the Anchor Line, Departing 1 November 1935 from Glasgow to New York via Belfast, Commanded by Captain Alexander Collie. GGA Image ID # 15e18d5468
Senior Officers and Staff
Captain: Alexander Collie
Chief Officer: J. Dunlop
Chief Engineer: Andrew Malcolm
Surgeon: Dr. A. B. Burns
Purser: R. S. Willoughby, OBE, RD, RNR
Chief Steward: George Morrison
First Class Passengers
Miss A. B. Hays
Mrs. Flora Kling
Master Alan Kling
Mrs. J. A. Macdonald
Mr. Alexander Mackay
Mrs. Mackay
Mr. Thornton J. Parker, Jr.
Mrs. Parker
Master Thornton J. Parker, III
Miss L. A. Stewart
Mrs. A. Vercoe
Mr. J. W. Watson
Mrs. Watson
Miss Watson
Tourist Passengers
Miss Jessie Archibald
Miss Jean M. Arthur
Mr. Water Beckwith
Mrs. Agnes Eliz. Beckwith
Mrs. Margaret Box
Master John D. Box
Mr. William Brown
Miss Mary Brownlee
Mrs. Mary Brydon
Mrs. Margaret Campbell
Miss Margt. Campbell
Mr. Thomas Chisholm
Mrs. Freda Chisholm
Miss Tessa Cordiner
Miss Janet Couser
Mrs. Mary Cousins
Miss Marilyn M. Cousins
Mrs. Janet B. Craig
Mrs. Joanna F. Crane
Miss Helen M. Delaney
Mrs. Bridget Farrell
Mr. John Gault
Miss Rosa Gordon
Mr. George Gould
Mrs. Helen Graham
Mr. Hugh Grant
Mrs. Grace Gunn
Miss Bridget Hand
Miss Jessie J. Hay
Dr. Saul Hertz
Mr. Thos. C. Johnston
Mrs. Annie A. Johnston
Mr. Victor Johnston
Mrs. Eliz. Johnstone
Miss Masie King
Miss Jean W. Kirkland
Miss Pearl Lund
Mr. Wm. B. McCubbin
Miss Susan McDade
Miss Theresa McGeehin
Miss Ethel McIntyre
Mr. Finlay S. McLay
Mrs. Catherine McWilliams
Mr. Stewart Milne
Miss Margaret Mitchell
Mr. John Paterson
Miss Harriet L. Porter
Mr. James Reid
Mrs. Jane Robertson
Mr. Alex. Robertson
Mrs. Mae Robertson
Miss Carolyn Robertson
Miss Ruth Semple
Mrs. Jeanie Sinclair
Mr. Matthew Steel
Mr. John D. Stewart
Mrs. Margaret F. Stewart
Mrs. Agnes Strachan
Miss Rose A. Sweeney
Mrs. Annabella Verriest
Master Henry Verriest
Miss Janet C. Walker
Miss Elizabeth Wallace
Mrs. Ewing Wood

Information for Passengers
Complaints of incivility, carelessness or inattention on the part of any of the ship's staff should be immediately reported to the Purser or Chief Steward, and failing satisfaction to the Captain.
Boat Muster and Fire Stations for Passengers.—A muster of passengers v/ill be held as soon as possible after leaving port, and in the interests of discipline all passengers are requested to attend.
Divine Service will be held, weather permitting, on the morning of Sunday. Requisites are provided for the celebration of Mass. Episcopalian and Anglican clergy may, on applying to the Purser, have the use of plate and linen for the purpose of holding Communion.
Additional Passage Money or Freight paid on board.-Passengers should obtain official receipt on the Company's form.
Baggage. —Enquiries regarding baggage on board ship should be addressed to the Baggage-Master.
To facilitate examination and identification of baggage on landing, all packages should have an official label affixed. These labels are supplied on board on application to Bedroom Steward.
Trunks, etc., will be stored and re-shipped by the Company if desired (see Storage).
Wardrobe Trunks.—The attention of passengers is called to the fact that the steamer has a Baggage Room where trunks may be stored during the voyage. It is not always possible to have large wardrobe trunks placed in an accessible position in passenger staterooms.
Storage.—The Company will undertake to store steamer trunks belonging to passengers at owner's risk until they are required for returning. Trunks should have owner's name printed on them, and they will not be re-shipped without instructions being sent to Baggage Master, Anchor Line, Yorkhill Quay, Glasgow. A description of the articles should be given, also name of steamer from which they were landed and date. No charge for storage is made if the owners return by the Company's vessels. If trunks are forwarded by rail this is done at owner's risk and expense.
Kiosk.—Passengers can obtain confectionery, fruit, toys, souvenirs, novels, postage stamps, etc., in the Kiosk.
Barber's Shop.—There is a fully equipped barber's shop on board for the convenience of passengers.
Clothes Pressing.—Application should be made to the Barber, from whom rates and other particulars can be obtained.
Ladies' Hairdresser and Manicurist.—There is a well-appointed Ladies' Hairdresser and Manicurist's shop on board. Appointments can be arranged.
Changes in Accommodation.—The Purser alone is authorised to make changes in accommodation and may only do so on payment of any difference in fare which may be required according to Company's tariffs.
Information.—If passengers are in doubt on any point appertaining to their ocean voyage, or railroad journey, they are advised to consult the Purser.
Landing Cards.—Passengers must obtain from the Purser a U.S. landing card. The hours at which these cards are obtainable will be posted on notice board. It should be noted that before leaving the vessel the holder must present this landing card to a U.S. Immigrant Inspector for endorsement.
The Anchor Line News, containing the latest news by wireless and closing prices on the various Stock Exchanges, is published on board and distributed free to passengers at breakfast time during the voyage.
Library.—Library books may be obtained on application to the Librarian. The books are issued free of charge.
Deck Chairs, Rugs and Cushions may be hired on application to the Deck Steward. At the end of each voyage the rugs and cushions which have been in use are sent to the store and thoroughly cleaned before being re-issued.
Lifebelts must not be removed from staterooms, except in eases of extreme danger and necessity.
Ports.—Passengers are requested not to open the ports. The Stewards will do this whenever practicable.
Dogs and Cats cannot be landed in Great Britain unless a license has been procured from the Board of Agriculture, London. Forms of license and particulars of quarantine period can be obtained by direct application to the Department before the animal is taken on board. Dogs and Cats can only be carried by special arrangement being made with the Company prior to embarkation. Whilst on board they are not permitted in any of the public rooms or staterooms.
Postage Stamps are on sale at Purser's Bureau, Writing Rooms and Kiosks. A notice will be displayed stating the latest time for posting mail matter on board.
British stamps must be used for correspondence posted on the High Seas.
Rates:—Letters to United Kingdom and United States of America, 1 1/2d. for the first ounce and 1d. for each additional ounce. Postcards, 1 1/2d. each.
Railway and Steamer Time Tables may be consulted on application to the Purser.
Recovery of U.S. Head Tax.—Refund of Head Tax can be obtained provided passengers have complied with the following conditions:—
1. Inform the U.S. Immigration Inspector on arrival that it is their intention to leave the United States within 60 days, and obtain from the Inspector " Head Tax Refund Certificate" (Form 514).
2. When leaving the United States to have the departure certified on Form 514 by the Purser of the vessel or by the conductor of the train upon which the departure takes place.
Redirection of Mail.—Passengers who expect letters or parcels to be delivered to the ship after they have disembarked should leave their full names and addresses at the Bureau in order that their mail may be forwarded to them.
Meals.—
Breakfast, 8 to 10 a.m. ;
Luncheon, 1 p.m. ;
Dinner, 7 p.m.
When two sittings are necessary, meals will be served as follows :—
Breakfast, 8 to 10 a.m.;
Lunch, 1st sitting, 12.30 p.m.; 2nd sitting, 1.30 p.m.
Dinner, 1st sitting, 6.15 p.m. ; 2nd sitting, 7.30 p.m.
Children's Meals — Breakfast, 9 a.m.; Dinner, noon; Tea, 5 to 6 p.m.
Passengers may reserve seats at table for the voyage on application to the Chief Steward.
Return Bookings.—The Purser and his staff will at all times be pleased to assist passengers to arrange their return passages.
Smoking.—Cigarette smokers are requested to be careful when smoking on deck to see that cigarettes are extinguished before being thrown away.
Children are not allowed in the Smoking Room.
The Surgeon is authorized to make the undernoted charges for his services :—
ist Class and Cabin.—5/- for the first visit and 2/6 per visit thereafter.
Tourist Class.—2/6 per visit.
In the case of sea-sickness or the consequences thereof, no charge will be made. In all cases medicines are provided by the Company free of charge.
Nurse—A trained and qualified hospital nurse is carried. Her services, under the direction of the Surgeon, are at the disposal of passengers.
Valuables.—Money or valuables should not be exposed in staterooms. For the convenience of passengers the Company has provided a safe in the Purser's Office in which money, jewels, ornaments, documents, or other valuables may be deposited by passengers. A receipt for any articles so deposited will be issued by the Purser, but the Company does not, having regard to the ticket conditions and to the provisions of Section 502 of the Merchant Shipping Act, 1894, and of Section 4281 of the revised Statutes of the United States, accept any responsibility for the safe custody of any such articles.
Passengers are warned that they should not on any account part with money or valuables to any persons representing themselves as members of the ship's staff.
Cheques.—Passengers are respectfully informed that the Purser is not authorized to accept private cheques.