SS Cameronia Passenger List - 6 September 1913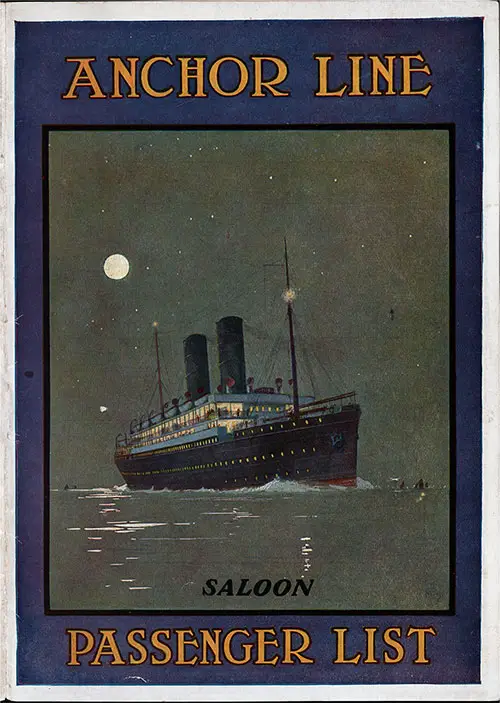 Front Cover of a Saloon Passenger List for the SS Cameronia of the Anchor Line, Departing Saturday, 6 September 1913 from Glasgow to New York via Moville, Commanded by Captain Walter Baxter. The ship arrived in New York on 14 August 1913. GGA Image ID # 1fc6ec1356
Senior Officers and Staff
Commander: Walter Baxter
Surgeon: D. A. McCurdy, F. R. C. S
Purser: Thos. Tulloch
Chief Steward: Charles Gordon
Stewardess: Mrs. Craigie
Stewardess: Miss Dunn
Stewardess: Miss McGregor
Stewardess: Mrs. Bowie
Stewardess: Miss Britton
Saloon Passengers
Mrs. Ida Adams
Miss Murray Adams
Miss Ellonine Adams
Mrs. Christina Adamson
Miss Annie C. Addison
Miss Kate Alexander
Miss Blanche Alexander
Miss Annie Alexander
Miss Jenny W. Allan
Mr. James Allan
Dr. Louis Ancker
Mrs. Ancker
Miss Annie Anderson
Miss Emily Applegate
Mr. Cameron V. Bailey
Mrs. Bailey
Miss Baird
Miss. Gladys P. Barker
Mrs. E. R. Barker
Miss Ellen Barry
Miss Ada Battersby
Mr. Andrew Beatty
Mr. Thomas Beatty
Miss Bessie Belfield
Mrs. Pellinger
Mr. Saul Bercott
Mr. Walter S. Blake
Mr. W. B. Bolmer
Mr. M. T. Bolmer
Miss Katherine Boyce
Miss Katherine Brook
Mr. Thomas P. Brophy
Mrs. Lawson Brown
Master Lawson Brown
Dr. Albert P. Brubaker
Mrs. Brubaker
Dr. Caldwell
Miss Caldwell
Mr. John A. Carlisle
Miss Nora M. Caroe
Miss Juliette E. Castles
Mr. S. Cathcart
Miss Cathcart
Mr. Isaac Chambers
Mrs. R. H. Clancy
Miss Rena H. Clarke
Miss Nan G. Clarke
Mr. G. Davidson Coleman
Mr. C. C. Connell
Mrs. Connell
Miss Bridget Connolly
Rev. James Conway, D.D.
Mrs. Conway
Miss Josephine Cosby
Mrs. William F. Crerand
Miss Mary E. Crook
Mr. John H. Davey
Mrs. Davey
Master Ernest Davey
Mrs. William Deer
Miss Margaret Deer
Miss H. M. Dean
Miss Sarah F. Demarest
Mr. James M. Dewey
Mrs. Dewey New York
Miss M. H. Dickson
Miss Eleanor Diggs
Mr. Joseph Donald
Mr. Martin J. Doyle
Mrs. Doyle
Miss Martha Drake
Miss Agnes K. Duncan
Miss Margaret C. Duncan
Mrs. G. W. Eastman
Mrs. Mary C. Elder
Mr. Devereux Emmet
Mrs. Emmet
Mr. Devereux Emmet, Jr.
Miss Sarah Lee Evans
Mrs. D. Farquhar
Dr. W. B. Featherstone
Mrs. Featherstone
Miss Ethel R. Fifield
Mr. Richard M. Fleming
Mr. Richard J. Fleming
Mr. David Freeman
Mrs. Mary D. Freeman
Miss Elizabeth K. Fulton
Mr. John Gallagher
Mrs. Gallagher
Mrs. Irene Gardner
Miss Lois D. Gaskill
Mr. Frank Gebbie
Miss Gebbie
Mrs. J. G. Geddes
Master Ross C. Geddes
Master Alexander L. Geddes
Miss Margaret C. Geddes
Rev. William M. Geer
Miss Gertrude M. Geer
Miss Cornelia F. Geer
Mr. Harold Geoghegan
Right Rev. R. A. Gibson
Miss Lucy F. Gibson
Miss Mary Gibson
Mr. John M. Gilchrist
Mrs. Gilchrist
Miss Gilchrist
Miss Adele Goldsmith
Mr. David Graham
Mrs. Graham
Miss Susan Graham
Mr. Malcolm Graham
Mr. Haldane Graham
Mr. Douglas Graham
Rev. Donald M. Grant
Mrs. Alice M. Graman
Miss Nannie Grant
Miss Mildred E. Green
Mr. Gilbert H. Grosvenor
Mrs. Grosvenor
Master Melville B. Grosvenor
Miss Gertrude H. Grosvenor
Miss Mabel Grosvenor
Dr. Gordon R. Hall
Mrs. Margaret C. Hall
Mr. George A. Hamlin
Mrs. Hamlin
Mr. Julian Hamlin
Mr. James Hannan
Miss Mabelle Harbeson
Mrs. A. B. Harper
Master A. B. Harper
Miss Mary A. Harper
Mr. Albert B. Hart
Mrs. Hart
Mr. A. B. Hart, Jr.
Mr. Adrian P. Hart
Mrs. Hastings H. Hart
Rev. George H. Harvey
Mrs. Harvey
Master George Harvey
Mr. Nicholas Healy
Miss Nellie Henderson
Mr. John Henderson
Mr. Wm. F. Hendrickson
Miss K. Hogan
Miss Dora Howe
Mr. Fred S. Hughes
Mrs. Hughes
Miss Helen Humphrey
Capt. J. B. Dalzell Hunter
Miss Hurst
Mr. A. Ibrahim
Mr. Robert Innis
Mr. Albert John Innis
Sister Mary Isabel
Miss Lillie James
Mr. Lewis H. Johnson
Mrs. Johnson
Mrs. Louie Jourdain
Mr. Henry P. Journeay
Mrs. Journeay
Mr. William F. Kennedy
Mrs. Kennedy
Mrs. J. W. Kinnear
Miss Jeannette Kinnear
Miss Esther Kinnear
Miss Jean M. Kirk
Miss Hazel M. Kirk
Miss Harriet M. Klussman
Miss Kraft
Mrs. Helen M. Kristensen
Mr. R. A. Lambert
Mr. George Lang
Mrs. Lang
Miss Barbara Lang
Mrs. Susan M. Langbein
Mr. Edward Law
Mr. J. L. Lawson
Miss E. L. Ledwich
Mr. G. E. Lippincott
Mr. Robert Logan
Miss Minnie F. Logan
Miss Beatrice L. Logan
Miss Maisie Logie
Mr. Samuel H. Longley
Miss Mary E. Longley
Mr. M. Luttges
Mrs. Luttges
Mr. Elias A. Lyon
Mrs. Lyon
Mr. Andrew McAllister
Miss Annie E. McAlister
Mrs. Camille McBan
Mrs. Claude E. McCabe
Mr. J. G. McCallum
Mr. H. McCarney
Mrs. McCarney
Dr. John A. McCorkle
Mr. Whitford L. McDowell
Miss Madeline C. McDuff
Mr. William McEwan
Mr. A. G. McGregor
Miss McGuire
Miss Bessie B. McIntyre
Miss M. McKinney
Mrs. Alma MacManus
Rev. F. A. McMillen
Mrs. McMillen
Rev. Peter McMillan
Mrs. McMillan
Mr. George F. Macharniss
Miss Edith Magrath
Miss Margaret Magrath
Miss Mary E. Mallette
Mrs. Nellie C. Marsh
Mr. Wm. N. C. Marsh
Mr. Frank R. Martin
Mr. William L. Mason
Miss Clara M. Matthews
Miss Henrietta Matthews
Mr. William J. Michael
Miss Kathleen Mills
Miss Isabella M. Moffat
Dr. Daniel M. Molloy
Miss F. Molloy
Mr. John Morrison, Jr.
Dr. Elizabeth M. Mosher
Dr. J. B. Murphy
Mr. John L. Murray
Mrs. Murray
Miss Cassie Murray
Miss Dora L. Newman
Mr. Thomas J. O'Donohoe
Mr. Charles W. Ostrom
Mrs. Ostrom
Miss Anna M. Ostrom
Master Warren Ostrom
Rev. John M. Page
Miss Joe Paterson
Mr. Anders Pedersen
Miss Gladys E. Perry
Mrs. Charles J. Phillips
Mr. F. H. Pickard
Mrs. Pickard
Master John L. Pickard
Miss Plant
Miss Margaret Pond
Mr. Andrew Purvis
Mr. Carl Rath
Mrs. Rath
Miss Evelyn I. Reed
Mrs. H. C. Reid
Miss Edna Reid
Master Huxley Reid
Miss Mary E. Reilly
Mr. Alfred A. Ritchie
Mrs. Ritchie
Miss Bartow Robertson
Mr. Andrew Robertson
Mrs. Robertson
Miss Isabel M. Robertson
Master Alastair M. Robertson
Miss Catherine M. Robertson
Mr. James K. Robinson
Mrs. Robinson
Miss Annie E. Robinson
Miss Kathleen Robinson
Mrs. W. A. Ross
Miss Olive M. Ross
Miss Jennie D. Ross
Mrs. Margaret Rowley
Mrs. Rowley Russell
Mr. J. Sarver
Miss Henrietta Seavey
Miss Leta M. Scholze
Mr. Samuel A. Sharp
Miss Katherine W. Sharp
Mr. John T. Sheehan
Mr. A. Shenudah
Miss Bessie A. Smith
Mr. Randolph Smith
Mr. Nicholas M. Smith
Mrs. Smith
Mr. Alexander Pyott Spence
Mrs. Pyott Spence
Master Harold Spence
Mrs. Elvira C. Stanley
Miss Helen M. Stanley
Mrs. Anastasia Steuart
Mr. James Stewart
Mrs. Mary R. McD. Stickney
Miss Jean B. Stuart
Miss Florence J. Sutherland
Miss Berenice Swift
Mr. Walter H. Taylor
Mrs. Taylor
Mr. Ernest J. M. Thomson
Miss Margaret A. Timmons
Mrs. George Turnbull
Miss Agnes Turnbull
Miss Wafer
Miss Wafer
Miss Wafer
Miss Wafer
Mr. John Wagner, Jr.
Miss Nell O. Waldo
Mr. John E. Walsh
Mrs. John R. Walsh
Miss Mary Walsh
Miss Libbie Walsh
Miss Aida Watrous
Mr. Forbes Watson
Mrs. Watson
Miss Isabel L. Watson
Miss R. Anna Webb
Mrs. D. D. Webster
Mr. Alexander F. Wemple
Mrs. West
Miss Ella L. West
Miss Mary West
Miss Daisy Whyte
Miss Mary J. Wilhoite
Mr. T. Wilson
Miss M. Winston
Mr. John Young
Mrs. Young
Miss Sarah R. Young
Miss Alice Young
Mrs. Jane Young
Information for Passengers
SALOON
Meals will be served in the Saloon at the following times: Breakfast from 8 to 10: Luncheon at 1 p.m., and Dinner at 6:30. Supper, if required, will be served before 10 o'clock.
The Bar will be closed at 11 p.m. and the Smoke Room at 11:30 p.m.
The Chief Steward has the arrangement of the seats at the table.
Music Room Steward is provided with Telegraph Forms, Stamps, etc.
Telegrams and Letters for dispatch are to be handed to this Official (fully prepaid) one hour before leaving Moville. This Official will also provide Railway Time Tables for the use of Passengers.
Divine Service may be held (once) on Sunday,
Dogs: Passengers are notified that dogs can only be landed in Great Britain if a license has been previously procured from the Board of Agriculture, London. License forms can only be obtained by direct application to the department before the dog is taken on board. Dogs may be taken on specific dates and by special agreement only.
Baggage: All inquiries regarding baggage should be made to the Second Steward.
Trunks, Wraps, etc., will be received, stored, and shipped by the Company for the return voyage. The Second Steward will provide Passengers with Initial Labels for Boxes to facilitate baggage examination on landing.
Steamer Chairs may be hired from the Deck Steward at $1.00 for the voyage—printed receipt to be obtained by Passengers for this hire.
Valuables: The Company is not responsible for the loss of money or valuables. The Purser will be glad to place such in his safe if Passengers so desire. As no charge is made for carriage, the Company cannot accept any responsibility for loss or damage, however arising, but Passengers can protect themselves by Insurance.
Official Receipts: Passengers should obtain a receipt on the Company's form for any additional Passage Money or Freight paid on board.
Londonderry Passengers: Passengers joining Steamers for New York at Londonderry must be at our Office by 3 o'clock Afternoon on the day Steamers leave Glasgow.
Customs: Tobacco, cigars, etc. wines, spirits, and perfumery are liable to duty on being brought into the United Kingdom. The smallest quantities should be declared to the Customs authorities when required. Reprints of copyrighted books and music will be confiscated.
Surgeon.—Each Steamer carries an experienced Surgeon, who is authorized to make customary charges, subject to the approval of the Commander, for treating Saloon Passengers at their request for any illness not originating on board the ship. In the case of sickness contracted on board, no charge will be made, and medicine will be provided for free.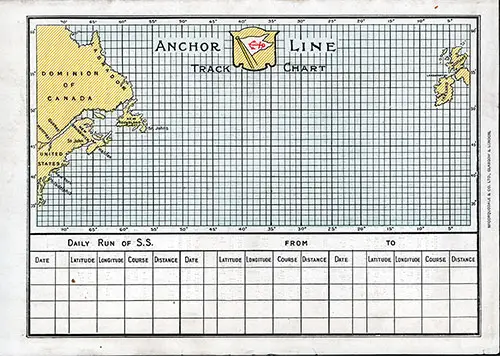 Track Chart and Memorandum of Log (Unused), SS Cameronia Saloon Passenger List, 6 September 1913. GGA Image ID # 1fc6892f8b