SS California Passenger List - 12 October 1907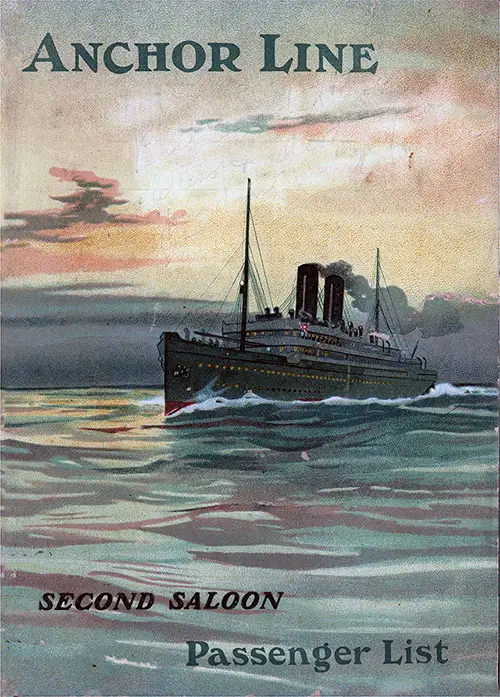 Beautiful Ocean Voyage Scene Watercolor Painting of a Steamship on the Front Cover of a Second Saloon Passenger List from the SS California of the Anchor Line, Departing Saturday, 12 October 1907 from Glasgow to New York via Moville, Commanded by Captain James Blaikie. GGA Image ID # 12df333fa6
Senior Officers and Staff
Commander: James Blaikie
Surgeon: W. H. Parr.       
Purser: R. Johnston.
Chief Steward: W. Jones
Stewardess: Miss Brodie
Stewardess: Mrs. Collins
Stewardess: Miss Dobbie
Stewardess: Mrs. McLeod
Stewardess: Miss Ferris
Second Class Passengers
Mr. Robert Adair
Miss Janie Adams
Miss Jessie A. Adamson
Mr. James Aird
Mr. James Aitken
Mrs. Ann J. Aitken
Mr. David M. Allen
Mrs. Sarah Allen
Master Stanley Allen
Miss Flora Allen
Miss Kate Anderson
Miss Catli. Armstrong
Mrs. Henrietta Astrclla
Miss Georgina Astrella
Mr. David Ayles
Miss Mary Bannerinan
Mr. A. Bannerinan
Mr. Ebenezer Bannerinan
Miss Isa Bannerman
Master Robert Bannerman
Mr. James Barr
Miss Jessie J. Bayne
Mr. Patrick Beggs
Mrs. Mary Beggs And Infant
Master James L. Beggs
Mr. Robert Bell
Mr. James Bell
Mrs. Ellen Bell
Miss Jane Birnie
Mr. David Black
Miss Bella Black
Miss Ellen J. Blemmings
Miss Annie Boyce
Mrs. Mary Boyd
Miss Grace Boyd
Miss Bridget Boyle
Mr. Richard Breakey
Miss Breakey
Miss Irene Breakey
Miss Martha E. Breakey
Mrs. Mary Brogan
Miss Mary Brogan
Miss Margaret Brogan
Miss Josephine Brogan
Miss Isa. Brown
Mr. John G. Brvden
Mrs. Mary Bryclen
Mrs. Cissy Buchanan
Master David Buchanan
Mrs. Burnside
Miss Burnside
Miss Maggie Buttars
Mr. Wm. Cabels
Mrs. Betsey Cabels
Mr. James Cairns
Mr. W. R. A. Caldow
Mr. John M. Callaghan
Miss Kate Carney
Mrs. Garnie
Mr. Mich. Carr
Mrs. Carr
Mrs. Ellen Carson
Miss Annie Carson
Miss Catterson
Miss Jeanie Catto
Miss Mary Chisholm
Mr. William Chrystal
Miss Bridget Clancey
Mrs. Kate Clark
Master George D. Clark
Mrs. Bridget Coales
Mr. Joseph Cochrane
Miss Annie Colgan
Mrs. Barbara Colquhoun
Miss Mina Colquhoun
Master Wm. Colquhoun
Miss Maggie Colquhoun
Mr. Thomas Connelly
Miss Ellen Conroy
Miss Annie Conroy
Mr. John Conroy
Miss Martha J. Cooke
Miss Ada Copely
Miss Ellen Cornyn
Mr. Geo. Corstorphine
Miss Elizabeth Coulsin
Mr. Joseph Coutts
Miss J. F. Coutts
Mr. Herbert Craig
Miss Mary Cruden
Miss Kate Crudden
Miss B. Cunnningham
Miss Mary Currigan
Miss Helen Dale
Mr. John Dalgetty
Miss Izabella Dalziel
Mrs. Davidson
Master Jas. H. Davidson
Miss Gladys M. Davidson
Mr. Robert C. Dawson
Miss Annie Deane
Mrs. Minnie Devine
Master James Devine
Miss Catherine Devine
Master William Devine
Mr. John Devlin
Miss Mary Dinsmore
Mr. Antonio Distefano
Mrs. Maria Distefano
Master Guiseppe Distefano
Master Nicola Distefano
Miss Mariedonia Distefano
Mr. John Dobson
Mrs. Anna Dobson
Miss Alice Dobson
Miss Maggie Doogan
Mrs. Eliz. Doran
Master Wm. K. Doran
Mr. Janies Dowds
Mrs. Mary K. Duguid
Master Murray Duguid
Miss Kath. Duguid
Mr. John Dunbar
Mrs. Annie Dunnigan
Master David Dunnigan
Mr. William Eadie
Mrs. Eldei
Master Louis Elder
Miss Maggie Elliott
Miss Jennie Eunson
Miss Grace Eunson
Mrs. Mary Fair
Mr. John Fairgrieve
Miss Jessie Faulkner
Mr. James Ferguson
Mrs. Jeanie Findlay
Miss Janie Findlay
Master Thos. Findlay
Master James Findlay
Master Bertie Findlay
Mrs. Jane Foley
Miss Eliza J. Frazer
Miss Maggie Freeman
Mrs. French
Miss Sarah J. Fulton
Miss Margaret E. Fulton
Mr. A. F. Galt
Mrs. Grace Gardner
Mr. John Gelling
Mr. Alex. Gibson
Mrs. Sarah Gibson
Miss Annie Gibson
Master Matthew Gibson
Mr. John Gifford
Mr. Win. Gilchrist
Mrs. Sarah Glenn
Mr. Frank A. Gorecki
Mrs. Lilian Gorecki
Miss Margaret Gorecki
Miss Alice Gorecki
Mr. A. F. Gorecki
Mrs. Elizabeth Gourlay
Master George Gourlay
Miss Annie Gourlay
Miss Eliz. Govan
Mr. John Gowan
Mrs. Sarah Gowan
Mrs. Isa. Graham
Mr. Thomas M. Graham
Mrs. H. Grant
Miss Edith Grant
Mrs. Helen Grant
Master S. K. Grant
Miss Grace Grant
Mr. Alexander Greig
Miss Sarah Greley
Mrs. Margaret Haffey and Infant
Miss Bridget Haffey
Miss Susan Hagerty
Miss Mary Haldane
Mr. Alex. Hamilton
Mr. James Hamilton
Mrs. Margaret Hamilton
Master Alex. Hamilton
Master John Hamilton
Miss Margaret Hamilton
Miss Agnes Hamilton
Mr. David Hanna
Mr. Harry Hardie
Mrs. Mary Harper
Master John Harper
Mr. John Henry
Mrs. Hill
Miss Jennie Hill
Miss Ellen Hood
Miss Agnes Hood
Miss Helen Hopkirk
Mr. Robert Howe
Mrs. Mary Howe
Mrs. Howie
Mrs. Mary Hunter
Miss Nellie Hunter
Mrs. Teresa Hurst
Mrs. Irvine
Mrs. Kate Irvine
Miss Lily Irvine
Miss Emma Irvine
Mrs. Hannah Irwin
Mr. Robert Johnson
Mrs. Margt. Johnstone
Miss Clara Joslin
Mrs. Mary Kane
Mr. Paul Kearney
Mrs. Susan M Keenan
Mr. William Keir
Miss Mary Kelly
Miss Mary Kelly
Mr. Pat. Kerr
Mrs. Kerr
Miss Mary Kerrigan
Mrs. Annie Killacky
Mr. John King
Mr. Robert Kipps
Mrs. A Kirkpatrick
Miss Kirkpatrick
Miss Elizabeth Kirkwood
Mr. David Kyle
Mrs. Maria C. Kyle
Mrs. Martha Lamont
Master James Lamont
Mrs. Violet Langridge
Miss Annie Leckey
Miss Barbara E. Leith
Mr. Herbert Livingston
Miss E. Loughridge
Miss Bridget Lynagh
Miss Susie McAnee
Mr. Patrick McCallion
Mrs. Mary McCallion
Master Neal McCallion
Miss Eileen McCallion
Miss Annie McCallion
Mr. James A. McCaw
Mr. Win. J. McCoal
Miss Sarah McConaghy
Mr. Thomas McCook
Mrs. Mary E. McCook
Master Thomas McCook
Miss Rebecca McCook
Mrs. Cassie McCourt
Mrs. Frances McCrea
Master Samuel McCrea
Mrs. Janet McCubbin
Master Win. J. McCubbin
Mr. Henry McCullagh
Miss Bridget McCullagh
Miss Catherine McCullagh
Mr. John McCullough
Mr. John McCune
Mrs. Margaret McDade
Master Peter McDade
Mr. Adam McDonald
Mrs. Mary McDonald
Miss Rachel McDonald
Mrs. Mary McDonagh
Mr. Chas. McDonald
Mr. Patrick McDonnell
Miss Mary McDonnell
Miss Annie McElhinney
Miss Maggie McElhinney
Mr. Robert McFeeters
Miss Kate McGarry
Mr. Hugh McGarvey
Mr. David McGilvray
Mrs. Bessie McGilvrav
Miss Cecelia McGonnigle
Mr. Robert McGowan
Mr. Wm. A. McGregor
Mrs. McGregor
Mr. John McGuire
Mr. John P. McKay
Miss Isabella Mackay
Mrs. Mackay
Miss Emma McKey
Mrs. Elbe McKee
Miss Mary McKenna
Miss Maggie McKenna
Miss Susan McKenna
Mr. Samuel McKenzie
Mrs. Margaret McKinlay
Master James McKinlay
Mrs. Mary A. McLean and Infant
Miss Isabella McLean
Miss Mary E. McLean
Master Chas. G. McLean
Master Robt. S. McLean
Miss Kate McLeod
Miss Mary McLeod
Mr. A. H. McMillan
Mr. John McMillan
Miss Margt. McMillan
Miss Bessie McMillan
Miss Lizzie McMullan
Mr. David McNair
Mrs. Elizabeth McNair
Mrs. Mary A. McNamee
Miss Bella McNamee
Mr. George McNeill
Miss Annie McPherson
Mr. George Mackie
Mr. Thomas Mackie
Miss Elizabeth Mackie
Mrs. Agnes Main
Mr. James Main
Mr. Fred. Main
Mr. Andrew Main
Miss Jane Mallon
Miss Nellie Marnie
Mrs. Elizabeth Martin
Miss Jeanie Martin
Mr. David Martin
Mrs. Chr. Martin
Miss Margaret Martin
Master William Martin
Miss Martin
Mr. James Matheson
Mrs. Ann Matheson
Mr. James Merritt
Mr. Thomas Middlemas
Mr. John Miller
Miss Mary Milley
Miss Eliz. G. Mitchell
Miss Catherine Moore
Mr. Charles L. Moore
Miss Margaret Morrison
Mr. Wm. Morton
Mr. John J. Morton
Mr. R. H. Mowatt
Miss Kate Mowen
Mr. Arthur Murdoch
Miss Nellie Murphy
Miss Mary A. Murphy
Miss Margaret Murphy
Miss Mary Murray
Mrs. Bridget Murray
Miss Margaret Murray
Master Joseph Murray
Mr. James Napier
Mrs. Napier
Mrs. Jessie Needham
Master Lees Needham
Miss Jessie Needham
Mr. James Neeson
Miss Mary Neeson
Miss Sarah Neeson
Mrs. Matilda Nelson and Infant
Master John Nelson
Mr. James M. Neilson
Mr. John Nesbitt
Mr. George Nicol
Mrs. Mary A. Nicoll
Miss Kate Niven
Miss Kate O'Byrne
Mrs. Ellen O'Connor
Mrs. D. J. Ogilvie
Master And. D. Ogilvie
Mr. John Outon
Miss Mary A. Owens
Mr. Hugh Owens
Master Wm. Owens
Miss Alice E. Parker
Mrs. Sarah J. Parr
Miss Parr
Mr. Henry Peden
Mrs. Penman
Mr. Richard Penman
Mr. James Penman
Mr. Andrew Penman
Master Robertson Penman
Mr. Philip
Mrs. Philip
Mr. J. M. Phillip
Mr. John Pollock
Mrs. Kate Pollock
Mr. Bidda Potter
Miss Margaret Priest
Mr. John Priest
Miss Chr. Ramognono
Miss Bendetta Ramognono
Mr. Nicola Ramognono
Miss Catrina Ramognono
Miss Rosina Ramognono
Mr. John B. Ramognono
Mrs. Gerafina Ramognono
Mr. Nicola Ramognono
Mrs. Chr. Ramognono
Miss Teresa Ramognono
Miss Carmela Ramognono
Mr. Guiseppe Ramognono
Mr. Antonio Ramognono
Mr. Giovanno Ramognono
Mr Michele Ramognono
Mr. Rocco Ramognono
Master Norman Randall
Mrs. Jessie F. Reid
Miss Annie J. Reid
Mrs. Sarah A. Reid
Mr. George Reid
Mrs. Reid
Mr. David Ritchie
Mr. James Ritchie
Mr. William Robb
Mr. James P. Robertson
Mrs. Robertson
Mrs. J. Robertson
Miss Maggie Robertson
Mr. John Robertson
Miss Jessie Robertson
Miss Margaret Robertson
Miss Isabel Robertson
Miss Jane Robertson
Miss Agnes Robinson
Miss Sophia Ross
Mrs. Lizzie Ross
Miss Elizabeth J. Ross
Miss Harriet E. Ross
Master Norman H. Ross
Mrs. G. Rowell
Miss Mary Rowell
Miss Bessie Rowell
Miss Grace Rowell
Master John Rowell
Miss Mary G. Rusk
Miss Jeanie Russell
Miss Nellie Russell
Miss Mary Russell
Miss Jeanie Russell
Miss Jane M. Sayers
Miss Sarah A. Sayers
Miss Jeannie Scott
Mrs. M. Scott
Master Alexander Scott
Mr. Charles Simmons
Miss Mary Small
Miss Mary Smiles
Mr. Cameron Smith
Mr. Victor Smith
Mr. Jos..Snadden
Miss Ellen M. Spence
Mrs. Jane Stark
Miss Josephine Stark
Mr. John Steel
Mr. Steele
Mrs. Steele
Miss Minnie Steen
Miss Janet Stephenson
Mrs. Mary Ann Steven
Mr. Thomas Steven
Miss Davina Steven
Mr. John M. Stewart
Mrs. K. Stewart
Miss Maggie Stewart
Mr. Wm. Stewart
Miss Bella Strain
Mrs. Isab. S. Stuart
Master E. A. Stuart
Miss Villa Sweeney
Mr. Harry L. Sword
Mr. Thos. C. Tait
Mrs. Tait
Rev. Andrew Taylor
Mrs. Lauretta Taylor and Infant
Master Irwin Taylor
Miss Lauretta Taylor
Miss Ellinor Taylor
Miss Mary Taylor
Miss Bessie Tennis
Mrs. Thomson
Miss Kate Thomson
Miss Chrissie Thomson
Master Robert Thomson
Miss Janet Thomson
Master Peter Thomson
Miss Maggie Thomson
Mr. Arthur M. Topham
Mrs. Treacy
Mrs. Turnbull
Miss Janet Turnbull
Miss Catherine Turnbull
Miss Annie Turnbull
Mr. Joseph B. Tyson
Mrs. Norah B. Valley and Infant
Miss Annie Wallace
Miss Selena Wallace
Miss Ellen Ward
Mrs. Mary J. Watson
Miss M. H. Webster
Mr. Thos. Whitelaw
Mrs. Jessie Whitelaw
Miss Jane Whiteside
Mr. James Wilson
Mrs. Wilson
Miss Mary Wilson
Miss Maggie Wilson
Mr. William Wilson
Mrs. Sarah Wilson
Miss Bella Wilson
Mr. Maurice Winfield
Miss Esther Winfield
Mr. Robert Woodside
Miss Margretta Wylie
Mrs. Young
Information for Passengers
SECOND CLASS
Meals will be served in the Second Class Dining Saloon at the following times:
Breakfast from 8 to 9 a.m.
Dinner at 1 p.m.
Tea at 6 p.m.
Supper, if required, will be served before 10 o'clock.
The Bar will be closed at 11 p.m. and the Smoke Room at 11-30 p.m.
The Chief Steward has the arrangement of the seats at table.
Forms, Stamps, etc.: Music Room Steward is provided with Telegraph Forms, Stamps, etc.
Telegrams and Letters for despatch to be handed to this Official (fully prepaid) one hour before leaving Moville. This Official will also provide Railway Time Tables for use of Passengers.
Divine Service may be held (once) on Sunday.
Dogs: Passengers are notified that dogs cannot be landed in Great Britain unless a license has been previously procured from the Board of Agriculture, London. Forms of license can only be obtained by direct application to the Department before the dog is taken on board. Dogs may be taken on certain dates and by special agreement only.
Baggage: All enquiries regarding baggage should be made to the Second Cabin Steward; and Trunks, Wraps, etc., will be received, stored and shipped by the Company for the return voyage. The Second Cabin Steward will provide Passengers with Initial Labels for Boxes, so as to facilitate examination of baggage on landing.
Steamer Chairs may be hired from the Deck Steward at a cost of $1.00 for the voyage. Printed receipt to be obtained by Passengers for this hire.
Valuables: The Company is not responsible for the loss of money or valuables The Purser will be glad to place such in his safe, if passengers so desire. As no charge is made for carriage, the Company cannot accept any responsibility for loss or damage, however arising, but passengers can protect themselves by Insurance.
Receipts: Passengers should obtain a receipt on the Company's form for any additional Passage Money or Freight paid on board.
Passengers joining Steamers for New York at Londonderry, must be at our Office there not later than 4 o'clock Afternoon on day Steamers leave Glasgow.
Customs: Tobacco, cigars, etc., wines, spirits and perfumery are liable to duty on being brought into the United Kingdom, and the smallest quantities should be declared to the Customs authorities when required. Reprints of copyright books and music will be confiscated.
"Marconi" Wireless Telegraph System.
FITTED ON BOARD the T.S.S. "CALEDONIA" and "COLUMBIA."
Messages tor Passengers on board either of these Steamships can be sent through the "Marconi" Station at Malin Head, Ireland.
[Form of Address ]
Name,
Passenger per. ..
Malin Head Wireless Station,
Or at Babylon or Sagaponack, Long Island, U.S.A.,
Name
(Insert Steamer.)
Station.
RATES ON BOARD FOR WIRELESS TELECRAMS.
From Ship to Shore Station: 6d. per word
From Ship to passing Ship and thence to Shore Station: 6d. per word
Minimum Charge for One Telegram 6s., which covers 12 words, and Sixpence for every additional word, plus the ordinary land and cable charges from Shore Station to destination. Messages for transmission through Shore Stations in U.S. or Canada, to places in either country, a minimum charge of $2.00 (8/4) is made for the first 10 words (Address and Signature free), and 12 cents for each additional word, plus the land toll from Shore Station to destination.
Telegrams are also received at same rates as above for passing Ships, either for delivery on board or for retransmission through Shore Stations.
OFFICES OF THE COMPANY:
Henderson Brothers:
21 to 25 Sherman Street, Jackson Boulevard, Chicago, Ill.
17 and 19 Broadway, New York.
Anchor Line (Henderson Brothers), Ltd.:
20 Foyle Street, Londonderry
17 Water Street, Liverpool
4 St. Mary Axe, London, E.C.
Dundee, Gibraltar and St. Vincent Place, Glasgow.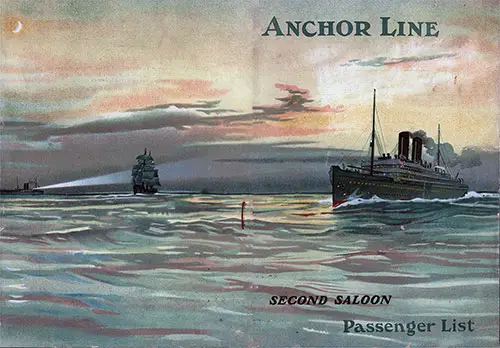 Ocean Voyage Watercolor Painting on the Covers of a Second Saloon Passenger List of the Anchor Line SS California from Saturday, 12 October 1907. GGA Image ID # 12df7da58c