New York Harbor - Post World War II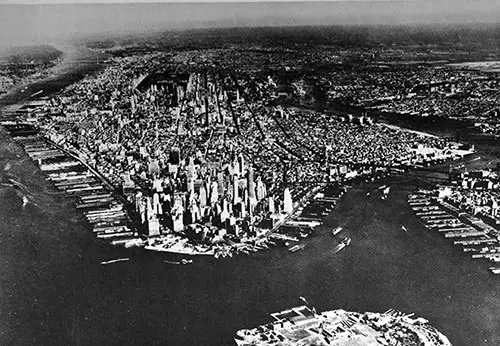 Aerial View of New York City and Vicinity. Hudson River at Left; East River at Right. GGA Image ID # 143473dfad
New York City is located in the southeastern part of New York State and is the focal point of the Port of New York. The port includes a waterfrontage of 755 miles measured along the shoreline of its many bays, rivers, and indentations within the port district.
Land areas in the district extend westward beyond Newark, N. J.; southward to include Atlantic Highlands, N. J., on the east and New Brunswick, N. J., on the west; northward as far as Tarrytown, N.Y., on the Hudson River and Port Chester, N.Y., on Long Island Sound; and to the east it includes Jamaica Bay, on Long Island.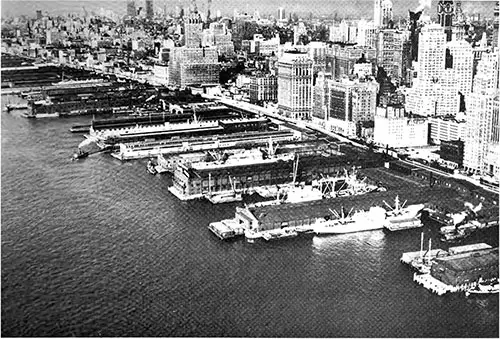 Piers on Hudson River - Lower Manhattan. Pier 1 at Lower Right. GGA Image ID # 1434970961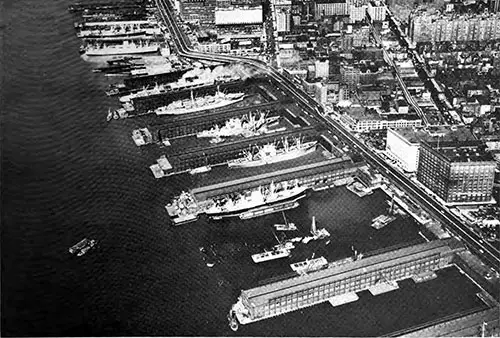 Piers 56 (Lower Right) to Pier 68 - Hudson River, Manhattan, Before Reconstruction of Pier 57. GGA Image ID # 1434af46e1
About 42 separate channel projects have been authorized by the Congress at various times and work has been carried on from time to time to provide sufficient depths for the types of vessels using the channels. The main channels can be navigated by the largest vessels afloat.
The Port of New York Authority is the main factor in the over-all administration of the port. The agency's authority derives from the 1921 compact between New York and New Jersey and extends over an area of some 1,500 square miles, centering in the tip of lower Manhattan Island.
Generally, the functions of the Authority are to develop and operate transportation and terminal facilities within the Port District, to promote traffic for the port, and to work with other agencies toward an integrated transportation system in the port.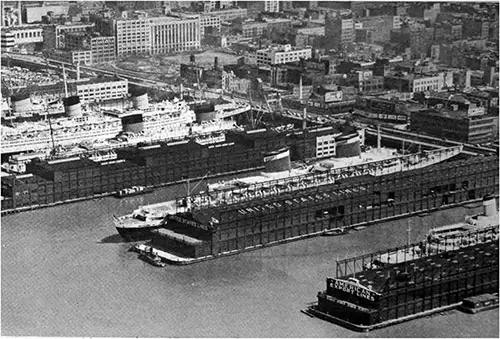 Passenger Ocean Liners SS Independence, SS United States, SS Liberté, and RMS Queen Elizabeth at Piers 84, 86, 88, and 90 -- Hudson River, Manhattan. GGA Image ID # 1434ce5780
A very important phase of its work is intensive traffic solicitation, which is performed not only in New York but in major cities in the United States and abroad.
Another important administrative body in New York is the Waterfront Commission of New York Harbor, also a bi-state agency. The Commission has wide authority over longshore labor, stevedores, watchmen, and certain classes of supervisory personnel.
IMAGE (p166/1025)
Aerial View of Hudson River Piers from Above Hoboken, NJ Before Construction of Port of New York Authority Pier C. GGA Image ID #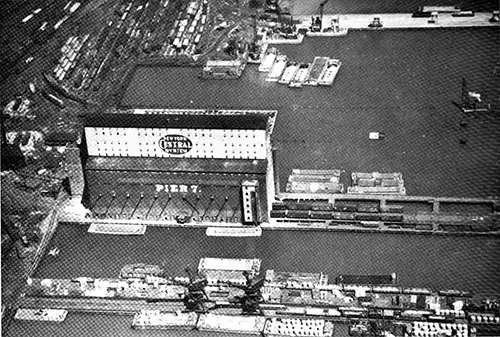 Open Pier No. 6 and Grain Elevator on Pier No. 7 of New York Central Railraod - Hudson River, West New York, NJ. GGA Image ID # 1434cffeca
All waterfront labor in the port is unionized, the majority affiliated with the International Longshoremen's Association, an independent union. The International Longshoremen's Association has been certified by the National Labor Relations Board as the bargaining agent for all the port's longshore workers.
New York enjoys a variety and concentration of governmental and commercial services superior to those of any other United States port. The charges for port and terminal services are competitive for the North Atlantic area.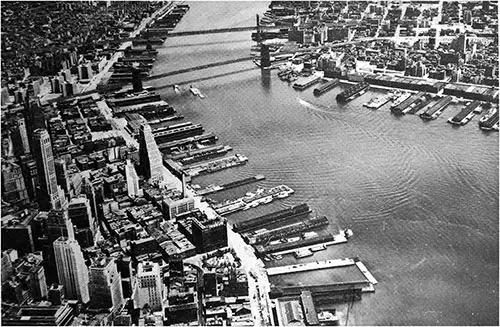 Piers on East River -- Manhattan on Left; Brooklyn on Right. Portion of New York Dock Co. Terminal at Right, Above Center. GGA Image ID # 1436c0b607
Facilities for the transfer of commodities between water carriers and land are located in every section of the harbor and range in size from 1,000-foot piers, used by giant transatlantic vessels, to small bulkhead wharves limited to barge traffic. Detailed information on 1,451 waterfront facilities within the boundaries of the port district is published in Part 2 of this report.
Approximately 130 steamship lines provide New York with regularly scheduled service. Numerous private and contract carriers and tramp vessels also share in the traffic.
In the domestic trades, 3 lines maintain service between New York and the ports on the South Atlantic and Gulf Coasts of the United States, 10 lines link New York with Pacific ports ranging from San Diego to Puget Sound, 2 lines schedule calls to Puerto Rico, and 2 lines offer Honolulu service.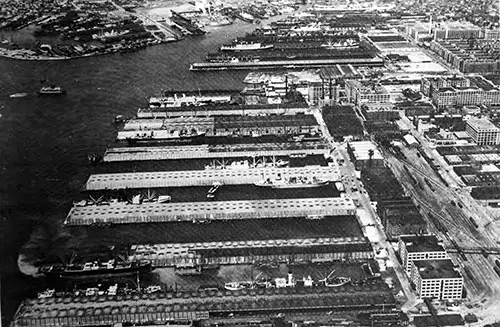 Bush Terminal Co. Piers and Buildings -- Bay Ridge Channel, Brookly, NY. Board's Erie Basin at Upper Left. Gowanus Creek at Upper Center. GGA Image ID # 1436da5f30
In the foreign trades regular sailings to Atlantic Canada and Iceland are provided by 4 lines; to the Caribbean area, 23 lines; West Coast Central America, 7 lines; East Coast South America, 13 lines; West Coast South America, 6 lines; United Kingdom and Eire, 10 lines; Scandinavia and the Baltic, 10 lines; Atlantic France, Germany, Holland, and Belgium, 18 lines; Atlantic Spain, Portugal, and the Azores, 11 lines; Morocco and the Mediterranean area, 28 lines; West Africa, 6 lines; South and East Africa, 4 lines; Red Sea and Persian Gulf ports, 11 lines; Far East, India, and Straits Settlements, 30 lines; and Australasia, 3 lines.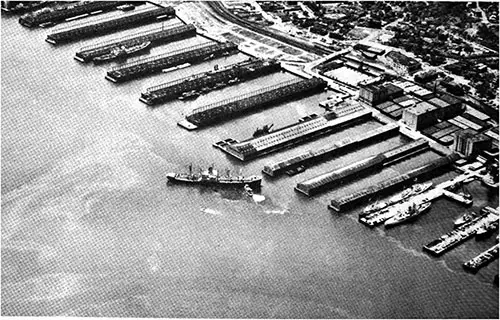 General Cargo Piers at Tompkinsville, Staten Island, NY. GGA Image ID # 143766ba6d
Twelve line-haul railroads serve the New York port district and maintain extensive facilities for furnishing every type of freight handling service. Large fleets of marine equipment are operated by the rail carriers.
They include carfloats, lighters, and barges which enable them to transport freight between their terminal yards, principally located on the New Jersey shore, and their numerous freight stations situated on the waterfronts of Manhattan, the Bronx, Brooklyn, and Staten Island, also to any of the ship berths within the harbor.
Motortruck transportation plays a vital role in the long-distance movement of freight for export; in supplying the population of the area with necessary commodities; and the pick-up and delivery of freight hauled by over-the-road trucks as well as by railroad, air, and water carriers.
Approximately 750 operators provide long distance or intercity service direct to or by connections with other carriers to reach nearly every state in the country.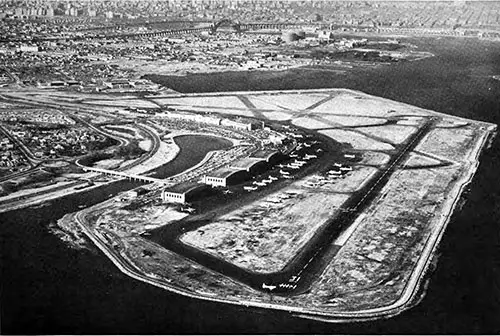 LaGuardia Airport Operated by the Port of New York Authority. GGA Image ID # 1437901301
Transportation of commodities of nearly every description are handled by airlines in ever increasing volume. At the four large airports in the New York area over 200 million pounds of air cargo were handled in 1953, nearly 11 percent of which entered or left the country in foreign trade.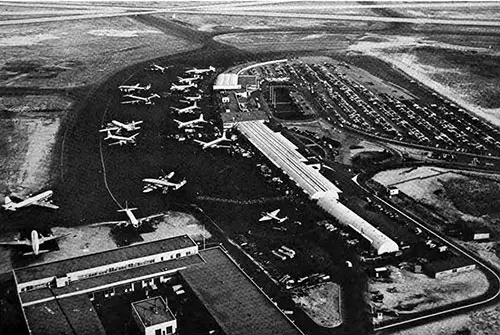 New York International Airport Also Operated by The Port of New York Authority. GGA Image ID # 1437bb5045
New York's waterborne foreign trade during 1952 totaled nearly 31,500,000 tons of 2,2110 pounds, of which 6,700,000 tons were exports and 2,800,000 tons imports.
Approximately 40 percent of the exports was destined to areas lying south of the United States including Mexico, the Caribbean Islands, Central and South America; 35 percent to countries of Western Europe and the Mediterranean areas; and smaller amounts to transpacific, African and Canadian destinations.
Over 70 percent of the import tonnage originated in the areas occupied by Mexico, the Caribbean Islands, Central and South America while 15 percent was loaded in countries of Western Europe and the Mediterranean areas.
Noncontiguous trade with Hawaii and Puerto Rico, totaled 965,729 tons of 2,000 pounds, of which 596,591, tons were receipts and 369,135 tons were shipments.
Intercoastal commerce at the port amounted to 1,602,608 tons of 2,000 pounds, of which 1,231,226 tons were inbound and 371,382 tons were outbound. Internal trade and movements within the harbor represented a large segment of the total tonnage handled by water at the port.
Internal receipts amounted to 4,679,261 short tons while internal shipments were slightly less, or 4,305,775 tons. Local trade accounted for 5,192,173 short tons and intra-port movements totaled 38,568,461 short tons.