Port of Naples, Italy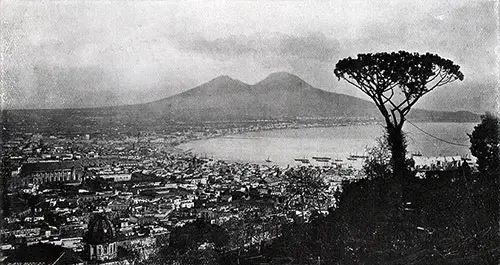 The Port and Harbor of Naples, Italy. GGA Image ID # 144567b05b
Approach to Naples, Italy (1911)
Vessels entering the Bay of Naples pass close to the mountain island of Ischia on the left of the route. Testaccio and Barano above are particularly noticeable towns on the slopes of the hills leading up to Mount Epomeo, which tops the scene.
As the island is left behind, the town of Ischia comes in view stretching along the shore of the eastern coast with the Castle at the end of a long pier. The little island of Vivara lies close to the island of Procida beyond.  On Procida the town of the same name is conspicuous lying on the slope below the great fortification high up on the eastern coast.
The first point reached of the mainland is Cape Miseno at the west of the Gulf of Pozzuoli. The "lovely Bay of Baie" is up the west shore, Mount Nuova, at the head of the gulf, and Pozzuoli on the east shore.
The island of Nisita lies in the mouth of the gulf at the east. After passing this and the promontory of Posilipo, Naples is seen on the left of the foreground, a long stretch of white buildings crowding the shores and climbing the heights beyond. Vesuvius, with the summit of Mount Somma on its right flank, is in the middle foreground.
The towns of Portici, Resina and Torre del Greco carry on the line of buildings along the shore at the slope of the volcano. Torre dell' Annunziata is the last town before the plain of Pompeii fills in the coast to Castellamare in the sharp comer where a cliff line bearing aloft white towns, turns back to the Mediterranean. Capri at the end is opposite Ischa, and the two islands lie on either side of the entrance to the Bay of Naples.
Presbrey, Frank, "Ocean 'Lanes'," in Presbrey's Information Guide for Transatlantic Travelers, Seventh Edition, New York: Frank Presbrey Co., 1911: P. 50.
Sailing Schedules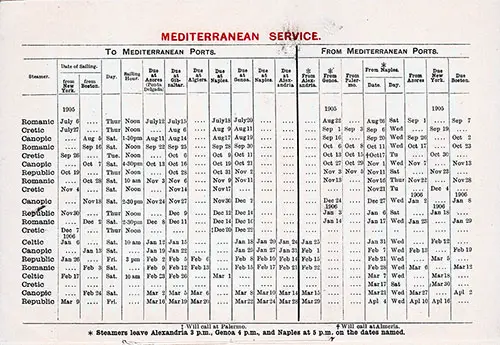 White Star Line Mediterranean Service from 6 July 1905 to 16 April 1906. Ships Include the Canopic, Celtic, Cretic, Republic, and Romanic. Ports Include New York, Boston, Azores, Gibraltar, Algiers, Naples, Genoa, and Alexandria. Will Call at Palermo and Almeria on some voyages. RMS Majestic Passenger List, 30 August 1905. GGA Image ID # 1dd4405a37. Click to View Larger Image.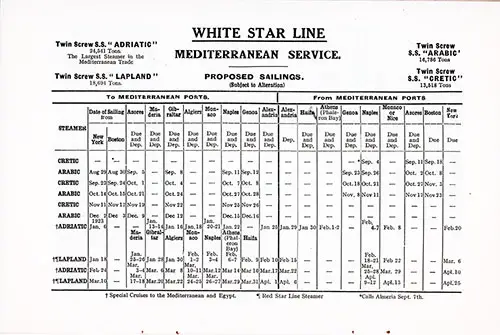 White Star Line Mediterranean Service Proposed Sailings from 29 August 1922 to 13 April 1923. Ships Included the Adriatic, Arabic, Cretic, and Lapland. Ports Included New York, Boston, Azores, Madeira, Gibraltar, Algiers, Monaco, Naples, Genoa, Alexandria, Haifa, Athens (Phaleron Bay), and Nice. RMS Majestic Passenger List, 6 September 1922. GGA Image ID # 1dd525881f. Click to View Larger Image.