SS Ohio Passenger List - 17 September 1926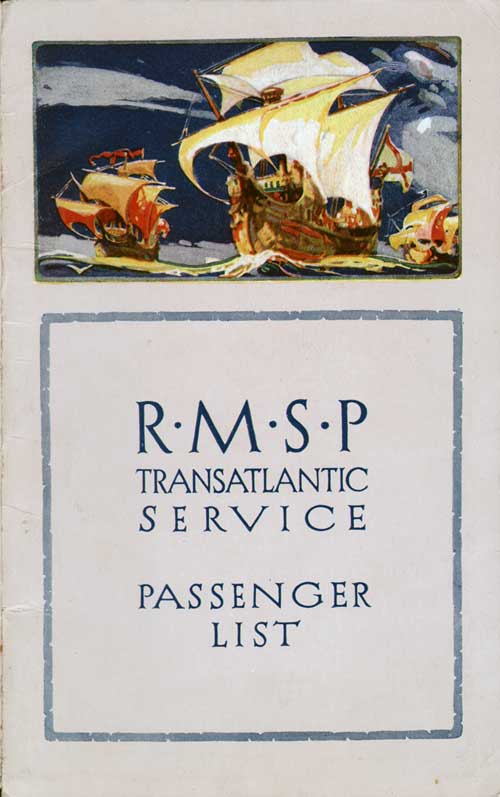 Front Cover of a Cabin Passenger List for the SS Ohio of the Royal Mail Steam Packet Company (RMSP), Departing 17 September 1926 from Cherbourg to New York via Southampton, Commanded by Captain E. Clarke.
Senior Officers and Staff
Captain E. Clarke, R.D., R.N.R
Chief Officer H. M. S. Laidlaw, R.D., R.N.R
Senior Second. Officer W. H. Roberts
Junr. Second. Officer C. L. WATERHOUSE
Third Officer D. Miller
Chief Engineer W. H. D. MARKER
Second Engineer A. BULLOCK
Junr. Second Engineer A. Turner
Third Engineer T. KAY
Surgeon S. B. White, B.A., M.B. B.Ch. Ox., M.R.C.S. ENG. & L.R.C.P. London
Purser H. A. STODDART, R.N.R
Assistant Purser T. B. WALTON
Assistant Purser H. C. Collins
Assistant Purser C. W. FAIRALL
Chief Steward P. ABBOTT
List of Cabin Passengers
From Southampton To New York
Miss M. Allen
Mr. D. Allen
Mr. J. H. Allen
Mr. R. Allen
Mrs. Allen
Mr. T. G. Ames
Mrs. M. Anderson
Mstr. J. Anderson
Miss Z. Armstrong
Mrs. H. Armstrong
Mr. J. Backmann
Mr. W. D. Backmann
Mrs. F. Bangs
Miss G. Barnes
Mrs. B. Barry
Miss M. Battelle
Mrs. S. Battelle
Miss H. M. Bent
Dr. A. A. Bisset
Miss G. Blunt
Mrs. J. L. Borden
Miss A. E. Bowers
Mr. W. Bradford
Mr. W. K. Bradley
Mrs. Bradley
Miss E. Brown
Miss E. J. Buckman
Mrs. A. C. Buckman
Mrs. M. Clayton
Mrs. M. R. Cohen
Mr. S. C. Coleman
Mrs. Coleman
Mrs. S. K. Connor
Dr. F. J. H. Coutts
Mr. H. Crane
Miss H. N. Crosby
Miss B. Delaune
Mr. S. Dickson
Mrs. M. Dimmick
Mr. E. Dodd Jr.
Mrs. E. Dodd
Miss C. Dodge
Miss L. Dorrance
Mr. S. M. Dorrance
Mrs. Dorrance
Mstr. S. Dorrance
Mr. E. G. Eckert
Miss E. Emard
Dr. R. S. Emery
Mrs. Emery
Mrs. A. Focke
Mr. E. V. Franklin
Mr. J. W. Franklin
Mr. L. M. Franklin
Mr. L. M. Franklin Jr.
Mrs. Franklin
Mstr. M. Franklin
Mrs. E. Frothingham
Mstr. Alan Frothingham
Mstr. Anthony Frothingham
Mstr. R. Frothingham
Mr. R. Graham
Mr. R. J. Graham
Mrs. E. M. Graham
Mr. H. J. Hamberg
Mr. H. J. Hamberg Jr.
Mrs. Hamberg
Miss A. Hamberg
Mrs. G. Hawkins-Ambler
Mr. S. O. Heiberg
Mrs. Heiberg
Miss P. Helmer
Mr. B. T. Hoogland
Mr. B. Hornemann
Miss C. W. How
Miss J. W. How
Mrs. J. Ingersoll
Mr. W. Jackson
Mr. W. C. Jackson
Mrs. Jackson
Mrs. C. Jacot
Miss E. L. Job
Mr. F. Job
Mrs. Job
Mr. P. H. Johnson
Mrs. E. Jones
Master A. Labaree
Mr. L. Labaree
Mrs. Labaree
Mr. J. Drysdale Little
Mrs. Little
Mr. W. S. Louderback
Mr. S. Lowe
Mr. G. Lubarsky
Mrs. M. Lundberg
Mr. E. Manders
Mrs. Manders
Mr. J. Marks
Mr. R. Matsumoto
Miss P. McCormick-Goodhart
Miss E. McDermottive
Mrs. E. S. McLaughlin
Miss H. McShain
Miss A. M. Mead
Mrs. F. Meigs
Mr. W. Nicholas
Mr. T. E. Nichterlein
Miss M. R. Orr
Miss H. C. Parsons
Miss H. J. Parsons
Mr. H. T. Paton
Miss H. Pearson
Mr. A. Phelps
Mrs. F. H. Phelps
Mr. H. Pickup
Mrs. E. B. Pirsson
Mr. E. A. J. Pope
Miss L. Reese
Dr. G. T. Renshaw
Mr. B. Revel
Mr. J. J. Riley
Mr. J. Riley Jr.
Mrs. Riley
Dr. G. B. Roatta
Dr. V. P. Robinson
Dr. W. Robinson
Dr. H. A. Rosa
Miss M. Rowbotham
Mr. W. J. Rutter
Mrs. C. H. Sayre
Mr. H. H. Schu
Mrs. Schu
Mr. H. Seymour
Mrs. B. G. Simpson
Miss B. D. Sinclair
Mr. M. Singer
Mrs. Singer
Mr. G. M. Skinner
Miss F. M. Smith
Mrs. Stcphens
Master W. O. Stephens
Miss M. Stephens
Mr. T. H. Stephens
Mr. A. G. Swaltz
Miss E. V. Swank
Mr. A. F. Taylor
Mrs. H. F. Taylor
Miss C. Tippett
Miss L. Todd
Mrs. F. C. Todd
Mr. C. P. Toland
Miss C. M. Tousley
Mr. J. R. Tucker
Miss H. B. Tudor-Hart
Miss A. S. Van Dusen
Miss A. S. Van Dusen
Miss M. Van Dusen
Miss R. M. Van Dusen
Mrs. L. H. Van Dusen
Miss M. Van Iderstine
Mrs. E. Van Iderstine
Mr. F. B. Walker
Mr. R. Weed
Master C. Werelins
Miss A. Werelins
Mrs. E. Werelins
Miss S. White
Miss R. White
Mr. W. L. White
Miss A. P. Williams
Miss G. E. Wolfe
Rev. Father Woywod
List of Passengers From Cherbourg To New York
Miss E. C. Abell
Mr. F. L. Abell
Mrs. C. Abell
Miss D. Acosta
Mrs. J. Acosta
Mr. L. Araquistain
Mrs. A. Badgley
Miss J. Ballon
Mrs. L. C. Berry
Mstr. L. Berry
Mr. C. Boeckeler
Mr. H. Boeckeler
Miss E. Bonker
Miss L. Briggs
Miss R. Briggs
Miss B. Bright
Miss F. L. Bristol
Miss J. Bryant
Mrs. R. M. Burgoyne
Mr. E. F. Bushnell
Mrs. Bushnell
Miss E. A. Campbell
Miss Carega
Miss N. Charton
Miss E. Clark
Miss M. L. Clark
Mr. J. Clark
Miss E. Clatworthy
Miss R. Conant
Miss M. Coy
Dr. M. A. Crockett
Mrs. Crockett
Mrs. R. J. Culbert
Miss E. E. Davison
Mr. E. M. Davison
Mrs. Davison
Mrs. A. K. Day
Miss M. de Pombo
Mr. E. de Pombo
Mr. R. de Pombo
Mrs. de Pombo
Miss E. W. de Russy
Miss A. E. de Wolf
Mr. A. L. Deane
Mrs. Deane
Mr. A. Deibert
Miss J. L. Dickinson
Mrs. L. M. Dickson
Mr. H. Douglas
Mrs. Douglas
Mr. R. C. Duncan
Mrs. Duncan
Mr. A. Empie
Mr. A. H. Eskesen
Mr. W. W. Ferguson
Mrs. E. D. Ferguson
Miss H.  Ferris
Miss M.  Flynn
Miss H. M. Foley
Miss M. T.  Foley
Mrs. A. M. French
Mrs. A. Gareis
Mr. S.  Garu
Miss M. Gay
Miss M. Gilpin
Miss M. F. Goerz
Mr. B. Goldstein
Mr. M. F. Graver
Mrs. Graver
Mstr. J. H. Graver
Mrs. G. Gray
Mrs. F. J. Greene
Miss E. Griffig
Mr. J. A. Griggs
Mrs. Griggs
Miss K.  Guthrie
Mrs. F. S.  Guthrie
Miss A. Hall
Miss M. C. Hall
Mrs. A. K. Hall
Miss H. M. Halter
Mrs. N. Harding
Miss S. Harrison
Mrs. W. L. Harrison
Miss J. Hayward
Mr. A. Hayward
Mrs. Hayward
Miss H. Higgins
Miss M. E. Higgins
Mr. T. Higgins
Mrs. M. Higgins
Mstr. P. Higgins
Mstr. W. Higgins
Mrs. A. Hixon
Mstr. G. Hixon
Miss J. Holbrook
Mrs. E. Holbrook
Miss M. E. Jackson
Mrs. W. B. Jackson
Miss G. E. Jones
Miss I. Kalnin
Mrs. L. Kalnin
Mstr. A. Kalnin
Mstr. C. Kalnin
Mrs. F. S. Keiler
Mrs. A. Klopot
Miss M. H. Knapp
Miss M. K. Knapp
Mrs. J. H. Knapp
Mr. Alexander Knott
Mr. H. A. Knott Jr.
Mrs. H. A. Knott
Mr. C. Lander
Miss L. Larendon
Mr. A. Liebes
Mrs. G. Loan
Mrs. N. Loan
Miss V. Loner
Mrs. E. M. Loner
Mr. R. Lyon
Mrs. L. E. MacClelland
Miss D. Macy
Miss H. Macy
Mrs. A. Macy
Mrs. C. E. F. Macy
Miss E. B. Marcy
Mrs. H. O. Marcy Jr.
Mstr. H. O. Marcy
Miss R. Marshall
Mr. H. Marshall
Mrs. Marshall
Miss M. M. Martin
Mr. H. B. Martin Jr.
Mr. L. S. Martin
Mr. V. J. Martin
Mrs. H. B. Martin
Miss E. Maybum
Mrs. E. L. McBumey
Miss C. McBurney
McGrath Mrs. F. A
Miss E. McGrath
Miss P. McGrath
Mstr. G. McGrath
Mstr. S. McGrath
Miss R. Meek
Mr. C. E. Meek
Miss D. Michelson
Mrs. E. S. Michelson
Miss G. Montford
Miss C. E. M. Moran
Mr. R. A. Morse
Mr. E. L. Muller
Mrs. F. Nathan
Mr. H. Nevin
Mrs. Nevin
Miss D. Newman
Mr. W. P. Newman
Mrs. Newman
Miss C. M. North
Mr. B. N. Parmenter
Mrs. P Parmenter
Miss H. Patch
Miss E. B. Paulding
Mr. J. C. Peden
Mrs. Peden
Miss A. E. Perkins
Mr. H. S. Perrigo
Mrs. Perrigo
Dr. E. Pollak
Mrs. E. C. Ponafidine
Mrs. G. M. Poole
Miss L. P. Proctor
Mrs. M. C. Proctor
Miss R. Raffalli
Miss F. Rauser
Mrs. B. Rauser
Mrs. J. Redfield
Miss B. Reiner
Mr. F. Reiner
Mrs. B. Reiner
Mr. A. Reinhardt
Mr. W. D. Reis
Mrs. C. M. Reis
Miss L. Ripin
Miss R. Ripin
Mrs. S. N. Ripin
Mstr. B. Ripin
Mstr. R. Ripin
Miss N. Roberts
Miss M. L. Rohmer
Mr. E. H. Rohmer
Mr. G. Ronzoni
Miss B. Rosenfeld
Mrs. M. Saxe
Mr. E. Schofield
Mrs. Schofield
Miss H. S. Schroeder
Mr. G. G. Schroeder
Mr. G. G. Schroeder Jr.
Mrs. Schroeder
Miss A. C. Simpson
Miss L. Sisson
Miss C. Sisson
Mrs. C. E. Smith
Miss A. Spencer
Mr. C. G. Spencer
Mrs. C. G. Spencer
Miss H. Stearns
Mrs. L. F. Stearns
Dr. M. Sturges
Prof. J. O. Sumner
Mr. K. Sweatt
Mrs. Sweet
Senator J. C. Sweet
Miss B. Taylor
Miss J. Taylor
Miss M. Taylor
Mr. M. Taylor
Mrs. Taylor
Mrs. I. Thompson
Miss E. Trott
Dr. J. P. Tunis
Mrs. C. V. Twiss
Mrs. M. Underhill
Dr. S. G. Uriburu
Miss S. M. Van Anden
Mr. H. Wason
Mrs. Wason
Mr. R. Weiner
Mr. J. C. Westfall
Mr. R. E. Westfall
Mrs. Westfall
Mrs. A. Whitaeker
Miss G. Whitcomb
Miss K. Whitcomb
Mrs. W. C. Whitcomb
Mrs. C. L. Willard
Mrs. E. Williams
Mrs. L. Williams
Miss C. Wilson
Miss S. Wilson
Mr. J. Wilson
Mrs. Wilson
Dr. O. Wintersteiner
Mr. F. Wose
Mrs. Wose
Mr. D. L. Wright
Miss G. Yates
Miss H. Yates
Mrs. H. Yates
Miss E. S. Young
Mr. O. Zeigler
Mrs. Zeigler
Mr. H. J. Zollinger
Information for Cabin Class Passengers
Baggage
Enquiries as to hold or baggage room baggage should be addressed to the Chief Officer, and cabin baggage to the Purser.
Passengers are recommended to insure their Baggage, as the Company's liability is strictly limited in accordance with Contract Ticket.
Baggage for Great Britain
Any of the following articles, however small the quantity, must be declared and produced on demand. Passengers in transit are not exempt from the requirements as to declaration and production. The principal articles commonly brought by Passengers on which duties of Customs are chargeable on importation into the United Kingdom are : Tobacco, including cigars, cigarettes and snuff. Spirits, and articles containing spirits, liqueurs, bay rum, wine and beer.
Perfumed spirits, e.g., eau de Cologne, toilet waters, etc.
Tea, coffee, chicory, cocoa and chocolate.
Sugar, and goods containing sugar, saccharin and similar substances.
Cameras, field and opera glasses, magnetos, vacuum tubes, wireless valves, and other articles liable to Key Industry Duty, such as :—
Optical glass and optical instruments, scientific glassware, lamp blown ware and laboratory porcelain. Scientific instruments and certain gauge and measuring instruments of precision. Permanent magnets, are lamp carbons and hosiery latch needles. Metallic tungsten and its products, etc. Compounds of thorium and other rare earth metals. Certain synthetic, organic and other chemicals (see below as to prohibition of dyestuffs).
Cinematograph films.
Clocks, watches and their component parts.
Motor-cars and motor-cycles and their accessories and component parts. Musical instruments, their accessories and component parts, including gramophones and gramophone records.
Silk and artificial silk in all forms, including all articles made with or containing them.
Lace of all descriptions, including lace or net curtains, embroidery resembling lace, whether these articles form part of or are attached to other articles or not.
Matches, playing cards, dried fruits.
Chloral hydrate, chloroform, collodion and ethers. All prohibited or restricted articles, e.g.:
All merchandise imported in baggage.
Extracts of tea, coffee, chicory and tobacco.
Foreign reprints of registered copyright works, including music.
Arms, ammunition and explosives. These are not allowed to be imported except under licence issued by the competent authority.
Prepared opium. Cocaine, morphine, ecgonine and diamorphine (heroin), and raw or medicinal opium. These are not allowed to be imported except under licence issued by the competent authority.
Plumage, with certain exceptions, which include plumage bona fide intended, and reasonably required as part of the wearing apparel for the personal use of a passenger.
Plate.
Synthetic organic dyestuffs.
All dutiable prohibited and restricted articles to be produced to the Customs. All such articles in
the possession of a passenger, however small the quantity may be, and whether carried on the person or otherwise, must be declared and produced to the Customs officer who examines the baggage, otherwise smuggling penalties are incurred. No prohibited article, however small the quantity, will be permitted to be imported.
Liable To Duty.—All dutiable articles are liable to duty. In practice, however, Passengers may be allowed to retain small quantities of dutiable articles for their own personal use without payment of duty, provided that they are duly declared and produced. This concession is liable at any time or in any circumstances to be witheld or modified as the interests of the Revenue may require; and it does not apply to dutiable articles in registered baggage examined elsewhere than at the port of landing or in unaccompanied baggage.
All baggage liable to examination. The Customs Officer may require all packages of baggage to be opened for his examination; and the responsibility for opening, unpacking and repacking the packages rests with the passenger or his agent.
Dogs.— Dogs and other canine animals from foreign countries, not including the Channel Islands or the Irish Free State, must not be landed except under a licence issued by a competent authority and in accordance with the terms of that licence.
Merchandise not to be imported in baggage or personal effects. No articles except personal effects may be imported in baggage.
Through Baggage.—Passengers en route to destinations outside Great Britain or Northern Ireland may, on application, deposit the duty on dutiable articles retained in their possession for consumption outside Great Britain and Northern Ireland. In that case the duty is recoverable at the appropriate port or place of departure on production of the articles and the receipt for the deposit.
Bribery.—Any person giving, offering or promising any bribe, recompense or reward to a Customs Officer is liable to a penalty of £200.
These enactments will be strictly enforced. Tha baggage of any passenger who contravenes the law will be retained for special examination after the baggage of all the other Passengers has been cleared.
French Customs Formalities.
Visitors entering France must make to the Customs at the port of entry a true and complete declaration of articles which they are importing.
- The following articles are partcularly liable to dues or taxes :
Jewellery, new clothes or underclothes, colonial products, alcoholic drinks, personal medicaments, and generally all new articles.
The importation of the following is prohibited : Matches, playing cards, foreign copper coins, medicaments not purchased from an official druggist, drugs and pirated books or music.
As regards manufactured tobacco, the following will be admitted free of duties, on condition that they are declared :
The supply for a voyage not exceeding for each person 10 cigars, or 20 cigarettes, or 40 grams of tobacco.
This rule does not apply to women and children. On leaving France it is prohibited to take gold or silver money, either French or Foreign; it is also prohibited, except by special authorisation of the Finance Minister, to export a sum of more than 5,000 francs for each person, either in French banknotes or an equivalent sum in foreign banknotes. Travellers who do not intend to stay permanently in France can, at the point of entry, make a declaration to the Customs of all gold and silver foreign money, banknotes, cheques, share certificates or other valuable documents that they possess, when they will be given a certificate which will permit them, later on, to take out of France the afore- mentioned valuables.
However, as regards French banknotes, travelers cannot export for a higher value than 5,000 francs, but they can, without a special authorisation from the Finance Minister, obtain from a bank which does exchange business cheques or letters of credit for foreign countries, if they can justify that the funds emanate from a foreign country.
Cash On Delivery—Parcels
Passengers are requested to note that the Company do not undertake to accept delivery of parcels in Great Britain and Northern Ireland if the value of the contents is to be paid on delivery unless prior arrangements are made with the Company for the amount to be paid.
New York Baggage
All Passengers, before being allowed to land at New York, will require to fill in a baggage declaration form, which can be obtained on application tc the Purser. No baggage will be cleared through the Customs unless such form has been completed.
Debarkation
New York. Passengers are landed at the Com- pany's Pier, No.42, North River, Foot of Christopher Street. After landing, Passengers should enquire at the desk on the wharf for letters and telegrams.
Cherbourg. Passengers and their baggage are landed by tender. The rail journey from Cherbourg to Paris takes about 6 hours.
Southampton. Passengers and their baggage are landed at Southampton Docks. A special train leaves for Waterloo from alongside about one hour after debarkation.
For full particulars regarding landing arrange- ments at Southampton, see separate Blue Leaflet obtainable from the Purser.
Service Dining Saloons
Seats at Table. Application should be made to the Chief Saloon Steward on board the steamer on day of sailing.
Hours for Meals
Coffee or Tea served in Cabin ... 7:00 am
Breakfast 8.30-9.30 am
Luncheon 12:30 pm
Afternoon Tea ...
Dinner ...
Half-an-hour previously a bell will be rung or a bugle blown.
All Passengers in good health are expected to take their meals at the public. table, and to appear suitably dressed.
Only children paying full fares are allowed seats at the saloon table.
Meal Hours (Children's)
The hours for meals for children are as follows
Breakfast 8:00 am
Lunch - Noon
Tea 3.30 pm
Dinner - 5.30 pm
The menus are varied as much as possible, but parents are recommended to consult with the Chief Steward as to the requirements of their children.
Servants
Passengers' servants (including valets) will take their meals at the times stipulated for children.
Deck Chairs and Rugs
Deck chairs and rugs can be hired for the voyage at fixed charges.
Payment should be made to the Deck Steward, who will issue a ticket, which can be placed in the space provided at the back of the chair.
Deck chairs may be had free of charge between Southampton and Cherbourg or vice versa.
Barber
The ship's Barber is authorized to charge for his services according to a fixed scale, a copy of which tariff is exhibited in the shop.
Foreign money will be taken at the rate of exchange authorized by the Company, the list of which can be seen in the Barber's shop.
As the space in the shops is so limited it is required that not more than five persons should be in the rooms at the same time.
Electric hair curlers are supplied for the use of Passengers free of charge, and can be obtained on application to the Stewardess.
The use of spirit and other lamps (a source of great danger) is prohibited on board.
The Barbers have instructions that they are not to leave customers who may be there for haircutting, etc., to serve others with goods.
A detailed price list of the articles for sale may be seen in the Barber's shop.
Shop
At which fancy articles, perfumes, sweets, picture post cards, playing cards, photographic films, souvenirs, sport prizes, and light articles of clothing likely to be required on the voyage, etc., may be purchased, is situated on " C " Deck (" E " Deck, " Ohio.")
Property Retained By The Passenger
Property retained by the Passenger in cabin or upon person must not be left lying about the ship or cabin, but, when not in actual use, must be locked in trunk, etc., so as not to be easily opened or removed. Failure of a passenger to observe these requirements shall, in case of loss, etc., be deemed negligence of the passenger.
The Company will not be responsible for any property left unguarded by the passenger in the cabin or elsewhere on board whilst the steamer is in port. 7,
Surgeon
The Surgeon is authorized to charge for professional attendance. The fee for each visit is 5/-.
Accounts will be rendered by the Surgeon before the termination of the voyage.
Medicines prescribed will be supplied by the Company free.
Money Exchange
A money exchange office has been provided cn board and will be open at the times notified on the ship's notice-board.
Wireless Telegraphy
The Marconi house is situated on the boat deck, and all messages should be handed to the operator, E who will supply full information regarding charges. All messages are subject to censorship on the part of the Company's Officers, who must be satisfied as to the meaning of code words.
Orchestra
The Bandsmen on board the steamers are cn the ship's articles and are properly remunerated by the R.M.S.P. Company. If any subscriptions are made on their behalf they can only be regarded as voluntary on the part of Passengers.
Wines
A choice selection of Wines, Spirits, Beer, Mineral Waters, Cigars, Cigarettes and Tobacco is obtainable at reasonable prices as per Wine Lists and Wine Cartes exhibited on board the steamers.
Smoke-Room Bar
Smoke-room bar is closed at midnight or at the , discretion of the Commander.
Code Books
Copies of Bentley's and A.B.C. (Fifth Edition) Codes are provided on board for the use of Passengers. Application should be made to the Enquiry Office.
Correspondence and Telegrams
Letters, etc., posted on the high seas in the ship's letter-box, are handed over to the Postal Authorities at the next port of arrival for forwarding to destination. Such letters must have British postage stamps affixed.
(N.B.—Particular attention is drawn to the notices giving the current postal rates. Passengers are reminded that British Inland Rates are Not applicable.)
Passengers should apply tc the Purser for any information they may desire regarding facilities for posting correspondence while the ship is in port.
Cablegrams and telegrams should be handed in at the Purser's Office two hours before arrival at port.
In order to facilitate the re-directing of letters, telegrams, etc., Passengers are requested to hand the Purser a note of the address to which they will proceed after leaving the ship.
Divine Service
Divine Service is held on Sundays at 10:30 am in the dining saloon (weather and other circumstances permitting).
Library
Application for books should be made to the Steward in Charge. Passengers are requested to see that all books are returned before leaving the steamer.
Cheques
Cheques cannot be accepted on board the Company's steamers in payment of passage money, wine or other accounts.
Smoking
Smoking in State Rooms is prohibited, and, in the interests of the safety of all on board, Passengers are requested to refrain from the practice.
Valuables
Money, Jewelry or other valuables should not be packed with personal effects, but should be deposited with Purser of the steamer for safe keeping. Unless so deposited the Company shall not be liable for any loss or injury.
Dogs, Birds, Etc.
Small lap dogs may, by special permission, be carried in their owners' cabins, but large dogs and other animals, birds, etc., must be given into the charge of the appointed official.
Complaints
In the event of any Passengers considering that they have, cause for complaint, either of the food, service or accommodation, they are requested to bring the matter directly to the notice of the Commander during his daily inspection.
Ship's Regulations
Passengers must conform with any regulations which the R.M.S.P. Co. or their officials may at any time consider necessary for the discipline or comfort of all on board.
Sailing Notices
On the ship's arrival at a port an announcement will, be displayed on the ship's notice board, giving information as to time of departure or transfer to other ships, etc.
R.M.S.P. Services
Information regarding the R.M.S.P. services throughout the world and/or special touring arrangements can be obtained from the Purser.
Enquiry Office
To which all enquiries should be addressed, is situated on Deck " C."
The Royal Mail and Pacific Lines
Regular Passenger Services
from Southampton and Cherbourg to New York and Canada
By Famous 0' Steamers
Southampton, Liverpool and Cherbourg to Brazil, Uruguay and Argentina
By " A and " D Steamers
Liverpool to West Coast of South America Via France, Spain, Portugal and Madeira ::
By " 0 Steamers
For full particulars see separate publications, or apply Purser