SS Orbita Archival Collection
Orbita (1915) Royal Mail Line (British)
Built by Harlana & Wolff, Ltd., Belfast, Ireland. Tonnage: 15,495. Dimensions: 550' x 67' (569' o.L). Triple-screw, 15 knots. Triple expansion engines and one low steam turbine. Two masts and one funnel. Passengers: 190 first, 221 second, 476 third. First voyage : Hamburg-Southampton-Cherbourg-New York, April 30, 1921. Service: Employed in the North Atlantic passenger service 1921-1926. Returned to Pacific Steam Navigation Company. Fate: Scrapped in 1950. Sister ships: Orca and Orduna.
First Royal Mail Liner Sails (1921)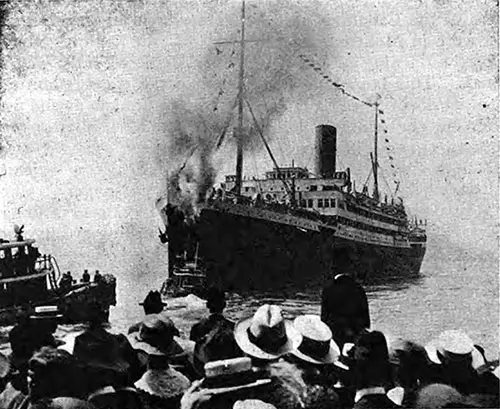 The SS Orbita Leaving Pier 42, North River, on 21 May 1921 for Hamburg. GGA Image ID # 14344c3018
Unusual enthusiasm attended the departure of the Royal Mail Liner Orbita, which left for Cherbourg, Southampton, and Hamburg, Saturday, 21 May 1921, the sailing having been witnessed by a large crowd. As the vessel—decorated with flags from stem to stern—steamed down the river, the ship's band played the Star Spangled Banner and other appropriate airs, while two accompanying tugs tooted their whistles in chorus. Moving picture operators and news photographers were on hand to record the scene.
The Orbita sailed with every first- and second-class berth filled. Among the first-class passengers were several members of the Metropolitan Opera Company, including Artur Bodanzky, conductor. and Kathleen Howard, Elizabeth Shortt and Florence Easton, well known singers.
On the eve of the sailing of the Orbita the Royal Mail Steam Packet Company was advised by the British Foreign Office that it had been granted a German emigration license, this information having been received by the New York agents, Sanderson & Son from the London office.
The inaugural dinner, which took place on the Orbita Wednesday evening, May 18, was attended by prominent representatives of local steamship organizations and over two hundred shipping men from all parts of the United States and Canada. Capt. Armonstrong, British Consul, and Lloyd B. Sanderson. who made brief speeches, dealt with the enterprise and progress of the "Royal Mail," and the splendid outlook for its new Atlantic service.
"First Royal Mail Liner Sails," in The Nautical Gazette: An Independent Shipping Weekly, New York: The Nautical Gazette, Inc., Vol. 100, No. 22, Whole No. 2597, 28 May 1921, p. 687.