SS Ottawa Archival Collection
Ottawa (1874) Dominion Line
Built by Harland & Wolff, Ltd., Belfast, Ireland. Tonnage: 5,008. Dimensions: 455' x 45'. Single-screw, 16 knots. Triple expansion engines. Four masts and two funnels. Iron hull. Service: In Liverpool-Canada service, 1905-1909. Renamed: (a) Gul Djemal (1911) Turkish, (b) Gulcemal. Scrapped in 1950. Ex-Germanic (1904) White Star Line.
Ottawa (1880) Dominion Line
Built by Charles Connell & Co., Glasgow, Scotland. Tonnage: 3,712. Dimensions: 359' x 40'. Single-screw, 12 knots. Compound engines. Four masts and one funnel. Iron hull. Fate: Wrecked near Quebec, November 22, 1880, with no loss of life. Sister ships: Oregon and Sarnia.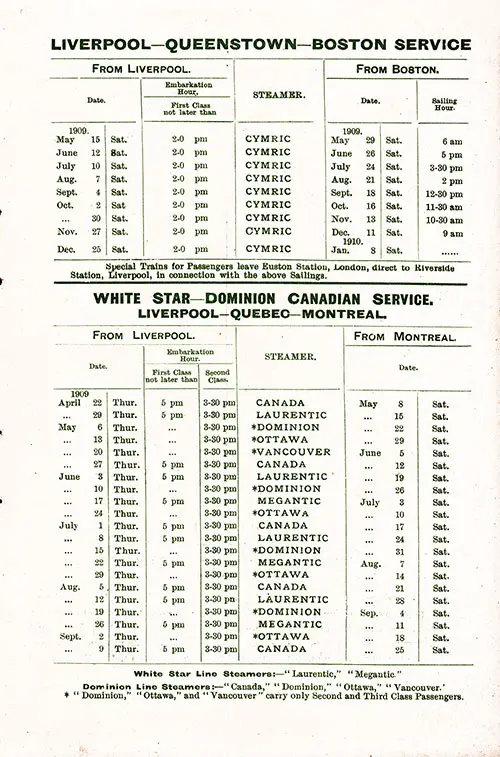 Sailing Schedule, Liverpool-Queenstown (Cobh)-Boston Service and White Star-Dominion Canadian Service, from 22 April 1909 to 8 January 1910. Ships Included the Canada, Cymric, Dominion, Laurentic, Megantic, Ottawa, and Vancouver. RMS Arabic Passenger List, 11 June 1909. GGA Image ID # 1e4b15ece5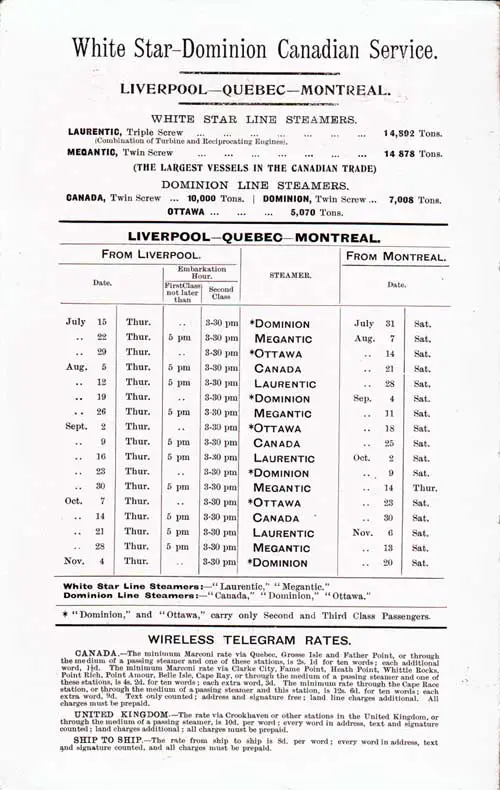 Sailing Schedule, Liverpool-Québec-Montréal, from 15 July 1909 to 20 November 1920. Ships Included the Canada, Dominion, Laurentic, Megantic, and Ottawa. SS Dominion Passenger List, 19 August 1909. GGA Image ID # 1f04d757ef