US Naval Institute Proceedings - April 1999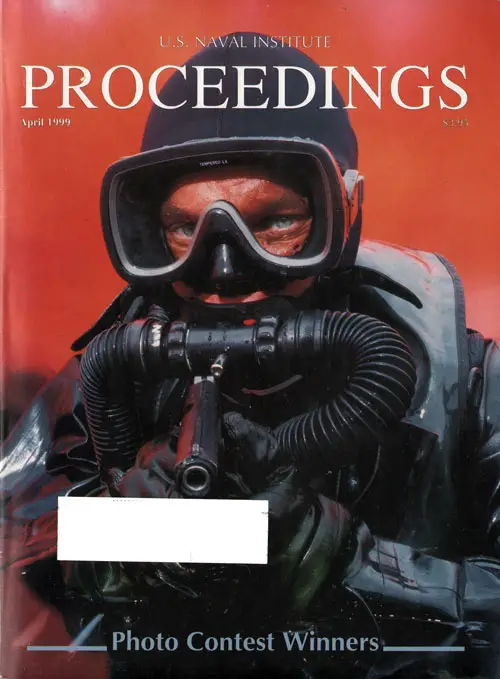 Front Cover, U.S. Naval Institute Proceedings, Volume 125/4/1,154, April 1999. GGA Image ID # 1d00fbec1d
Front Cover: Stephen Saywell brings us this shot of Royal Navy special divers in training, which won third prize in the Naval Institute's 37th Annual Naval and Maritime Photo Contest. For the other winners see pages 57-73.
The April 1999 issue featured articles include Masters, Martyrs & Spectators, Desert Fox: The Third Night, Mined Beaches—If You Can't Avoid 'em, Breach 'em, There Are Limits on Sea-Based NMD, and more.
Table of Contents
Masters, Martyrs & Spectators
By Lieutenant Commander Clay Harris, USN
It's time to reconsider bringing back the draft.
Desert Fox: The Third Night
By Major Ross Roberts, USMC
How much longer can we substitute manned aircraft for missiles?
Mined Beaches—If You Can't Avoid 'em, Breach 'em
By Captain Roni Meyerhoff, USMC
The MCAC offers a way out of a serious bind.
There Are Limits on Sea-Based NMD
By Commander John M. Pollin, USN
The course to a sea-based national missile defense is not simple, quick, or cheap.
A "National Fleet" for America
By Vice Admiral Thomas Fargo, USN, and Rear Admiral Ernest Riutta, USCG
The tradition of Navy-Coast Guard cooperation should become policy.
Absence of Purpose
By Captain Wade R. Sanders, USNR (Retired)
Recruiting and retention efforts must go to the state of the Navy's heart and spirit.
Pictorial: 37th Annual Photo Contest Winners
With the Marines at Tarawa
By Peter Neushul and
Second Lieutenant James D. Neushul, USMC Intrepid cameramen brought the war home.
Can a Minimum-Manned Ship Survive Combat?
By Captain Pierre Vining, USN
Survival requires the ability to suffer heavy damage and fight on.
Departments
Commentaries
Why I Will Leave the Navy
We're Recruiting Another Great Generation
Specials
Reflections on the 1979 Fastnet Race
A Snapshot of Pyongyang
Nobody asked me, but
Maintain Our Corps' Values
Professional Notes
Ethics for Those Who Go Down to the Sea in Ships
Man-Overboard Signaling Technology Can Save Lives
The Naked Fleet
Space: The Salvation of America's Shipyards
Other Departments
Membership News
Comment and Discussion
Another View
The U.S. Navy
Book Reviews
Books of Interest
Oceans
Points of Interest
World Naval Developments
Combat Fleets
Notebook
Lest We Forget
Index to Advertisers
The U.S. Naval Institute is a private, self-supporting, not-for-profit professional society, which publishes Proceedings as part of the open forum it maintains for the sea services. The Naval Institute is not an agency of the U.S. government; the opinions expressed in these pages are the personal views of the authors.