Proceedings Magazine - September 1962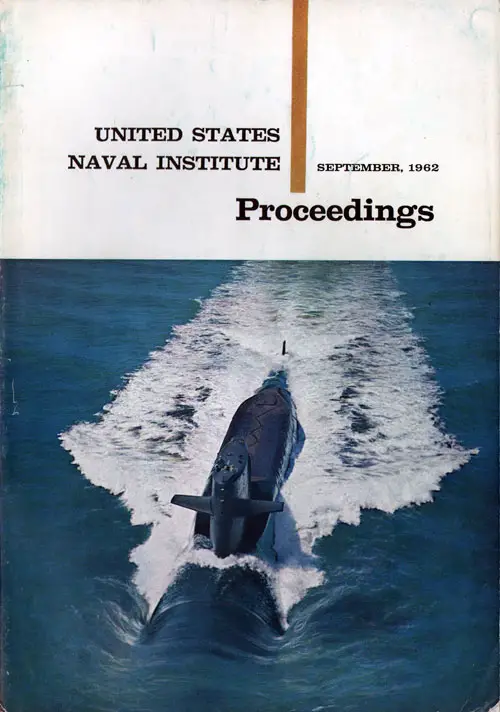 Cover of the September 1962 Issue of the US Naval Institute Proceedings Magazine. GGA Image ID # 1d80b4983b
United States Naval Institute. For the advancement of professional, literary and scientific knowledge in the Navy.
On the Cover
Polaris armed Submarine Robert E. Lee (SSBN-601) running at high speed on the surface. See Sentinels under the Sea. Photograph courtesy Newport News Shipbuilding & Dry Dock Company.
Contents for September 1962
The Right to Fight
By Col. R. D. Heini, Jr., USMC
Should Politics Be Taboo?
By George D. Patterson, III
"Mohole" Updated
By Capt. E. John Long, USNR (Ret.)
Needed: More Professionals
By Lt. Cdr. Allan N. Glennon, USN
The Baltic Sea Campaign 1918-20
By Cdr. David D. Mercer, RN (Ret.)
The Strange Assignment of USS Lanikai
By Rear Adm. Kemp Tolley, USN (Ret.)
Sentinels Under the Sea (Pictorial)
By Barrett Gallagher
Comment and Discussion
Book Reviews
Professional Reading
Professional Notes
Notebook
Progress
A Page from the Old Navy
Secretary's Notes
The U. S. Naval Institute is a private, professional society for all who are interested in naval and maritime affairs. It is a self-supporting, non-profit organization and is not a part of the U. S. Navy Department.
The opinions or assertions in the articles are the personal ones of the authors and are not to be construed as official. They do not necessarily reflect the views of either the Navy Department or the United States Naval Institute.
All photographs, unless otherwise credited, are official Department of Defense releases.