US Naval Institute Proceedings - February 1979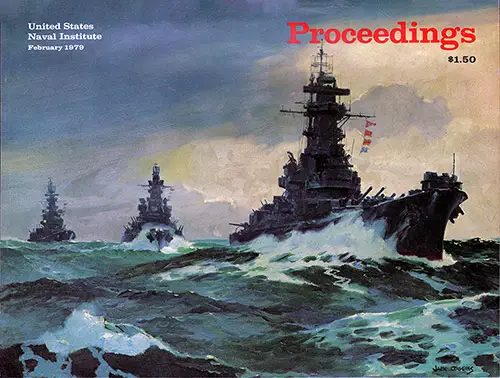 Front Cover, U. S. Naval Institute Proceedings, Volume 105/2/912, February 1979. GGA Image ID # 167b35dc64
On the Front Cover
In this painting by Jack Coggins, the South Dakota (BB-57) heads a column that includes other ships of her class (see page 57). Commander Edward J. Mathews was on board the "Sodak" when she and two sisters bombarded the island of Honshu in 1945 (see page 74).
Issue Summary
The February 1979 issue articles include The Politics of Parity, Setting Shipboard Priorities, Toward a National Merchant Marine Policy, Bring Back the Corps, Misuse of the Fast Battleship in World War II, and more.
Articles
The Politics of Parity
By Lieutenant Colonel Robert C. McFarlane, USMC
A Marine Corps officer who has observed White House policymaking at close hand argues that it is now—after many years—time to take the U.S.S.R. seriously as a nuclear threat.
Setting Shipboard Priorities
By Lieutenant Commander Kenneth R. McCruther, USN, and Lieutenant Commander John P. Morse, USN
In today's Navy, the "flap and flail" atmosphere often produces any number of items listed as "top priority." What seagoing officers need is a vertical priority list—not a horizontal one.
Toward a National Merchant Marine Policy
By Colonel Une C. Kendall. USMCR (Ret.)
For years, the Maritime Administration has been paying construction and operating subsidies in an attempt to upgrade the U.S. merchant fleet. It hasn't worked; perhaps something else ought to be tried.
Bring Back the Corps
By Rear Admiral Philip W. Snyder, USN (Ref.)
At various times in the past, an Engineer Corps and a Construction Corps oversaw design, construction, and repair of U.S. Navy ships. By whatever name, now is the time for revival of such a corps.
Misuse of the Fast Battleship in World War II
By Malcolm Muir, Jr.
Rear Admiral Willis A. Lee, Jr., fought a successful battleship action against the Japanese in 1942, then spent the rest of the war waiting in vain for another chance to show what these superships could do.
Pictorial—Scrapping Our World War II Navy
By Mel Fredeen
Only a few dozen ships built during World War II are still in active service. Most of their contemporaries have since been cut up and hauled away to be recycled.
Departments
Secretary's Notes
Comment and Discussion
Old Navy
Leadership Forum
Nobody asked me, but . .
Book Reviews
Books of Interest to the Professional
Professional Notes
The U.S. Navy: Mine Countermeasures
Notebook
The opinions or assertions in the articles are the personal ones of the authors and are not to be construed as official. They do not necessarily reflect the views of either the Navy Department or the U.S. Naval Institute.
Proceedings is published monthly by U. S. Naval Institute, Annapolis, Md. 21402. Second-class postage paid at Annapolis, Md. and at additional mail- tug offices. Memberships /Subscriptions $ 15.00 one year U.S.A. Copyright © 1979 U. S. Naval Institute.