US Naval Institute Proceedings - April 1971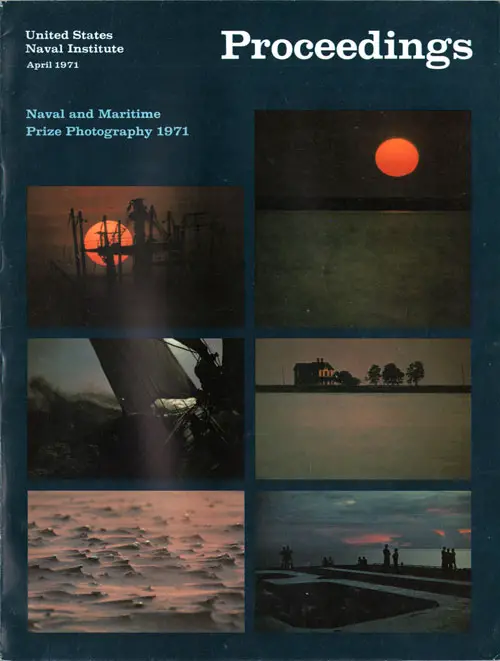 Front Cover, U. S. Naval Institute Proceedings, Volume 97/4/818, April 1971. GGA Image ID # 1d14833e75
On the Front Cover
Somewhat unusual for the Proceedings is this month's cover that presents the six color photography winners of the 1971 Naval and Maritime Photography Contest. Other winning entries and honorable mention selections are presented in the special pictorial which begins on page 67.
Issue Summary
The April 1971 issue articles include The Only Option, The Frustration Factor, Ships at Sea; Maritime Facts of Life, Command Leadership and the Black Serviceman, From Cockpit to Conn, Early Russian Shipboard Aviation, and more.
Table of Contents
Articles
The Only Option?
George E Lowe
Increasingly, the so-called "blue-water option" appears to be the most logical choice to implement the Nixon Doctrine and, simultaneously, meet the pressing needs of American society.
The Frustration Factor
Cdr. F B. Sbmanski, USN
No pay increases, no mushrooming of four-bedroom housing units, no cut-rate commissaries or free prenatal care can really compensate when frustration infiltrates the soul of a man or a ship.
Ships at Sea; Maritime Facts of Life
W. R. Nichols, Jr.
For many, superficial familiarity with seaborne transportation has bred contempt. Because it has been around forever, they reason, it must be old hat. It must be obsolete, mustn't it?
Command Leadership and the Black Serviceman
Hon. L. Howard Bennett, Director for Civil Rights
The Armed Forces, which have changed from a segregated to a functionally integrated society, must now move toward becoming a true brotherhood among comrades in arms.
From Cockpit to Conn
Capt. Robert F Hunt, USN
For the naval aviator, the significant transition from the cockpit to the captain's chair is greatly helped as the experiences of airmanship are applied to the new responsibilities of deep draft seamanship.
Early Russian Shipboard Aviation
R. D. luiyman and Boris V. Drashpil
Russian naval interest in the usefulness of specialized aviation vessels, it would seem, was established nearly half a century before the appearance of the Moskva.
Pictorial—Naval and Maritime Prize Photography, 1971
Departments
The Old Navy
Book List
Comment and Discussion
Book Reviews
Professional Reading
Professional Notes
Notebook
The opinions and assertions in the Naval Review are the authors' personal views. They are not to be construed as official. They do not necessarily reflect the views of the Navy Department or the U. S. Naval Institute.