US Naval Institute Proceedings - April 1992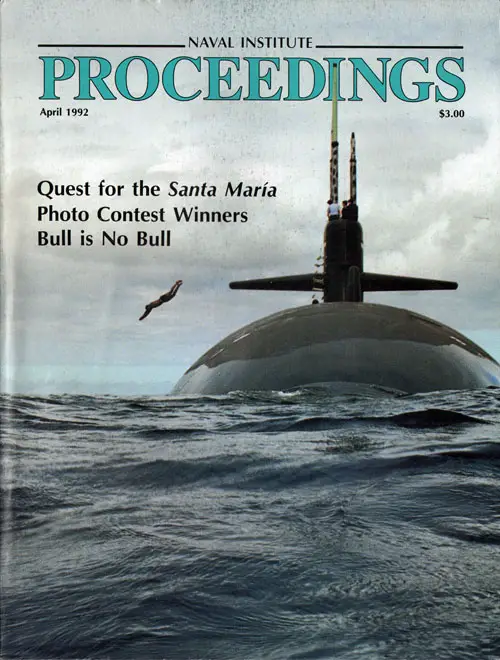 PROCEEDINGS
U.S. Naval Institute April 1992 Volume 118/4/1,070
The U.S. Naval Institute is a private, self-supporting, nonprofit professional society which publishes this magazine as a forum for the Sea Services. The Institute is not a part of the U.S. Government. The opinions and assertions herein are the personal ones of the authors.
90
105
48
40
102
36 The Commanders Respond: Part II Admiral Jorge 0. Ferrer, Argentine Navy Admiral Mario Cesar Flores, Brazilian Navy Admiral Carlos Vila, Spanish Navy
38 Bombers from Shangri-La
By Jack Sweetman
. . . created the first chink in Japan's armor.
40 Arleigh Burke Essay Contest Winner
Bull? Or the Real Thing?
By John H. Mitchell
Aspects of human experience cannot be quantified.
47 Who's Carrying the Commonwealth Ball?
By Ensign Kate Woodruff USNR
Control of the codes to launch ballistic missiles was a concern during the coup. And it is today.
48 Watching the Old Enemy
By Robin Ranger and David G. Wiencek
As an unstable Commonwealth evolves, four clear threats demand close scrutiny.
54 Doing the Job with a Smaller Fleet
By Admiral Paul David Miller, USN
Changes in how the Navy-Marine Corps team does its business are under way; there is no alternative.
60 Centurion: The Changing Future of the Force
By Commander P. Kevin Peppe, USN
In submarines, smaller can be better—but we have to think things through.
65 Pictorial: 30th Annual Photo Contest Winners
85 Officership and the Armed Forces
By Colonel Allan R. Millett, USMCR
The services must consider new ways to attract and select the career force.
90 Annapolis Marines
By Lieutenant Colonel Merrill Bartlett, USMC (Ret.)
Fair winds soon may blow in a storm-tossed relationship.
Departments
Commentary 13
A State of Orderly
Liquidation
TQL Forum 88
Management by Inspection
Nobody asked me, but 96
What Is Going on at the Naval Institute?
Professional Notes 99
Break the Navy Helicopter Mold
The Ninth Life of the
Tomcat
New Pollution Act Cuts Two
Ways
Tactical Aviation Training Is the Key
Special 109
The Quest for the Santa Maria
Other Departments Secretary's Notes 7
Comment and
Discussion 14
The Old Navy 82
Book Reviews 113
Books of Interest 117
The U.S. Navy 120
World Naval
Developments 123
Combat Fleets 125
Notebook 126
Index to Advertisers 128
Cover: The 30th Annual Naval Institute/Kodak Naval and Maritime Photo Contest drew more than 1,200 entries. Dan Jeffries received second prize with this photo of a submarine "swim call." The other winners' photos are published on pages 65-81.
The U.S. Naval Institute Proceedings (ISSN 0041-798X) is published monthly by the U.S. Naval Institute, 2062 Generals Highway, Annapolis, MD 21401, fax no. 410-2242406 (editorial offices are located at U.S. Naval Academy, Preble Hall, Annapolis, MD 21402, fax no. 410-269-7940). Second class postage paid at Annapolis, MD, and at additional mailing offices. Memberships, $28.00 one year/Subscriptions, $31.00 one year (U.S.A.). Copyright 1992 U.S. Naval Institute. Copyright is not claimed for editorial material in the public domain. POSTMASTER: Send address changes to Proceedings, USNI, Circulation Department, 2062 Generals Highway Annapolis, MD 21401. Proceedings is available in microfilm; contact University Microfilms International, 300 North Zeeb Road, Dept. P.R., Ann Arbor, MI 48106.