US Naval Institute Proceedings - November 1975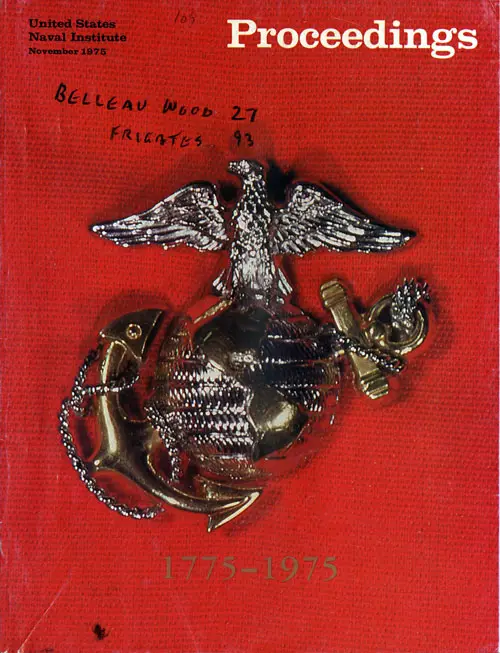 Front Cover, U. S. Naval Institute Proceedings, Volume 101/11/873, November 1975. GGA Image ID # 1d1296c0aa
On the Front Cover
On 12 November 1868, Commandant Jacob Zeilin appointed a board to select a distinctive cap ornament for the Corps. The following day, they recommended, and Zeilin approved, the globe and anchor that has been the Marine Corps emblem since. Photograph by Jack Moore.
Issue Summary
The November 1975 issue articles include The Marine Corps as a Separate Service, "First to Fight"—Belleau Wood, The Marine as an Instrument of Sea Power, Pictorial: Iron Men in Wooden Ships—and Iron Ships, and more.
Table of Contents
Articles
The Marine Corps as a Separate Service
Col. Angus M. Fraser, USMC (Ret.)
There is no question that the Marine Corps has moved significantly toward becoming a separate service, but with reservations and differences that require definition.
"First to Fight"—Belleau Wood
Brig. Gen. S.L.A. Marshall, USAR (Ret.)
During World War I—not in their traditional role as part of the Navy, but as part of the Army—Marines cloaked themselves in an aura of "blood-stained glory'' that is still part of their mystique.
The Marine as an Instrument of Sea Power
Maj. Gen. J. L. Moulton, R.M. (Ret.)
Neither the Leathernecks nor their older (311 years to 200) cousins, the Royal Marine "Jollies," truly established the Marine's distinctive place and purpose until the 20th century.
William Freeland Fullam's War with the Corps
U. Col. John G. Miller, USMC
Having survived the verbal broadsides of so brilliant and implacable a foe as Fullam, the Marines were better able to cope with other, later 20th century opponents, both at home and abroad.
The Corps' Old School Tie
Col. John E. Greenwood, USMC
"Ring-knockers" (for their habit of drawing attention to their class ring by tapping it) have often irked brother Marine officers; but the Corps wouldn't be what it is today without its Naval Academy graduates.
"Right on the Button:"
Adm. John S. Thach, USN (Ret.)
Marine Close Air Support in Korea Korea, the war that wasn't a war, ended in a peace that isn't a peace; but it was there in the early 1950s that the Navy-Marine team developed close air support into an infantryman's idea of perfection.
Pictorial: Iron Men in Wooden Ships—and Iron Ships
James Fennimore Cooper thought Marines gave a warship a touch of class; others have thought the Jar-heads brighten a ship best by leaving her. But they've always been there, and they're still there today.
Departments
Leadership Forum
Comment and Discussion
Nobody asked me, but
Book Reviews
Books of Interest to the Professional
Professional Notes
Notebook
The opinions or assertions in the articles are the personal ones of the authors and ' are not to be construed as official. They do not necessarily reflect life views of either the Navy Department or the U. S. Naval Institute.