Proceedings Magazine - April 1946 (Part II)
UNITED STATES NAVAL INSTITUTE PROCEEDINGS
APRIL, 1946 No. 518, Part II
100 YEARS OF THE U. S. NAVAL ACADEMY
A collection of articles as they appeared in the Proceedings during
the Centennial Year of 1945
Contents from the Front Cover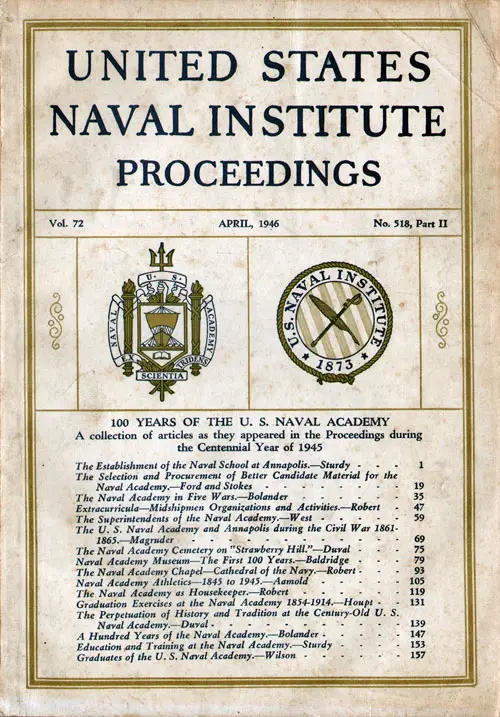 The Establishment of the Naval School at Annapolis.—Sturdy - - - 1
The Selection and Procurement of Better Candidate Material for the
Naval Academy.—Ford and Stokes - - --- 19
The Naval Academy in Five Wars.—Bolander 35
Extracurricula—Midshipmen Organizations and Activities.—Robert 47 The Superintendents of the Naval Academy.—West - - - - - 59
The U. S. Naval Academy and Annapolis during the Civil War 1861-
1865.—Magruder 69
The Naval Academy Cemetery on "Strawberry Hill."—Duval - 75
Naval Academy Museum—The First 100 Years.—Baldridge - 79
The Naval Academy Chapel—Cathedral of the Navy.—Robert - - 93
Naval Academy Athletics-1845 to 1945.—Aamold - - - 105
The Naval Academy as Housekeeper.—Robert 119
Graduation Exercises at the Naval Academy 1854-1914.—Houpt - - 131
The Perpetuation of History and Tradition at the Century-Old U. S.
Naval Academy.—Duval
A Hundred Years of the Naval Academy.—Bolander
Education and Training at the Naval Academy.—Sturdy -
Graduates of the U. S. Naval Academy.—Wilson
1946-04 Part Two Naval Institute Proceedings
April 1946, Whole No. 518, Part II, Vol. No. 72, No. 4
Table of Contents
THE ESTABLISHMENT OF THE NAVAL SCHOOL AT ANNAPOLIS, U. S. NAVAL INSTITUTE PROCEEDINGS, JANUARY, 1945 1
By Henry Francis Sturdy
One of the basic defects of the Navy, before the year 1845, was the absence of any effectively organized system of education for the young men who had entered the Navy to become officers.
THE SELECTION AND PROCUREMENT OF BETTER CANDIDATE MATERIAL FOR THE NAVAL ACADEMY, U. S. NAVAL INSTITUTE PROCEEDINGS, FEBRUARY, 1945 19
By Captain Walter C. Ford, U. S. Navy, and Lieutenant Commander J. Buroughs Stokes, U. S. Naval Reserve
The problem of the selection and procurement of better candiddate material for the academy has the following aspects which must be considered more or less independently and in detail: (a) The nomination and appointment of midshipmen; (b) final physical qualifications; and (c) the methods of qualifying mentally.
THE NAVAL ACADEMY IN FIVE WARS, U. S. NAVAL INSTITUTE PROCEEDINGS,
MARCH, 1945 35 By Louis H. Bolander
The United States Naval Academy has furnished naval officers for service in five different wars in which our country has fought: The Mexican war, the Civil War, the War with Spain, and the two World Wars.
EXTRACURRICULA—MIDSHIPMEN ORGANIZATIONS AND ACTIVITIES, U. S. NAVAL INSTITUTE PROCEEDINGS, APRIL, 1945 47
By Sarah Corbin Robert
Perhaps the one feature of extracurricular life which, along with hops and balls, has continued from the beginning of the Naval Academy is the provision for the religious needs of the midshipmen.
THE SUPERINTENDENTS OF THE NAVAL ACADEMY, U. S. NAVAL INSTITUTE PROCEEDINGS, JULY, 1945 59
By Associate Professor Richard S. West, Jr., U. S. Naval Academy
The story of the Naval Academy is a story of continual adaptation and change. The Naval Academy is a sword that is continually being forged and tempered and whetted, an itellectual weapon, an educational institution in which perennial chanage is the order of the day.
THE U. S. NAVAL ACADEMY AND ANNAPOLIS DURING THE CIVIL WAR 1861-1865, U. S. NAVAL INSTITUTE PROCEEDINGS, AUGUST, 1945 69
By P. H. Magruder, Former Secretary, U. S. Naval Academy
An outline of the conspicuous part displayed by this locality during those tragic days.
THE NAVAL ACADEMY CEMETERY ON "STRAWBERRY HILL," U. S. NAVAL INSTITUTE PROCEEDINGS, AUGUST, 1945 75
By Ruby R. Duval
This is the Naval Academy Cemetery, quiet and peaceful, gathering within its fold a long and eventful history.
NAVAL ACADEMY MUSEUM—THE FIRST 100 YEARS, U. S. NAVAL INSTITUTE PROCEEDINGS, SEPTEMBER, 1945 79
By Captain Harry A. Baldridge, U. S. Navy (Retired), Curator
THE NAVAL ACADEMY CHAPEL—CATHEDRAL OF THE NAVY, U. S. NAVAL INSTITUTE PROCEEDINGS, OCTOBER, 1945 93
By Sarah Corbin Robert
NAVAL ACADEMY ATHLETICS-1845 TO 1945, U. S. NAVAL INSTITUTE PROCEEDINGS, OCTOBER, 1945 105
By Walter Aamold
THE NAVAL ACADEMY AS HOUSEKEEPER, U. S. NAVAL INSTITUTE PROCEEDINGS, NOVEMBER, 1945 119
By Sarah Corbin Robert
A wonderful history of clothing and feeding the mdshipmen at the Academy including the current meal prepartions and precautions made to keep the men healthy and well fed.
GRADUATION EXERCISES AT THE NAVAL ACADEMY, 1854-1914, U. S. NAVAL INSTITUTE PROCEEDINGS, DECEMBER, 1945 131
By Lieutenant C. T. Houpt, U. S. Naval Reserve
THE PERPETUATION OF HISTORY AND TRADITION AT THE CENTURY-OLD U. S. NAVAL ACADEMY 139 By Ruby R. Duval
A HUNDRED YEARS OF THE NAVAL ACADEMY 147
By Louis H. Bolander
EDUCATION AND TRAINING AT THE NAVAL ACADEMY 153
By Henry Francis Sturdy
GRADUATES OF THE U. S. NAVAL ACADEMY 157
By Lieutenant William E. Wilson, U. S. Naval Reserve
Published monthly at 450 Ahnaip St., Menasha, Wis.
Executive, Editorial, and Business Offices, U. S. Naval Institute, Annapolis, Md.
Advertising Department, Suite 710, 2000 Connecticut Ave., N.W., Washington, D.C.
Entered as second-class matter at the post-office at Menasha, Wis., April 4, 1922, and at the post-office at Annapolis, Md., under Act of August 4, 1912. Acceptance for mailing at the special rate of postage provided for in section 1103, Act of October 3, 1919, authorized March 13, 1922. Membership dues (including PROCEEDINGS), $2.00 a year.
Subscription rate, $4.00 a year. (Foreign postage, $1.00 extra.) Single copies 50 cents.