US Naval Institute Proceedings - May 1971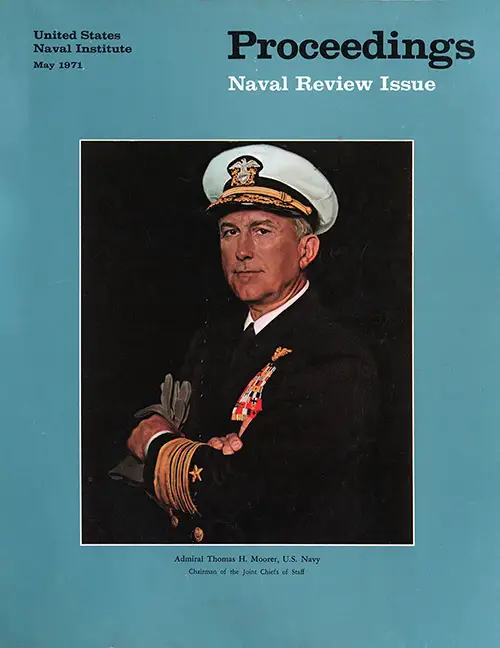 Front Cover, U. S. Naval Institute Proceedings, Volume 97/5/819, May 1971. GGA Image ID # 1d1469b894
On the Front Cover
A portrait of Admiral Thomas H. Moorer, U. S. Navy, Chairman of the Joint Chiefs of Staff and former Chief of Naval Operations. Painted by Albert K. Murray.
Issue Summary
The May 1971 issue articles include The Defense of Northwest Europe and the North Sea, Japan and Her Maritime Defense, Marine Aviation in Vietnam, 1962-1970, The Naval War in Vietnam, 1950-1970, Destroyers, 1971, and more.
Table of Contents
Preface
Biographies of Authors
Naval and Maritime Events, 1 January-30 June 1970
W. E. Dutcher, Lieutenant, U. S. Naval Reserve
Essays
The Defense of Northwest Europe and the North Sea
J. L. Moulton, Major General, Royal Marines (Retired)
Japan and Her Maritime Defense
Hideo Sekino, Commander, Imperial Japanese Navy (Retired)
Marine Aviation in Vietnam, 1962-1970
Keith B. McCutcheon, Lieutenant General, U. S. Marine Corps
Maritime Support of the Campaign in I Corps
Frank C. Collins, Jr., Commander, U. S. Navy
The Naval War in Vietnam, 1950-1970
R. L. Schreadley, Commander, U. S. Navy
''Capable of Serving as a Naval and Military Auxiliary . . ."
Lane C. Kendall
The Pollution of the Coastal Ocean and the Great Lakes
M. Grant Gross
Destroyers, 1971
Richard F. Cross, III
Sea Power: A Commentary
The Influence of Modern Sea Power, 1945-1970
John D. Hayes, Rear Admiral, U. S. Navy (Retired)
Appendixes
Soviet Naval Activities, 1970
Robert W. Daly
Z-Grams, 1-70, Summarized
Flag and General Officers of the Naval Services
Naval and Maritime Events, 1 July-31 December 1970
Toby Marquez, Lieutenant (junior grade), U. S. Navy, and J. B. Finkelstein, Lieutenant Commander, U. S. Navy
Summary of Major Naval, Maritime, and Military Forces
In the next Proceedings
In the June issue, the Proceedings is pleased to be able to offer a special documentary footnote to current history. What might be termed "A Visit With Ike"—one warmly remembered by those who heard the General speak at the Naval War College in 1961—is re-presented for our readers in a transcript of candid commentary by the late President.
General Eisenhower's views on such diverse subjects as the significance of the race to the moon, command decision-making in joint and unified military operations, and his remarks in an extension of his oft-cited reference to the "military-industrial complex" arc as pertinent and vital today as when they were first expressed in the privileged environment of the Naval War College nearly a decade past.
Photographs
The names of the owners, or of the photographers wherever known, are given herewith. PHC Billy L. Mason, USN 55, 293 U. S. Naval Academy Museum 79 Lt. Robert J. Tcrhunc, USN 80-81 German Defense Ministry 88 Hawker Siddeley 91 Tass from SovFoto 92, 274 btm, 283, 285 Official Royal Navy 94 top 1ft. & rt., 270 1ft. top, entr., & btm. United Aircraft Corp. 94 entr. 1ft. Stefan Tcrzibachitsch 94 btm. 1ft. Y. Yamada 98-99 Fujinagata Shipbuilding Co., Ltd. 108 entr. Tsurumi Shipyard 108 btm. Mitsubishi Shipbuilding and Engineering Co. 109 Shizuo Fukui 117 entr. Ships of the World Magazine 117 btm., 118 top & entr. Motoyoshi Hori 119. 244-245 Richard D. Mowrey 126 SSgt. Gary Thomas, USMC 132 Cpl. J. Morales, USMC 141 Sgt. T. H. Nairns, USMC 144 SSgt. D. L. Shearer, USMC 146 Sgt. Mike Tcramoto, USMC 147 Cpl. M. R. Wolfe, USMC 149 PHI Rus Elder, USN 160, 165 top & btm. PHI T. L. Lawson, USN 169 top PHI D. F. Grantham, USN 169 entr. LCpl. E. L. Cole, USMC 177 Service Presse Information 180-181 LCdr. F. D. Scovcl, USN 185 top JOC T. M. Jorgenson, USN 190 top PHC B. Veeder. USN 190 entr. Robert D. Mocscr 190 btm., 192 Lt. J. D. Eldridgc, USN 196 top & btm. PHC Arthur Hill, USN 202 entr. JOCS Ed Nelson, USN 207 top Lt. (j.g.) T. S. Storck, USNR 207 entr., 333 JOl Joseph D. Sheets, USN 220, 221, 225 UPI, Inc. 228-229, 232, 236, 237 Maryland's Health Magazine 235 Environmental Protection Agency 238 Hans Marx 240 PH2 Gerald C. Weaver 250 btm. entr. PHI J. L. Black 264 btm. 1ft. NASA 281
The opinions and assertions in the Naval Review are the authors' personal views. They are not to be construed as official. They do not necessarily reflect the views of the Navy Department or the U. S. Naval Institute.