US Naval Institute Proceedings - February 1999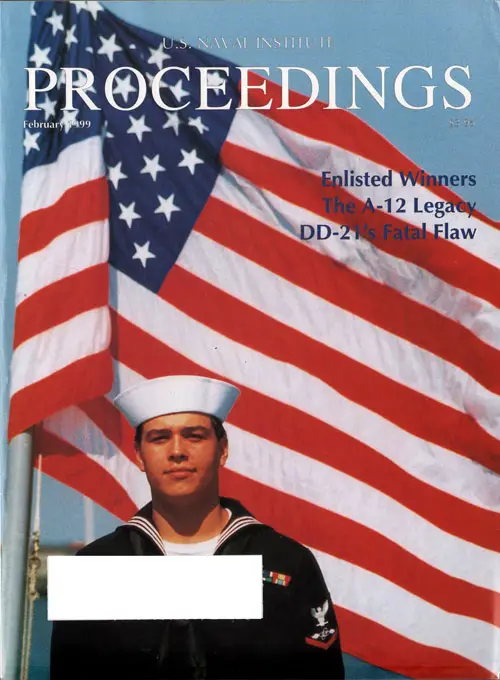 Front Cover, U.S. Naval Institute Proceedings, Volume 125/2/1,152, February 1999. GGA Image ID # 1d014b0f76
On the Cover: The Naval Institute is proud to announce and publish the winners of its third annual Enlisted Essay Contest. (Photo by Leo Dirkx.)
The February 1999 issue featured articles included Let's Fix Retention Now, Gender Integration: What's Next? The A-12 Legacy: It Wasn't an Airplane—It Was a Train Wreck, Tomorrow's Fleet: Part II, and more.
Table of Contents
Enlisted Essay Contents Winners
Ask the Chief
By Chief Electronic Warfare Technician Robert S. Lanham, USN
The chiefs must regain their reputations as the professionals with the answers.
Let's Fix Retention Now
By Master Chief Machinist's Mate Mark Butler, USN
The way the Navy rewards its boatswain's mates may offer the solution.
Gender Integration: What's Next?
By Gunner's Mate First Class Terry L Buckman, USN
More of the same . . . with better leadership.
Features
The A-12 Legacy: It Wasn't an Airplane—It Was a Train Wreck
By Herbert L Fenster
The A-12 Avenger never flew, but its expensive lessons should not be ignored.
Maneuvering Jointly from the Sea
By Captain Daniel W. Temple, USMC
To do otherwise could unseat the Navy-Marine Corps team as the nation's preeminent expeditionary warfighter.
DD-21's Fatal Flaw
By Commander Michael J. Fitzgerald, USNR
Reservists may be the answer to the manning shortfalls for damage control.
Does the Navy Need the 1700 Community?
By Janice Graham
It could be the Navy doesn't need a fleet support community.
Infrastructure Networks Are Key Vulnerabilities
By Robert E. Podlesny
Knowing the vulnerabilities goes a long way to helping restore the networks when they go down.
The Reserves: Ready to Fight . . . World War I?
By Commander John C. Keegan, USNR
Reservists must be more than "weekend warriors."
Access Is Key to Power Projection
By Lieutenant Commander Paul N. Nagy, USNR
Even forward-deployed naval forces depend on support from the shore.
Another Great White Fleet?
By Captain Stuart D. Landersman, USN (Ret.)
It might be a good time to plan for another voyage.
Tomorrow's Fleet: Part II
By Scott C. Trliver
The best may be the enemy of good enough.
Departments
Commentary
Socking It to U.S. Taxpayers in the Persian Gulf
Specials
Part VI: Five Fleets: Around the World with the Nimitz Saving Trader Jon's
Professional Notes
High-Altitude UAVs Should Be Naval Players
Cooperative Engagement (Must Be] for the CO
Standardizing Tug Commands
Using the Internet—To Get the Word to the Troops
Nobody asked me, but
Revolt of the Admirals: Part Deux
Cease Fire on SWOS!
Other Departments
Membership News
Comment and Discussion
Another View
Book Reviews
Books of Interest
The U.S. Navy
Oceans
Points of Interest
World Naval Developments
Combat Fleets
Notebook
Lest We Forget
Index to Advertisers
The U.S. Naval Institute is a private, self-supporting, not-for-profit professional society, which publishes Proceedings as part of the open forum it maintains for the sea services. The Naval Institute is not an agency of the U.S. government; the opinions expressed in these pages are the personal views of the authors.