Proceedings Magazine - July 1959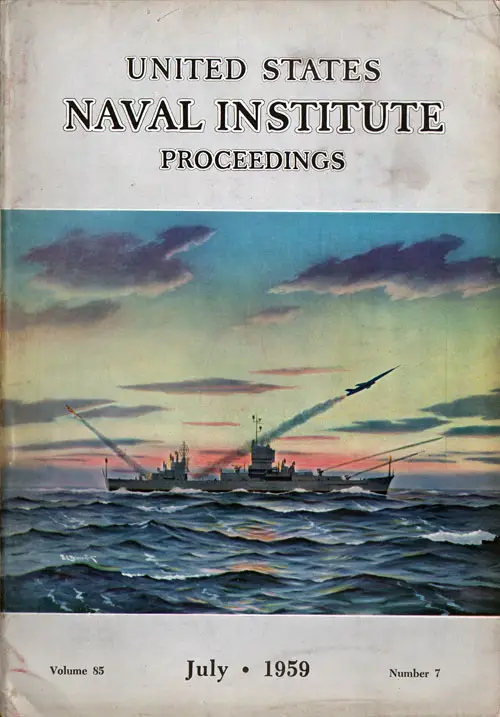 Front Cover, The Nuclear-Powered Guided Missle Cruiser, US Naval Institute Proceedings, July 1959.
UNITED STATES NAVAL INSTITUTE PROCEEDINGS
For the advancement of professional, literary, and scientific knowledge in the Navy
July 1959 Vol. 85, No. 7, Whole No. 677
The July 1959 issue featured articles included Air Reconnaissance--Great Silent Weapon, Our Tongue-Tied Navy, US Alliances East of Suez, Speed in Fog, The Armored Cruiser, and more.
Contents
THE NUCLEAR-POWERED GUIDED MISSILE CRUISER Long Beach . Front Cover
For details concerning this month's painting, see Page 157.
BOLT FROM THE BLUE
By George Fielding Eliot
AIR RECONNAISSANCE—GREAT SILENT WEAPON
By Commander George Cornelius, USN
OUR TONGUE-TIED NAVY
By Captain John H. Cotten, USN
INSIDE THE HUMP
By Lieutenant Commander John A. Chastain, USN
BEYOND THE HUMP
By Commander E. R. Zumwalt, Jr., USN
UNITED STATES ALLIANCES EAST OF SUEZ
By Hollis W. Barber
SPEED IN FOG
By Robert M. Slack
THE ARMORED CRUISER
By A. E. Duncan, Jr.
AN ARMORED CRUISER ALBUM (Pictorial)
COMMENT AND DISCUSSION
BOOK REVIEWS
PROFESSIONAL NOTES
A PAGE FROM THE NEW NAVY
SECRETARY'S NOTES
(All photographs, unless otherwise credited, are Official Department of Defense releases.)
The opinions or assertions in the articles are the personal ones of the authors and are not to be construed as official. They do not necessarily reflect the views of either the Navy Department or the United States Naval Institute.
Editorial and Business Offices: Annapolis, Maryland
Published monthly by the United States Naval Institute. Second-class postage paid at the Post Office at MENASHA, WISCONSIN, and at additional mailing office, under act of August 24, 1912. Acceptance for mailing at the special rate of postage provided for in section 1103, Act of October 3, 1917, authorized March 13, 1922.
Membership dues for the U. S. Naval Institute (including PROCEEDINGS), $4.00 a year
Subscription rate, $6.00 a year. (Foreign postage, $1.00 extra.) Single copies fifty cents
Copyright. © 1959, by U. S. Naval Institute