US Naval Institute Proceedings - November 1981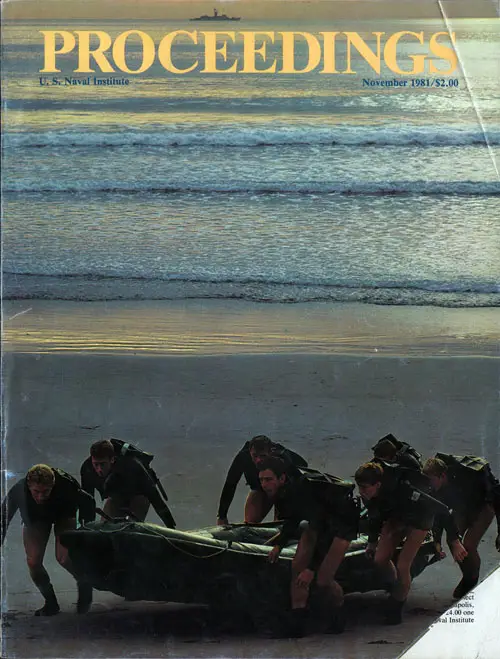 Front Cover, U. S. Naval Institute Proceedings, Volume 107/11/945, November 1981. GGA Image ID # 1d0a7d0e90
On the Front Cover
Photographer Fred Maroon, who is at work with the Naval Institute on a pictorial book about today's Navy, took this shot of U. S. Navy SEALS landing from their rubber raft. Commander Crossland argues, in the article beginning on page 36, that the United States could profit by much greater use of unconventional naval warfare than it now contemplates.
Articles
Naval Diplomacy in the Persian Gulf
By Captain Kevin B. Jordan, USMC
So far, the U. S. naval force in the Indian Ocean has been a policeman on the beat, but thugs lurk nearby.
Naval Forces Are Rapid Deployment Forces
By Lieutenant Colonel David Anthony Quinlan, USMC
Amid the hoopla over the RDF, we need to remind ourselves of the splendid Navy-Marine Corps team.
Unconventional Warfare Afloat
By Lieutenant Commander Roger Crossland, USNR
By concentrating on expensive, sophisticated weapons, the Navy ignores the value of cheaper alternatives.
Lejeune of the Naval Service
By Colonel James W. Hammond, Jr., USMC (Ret.)
God and Man both tried, but neither could deprive the U. S. Marine Corps of its 13th Commandant.
The Navy and Directed Energy Weapons
By William J. Beane
High-energy lasers particle beam weapons, and electromagneticpulses could all be in the Navy's future.
No Place for Women
By Lieutenantavid Evans, USMC
If the nation doesn't intend for women to fight in combat, they shouldn't be in the FMF either.
Britain's Sea Soldiers
By Lieutenant Colonel A. F. Whitehead, RM
The Royal Marines know their NATO allies well, having fought both with them and against them.
Are Our Boomers Vulnerable?
By Joel S. Wit
As the Soviets make advances in ASW, we must be wary of their ability to kill ballistic missile submarines.
Departments
Leadership Forum
Trust, Confidence, and Obligation
Nobody asked me, but
The Corps Should Lift the Amphibious Lift From the Navy
Nobody asked me either
Outward Mobility or Outward Bound
Book Reviews 95
Reforming the Military
The Soviet Intervention in Afghanistan

The Struggle for Afghanistan
The Great Gunnery candal:

The Mystery of Jutland Everyday Heroes – --

Professional Notes 105
The Marines: Out in
the Cold

A Counter-Terrorism Program
The Soviet Naval Infantry—A Limited Threat

A "Wing" Strategy to
Support the Fleet

Concerning Things
Amphibious

A Frontline Marine Corps
Tactical Data Switch
The U. S. Navy". 123
Ampl4ious Lift
Other Departments
Secretary's Notes 13

Comment and Discussion 17

Books of Interest 101

Old Navy tk0.400.1S 128

Notebook 133
Index to Advertisers 136

The opinions or assertions in the articles are the personal ones of the authors and are not to be construed as official. They do not necessarily reflect the views of either the Navy Department or the U. S. Naval Institute. Proceedings is published monthly by U. S. Naval Institute, Annapolis, MD. 21402. Second-class postage paid at Annapolis, MD. and at additional mailing offices. Memberships, $21.00 one year/Subscriptions, $24.00 one year U.S.A. Copyright © 1981 U. S. Naval Institute. Copyright is not claimed for editorial material in the public domain. U. S. Naval Institute Proceedings (ISSN 0041-798X)