US Naval Institute Proceedings - June 1998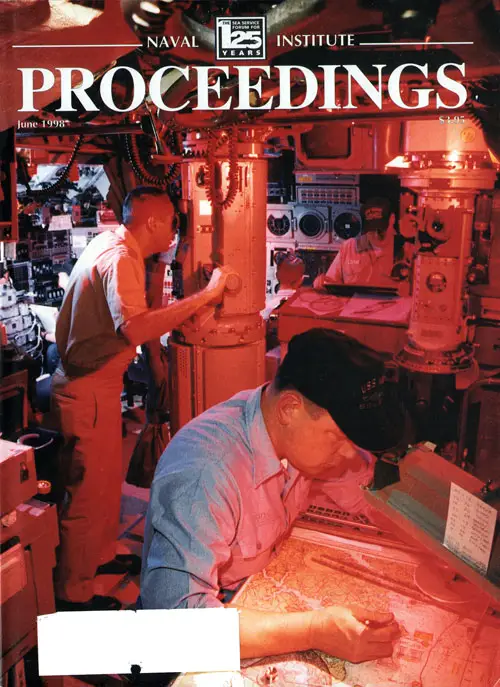 Front Cover, U.S. Naval Institute Proceedings, Volume 124/6/1,144, June 1998. GGA Image ID # 1d02340752
On the Front Cover
The Proceedings highlights submarine and undersea warfare issues each June—here, on board the nuclear-powered attack submarine USS Miami (SSN-755) by Greg Mathieson/MAI.
Issue Summary
The June 1998 issue highlights submarine and undersea warfare issues. Articles include Subs Slip Through the Net, Undersea Warfare: We Can't Wish It Away, Carrier Hattie Group: Potent Weapon or Paper Tiger? and More.
Table of Contents
Subs Slip Through the Net
By Rear Admiral William J. Holland, USN (Ret.)
Several aspects of network-centric warfare can make life difficult for our submarines
Arctic ASW: Have We Lost?
By Richard Boyle and Waldo Lyon
Not yet—but we could lose big time by failing to develop an under-ice weapon for the littorals.
Undersea Warfare: We Can't Wish It Away
By Captain George Galdorisi, USN
Its day is coming—again.
The World Is Our Coastline!
By Scott C. Traver
Sometimes racing stripes can go where haze gray is not welcome.
What Is a Coast Guard Cutter Doing in Europe?
By Captain John E. Crowley, Jr., USCG
Carrier Hattie Group: Potent Weapon or Paper Tiger?
By Michael Cohen
Don't let cost effectiveness become lost effectiveness.
Offense Catching Up with Defense
By Rear Admiral Paul G. Gaffney II, USN, and Ronald R. Luman
Changes may end mine warfare's days as a show-stopper.
The Smart Ship Is Not the Answer
By Anthony DiGiorgio
We need smart operators, who will use existing smart systems as designed.
Leadership Essay Contest: Winner Chance Second Chances
By Lieutenant David A. Adams, USN
The Navy needs to end the zero-defects game and return to its traditional moral standards.
Have You Seen the Light?
By Captain T. Q. Donaldson V, USN
Now we can track those glowing undersea wakes.
Departments
Commentary
Replace the LHAs with LHDs
Naval Institute at 125
Colonel Harry G. Summers, Jr.. USA (Ret.)
Vice Admiral Alexander J. Krekich. USN
Nobody asked me, but
The Crops Can Wait for This
Learn to Accept Women at the Academy
Professional Notes
Troops Ashore Deserve Better Fire Support
Naval Fire Support Plans
Consolidate Our Mobile Command Centers
Rethinking Crew Coordination in F/A-18E/F Squadrons
Other Departments
Membership News
Comment and Discussion
Book Reviews
Books of Interest
The U.S. Navy
Oceans
Points of Interest
World Naval Developments
Combat Fleets
Notebook
Lest We Forget
Index to Advertisers
The U.S. Naval Institute is a private, self-supporting, nonprofit professional society which publishes this magazine as a forum for the Sea Services. The Naval Institute is not a part of the U.S. Government. The opinions and assertions herein are the personal ones of the authors.