January 1965 Proceedings Magazine: United States Naval Institute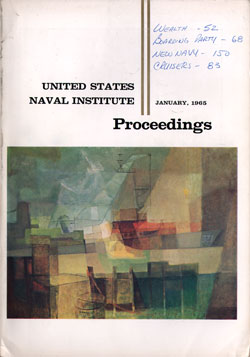 UNITED STATES NAVAL INSTITUTE
For the Advancement of professional, literary, and scientific Antneledge ass the Navy
U. S. Naval InAtilittr 81,111
Executive Editor
Cdr. R. T. E. Bowler, Jr., U. S. Navy (Retired)
Editorial Director Roger C. Taylor
DIRECTORS
Major General Henry W. Buse, Jr.,
U. S. Marine Corps
Rear Admiral Allen M. Shinn, U. S. Navy Rear Admiral William P. Mack, U. S. Navy Captain Bdward I.. Beach, U. S. Navy Mptain Sheldon H. Kinney, U. S. Navy Captain William V. Cam, U. S. Coast Guard
Past Presidents
Admiral Meld B. Parlor 1117$
Rost Admiral Jahn L. Warden ION
Roar Admiral C, R. P. Roden. 1117%-711. IMAM Cisioriasileste Nathan A. Porter Il7it.79
Rau Asitsahol Jahn Radars* 1879 of
Row hat ?'Ratans A. Jenkins 1483-85
Roo Admiral Isivroni Simplon Imi1-m7 Real Admiral Stephen N. Lucre 1887-98
Raw Admiral Wm. 1'. Sampson 189K-1902 Roar Admiral H. C. Taylor 1902-1904 Rau Admiral C. F. Goodrich 1901-1909
Ran Admiral Richard Wainwright 1909-11 Rear Admiral Bradley A. Fiske 1911-23
Vlor Admiral William L. Rodgers 1923-24 Admiral Henry B. Wilson 1924-26
Admiral Hilary P. Jones 1926-28
Rear Admiral Edward W. Eberle 1928-29 Admiral S. S. Robison 1929-31
Rear Admiral M. L. Bristol 1931-33
Admiral William H. Standley 1933-35 Admiral David Foote Sellers 1935-37
Fleet Admiral William D. Leahy 1937-40 Admiral H. R. Stark 1940-42
Fleet Admiral Chester W. Nimitz 1942-43,1946-48 Fleet Admiral E. J. King 1943-46
Admiral Louis E. Denfeld 1948-50
Admiral Robert B. Carney 1950-52,1954-56 Admiral William M. Fechteler 1952-54
Admiral Arleigh A. Burke 1956-59,1960-61 Admiral Jerauld Wright 1959-60
Admiral George W. Anderson, Jr. 1961-63 Proceedings
"Rehabilitation of
the Destroyer Johnston" is the title of this
month's cover oil painting by Marcella Comes Winslow;
it is the first abstract painting to be included in the Nazy'sCombatAriCollection. See page 5.
January, 1965
VOLUME 91, NUMBER 1, WHOLE NO. 743
Secretary's Notes 4
Nuclear Propulsion: We Dare Not Delay . 26
By Lt. Cdr. Morris L. Hayes, USN
The Burden of Being Privileged 37
By Richard A. Cahill
Defense Management: The Navy's Position 43
By Capt. John B. Cline, SC, USN
Who Will Own the Ocean's Wealth? 52
By William J. Cromie
The Doctrine of Incremental Reduction • • . 62
By Cdr. Leahman J. Holt, USN
"Away the Boarding Party" 68
By Cdr. John D. Alden, USN
The Meaning of Service 76
By Lt. Jonathan T. Howe, USN
Anti-Aircraft Cruisers: The Life of a Class • • • 83
(Pictorial) By Norman Friedman
Comment and Discussion 100
Book Reviews 110
Professional Reading 116
Book List 118
Professional Notes 124
Notebook 136
Progress 148
A Page from the New Navy 150
Vital Interests and Objectives of Our Major Allies 152
By Robert Strausz-Hupe
Index to Advertisers 159
Board of Control
PRESIDENT
Admiral David L. McDonald, U. S. Navy
VICE PRESIDENT
Rear Admiral Charles S. Minter, Jr., U. S. Navy
SECRETARY-TREASURER
Commander R. T. E. Bowler, Jr., U. S. Navy (Retired)
U. S. NAVAL INSTITUTE PROCEEDINI.,
Editor
A. Denis Clift
Assistant Editors
Clayton R. Barrow, Jr. Norman Polmar
Katherine McInnis
Associate Editors
Captain Daniel M. Karcher, U. S. Navy Prof. C. P. Lemieux, U. S. Naval Academy
II. S. NAVAL INSTITUTE BOOKS
Editor
Lt. Cdr. Arnold S. Lott, U. S. Navy (Retired) Assistant Editors
Dorothy Williams
Joyce Atwood
Editorial Assistant Louise Gerretson
NAVAL REVIEW
Editor
Frank Uhlig, Jr.
Editorial Assistant Mary Veronica Amoss
ART DEPARTMENT
Director
David Q. Scott
Assistants Delroy Kiser Walter Paiko Gerard Valerio
Promotion Manager Fred Stolley
Business Manager H. Gordon Williams
Advertising Representative
Thomas 0. Woolf, & Son, Inc.
225 Park Ave., New York, N. Y. 10017
6535 Wilshire Blvd., Los Angeles 48, California
The U. S. Naval Institute is a private, professional society for all who are interested in naval and maritime affairs. It is a self-supporting, non-profit organization and is not a part of the U. S. Navy Department.
The opinions or assertions in the articles are the personal ones of the authors and are not to be construed as official. They do not necessarily reflect the views of either the Navy Department or the United States Naval Institute.
All photographs, unless otherwise credited, are official Department of Defense releases.
Editorial and Business Offices: Annapolis, Maryland.
Published monthly by the United States Naval Institute. Second-class postage paid at the Post Office in MENASHA, WISCONSIN, and at additional mailing office, under act of August 24, 1912. Acceptance for mailing at the special rate of postage provided for in section 1103, Act of October 3, 1917, authorized March 13, 1922.
Membership dues for the U. S. Naval Institute (including PROCEEDINGS), $5.00 a year.
Subscription rate $7.00 a year. (Foreign postage, $1.00 extra.) Single copies current year seventy-five cents. Single copies previous years one dollar.
Copyright © 1964 by U. S. Naval Institute.