US Naval Institute Proceedings - January 1984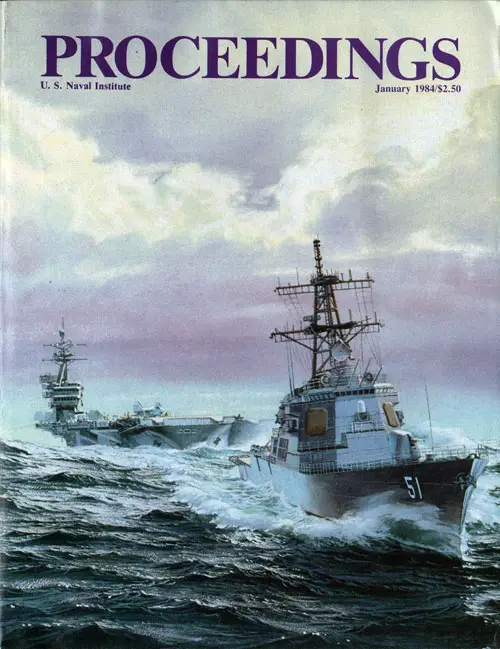 Front Cover, U. S. Naval Institute Proceedings, Volume 110/1/971, January 1984. GGA Image ID # 1d0705b6ea
On the Front Cover
The Arleigh Burke (DDG-51), a symbol of tomorrow's fleet, rendered by Tom Freeman, honors a living legend whose nearly lifelong link with destroyers is recalled in "31 Knots and Still Steaming," and "Operating with the Little Beaver Squadron," beginning on page 117.
The U. S. Naval Institute is a private, self-supporting, nonprofit professional society which publishes this magazine as a forum for the Sea Services. The Institute is not a part of the U. S. Government. The opinions and assertions herein are the personal ones of the authors.
30 Sea Power: The Global Navy
By Commander John L. Byron, USN
We now have exactly the right naval force if what we want to do can be summed up as: fight, protect, attack, and persuade.
34 Protecting America's Military Technology
By Lieutenant Commander Richard A. Guida, USNR
One of the greatest threats to our freedom may be the Freedom of Information Act.
41 A Quiet Revolution
By Lieutenant Commander Ralph E. Chatham, USN
Much of the Soviet submarine fleet will soon be too quiet for us to detect at tactically useful ranges.
47 Their Navy's Future
By Norman Polmar, Captain Thomas A. Brooks, USN, Captain James Kehoe, USN (Ret.), Norman Friedman, and Milan Vego
What they do or fail to do with and to their navy will impact strongly on what we do or fail to do with and to our own.
57 The Rock
By Sir James Cable
Gibraltar would be of more value to us if it remained under British control rather than if it came under Spanish control.
62 The "Flying Bird" of Puget Sound
By Theodore C. Mason
With his battleship undergoing overhaul at Puget Sound in 1940-41, he had to ride (and came to love) a ferryboat.
70 Electronic Combat
By Norman Stone
A strong electronic combat capability provides a defense that will not in itself provoke a war or do irreparable damage.
Departments
mai ..... 97171. ....................
Special 15
"The Soviet Mind-set: A Threat to World Peace"
Notable Naval Books 76
Nobody asked me, but 90
Strategic ASW: A Good Idea?
Professional Notes 97
That Dangerous Polyester
Look
Radiation Tactics
Dogfights of the Future Personal Commitment: Missing and Presumed Lost?
Gaming for the World Getting the Big Picture Into Our CICs
The Coast Guard Auxiliary Barging into the Fleet
Special 117
31 Knots and Still Steaming
As I Recall 118
Operating with the Little Beaver Squadron
Old Navy 124
Women in a Warship, 1813 Other Departments
Secretary's Notes 9
Comment and Discussion.. 20
Notebook 127
Index to Advertisers 128 Cover:
The Proceedings is published by the U. S. Naval Institute, Annapolis, MD 21402. Second class postage paid at Annapolis, MD and at additional mailing offices. Memberships, $24.00 one year/Subscriptions, $27.00 one year (U.S.A.). Copyright 1984 U. S. Naval Institute. Copyright is not claimed for editorial material in the public domain. U. S. Naval Institute Proceedings (ISSN 0041-798X).