US Naval Institute Proceedings - May 1998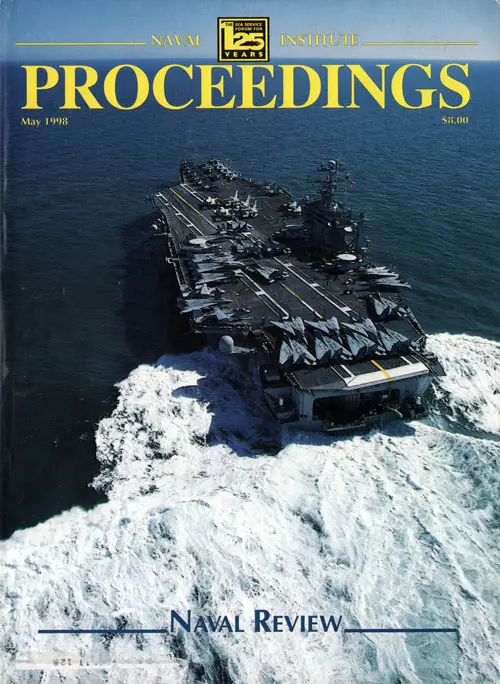 Front Cover, U.S. Naval Institute Proceedings, Volume 124/5/1,143, May 1998. GGA Image ID # 1d02389553
On the Front Cover
Capable of fulfilling many missions on a single deployment, the carrier will remain the centerpiece of the "Navy after Next" (see pp. 64-70). The USS John C. Stennis (CVN-74), with Carrier Air Wing Seven embarked, heads to the Persian Gulf on her first operational deployment (Photo by Antony Platt, Blue Thunder Pictures).
Issue Summary
The May 1998 issue featured articles on The Sailor & the State, Building Surface Warriors, Landmines, Lies, and Other Phenomena, The (R)evolution of Mine Countermeasures, Navy after Next: Past Is Prologue, Annual Reviews, and More.
Table of Contents
Arleigh Burke Essay Contest Winners
Teaching Elephants to Swim
By Commander Terry C. Pierce, USN
First, they must learn to think more like whales.
The Sailor & the State
By Captain John L Byron, USN (Ret.)
Our Navy must not grow apart from our citizens.
Building Surface Warriors
By Lieutenant (junior grade) Michele Poole, USN From the outset, they need more practical application.
Features
Starting Cold War II?
By Susan Eisenhower
Expanding NATO can be dangerous.
Landmines, Lies, and Other Phenomena
By Major General Jarvis D. Lynch, Jr., USMC (Ret.)
An emotional ban would be worse than useless.
Mines Remain the Weapons that Wait
By Lee M. Hunt
The sea mine is maturing into a key role.
The (R)evolution of Mine Countermeasures
By Captain Buzz Broughton, USN, and Commander Jay Burdon, USN
Organic MCM means more than new hardware.
Lurking in the Deep-Sea Terrain
By Robert D. Ballard
The terrain we don't see counts, too.
Navy after Next: Past Is Prologue
By Captain Peter Swartz, USN (Ret.)
A backward look can guide us to the limit of our vision.
History of Arms Is the Difference
By Michael Evans
. . . as the source of service tradition and honor.
A New Kind of Officer
By Al Christman
Deak Parsons brought in the scientists and sparked a major weapons revolution.
Super Hornet: The Sailor's Aircraft Is on Track
By Patrick Pinne ran and Chuck Allen
Nearly three-fourths of the way through its flight-test program, it is passing all tests.
Annual Reviews
The U.S. Navy
By Scott C. Truver
The U.S. Marine Corps
By Lieutenant Colonel Frank G. Hoffman, USMCR
The U.S. Coast Guard
By Vice Admiral Howard B. Thorsen, USCG (Ret.)
World Naval Developments
By Norman Friedman
The U.S. Merchant Marine and Maritime Industry
By Robert H. Pouch
U.S. Naval Aircraft and Weapon Developments
By Floyd D. Kennedy, Jr.
Congressional Watch
By Bradley Peniston
Notable Naval Books
By Lieutenant Colonel Richard Seamon, USMCR (Ret.)
U.S. Naval Battle Force Changes
By Samuel Loving Morison
Combat Fleets
By A. D. Baker III
References
Joint Chiefs of Staff
Flag and General Officers
Recently Retired Officers
Index to Flag and General Officers
Organizational
U.S. National Defense Command Structure
Office of the Secretary of Defense
Department of the Navy
Office of the Chief of Naval Operations
U.S. Marine Corps
U.S. Coast Guard
Department of Transportation
Maritime Administration
Congressional Committees
Information Sources
U.S. Navy
U.S. Marine Corps
U.S. Coast Guard
Military and Maritime Agencies
Associations
Benefits Information
USNI Military Database
U.S. Naval Institute
U.S. Naval Institute Golden Life Members
U.S. Naval Institute Silver Members
U.S. Naval Institute Field Directors
Conferences and Exhibitions
Other Departments
Naval Institute at 125
Admiral Robert E. Kramek, USCG
Vice Admiral Arthur K. Cebrowski, USN
Commentary
Other
Membership News
Comment and Discussion
Naval Systems
Notebook
Lest We Forget
Index to Advertisers
The U.S. Naval Institute is a private, self-supporting, nonprofit professional society which publishes this magazine as a forum for the Sea Services. The Naval Institute is not a part of the U.S. Government. The opinions and assertions herein are the personal ones of the authors.