US Naval Institute Proceedings - September 1979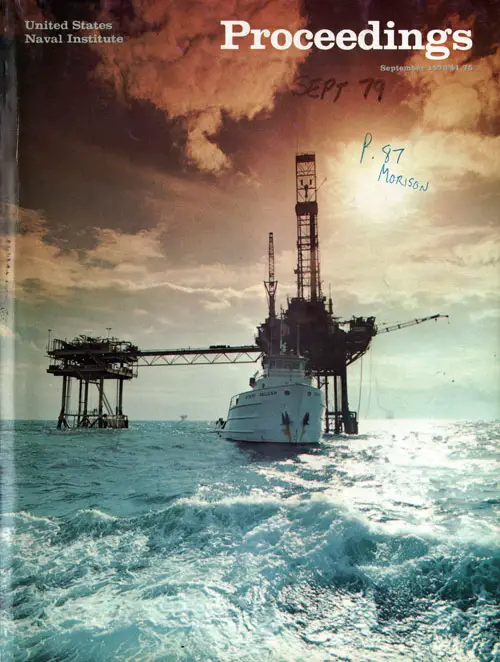 Front Cover, U. S. Naval Institute Proceedings, Volume 105/9/919, September 1979. GGA Image ID # 1679f0fd8a
On the Front Cover
Some see this Tenneco oil drilling platform in the South Marsh Island area as tall and beautiful against the Gulf of Mexico sunset. Others may see a potential bull's-eye for a terrorist attack. (Photo by B. J. Nixon for Tenneco, Inc.).
Issue Summary
The September 1979 issue articles include Strategic Deterrence In the Age of Détente, Strategic Metaphors, The Naval Officer/Medical Officer Quandary, Jim Crow in the Navy (1798-1941), The Underwater Sabotage Threat, and more.
Articles
Strategic Deterrence In the Age of Détente
By Captain Robert J. Carlin, USN ( Ret. )
The lessening of tension in the post-Cold War era has combined with SALT to ease our fears. But it is unthinkable that we should not be thinking about nuclear war when our very survival is at stake.
Strategic Metaphors
By Colonel John C. Scharfen, USMC (Ret.) and Kristine S. Wilcox
Strategic planners rarely say what they mean or mean what they say. The rest of us need translators just to interpret their convoluted language.
The Naval Officer/Medical Officer Quandary
By Michael S. Smith, M.D.
The Navy's doctor shortage is severe and getting worse. Instead of proposing higher pay, a doctor who has left the Navy suggests more understanding from line officers.
Jim Crow in the Navy (1798-1941)
By Frederick S. Harrod
In the early Navy, as throughout the United States, racial discrimination was a habit of mind. On the occasions when integration was achieved, it reflected anything but social enlightenment.
International Terrorism and the Defense of Offshore Facilities
By Lieutenant Commander John F. Ehersole, USCG
U. S. oil rigs—remote, valuable, and vulnerable symbols of wealth and power—may soon prove to be too tempting a target for terrorists to ignore.
The Underwater Sabotage Threat
By Captain Raymond A. Hundevadt, USN (Ret.)
Posing a threat to oil rigs, ships, and other water-related targets are modern-day terrorists who need relatively little special training and can easily buy sophisticated equipment.
The Challenge in Enlisted Personnel Management
By Commander John J. Pursel, USN
Slow? You want to know how slow the Navy is in tending to even the most routine affairs of its enlisted personnel? Glaciers move faster. Molasses in January moves faster.
Pictorial—The Nautilus Turns 25
Departments
Secretary's Notes
Comment and Discussion
Old Navy
Book Reviews
Books of Interest
Professional Notes
Nobody asked me, but . .
Notebook
U.S. Naval Institute Proceedings (ISSN 004I-798X)
The opinions or assertions in the articles are the personal ones of the authors and are not to be construed as official. They do not necessarily reflect the views of either the Navy Department or the U. S. Naval Institute.
Proceedings is published monthly by U. S. Naval Institute, Annapolis, Md. 21402. Second-class postage paid at Annapolis, Md. and at additional mailing offices. Memberships/Subscriptions $18.00 one year U.S.A. Copyright @ 1979U. S. Naval Institute.