US Naval Institute Proceedings - January 1970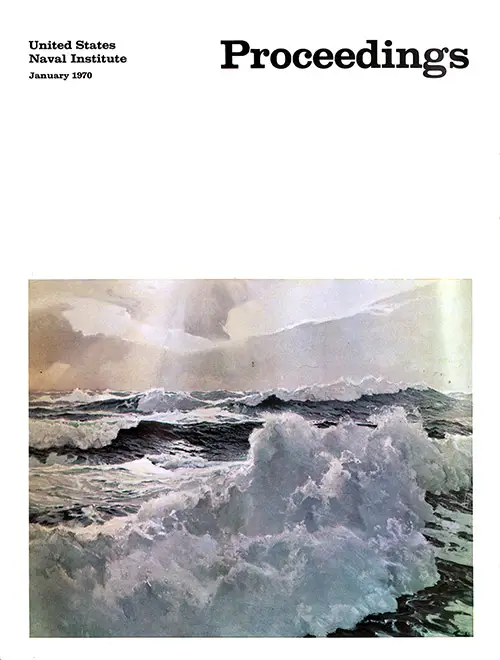 Front Cover, U. S. Naval Institute Proceedings, Volume 96/1/803, January 1970. GGA Image ID # 1d15aa223a
On the Front Cover
"The Sunlit Sea" is a seascape by Frederick Judd Waugh (1861-1940). The original painting is in the Marine Collection of the Seamen's Church Institute of New York. See page 99 regarding the availability of 22" x 26" prints of this painting.
Issue Summary
The January 1970 issue articles include The Art, Science, and Innocence, The Soviet Merchant Marine, Retention: The High Cost of Leaving, The U. S. Coast Guard: Where Do We Go From Here, Prepare to Sweep Mines, and more.
Table of Contents
Articles
The Art, Science, and Innocence
Capt. John N. Horrocks. Jr., USN
Involved in Becoming Chief of Naval Operations
The respective records and the candid comments of the four most recent CNOs seem to suggest that there are definite guideposts— and danger signs—which must be heeded.
The Soviet Merchant Marine
Antony C. Sutton
Does the fact that so many Soviet merchant ships are built elsewhere imply a technological inadequacy; or are Soviet yards too busy building other vessels?
Retention: The High Cost of Leaving
John Roger Vredtand
It is understandable that civilian economists might think that money is the root of all the retention evils. Military men should know better.
The U. S. Coast Guard: Where Do We Go From Here?
Cdr L A. White, USCG
Having grown to manhood in two foster homes, Treasury and Transportation, many Coast Guardsmen yearn to fill out yet another change-of-address card.
Prepare to Sweep Mines
Cdr. Murland W. Searight, USN
In January 1968, two known minefields in the Gulf of Tonkin provided the first acid test for Mine Division 9Ts four Agile-class minesweepers.
The Naval Medical Officer: The Worst of Both Worlds
Cdr. Frank E. Dully, Jr., (MC) USN
A consultation between Doctor Dully and Commander Dully results in a "Physician, heal thyself" prescription for all naval medical officers.
Naval Aviators: The Old and the Bold
Capt. W. D. Toole, Jr., USN
A not-too-old naval aviator boldly confirms most of what many a non-aviation line officer has long suspected.
Pictorial—Newport/Quonset Point Naval Complex
Photography and Text by William M. Powers. PHC, USN
Departments
The Old Navy
Comment and Discussion
Book Reviews
Professional Reading
Professional Notes
Notebook
The opinions or assertions in the articles are the personal ones of the authors and are not to be construed as Official. They do not necessarily reflect the views of either the Navy Department or the U. S. Naval Institute.