US Naval Institute Proceedings - April 1988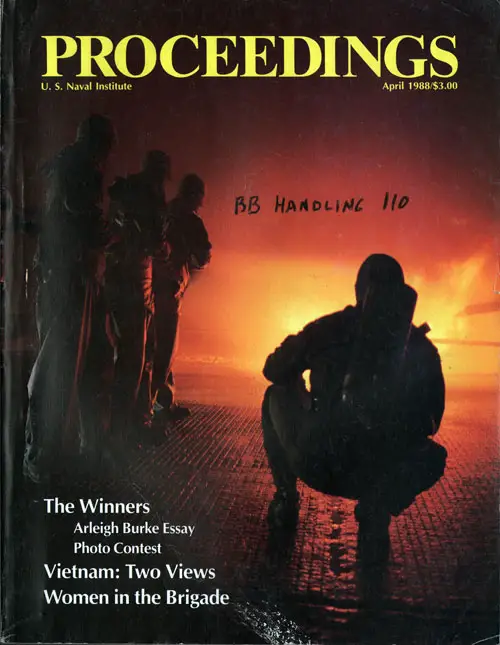 Front Cover, U.S. Naval Institute Proceedings, Volume 114/4/1022, April 1988. GGA Image ID # 1d024641bd
On the Front Cover
Marine Sergeant Russell Lee Klika won an honorable mention in the Annual USNI/Kodak Photo Contest for this photograph of naval recruits battling a fire. A pictorial featuring the other photographs from the contest begins on page 57.
Issue Summary
The April 1988 issue articles include The Maritime Strategy and the Next Decade, Satellites and Naval Warfare, Stalking the Tactical Continuum, Vietnam: Two Views, Blind Hunt for the Thresher, The Lobos Get Hornets, and more.
Table of Contents
Arleigh Burke Essay Contest Winner
The Maritime Strategy and the Next Decade
By Ronald O'Rourke
The Navy started the discussion of the Maritime Strategy. It now has a responsibility to participate in the dialogue that it sparked.
Satellites and Naval Warfare
By William E. Howard III
Satellite systems are important to naval warfare now—they will be crucial in the next century.
Future Satellite Capabilities
By William E. Howard III
What Would Mahan Say About Space Power?
By Aadu Karemaa
Stalking the Tactical Continuum
By Commander Kendall King, USN
Let's stop stalking the ultimate improvements to our tactics and start capturing them for the deployed forces.
Pictorial 1987 Naval and Maritime Prize Photography
Vietnam: Two Views
God Be Here
By Lieutenant Commander Thomas J. Cutler. USN
The Black Ponies
By Lieutenant Commander Daniel B. Sheehan, USN (Ret.)
We Need A Little 'Dash and Daring'
By Lieutenant Christopher A. Abel. USCG
The hell with the "easy does it" approach to leadership!
Departments
Special
Blind Hunt for the Thresher
Winning in the Dark
The Lobos Get Hornets
Nobody asked me, but
VC to warship: Can we talk?
Professional Notes
Controlling the Aviation Mishap Rate
Aviation Safety: A Success Story
Women in the Brigade
Defending the Assault
Handling a Battleship
Royal New Zealand Navy: Looking to the Future
Book Reviews
South To Java
The Forgotten War
Admiral
The Soviet Navy
Money Matters
Other Departments
Secretary's Notes
Where We Were
Comment and Discussion
Books of Interest
World Naval Developments
Notebook
Index to Advertisers
The U.S. Naval Institute is a private, self-supporting, nonprofit professional society that publishes this magazine as a forum for the Sea Services. The Institute is not a part of the U. S. Government. The opinions and assertions herein are the personal ones of the authors.